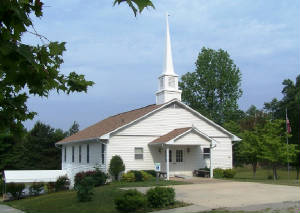 Come and Worship with us at
8256 Promise Land Road
Mountain Home, Arkansas 72653
Our Worship Schedule is
We will have Church this Sunday! 11 AM, Outside, hope to see you there!

Sunday Bible Study - 9:45am
Sunday Worship - 11:00am
Wednesday Night Prayer Meeting - 6:00pm
Wednesday Night Bible Study - 7:00pm
Today's Memory Verse
"Jesus said to her, I am the resurrection, and the life: he that believes in me, though he were dead, yet shall he live: and whosoever lives and believes in me shall never die. Do you believe this?"
JOHN 11:25, 26

"About this time there lived Jesus, a wise man, if indeed one ought to call him a man ... He was the Christ. When Pilate, upon hearing him accused by men of the highest standing among us, had condemned him to be crucified, those who had in the first place come to love him did not give up their affection for him. On the third day he appeared to them restored to life, for the prophets of God had prophesied these and countless other marvelous things about him."
JOSEPHUS

"Is it possible that Jesus simply fainted on the cross, and revived while He was in the tomb?"

Jesus had been whipped and beaten, and was bleeding from His head, back, hands, and feet for at least six hours. While he was on the cross, a soldier pierced His side with a spear and blood and water gushed out. Professional soldiers would certainly have completed their assigned task and ensured his death.
"It is impossible that a being who had stolen half-dead out of the sepulcher, who crept about weak and ill, wanting medical treatment, who required bandaging, strengthening, and indulgence, and who still at last yielded to his sufferings, could have given to the disciples the impression that he was a conqueror over death and the grave, the Prince of Life: an impression which lay at the bottom of their future ministry. Such a resuscitation could only have weakened the impression which he had made upon them in life and in death, at the most could only have given it an elegiac voice, but could by no possibility have changed their sorrow into enthusiasm, have elevated their reverence into worship."-Strauss, New Life of Jesus (quoted in Who Moved the Stone? by Frank Morison)

Cameron, K., & Comfort, R. (2004). The school of biblical evangelism: 101 lessons: how to share your faith simply, effectively, biblically-the way Jesus did (pp. 332-333). Gainesville, FL: Bridge-Logos Publishers.
Day by Day by Grace
Jesus Christ, Our Great High Priest
Seeing then that we have a great High Priest who has passed through the heavens, Jesus the Son of God, let us hold fast our confession. For we do not have a High Priest who cannot sympathize with our weaknesses, but was in all points tempted as we are, yet without sin. Let us therefore come boldly to the throne of grace, that we may obtain mercy and find grace to help in time of need. (Hebrews 4:14-16)
Jesus as our High Priest is one of the magnificent truths that matures us in the faith and draws us more intimately to Him. When we see the greatness of Jesus in this role, our steadfastness is strengthened. "Seeing then that we have a great High Priest who has passed through the heavens, Jesus the Son of God, let us hold fast our confession." Jesus was completely successful in His mission of redemption. He came and died as the sacrifice for our sins. He rose victorious over sin and death. He ascended to heaven, seated in authority at the right hand of the Father. Knowing this, we have great cause to remain steadfast in our confession of hope in Him.
Furthermore, our great High Priest is able to understand our needs and express compassion toward our frailties. "For we do not have a High Priest who cannot sympathize with our weaknesses." The enemy of our souls threw all of his tempting devices at Jesus. Our Lord faced what we face (and more), so He understands our battles in a very personal manner. Another matter of even greater significance is that He never yielded to the tempter's attacks: "yet without sin." Thus, He not only understands our plight, but He can also provide us victory.
We are hereby given reason to approach God through our great High Priest. We can come without hesitation or apprehension to find the help we need. "Let us therefore come boldly to the throne of grace, that we may obtain mercy and find grace to help in time of need." Our God rules this universe from a throne characterized by grace. This grace can only be properly known by those who live under His new covenant of grace. This grace is sufficient to justify and to sanctify all who humbly trust in the Lord. The grace offered here is not for initial salvation. Rather, it is for rescuing the redeemed when they humbly acknowledge their inadequacy. We are invited to draw near, approach our God in an intimate fashion, and partake of His fullness in light of our emptiness.
Dear Jesus, my great High Priest, I extol You for Your greatness. You are great in understanding, compassion, victory, and grace. Lord, I have so many great needs in my life. So I draw near to You, anticipating that Your grace is fully sufficient to meet my lack, Amen.
Famous Last Words: William Etty,
the British painter who died in 1849, was another who believed that death was not an end but an episode in one's experience. Full of confidence of what was on the other side, he died saying:
"Wonderful, wonderful, this death!"

Here at Promise Land Bible Church
We don't change the message, the message changes us.


Here at Promise Land Bible Church, we are honored that you are visiting our web site at www.plbcmh.com
It is our hope at Promise Land Bible Church that you will be encouraged by the preaching and teaching of God's Word presented here. For it is our desire to teach the whole council of God, so that the body can be edified and above all that God may be glorified.
For it is our passion and desire to share the Gospel message with everyone who will hear, in obedience to God's word.
Welcome to our site here at www.plbcmh.com
The fellowship of believers who call Promise Land Bible Church home would like to welcome you to our website. We believe that salvation is by grace alone, thru faith alone, in Christ alone, and that the Holy Scripture is our sole source of authority for what we do and how we live, and that everything we do, should be done for the glory of God. This is commonly called the 5 Solas of the Reformed Faith.
So here is our invitation to you;
If you are looking for a church that affirms the sole authority of the Holy Scriptures for all of faith and practice, the pre-eminence of the preaching of the Word of God, the glorious truths of salvation called the Doctrines of Grace, the necessity and responsibility of evangelism and a serious approach to the joyful worship of God, then we warmly invite you to come and visit us.
Join us as we look to the truth of scripture and Worship the Lord.
At www.plbcmh.com we do our best to present the truth of the gospel.
A house of fools!

(Thomas Brooks, "The Crown and Glory of Christianity, or, HOLINESS, the Only Way to Happiness", 1662)

"The heart of fools is in the house of pleasure." Ecclesiastes 7:4

A fool prefers toys and trifles, above things of greatest worth.

Just so, wicked and ungodly men prefer their lusts, before the Lord. Upon choice, they prefer the honors, the riches and glory of this fleeting world-above their own souls and the great concerns of eternity.

I have read of the foolish people of Ceylon, who preferred a consecrated ape's tooth, above an incredible mass of treasure. Such fools are all unholy people, who prefer the toys and trifles of this world-above the eternal pleasures and treasures which are at God's right hand. The world is full of such fools.

Says one: "If you behold the lives of men, you will judge the whole world to be a house of fools!"

Ah, friends! What folly can be compared to that of men's spending their time, their strength, their lives, their souls-in getting the ephemeral things of this world, and neglecting that one thing necessary-the salvation of their souls! Oh, what vanity is it to prefer . . .
a puff of honor,
a blast of fame,
a dream of pleasure,
a wedge of gold,
a Babylonish garment,
and such like transitory trifles and trash
-before a blessed eternity!

"For what will it profit a man if he gains the whole world, and loses his soul?
Or what shall a man give in return for his soul?" Matthew 16:26
Point to Ponder
A young man once jumped from a plane for his first skydive. When he pulled his main parachute, it failed to open. As he thought on what he was supposed to do regarding the emergency chute, he hit the ground. His friends rushed up to him, thinking he was dead. They instead found that he had miraculously landed on freshly plowed ground and was still alive. As he lay there with fourteen broken bones, and a bone protruding vertically from his leg, he mumbled, "Boy, did I blow it!"
He was right; he blew it. He had listened to his instructor. He had believed. However, he hadn't obeyed. Don't blow it for eternity. Listen, believe, and obey.


Word of the Day
April 5
Christ
Christos
The Greek christos (G5547) has an interesting derivation, which originally carried a totally secular meaning in Classical Greek. It comes from chierin, to rub lightly, or spread over something. Some uses were rubbing arrows with poison in preparation for battle (Homer) and applying paint or whitewash. Another common use was rubbing the body with oil after a bath.
In OT usage, this word corresponds to the Hebrew equivalent mēsiah (Messiah), which refers to someone who is ceremoniously anointed with holy oil for an office. The most common office for anointing was a king (e.g., David, 2Sa_2:7); another was of priests, such as Aaron, which is beautifully described in Psalm 133.
It is in the NT, however, that the word appears with the most power and significance. It's extremely significant that the word Christos is attached to the Lord Jesus Christ in every major event of His life and ministry. One of the most significant was in the questions He posed to His disciples. After asking, "Whom do men say that I the Son of man am?" and getting such answers as John the Baptist, Elijah, Jeremiah, or other prophets, He then asked them, "But whom say ye that I am?" It was Peter's answer that tells the tale: "Thou art the Christ, the Son of the living God." In a dramatic proof of Jesus' claim to His deity, Jesus said, "Blessed art thou, Simon Barjona: for flesh and blood hath not revealed it unto thee, but my Father which is in heaven" (Mat_16:13-17).
Most significant in that passage, and many others, is the definite article ("the") before Christ (ho Christos). This demonstrates that the Lord Jesus is the one and the only Anointed One, the one and only Son of God, the one and only Savior. As John declares, "We have found the Messias, which is, being interpreted, the Christ" (Joh_1:41), and, "Now we believe, not because of thy saying: for we have heard him ourselves, and know that this is indeed the Christ, the Saviour of the world" (Joh_4:42). The Lord Jesus even professed Himself to be the Messiah predicted by David and the prophets (Mar_12:35; Psa_110:1).
What a blessing it is to know that we worship the one and only Anointed One!
Scriptures for Study: As mentioned above, Christos is attached to Jesus in every major event of His life and ministry. Read the following scriptures and identify each event: Mat_1:16-18; Luk_2:11; Mar_12:35; Luk_22:67; Luk_23:2, Luk_23:35; Luk_24:25-26.
Thanks for visiting our site here at www.plbcmh.com