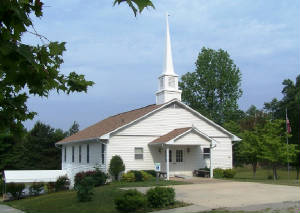 Come and Worship with us at
8256 Promise Land Road
Mountain Home, Arkansas 72653
Our Worship Schedule is
The Church is Open, worship with us inside or outside, message is transmitted on FM 95.1
Sunday Bible Study - 9:45am
Sunday Worship - 11:00am
Wednesday Night Prayer Meeting - 6:00pm
Wednesday Night Bible Study - 7:00pm
Today's Memory Verse
"You hypocrites, well did Isaiah prophesy of you, saying, This people draws near to me with their mouth, and honors me with their lips; but their heart is far from me."
MATTHEW 15:7, 8

"I am told that Christians do not love each other. I am very sorry if that be true, but I rather doubt it, for I suspect that those who do not love each other are not Christians."
CHARLES SPURGEON

"You shouldn't talk about sin because Jesus didn't condemn anyone. He was always loving and kind."

Jesus is loving, and that's why He had harsh words of warning for sinners. In Matthew 23, Jesus called the religious leaders "hypocrites" seven times. He told them that they were "blind fools," children of hell, full of hypocrisy and sin. He climaxed His sermon by saying, "You serpents, you generation of vipers, how shall you escape the damnation of hell?" He then warned that He would say to the wicked, "Depart from Me, you cursed, into everlasting fire, prepared for the devil and his angels" (Matthew 25:41).

Cameron, K., & Comfort, R. (2004). The school of biblical evangelism: 101 lessons: how to share your faith simply, effectively, biblically-the way Jesus did (p. 134). Gainesville, FL: Bridge-Logos Publishers.
Point to Ponder

The way bank officials train tellers to recognize counterfeit bills is to have them study the genuine article. When they see the false, they can spot it because their eye is trained to know the real thing. The real thing in Christianity is someone who is faithful, kind, loving, good, without hypocrisy, gentle, humble, patient, self-controlled, and who speaks the truth in love.
So the next time you're watching TV and see a black-hatted, Abraham Lincoln-style bearded, booze-sodden, Old-English-speaking, Bible-quoting hypocrite plunge a pitchfork into his neighbor's back "in the name of the Lord," ask yourself, "Is this a genuine Christian? Does he love his neighbor as himself? Is he kind, gentle, good, generous, self-controlled? Does he love his enemies? Does he do good to those who spitefully use him?" If not, then what you see is another non-Christian who is pretending to be a Christian.


Day by Day by Grace
Manasseh Pridefully Rebelling against the Lord
Manasseh...did evil in the sight of the LORD, according to the abominations of the nations whom the LORD had cast out before the children of Israel...And the LORD spoke to Manasseh and his people, but they would not listen. Therefore the LORD brought upon them...the army of the king of Assyria, who took Manasseh with hooks, bound him with bronze fetters, and carried him off to Babylon. (2 Chronicles 33:1-2, 10-11)
Manasseh was another king who walked in prideful rebellion against the Lord. "He did evil in the sight of the LORD." His pride was even more shocking than Nebuchadnezzar's (who ruled in Babylon), since Manasseh ruled in Jerusalem and had been raised by a godly father, King Hezekiah.
Manasseh was heavily influenced by the godless nations that dominated the land before God gave it to Israel. His evil was "according to the abominations of the nations whom the LORD had cast out before the children of Israel." The spiritual behavior of these Canaanite nations was abominable in God's sight. They indulged in licentious worship of idols on the hills and mountains. Manasseh "rebuilt the high places which Hezekiah his father had broken down; he raised up altars for the Baals, and made wooden images; and he worshiped all the host of heaven and served them" (2 Chronicles 33:3). Manasseh also brought idolatry into the very Temple of the Lord in Jerusalem. "He also built altars in the house of the LORD, of which the LORD had said, 'In Jerusalem shall My name be forever'" (2 Chronicles 33:4).
The nations that preceded Israel in the land were even engaged in sacrificing their children and seeking demonic guidance. Shockingly, Manasseh also "caused his sons to pass through the fire in the Valley of the Son of Hinnom; he practiced soothsaying, used witchcraft and sorcery, and consulted mediums and spiritists" (2 Chronicles 33:6). Actually, Manasseh brought more evil into the land than his abominable predecessors. "So Manasseh seduced Judah and the inhabitants of Jerusalem to do more evil than the nations whom the LORD had destroyed before the children of Israel" (2 Chronicles 33:9). Lovingly, the Lord reached out to this pridefully rebellious king. "And the LORD spoke to Manasseh and his people, but they would not listen." The ultimate result of this persistent resistance was humiliating and painful captivity. "Therefore the LORD brought upon them the captains of the army of the king of Assyria, who took Manasseh with hooks, bound him with bronze fetters, and carried him off to Babylon."
Heavenly Father, please guard me from the seductive influence of this godless world. I am already too familiar with the bondage that worldly indulgence brings. Please nurture to fullness every godly seed ever planted in my life, for Your glory, Amen.
Famous Last Words: James Buchanan
(1791-1868), fifteenth President of the U.S., retired from office and lived in quiet obscurity until his death. His last words were:
"O Lord Almighty, as Thou wilt."

Here at Promise Land Bible Church
We don't change the message, the message changes us.


Here at Promise Land Bible Church, we are honored that you are visiting our web site at www.plbcmh.com
It is our hope at Promise Land Bible Church that you will be encouraged by the preaching and teaching of God's Word presented here. For it is our desire to teach the whole council of God, so that the body can be edified and above all that God may be glorified.
For it is our passion and desire to share the Gospel message with everyone who will hear, in obedience to God's word.
Welcome to our site here at www.plbcmh.com
The fellowship of believers who call Promise Land Bible Church home would like to welcome you to our website. We believe that salvation is by grace alone, thru faith alone, in Christ alone, and that the Holy Scripture is our sole source of authority for what we do and how we live, and that everything we do, should be done for the glory of God. This is commonly called the 5 Solas of the Reformed Faith.
So here is our invitation to you;
If you are looking for a church that affirms the sole authority of the Holy Scriptures for all of faith and practice, the pre-eminence of the preaching of the Word of God, the glorious truths of salvation called the Doctrines of Grace, the necessity and responsibility of evangelism and a serious approach to the joyful worship of God, then we warmly invite you to come and visit us.
Join us as we look to the truth of scripture and Worship the Lord.
At www.plbcmh.com we do our best to present the truth of the gospel.
Today's Grace Gem
Trace the steps of His lovely feet
(John Fawcett, "Christ Precious")

"Leaving you an example so that you should follow in His steps." 1 Peter 2:21

"He who says he abides in Him, should walk just as He walked." 1 John 2:6

We see, in our Divine Leader, the several precepts of God's Word drawn out in living characters. We behold them reduced to practice, and represented to the life--in the whole of His conduct towards God and man. We see one in our nature, amidst all the assaults of temptation, amidst all the opposition which malignity could invent, and all the allurements of this glittering world--behaving in a manner exactly agreeable to the dictates of the Divine law, and leaving us an example that we should follow His steps.

Surely it must be delightful, not only to contemplate His character--but to the utmost of our power to imitate the most perfect pattern which was ever exhibited. It must be desirable, by constant and strenuous exertions, according to our measure, to endeavor to trace the steps of His lovely feet.

It is impossible to contemplate the character of Jesus, with serious and devout attention--and not be charmed with it. We see in Him, all the human virtues in the highest perfection. His joys were grave, his griefs were just; his gentleness and his severity, his holiness and his humanity--were in perfect harmony with each other. He manifested great tenderness, and genuine affection, and sensibility to human woe--on all occasions.

As He did no sin--so, on the other hand, every shining virtue was exemplified in Him to highest degree. His humility and meekness; His contempt of the world; His heavenly temper; His love to the Father, and zeal for His honor; His activity and diligence in doing good; His submission to the Father's will; His patience amidst the heaviest and severest sufferings; His constancy in the exercises of retired devotion; and His praying for His enemies who spilt His blood--can never be sufficiently admired.

When you are tempted to any vanity--set the blessed Redeemer before you, consider His example, and ask yourself, "How would Jesus, my Lord and Master, have acted in such a case? Would He have spent His time upon such trifles? Would He have spoken such and such; or done this or the other thing, which I am solicited to do? And shall I give way to that which would be a manifest deviation from His example? God forbid!"

O Christians, fix your eyes intensely on the great exemplar! Thus you will, through Divine grace, daily grow in love with meekness, patience, and lowliness of heart.

The more I contemplate His lovely character while He sojourned on earth--the more I am delighted with it. To have the same mind in me which was in Christ Jesus, and to tread in His steps--should be my constant aim. Those who are received by Him to the possession of everlasting felicity in Heaven--have humbly traced His footsteps upon earth. Of them it is said, "These are the ones who follow the Lamb wherever He goes!" They are forevermore led by Him, even in the celestial world--to the enjoyment of ever-new delights and pleasures!
Word of the Day
September 25
Honor
timaō
The verb timaō (G5091) means to estimate worth, hold in respect, honor, revere. In Classical Greek the noun timē (G5092) means the worth that one ascribes to a person. This concept was carried over into the NT, and it truly underscores what it means to honor someone (and what it means if we don't honor them). To honor someone means to recognize that they're worth something. Who, then, are we to honor?
First, we are to honor God. Quoting Isa_29:13, our Lord declared, "Well hath Esaias prophesied of you hypocrites, as it is written, This people honoureth me with their lips, but their heart is far from me" (Mar_7:6). While many people say they "love God" and offer other lip service, in reality they think Him worthless and are far from being true Christians (cf. Mat_7:21-23).
Our Lord again says, "That all men should honour the Son, even as they honour the Father. He that honoureth not the Son honoureth not the Father which hath sent him" (Joh_5:23). He says elsewhere that we in turn will be honored if we serve him: "If any man serve me, let him follow me. . . . If any man serve me, him will my Father honour" (Joh_12:26).
Second, children are to honor their parents. Paul not only said that children are to obey their parents, but they are also to honor them (Eph_6:2). Where did he get that idea? From God's Law (Exo_20:12) and from the Lord Jesus Himself (Mat_15:4).
Third, a husband is to honor his wife. While timaō is not directly used in this way, the principle is certainly present in Pro_31:10: "Who can find a virtuous woman? for her price is far above rubies." The Christian husband cherishes his wife (Eph_5:29).
Fourth, we are to honor widows in the church, that is, those who "are widows indeed" (1Ti_5:3-5). A "widow indeed" is a widow who has no means of support, such as family members. So, one of the specific ministries of the local church is to support such godly widows.
Fifth, we are to honor every person. As Peter wrote, "Honour all men" (1Pe_2:17). While we certainly don't approve of certain things men do and say, life is worth something, and our desire is to reach the lost for Christ.
Scriptures for Study: Besides honor, what else belongs to God (Rev_7:12)? Who will eventually honor God (Rev_5:13)?
Thanks for visiting our site here at www.plbcmh.com