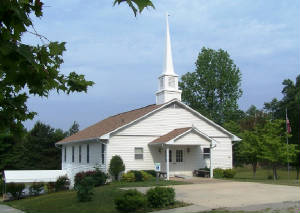 Come and Worship with us at
8256 Promise Land Road
Mountain Home, Arkansas 72653
Our Worship Schedule is
Sunday Bible Study - 9:45am
Sunday Worship - 11:00am
Wednesday Night Prayer Meeting - 6:00pm
Wednesday Night Bible Study - 7:00pm
Today's Memory Verse
"This is the confidence that we have in him, that, if we ask any thing according to his will, he hears us."
1 JOHN 5:14

"The reason why many fail in battle is because they wait until the hour of battle. The reason why others succeed is because they have gained their victory on their knees long before the battle came ... Anticipate your battles; fight them on your knees before temptation comes, and you will always have victory."
R. A. TORREY

"Did Simon Peter find out that Jesus was the Christ by a revelation from heaven (Matthew 16:17), or by his brother Andrew (John 1:41)?"

The emphasis of Matthew 16:17 is that Simon did not just hear it from someone else-God had made it clear to him. That does not preclude him being told by other people. Jesus' point is that Peter was not simply repeating what someone else had said. He had lived and worked with Jesus and he was now clear in his mind that Jesus was none other than the Christ (Messiah), the Son of the Living God. Jesus did not ask, "Who have you heard that I am?" but, "Who do you say I am?" There is all the difference in the world between these two questions, and Peter was no longer in any doubt.

Cameron, K., & Comfort, R. (2004). The school of biblical evangelism: 101 lessons: how to share your faith simply, effectively, biblically-the way Jesus did (pp. 278-279). Gainesville, FL: Bridge-Logos Publishers.
Point to Ponder

In Leviticus 26:1-13, God promises Israel many wonderful blessings if they would simply obey Him: the rain would come in due season; the land would yield its harvest and the trees would yield their fruit; their food would satisfy them; they would have peace and safety in the land (no violence); and they would prevail over their enemies. Truly, blessed is the nation whose God is the Lord.
Daniel Webster said, "If we abide by the principles taught in the Bible, our country will go on prospering and to prosper; but if we and our posterity neglect its instructions and authority, no man can tell how sudden a catastrophe may overwhelm us and bury all our glory in profound obscurity."
Day by Day by Grace
Encouragement for Others, Glory for God
So then death is working in us, but life in you...For all things are for your sakes, that grace, having spread through the many, may cause thanksgiving to abound to the glory of God. (2 Corinthians 4:12 and 15)
We who live under the new covenant of grace are earthen vessels. We have no true spiritual life in ourselves. "You have no life in you" (John 6:53). The treasure who lives within us (Jesus) is our daily source of spiritual life: "Christ who is our life" (Colossians 3:4). Consequently, we must always be dying in order to live. We must be embracing the cross of Christ so that our bankrupt self-life will not be our resource for living. We must look to the Lord as our sufficiency.
The Lord helps us in this process by putting us into impossible situations that necessitate our dependence upon Him. He faithfully responds to our trust and manifests Himself through us. "For we who live are always delivered to death for Jesus' sake, that the life of Jesus also may be manifested in our mortal flesh" (2 Corinthians 4:11). Others observing this receive encouragement to look to the Lord for the life they need. Thus, Paul could write to the Corinthians (who were aware of this process in his life): "So then death is working in us, but life in you."
Every difficulty that God brings into our lives not only has significance for us, but it can also have an impact on those to whom we are ministering. "For all things are for your sakes." How important it is to have a perspective on life that includes God working in us that He might touch others. Paul certainly viewed life and ministry in this manner. "I now rejoice in my sufferings for you...Yes, and if I am being poured out as a drink offering on the sacrifice and service of your faith, I am glad and rejoice with you all...Therefore I ask that you do not lose heart at my tribulations for you, which is your glory" (Colossians 1:24; Philippians 2:17; Ephesians 3:13).
As the Lord works His grace into and through our lives, grace can be spreading to many other lives: "that grace, having spread through the many." When God's grace is at work in people's hearts, thanksgiving is so often the beautiful fruit that results. Such thanksgiving brings much glory and honor to God: "may cause thanksgiving to abound to the glory of God."
My God and Father, teach me to handle trials in a way that will encourage people to trust in You. I want to touch others with life, as I am dying circumstantially. Please make my life a vessel through which You cause Your grace to spread to many lives. May much thanksgiving result, all to Your honor and glory, Amen.
Famous Last Words: Ignatius,
in the arena, before the lions had reached him, said:
"I am the wheat of Christ; I am going to be ground with the teeth of wild beasts, that I may be found pure bread."

Here at Promise Land Bible Church
We don't change the message, the message changes us.


Here at Promise Land Bible Church, we are honored that you are visiting our web site at www.plbcmh.com
It is our hope at Promise Land Bible Church that you will be encouraged by the preaching and teaching of God's Word presented here. For it is our desire to teach the whole council of God, so that the body can be edified and above all that God may be glorified.
For it is our passion and desire to share the Gospel message with everyone who will hear, in obedience to God's word.
Welcome to our site here at www.plbcmh.com
The fellowship of believers who call Promise Land Bible Church home would like to welcome you to our website. We believe that salvation is by grace alone, thru faith alone, in Christ alone, and that the Holy Scripture is our sole source of authority for what we do and how we live, and that everything we do, should be done for the glory of God. This is commonly called the 5 Solas of the Reformed Faith.
So here is our invitation to you;
If you are looking for a church that affirms the sole authority of the Holy Scriptures for all of faith and practice, the pre-eminence of the preaching of the Word of God, the glorious truths of salvation called the Doctrines of Grace, the necessity and responsibility of evangelism and a serious approach to the joyful worship of God, then we warmly invite you to come and visit us.
Join us as we look to the truth of scripture and Worship the Lord.
At www.plbcmh.com we do our best to present the truth of the gospel.
Today's Grace Gem
I will be their God--and they shall be My people!

(Charles Spurgeon)

"I will be their God--and they shall be My people!" 2 Corinthians 6:16

What a sweet title, "My people!"
What a cheering revelation, "Their God!"

How much of meaning is couched in those two words, "My people!"

Here is speciality. The whole world is God's-heaven, even the heaven of heavens is the Lord's, and He reigns among the children of men. But of those whom He has chosen, whom He has purchased to Himself--He calls them especially, "My people".

In this word there is the idea of proprietorship. In a special manner the "Lord's portion is His people." All the nations upon earth are His, and the whole world is in His power--yet His people, His chosen people, are more especially His possession, for . . .
He has done more for them than others;
He has bought them with His precious blood;
He has set His great heart upon them;
He has adopted them into His redeemed family;
He has loved them with an everlasting love--a love which many waters cannot quench, and which the revolutions of time shall never suffice in the least degree to diminish.

Dear friends, can you, by faith, see yourselves in that number? Can you look up to heaven and say, "My Lord and my God-mine by that sweet relationship which entitles me to call You Father-mine by that hallowed fellowship which I delight to hold with You when You are pleased to manifest Yourself unto me as You do not unto the world?"

Can you read the Book of Inspiration, and find there the evidences of your salvation?
Can you read your title written in His precious blood?
Can you, by humble faith, lay hold of Jesus' garments, and say, "My Christ"?

If you can, then God says of you, and of others like you, "My people!" for, if God is your God, and Christ is your Christ, the Lord has shown special, particular grace to you-then you are the object of His choice, accepted in His beloved Son!

"I am my Beloved's, and my Beloved is mine!" Song of Songs 6:3
Word of the Day
May 25
Fables
muthos
The apostle Paul declares in 2Ti_4:1-4 that one of the major reasons why the preaching of the truth is so important is because there will come a time when people "will not endure [i.e., "put up with;" see May 10, anechomai, G430] sound doctrine; but after their own lusts shall they heap to themselves teachers, having itching ears; And they shall turn away their ears from the truth, and shall be turned unto fables." Those days are here!
What's worse, however, is that such people "turn away" from "the truth," which in the Greek is in the active voice, that is, they willfully choose to do this. Still worse is the fact that "shall be turned unto fables" is in the passive voice, which means that they don't choose this result; they are being acted upon and have no choice. In other words, because they willfully turned away, they now will unwillingly be deceived by fables.
That is a staggering truth! The Greek is muthos (G3454), where we get the English words myth and mythology. In Classical Greek, this is a tale or fable that is "fabricated by the mind in contrast to reality." Plato's myths, for example, were legendary, such as the myths of Eros, creation, the world to come, and judgment of the dead. In the NT, muthos is always used to denote a cunning fable full of falsehoods and pretenses for the purpose of deceiving others.
Let us repeat, when we willingly turn from God's truth, we will unwillingly be deceived, and how vividly we see this happening. Because most of the church won't tolerate true preaching, which proclaims truth and confronts sin, doctrinal error is everywhere: God's sovereignty has been redefined in the "Open Theism" movement; Christians seek extra-biblical revelation through mysticism and so-called prophecies; hell is denied as a reality; the roles of men and women are blurred or destroyed altogether; homosexuality, fornication, abortion, and other immorality is condoned and even defended; and on it goes. Tragically, there is virtually zero discernment (see July 15ff.) left in the church today. Error is rampant because we have willingly turned away from the truth.
May you always desire truth and never turn away from it.
Scriptures for Study: Read the other instances of muthos, noting the challenge in each one: 1Ti_1:4; 1Ti_4:7; Tit_1:14 (see May 19); 2Pe_1:16.
Thanks for visiting our site here at www.plbcmh.com