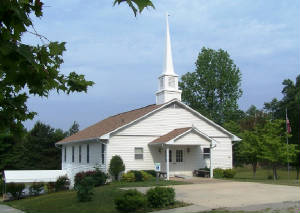 Come and Worship with us at
8256 Promise Land Road
Mountain Home, Arkansas 72653
Our Worship Schedule is
Sunday Bible Study - 9:45am
Sunday Worship - 11:00am
Wednesday Night Prayer Meeting - 6:00pm
Wednesday Night Bible Study - 7:00pm
Today's Memory Verse
"I said therefore to you, that you shall die in your sins: for if you believe not that I am he, you shall die in your sins."
JOHN 8:24

"I know men and I tell you that Jesus Christ is no mere man. Between Him and every other person in the world there is no possible term of comparison. Alexander, Caesar, Charlemagne, and I have founded empires. But on what did we rest the creations of our genius? Upon force. Jesus Christ founded His empire upon love; and at this hour millions of men would die for Him."
NAPOLEON BONAPARTE

"Jesus wasn't sinless-He became 'angry' when He cleared the temple."

The temple of God was filled with that day's equivalent of money-grabbing televangelists. Jesus called it a "den of thieves" (Mark 11:17), because the moneychangers were not interested in God but in taking financial advantage of those who came to worship. Anger at hypocrisy isn't a sin-it's a virtue.

Cameron, K., & Comfort, R. (2004). The school of biblical evangelism: 101 lessons: How to share your faith simply, effectively, biblically-the way Jesus did (317). Gainesville, FL: Bridge-Logos Publishers.
Point to Ponder
"This Jesus of Nazareth, without money and arms, conquered more millions than Alexander, Caesar, Mohammed, and Napoleon; without science and learning, He shed more light on things human and divine than all philosophers and scholars combined; without the eloquence of schools, He spoke such words of life as were never spoken before or since, and produced effects which lie beyond the reach of orator or poet; without writing a single line, He set more pens in motion, and furnished themes for more sermons, orations, discussions, learned volumes, works of art, and songs of praise than the whole army of great men of ancient and modern times."-Philip Schaff, The Person of Christ


Day by Day by Grace
Truth to Set Us Free from the Enemy's Bondage
"If you abide in My word, you are My disciples indeed. And you shall know the truth, and the truth shall make you free"...that they may know the truth... and escape the snare of the devil, having been taken captive by him. (John 8:31-32 and 2 Timothy 2:25-26)
As followers of Jesus Christ, it is so important that we abide in His word. We are called to live in the word of the Lord that we might know His truth. As we embrace God's truth, we are impacted by its liberating power. "The truth shall make you free." One fundamental area where people need spiritual liberation is bondage from the enemy.
The entire realm of unbelieving humanity lies under the binding influence of the evil one. "The whole world lies under the sway of the wicked one" (1 John 5:19). Even those unbelievers who do not accept the truths of God about Satan and sin are nonetheless captivated by him. Consequently, we are to humbly reach out to them with the truth: "in humility correcting those who are in opposition, if God perhaps will grant them repentance, so that they may know the truth, and that they may come to their senses and escape the snare of the devil, having been taken captive by him to do his will." Paul was sent forth to proclaim the gospel truth that offers freedom from such bondage: "to open their eyes and to turn them from darkness to light, and from the power of Satan to God" (Acts 26:18). The testimony of all who believe in the truth of the gospel is this: "He has delivered us from the power of darkness and translated us into the kingdom of the Son of His love" (Colossians 1:13).
The problem of Satan's binding, hindering, restricting influence did not end at salvation. Many saints (though headed for heaven) are still bound in areas of their thinking and behaving. They are still influenced by the enemy's lies. They cannot make the liberating confession of Paul and his missionary team: "we are not ignorant of his [Satan's] devices" (2 Corinthians 2:11). Ignorance of the enemy's tactics will persist in the lives of those who do not know (or will not yield to) God's liberating truth. On the other hand, all who are willing to embrace the truths of God's word will enjoy more and more freedom from the enemy's lies. They will grow in understanding of, and reliance upon, the victorious purposes of Jesus' coming to this earth. "For this purpose the Son of God was manifested, that He might destroy the works of the devil" (1 John 3:8 ).
Dear Lord, I praise You for the liberating truth of Your gospel of grace that delivered me from the enemy's grasp. Now, I need more and more of the liberating truths of Your word that I might not be ignorant of his devious and persistent tactics. Teach me Your truths, in Jesus' name, Amen.
Here at Promise Land Bible Church
We don't change the message, the message changes us.


Here at Promise Land Bible Church, we are honored that you are visiting our web site at www.plbcmh.com
It is our hope at Promise Land Bible Church that you will be encouraged by the preaching and teaching of God's Word presented here. For it is our desire to teach the whole council of God, so that the body can be edified and above all that God may be glorified.
For it is our passion and desire to share the Gospel message with everyone who will hear, in obedience to God's word.
Welcome to our site here at www.plbcmh.com
The fellowship of believers who call Promise Land Bible Church home would like to welcome you to our website. We believe that salvation is by grace alone, thru faith alone, in Christ alone, and that the Holy Scripture is our sole source of authority for what we do and how we live, and that everything we do, should be done for the glory of God. This is commonly called the 5 Solas of the Reformed Faith.
So here is our invitation to you;
If you are looking for a church that affirms the sole authority of the Holy Scriptures for all of faith and practice, the pre-eminence of the preaching of the Word of God, the glorious truths of salvation called the Doctrines of Grace, the necessity and responsibility of evangelism and a serious approach to the joyful worship of God, then we warmly invite you to come and visit us.
Join us as we look to the truth of scripture and Worship the Lord.
At www.plbcmh.com we do our best to present the truth of the gospel.
It is a terrifying thing to fall into the hands of the living God!

(Matthew Mead, "Falling into the Hands of the Living God!" 1629-1699)

"It is a terrifying thing to fall into the hands of the living God!" Hebrews 10:31

It is a terrifying thing to fall into the hands of the living God, because, as He is the all-knowing and Almighty God--so He is the just and righteous God; and will be so forever, for He is the living God. His righteousness and justice are everlasting--and this makes Hell so dreadful.

As it is the great comfort of believers to have such a Mediator and Surety, such a high priest to live forever to make intercession for them--so this is the great misery of lost sinners: to fall into the hands of that God, who ever lives to avenge Himself on their unbelief and rebellion. It is a terrifying thing to fall into the hands of the living God . . .
who knows all their sins,
who is so holy--that He must punish them,
who is so powerful--that He can punish them,
who is so just--that He does punish all impenitent sinners forever!
Word of the Day
July 17
Lie in Wait to Deceive
methodein tēs planēs
The third way false teaching comes, as Paul lists in Eph_4:14, is that false teachers lie in wait to deceive (methodein tēs planēs).
Lie in wait is from methodeia (G3180, English method), which does not appear in Greek literature prior to the NT, but means "to investigate by settled plan" or "a deliberate planning or system." There is, therefore, a settled plan, an elaborate system, a deliberate scheme behind those who teach false doctrine. It's also translated as wiles in Eph_6:11 to refer to Satan's methods and tactics.
The desire of the false teacher is to deceive, which translates planē (G4106), "a wandering out of the right way," and, therefore, figuratively "delusion and error." 2Th_2:10-11 speaks of the lost multitude that will believe the Antichrist, and for that very reason God will "send them strong delusion, that they should believe a lie." While that day is not yet here, delusion, error, and seduction are everywhere. So convincing is some error that our Lord Himself said, "There shall arise false Christs, and false prophets, and shall shew great signs and wonders; insomuch that, if it were possible, they shall deceive the very elect" (Mat_24:24).
Tragically, however, there are many true believers nowadays who are gullible and will believe almost anything and follow practically anybody. As long as some teacher mentions God or Jesus, regardless of what else he (or she) says, many Christians think all is well. Even with our unequalled education, freedom, sophistication, access to God's Word, Christian books, and a multitude of Bible translations (which I'm convinced is actually part of the problem), it seems that anybody, no matter what he teaches, can get a following and even financial support from individual Christians, entire local churches, and even whole denominations, associations, and fellowships. Like little children, such Christians are captivated by something new-a new interpretation, idea, catchy phrase or term, method of "ministry," and countless other things.
In 1887, Robert Shindler, a fellow pastor and close friend of Charles Spurgeon, wrote in Spurgeon's wonderful publication, The Sword and the Trowel: "It is all too plainly apparent men are willing to forego the old for the sake of the new. But commonly it is found in theology that that which is true is not new, and that which is new is not true."
Oh, that we would recognize that in our day!
Scriptures for Study: Read the following passages on discernment: Mat_7:15-16; Mat_24:4-5, Mat_24:11, Mat_24:23-26; Mar_13:22-23.
Famous Last Words: Madame Rolland
(1866-1944), French writer:
"O liberty! What crimes are committed in thy name!"

Thanks for visiting our site here at www.plbcmh.com