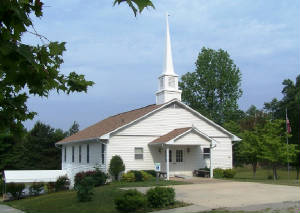 Come and Worship with us at
8256 Promise Land Road
Mountain Home, Arkansas 72653
Our Worship Schedule is
Sunday Bible Study - 9:45am
Sunday Worship - 11:00am
Wednesday Night Prayer Meeting - 6:00pm
Wednesday Night Bible Study - 7:00pm
Today's Memory Verse
"Then said Jesus to those Jews which believed on him, If you continue in my word, then are you my disciples indeed; and you shall know the truth, and the truth shall make you free."
JOHN 8:31, 32

Quote of the Day
"The nearer I approach the end of my pilgrimage, the clearer is the evidence of the divine origin of the Bible. The grandeur and sublimity of God's remedy for fallen man are more appreciated and the future is illuminated with hope and joy."
SAMUEL MORSE (INVENTOR OF THE TELEGRAPH)

"If God is perfect, why did He make an imperfect creation?"

The Bible tells us that the Genesis creation was "good." There was no sin and therefore no suffering or death. Why then did God give Adam and Eve the ability to sin, knowing full well that they would sin and bring death and pain to the human race? Some believe that if Adam had been created without the ability to choose, then he would have been a "robot." A father cannot make his children love him. They choose to love him because they have a free will. Others point out that humanity would never have seen the depth of the love of God, as displayed in the cross, unless Adam had sinned, and that fact could be one reason why God allowed sin to enter the world.

Cameron, K., & Comfort, R. (2004). The school of biblical evangelism: 101 lessons: How to share your faith simply, effectively, biblically-the way Jesus did (399-400). Gainesville, FL: Bridge-Logos Publishers.
Day by Day by Grace
Walking in the Spirit
Walk in the Spirit, and you shall not fulfill the lust of the flesh...If we live in the Spirit, let us also walk in the Spirit. (Galatians 5:16, 25)
The term "walk" is used dozens of times in the New Testament to describe the manner of life a person is leading. Many of these occurrences depict the Christian life: "walk in love... walk as children of light... walk circumspectly" (Ephesians 5:2, 8, 15). In our passages, we are told to "walk in the Spirit."
Walking is a very insightful description of spiritual life. A walk has a beginning and a destination. Our beginning was in new birth: "born of the Spirit" (John 3:6). Our destination is heaven forever with our Lord and Savior: "And thus we shall always be with the Lord" (1 Thessalonians 4:17). A good walk is steady and progressive. We are called to be faithful: "Well done, good and faithful servant" (Matthew 25:21). We are called to press ahead: "forgetting those things which are behind and reaching forward to those things which are ahead, I press toward the goal" (Philippians 3:13-14). In addition, a walk has many potential adventures along the way. We are likely to encounter stretching challenges and paradoxical blessings: "in tumults, in labors, in sleeplessness...as sorrowful, yet always rejoicing; as poor, yet making many rich; as having nothing, and yet possessing all things" (2 Corinthians 6:5, 10).
Ultimately, a walk must have an available resource that provides sufficient vitality, strength, guidance, and assurance. Here, our passages offer special hope through the injunction to "walk in the Spirit." Day by day, each step of the way, we are to rely upon the presence and work of the Holy Spirit in our lives. Every issue of life (whether at home, office, school, or church) is to be faced in this manner. Otherwise, the influence of our flesh (our natural humanity) will prevail. "Walk in the Spirit, and you shall not fulfill the lust of the flesh." In ourselves we are not able to overcome the inadequacies and improper tendencies of the flesh. However, the Holy Spirit is more than able to become our sufficient provider of whatever we need for an effective and fruitful walk.
This perspective on Christian living makes complete biblical sense, when we connect our daily walk to how we found spiritual life in the first place. "If we live in the Spirit, let us also walk in the Spirit." It was strictly by the work of the Spirit that we received life initially; therefore, let us take each step of life, "walk[ing] in the Spirit."
Lord God Almighty, I am so weak and so easily enticed in my flesh. I cannot produce what is needed for the spiritual walk to which I am called. O Lord, I cry out to You for the indispensable work of Your Spirit within me. Lord, teach me to walk day by day by the grace that Your Spirit alone can provide, Amen.
Today's Grace Gem
Therefore, brethren, we are debtors!

(Charles Spurgeon)

"Therefore, brethren, we are debtors!" Romans 8:12

Christian, stop and ponder for a moment, what a debtor you are to divine sovereignty! God could have destroyed you, if He had pleased--it is entirely of His own good pleasure that you are made one of His beloved children, while others are allowed to perish.

Consider, then, how much you owe to His sovereignty! If He had willed it--you would have been among the damned! If He had not willed your salvation--then all you could do would have been utterly powerless to deliver yourself from perdition!

Remember how much you owe to His sovereign love, which tore His own Son from His bosom--that He might die for you! Let the Cross and bloody sweat remind you of your obligation.

Consider how much you owe to His forgiving grace--that after ten thousand affronts, He loves you as infinitely as ever!

Consider what you owe to His power--how He has raised you from your death in sin; how He has preserved your spiritual life; how He has kept you from falling; and how, though a thousand enemies have beset your path--He has upheld you on your way!

Consider what you owe to His immutability. Though you have changed a thousand times--He has not changed once. Though you have shifted your intentions--yet He has not once swerved from His eternal purpose, but still has held you fast.

Christian, consider that you are as deep in debt as you can be to every attribute of God. To God you owe yourself, and all that you have! "Brethren, we are debtors!"
Word of the Day
February 25
Understanding
dianoia
Yesterday we considered the spiritual significance of the word eyes as it relates metaphorically to perceiving God's truth. Paul uses a related word in Eph_1:18 to elaborate on that principle: "the eyes of your understanding being enlightened."
Understanding translates dianoia (G1271), which means "ability to think, faculty of knowledge." (See April 26 for another word translated understanding and understand). As first-century Jewish philosopher Philo said, "What the eye is to the body, that is the mind to the soul." In other words, while the eye sees, it is the mind that understands what is seen. Paul is, therefore, saying that our minds, our ability to think, our capacity for knowledge and understanding needs enlightenment. As we saw in our February 2 and 3 studies, people look for truth in science, philosophy, and religion, but never find it. Truth is to be found only in God's Word. So Paul is saying here that truth is to be found somewhere outside of ourselves, that we need enlightenment from an outside source.
There are several significant occurrences of dianoia. Our Lord uses it in Mat_22:37-38, where He sums up the first four of the Ten Commandments into one: "Thou shalt love the Lord thy God with all thy heart, and with all thy soul, and with all thy mind [dianoia]. This is the first and great commandment." Paul uses it again in Col_1:21 to demonstrate that while we were once alienated from God in our minds (that is, our ability to think and understand), we are now reconciled and can "think straight."
Peter also uses this word in a unique way when he writes, "Wherefore gird up the loins of your mind, be sober, and hope to the end for the grace that is to be brought unto you at the revelation of Jesus Christ" (1Pe_1:13). "Gird up" is anazōnnumi, which appears only here in the NT. It's taken from the custom of that day to bind up their long garments in a girdle or belt when exerting themselves (see October 3). The metaphor, then, is that our minds are to be in constant preparation for "spiritual exertion."
Scriptures for Study: In Heb_10:16, what does God put into the hearts and minds of His people? In 2Pe_3:1, what does Peter say was his purpose in writing both of his epistles?
Famous Last Words:
Andrew Jackson
(1767-1845), seventh President of the U.S., exhorted his family with his last breath:
"Oh, do not cry. Be good children, and we will all meet in heaven."

Here at Promise Land Bible Church
We don't change the message, the message changes us.


Here at Promise Land Bible Church, we are honored that you are visiting our web site at www.plbcmh.com
It is our hope at Promise Land Bible Church that you will be encouraged by the preaching and teaching of God's Word presented here. For it is our desire to teach the whole council of God, so that the body can be edified and above all that God may be glorified.
For it is our passion and desire to share the Gospel message with everyone who will hear, in obedience to God's word.
Welcome to our site here at www.plbcmh.com
The fellowship of believers who call Promise Land Bible Church home would like to welcome you to our website. We believe that salvation is by grace alone, thru faith alone, in Christ alone, and that the Holy Scripture is our sole source of authority for what we do and how we live, and that everything we do, should be done for the glory of God. This is commonly called the 5 Solas of the Reformed Faith.
So here is our invitation to you;
If you are looking for a church that affirms the sole authority of the Holy Scriptures for all of faith and practice, the pre-eminence of the preaching of the Word of God, the glorious truths of salvation called the Doctrines of Grace, the necessity and responsibility of evangelism and a serious approach to the joyful worship of God, then we warmly invite you to come and visit us.
Join us as we look to the truth of scripture and Worship the Lord.
At www.plbcmh.com we do our best to present the truth of the gospel.
American Minute
February 25th:
"There is only one defense -- a defense compounded of eternal vigilance, sound policies, and high courage" - stated Secretary of State John Foster Dulles to the Overseas Press Club in New York, March 30, 1954.

John Foster Dulles was born FEBRUARY 25, 1888, in the home of his Civil War general grandfather. His father was a Presbyterian pastor.

John Foster Dulles graduated from Princeton, studied law at George Washington University, and was an Army Major in WWI.

He was elected a U.S. Senator and was appointed by President Wilson as legal counsel to the U.S. delegation at the 1918 Versailles Peace Conference.

John Foster Dulles was foreign policy adviser to New York Governor Thomas Dewey in his campaigns for President in 1944 and 1948.

He took an active role in establishing the Republican plank calling for the establishment of a Jewish commonwealth in Palestine.

John Foster Dulles stated at Indiana University, June 13, 1955: "Our people have always been endowed with a sense of mission in the world. They have believed that it was their duty to help men everywhere to get the opportunity to be and do what God designed."

Dulles was an adviser to President Truman, voicing his opposition to the U.S. dropping the atomic bomb on Japan, stating: "If we, as a professedly Christian nation, feel morally free to use atomic energy in that way, men elsewhere will accept that verdict. Atomic weapons will be looked upon as a normal part of the arsenal of war and the stage will be set for the sudden and final destruction of mankind."

Dulles' reference to the U.S as "a professedly Christian nation" is reflected in it being among the countries with the highest number of individuals who identify themselves as Christian:

United States = 246.8 million
Brazil = 175.8 million
Mexico = 107.8 million
Russia = 105.2 million
Philippines = 86.8 million
Nigeria = 80.5 million
China = 67 million
Democratic Republic of Congo = 63.2 million
Germany = 58.2 million
Ethiopia = 52.6 million.

The Pew Research Center 2012 reported: Christianity is the largest religion in the world, comprising 31.5 percent of the global population; Islam is second largest with 23.2 percent;

followed by: Unaffiliated 16.3 percent; Hinduism 15 percent; Buddhism 7.1 percent; Folk religions 5.9 percent; Other 0.8 percent; and Judaism 0.2 percent.

The Pew Foundation reported: "The number of Christians around the world has nearly quadrupled in the last 100 years, from 600 million in 1910."

This makes Christianity the fastest growing religion, with nearly 70,000 added each day, mostly in Africa, India, Asia, and the Middle East.

Christians is also the most persecuted religion, with over 500 being martyred each day, mostly in Africa, India, Asia and the Middle East.

The British House of Commons was informed in December 2013, that a Christian is killed every 11 minutes.

Christians experience persecution in 130 of the 197 countries in world, especially in Muslim countries, such as: Syria, Eritrea, Nigeria, Pakistan, Malaysia, Sudan, Democratic Republic of Congo, Pakistan, Somalia, Afghanistan, Iraq and Egypt; and Communist countries, such as China and North Korea.

When the Soviet Union detonated an atomic bomb in 1949, John Foster Dulles became convinced that the U.S. needed a nuclear arsenal to deter Communist expansion, as he stated April 11, 1955: "Men face the great dilemma of whether to use force to resist aggression which imposes conditions which violate the moral law and the concept that man has his origins and his destiny in God."

Dulles negotiated the Peace Treaty with Japan. In a toast to Japanese Foreign Minister Mamoru Shigemitsu, Secretary of State John Foster Dulles stated September 3, 1955: "War is an awful thing. God grant that we have seen the last of it. But war in this case made the people of our two countries know each other as never before."

He was instrumental in the creation of the United Nations, to which he was the U.S. Ambassador, 1945-49, and served under President Eisenhower as U.S. Secretary of State.

On April 11, 1955, John Foster Dulles addressed the Fifth Annual All-Jesuit Alumni Dinner: "Peace is a goal which men above always sought. It is a goal which we particularly think of at this Easter Season when we commemorate the resurrection of the Prince of Peace."

At the 1954 Geneva Conference, Dulles reportedly refused to shake hands with the first Premier of the People's Republic of China, Zhou Enlai, as he had been instrumental in consolidating control under Mao Zedong's Communist Party, whose policies resulted in an estimated 80 million deaths.

John Foster Dulles referred to Communism as "godless terrorism," stating at the Jesuit Alumni Dinner, April 11, 1955: "Man, we read in the Holy Scriptures, was made a little lower than the angels. Should man now be made little higher than domesticated animals which serve the purpose of their human masters?"

In 1955, Dulles was named Man of the Year in Time Magazine and in 1959, he was awarded the Medal of Freedom. "The government of the United States ... was founded as an experiment in human liberty."

Dulles explained April 11, 1955, continuing: "Our institutions reflect the belief of our founders that all men were endowed by their Creator with inalienable rights and had duties prescribed by moral law. They believed that human institutions ought primarily to help men develop their God-given possibilities and that our nation, by its conduct and example, could help men everywhere to find the way to a better and more abundant life. Our nation ... developed ... spiritual and economic vigor the like of which the world had never seen."

Dulles International Airport near Washington, D.C., is named for him.

His son, John W.F. Dulles was a history professor at the University of Texas at Austin; his daughter, Lillias Hinshaw, was a Presbyterian minister; and another son, Avery Dulles, became the first American priest to be directly appointed a Cardinal.

On May 7, 1954, in reply to a question from a Danish student, Secretary of State John Foster Dulles stated: "Neighborly love, in political actions, means loving others, based on the brotherhood that was created with God as the Father of all. It means that the political power of any government must be considered an opportunity, not to favor individuals but to do well for all."

Secretary of State John Foster Dulles warned: "Our institutions of freedom will not survive unless they are constantly replenished by the faith that gave them birth. Our greatest need is to regain confidence in our spiritual heritage."
Point to Ponder

Imagine that you tried to describe the workings of a television to someone who had never seen a TV set. You show him one and say, "This is a television set. When you press this button, a man comes on and reads the up-to-date news to you." Your skeptical friend says, "How does he get into the box?" You reply, "He's not actually in the box." He says, "Is he in there or isn't he?" You answer, "Well, his image is sent via invisible television waves through the air, to an antenna, down a wire, up a cord, and into the box." Your friend becomes a little impatient and says, "So this newsreader of yours floats invisibly through the air, slides down an antenna, crawls up a cord, into your set? What kind of simpleton do you think I am?"
Your confidence isn't shaken because you can prove your claim, fantastic though it may sound. You pass him the remote control and say, "Push the button and see for yourself."
The claim of the Christian faith is fantastic in the truest sense of the word-repent and trust in Jesus Christ, and the invisible God of creation will reveal Himself to you (John 14:21). Our confidence isn't shaken in the face of a skeptical world, simply because the claim can be proven. Any skeptic who will push the button of repentance toward God and faith toward the Lord Jesus Christ will experience the miracle of conversion.


Thanks for visiting our site here at www.plbcmh.com