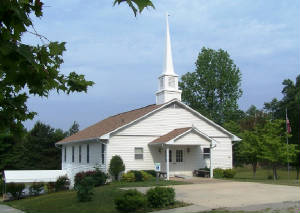 Come and Worship with us at
8256 Promise Land Road
Mountain Home, Arkansas 72653
Our Worship Schedule is
Sunday Bible Study - 9:45am
Sunday Worship - 11:00am
Wednesday Night Prayer Meeting - 6:00pm
Wednesday Night Bible Study - 7:00pm
Today's Memory Verse
"But sanctify the Lord God in your hearts: and be ready always to give an answer to every man that asks you a reason of the hope that is in you with meekness and fear."
1 PETER 3:15

"So long as there is a human being who does not know Jesus Christ, I am his debtor to serve him until he does."
OSWALD CHAMBERS

"How do I witness to someone I know?"

For most of us, it is far easier to witness to a stranger than to someone we know and respect. An effective way to soften the message without compromise is to speak in the "first person" or in testimonial form. Say something like, "I didn't realize that the Bible warns that for every idle word I have spoken, I will have to give an account on Judgment Day. I thought that as long as I believed in God and tried to live a good life, I would go to heaven when I died. I was so wrong. Jesus said that if I as much as looked with lust, I had committed adultery in my heart, and that there was nothing I could do to wash away my sins. I knew that if God judged me by the Ten Commandments on Judgment Day, I would end up guilty, and go to hell.
"It was when I acknowledged my sins that I began to understand why Jesus died. It was to take the punishment for my sins, and the sins of the world." Then, depending on the person's openness, you may ask, "How do you think you will do on Judgment Day, if God judges you by the Ten Commandments?"

Cameron, K., & Comfort, R. (2004). The school of biblical evangelism: 101 lessons: how to share your faith simply, effectively, biblically-the way Jesus did (pp. 203-204). Gainesville, FL: Bridge-Logos Publishers.
Point to Ponder
Consider the way dogs cross the road. A dog will wander onto a freeway oblivious to the danger. His tail wags as he steps between cars without a second thought. Cars swerve. Tires squeal. The noise is deafening as vehicles smash into each other. The sleepy dog stops wagging his tail for a moment and looks at the pile of smoldering, broken cars on the freeway. His expression betrays his thoughts. His bone-burying brain doesn't realize for one moment that he is responsible for the disaster.
When man wanders onto the freeway of sin, his tail wags with delight. He thinks that this is what he was made for. His thoughts of any repercussions for his actions are shallow. His mind wanders into lust, then predictably he wanders onto the path of adultery. Suddenly a disaster sits before him. His marriage is shattered, his name is slurred, and his children are twisted and scarred. But like the dumb dog, he doesn't realize for one moment that he is solely responsible for his sin. This is why the perfect Law of God needs to be arrayed before his darkened eyes-to show him that his way is not right in the eyes of a perfect God.


Day by Day by Grace
Still More on Continuing in the Word of His Grace
I commend you to God and to the word of His grace, which is able...But as for you, continue in the things which you have learned and been assured of, knowing from whom you have learned them, and that from childhood you have known the Holy Scriptures, which are able to make you wise for salvation through faith which is in Christ Jesus. (Acts 20:32 and 2 Timothy 3:14-15)
The present verses again point us to our current theme, continuing in the word of God's grace. Only the grace of God can provide what is needed for the life we are called to live. This necessary grace is appropriated through "the word of His grace." This life-giving grace is to be lived in day by day (ideally, from childhood through old age).
Paul urged Timothy to continue in the biblical truth that he had been taught, truth about which he had become convinced. "Continue in the things which you have learned and been assured of." God's word not only instructs us in His ways, it also convinces us of their validity. In this process, God uses human instruments: "knowing from whom you have learned them." In Timothy's spiritual training, the Lord used the prophets of old (who were inspired to write the Scriptures), as well as Paul (who discipled Timothy). Timothy's mother and grandmother were also a vital part of this process. "I call to remembrance the genuine faith that is in you, which dwelt first in your grandmother Lois and your mother Eunice" (2 Timothy 1:5). Thus, his spiritual nurture began in his childhood years. "From childhood you have known the Holy Scriptures." It is the will of God that children be raised upon the Scriptures. "Do not provoke your children to wrath, but bring them up in the training and admonition of the Lord" (Ephesians 6:4). If we were not raised upon the word, God wants to begin feeding it to us at new birth. "As newborn babes, desire the pure milk of the word, that you may grow thereby" (1 Peter 2:2). If we have never had a serious diet of the word, today is now the day to begin.
As we are learning the word of God, its ability is unleashed in our lives. Saving grace is the first great blessing the Lord wants to bring us through the Scriptures: "which are able to make you wise for salvation." People can be exceedingly foolish concerning salvation, until they are enlightened through the word of God. Some think they do not need to be saved. Others think they can somehow save themselves. The Bible reveals the necessary path for all: "through faith which is in Christ Jesus."
Dear God of my salvation, I praise You for Your word, which brought me the wisdom to trust in the saving grace of Christ. I thank You for every person You have ever used to bring me any aspect of Your truth. Please teach me more and more-and please use me to get Your word to others, in Jesus' name, Amen.
Famous Last Words: Christian F. Gellert
(1715-1769), a German philosopher and author, wrote many hymns including "Jesus Lives, and I with Him." His Fables was one of the most popular books in Germany during the 17th century. Triumph in Christ was his when he died at Leipzig, where he had been professor of theology at the university. In his last moments Gellert requested:
"Only repeat to me the name of Jesus. Whenever I hear it or pronounce it myself I feel myself refreshed with fresh joy. God be praised, only one hour more."

Here at Promise Land Bible Church
We don't change the message, the message changes us.


Here at Promise Land Bible Church, we are honored that you are visiting our web site at www.plbcmh.com
It is our hope at Promise Land Bible Church that you will be encouraged by the preaching and teaching of God's Word presented here. For it is our desire to teach the whole council of God, so that the body can be edified and above all that God may be glorified.
For it is our passion and desire to share the Gospel message with everyone who will hear, in obedience to God's word.
Welcome to our site here at www.plbcmh.com
The fellowship of believers who call Promise Land Bible Church home would like to welcome you to our website. We believe that salvation is by grace alone, thru faith alone, in Christ alone, and that the Holy Scripture is our sole source of authority for what we do and how we live, and that everything we do, should be done for the glory of God. This is commonly called the 5 Solas of the Reformed Faith.
So here is our invitation to you;
If you are looking for a church that affirms the sole authority of the Holy Scriptures for all of faith and practice, the pre-eminence of the preaching of the Word of God, the glorious truths of salvation called the Doctrines of Grace, the necessity and responsibility of evangelism and a serious approach to the joyful worship of God, then we warmly invite you to come and visit us.
Join us as we look to the truth of scripture and Worship the Lord.
At www.plbcmh.com we do our best to present the truth of the gospel.
The Lost Soul's First Day in Eternity

(J.M. Humphrey, 1912)

"The rich man also died and was buried. In Hell, where he was in torment, he looked up and saw Abraham far away, with Lazarus by his side. So he called to him: Father Abraham, have pity on me and send Lazarus to dip the tip of his finger in water and cool my tongue, because I am in agony in this fire." Luke 16:22-24

At last I am in Hell. In spite of all my resolutions not to come, I am here to suffer the just demands of a broken law. O God, can it be that I, who has taught the way of truth, virtue and Heaven--should choose sin, Hell and eternal damnation?

Death and judgment are passed. The time of repentance has slipped away. Mercy's door is forever shut. I would not heed the warning voice of God, though it thundered in my ears night and day from my cradle to my grave. I hardened my heart and said, "I will not yield!"

At last death came; I tried to repent, but my heart refused to shed a tear. I passed into eternity, a damned soul.

The worm that never dies has coiled its slimy folds around my naked heart and in it fastened its venomous fangs.

Merciful God, pity me. But the white-winged angel of mercy has flown away forever.

The fiends with their bony hands are grasping for my defenseless soul. Away, you devils, you shall not touch me, you shall not have my soul.

Ah, they have me at last! It is useless for me to resist. Is there none to deliver--none, great God, none! I turned my back on You, now You refuse to hear my cry of anguish. The flames of damnation are wrapping my soul in shrouds of eternal misery!

O that I had a drop of water to quench this raging thirst that consumes me, but there is no water here.

Devils laugh at my agony and exultantly shout: Enjoy the wages of sin, FOREVER!

O God, I have been here but one short hour and have suffered more than a thousand tongues can tell; and must I forever suffer thus? Through the ceaseless ages yet to come, must I still suffer on?

Yes, it is forever! FOREVER!

The darkness is intense, broken only by the lurid flashes of divine wrath that are thrown like thunderbolts from the hand of a just God! I grope in the darkness to find Him, but plunge over the precipice of despair onto the rocks below.

Bruised and mangled I rise and stagger on in search of friends, but none are found. All are my enemies. I scream for help and the only answer is the echo of my own sad cry and the yells of delight from the throats of demons.

Alone! Yet multitudes are here; they gnash on me with their teeth; they trample me under their feet. I struggle to rise, and they dash me into the lake of everlasting fire.

Alone! Yes, alone! Without God, without hope, without Heaven. O that I had a moment in which to repent, but it will never be given. I have sealed my own doom. God's mercy was extended; I refused until too late. Now Eternal Justice is being satisfied. 'Tis just. God is love. God is just and holy. He is righteous, but I am guilty damned, and that righteously.
Word of the Day
December 5
Hour
hōra
As one might think, the word hōra (G5610) denotes a specific increment of time. While it can refer to a year, day, moment, season, or even stage of life, it comes relatively close to our English word hour. When Jesus healed the boy that the disciples could not, for example, Matthew tells us that "Jesus rebuked the devil; and he departed out of him: and the child was cured from that very hour" (Mat_17:18; cf. Mat_15:28). We, therefore, see several meanings in this word.
First, it's used, of course, in telling time. Mark tells us, for example, that at Jesus' crucifixion, there was darkness from the sixth to the ninth hour, which was odd because that was the middle of the day (noon until three p.m., Jewish time).
Second, hōra is used for a set time. We see several examples of set times in the NT: a time of prayer (Act_3:1), the time of Jesus' suffering (Joh_12:27), the time for a meal (Luk_14:17), and the time for Christ's judgment (Rev_14:7).
Third, hōra is used for a prearranged time, that is, a time when something must occur. Jesus' glorification, for example, was prearranged to occur at the crucifixion, which was fixed before the world was even created (cf. Joh_2:4; Joh_12:23; Joh_17:1).
Fourth, hōra is used for an expected time. Jesus also spoke of hope and expectation using this word, as He told the Samaritan woman that "the hour cometh, when ye shall neither in this mountain, nor yet at Jerusalem, worship the Father. . . . But the hour cometh, and now is, when the true worshipers shall worship the Father in spirit and in truth: for the Father seeketh such to worship him" (Joh_4:21, Joh_4:23). He also told His disciples to expect persecution as they proclaim Him (Joh_16:2).
Fifth, hōra is used for a prophetic time. Most notable here are Jesus' words, "Be ye also ready: for in such an hour as ye think not the Son of man cometh" (Mat_24:44). So, He went on to declare, "Watch therefore, for ye know neither the day nor the hour wherein the Son of man cometh" (Mat_25:13). It is that hour to which we all look.
Scriptures for Study: What did Paul say that it's time to do in Rom_13:11? In the context of time, what is Paul's point in Gal_2:4-5?
Thanks for visiting our site here at www.plbcmh.com