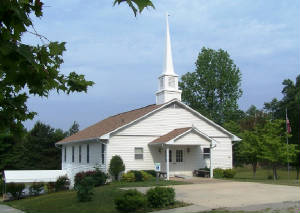 Come and Worship with us at
8256 Promise Land Road
Mountain Home, Arkansas 72653
Our Worship Schedule is
Sunday Bible Study - 9:45am
Sunday Worship - 11:00am
Wednesday Night Prayer Meeting - 6:00pm
Wednesday Night Bible Study - 7:00pm
"To ask that God's love should be content with us as we are is to ask that God should cease to be God: because He is what He is, His love must, in the nature of things, be impeded and repelled by certain stains in our present character, and because He already loves us He must labor to make us lovable."
C. S. LEWIS

"The Bible says 'God repented.' Doesn't that show He is capable of sin?"

"Repent" means "to have a change of mind." When the Bible tells sinners to repent, it means to change their direction, to turn from their sins. God has no sin. God's "repenting" is when He turns away from His fierce anger toward sinners. He warns men of the consequences of their disobedience. If they repent (turn from their sins), He will "repent" by not pouring out His promised wrath on them. For instance, Jonah 3:8, 9 says, "Let them turn every one from his evil way ... Who can tell if God will turn and repent, and turn away from his fierce anger, that we perish not?"

Cameron, K., & Comfort, R. (2004). The school of biblical evangelism: 101 lessons: How to share your faith simply, effectively, biblically-the way Jesus did (291). Gainesville, FL: Bridge-Logos Publishers.
Day by Day by Grace
God Freely Giving, Man Humbly Receiving
He who did not spare His own Son, but delivered Him up for us all, how shall He not with Him also freely give us all things?...What do you have that you did not receive? Now if you did indeed receive it, why do you glory as if you had not received it? (Romans 8:32 and 1 Corinthians 4:7)
The Lord rescues and transforms lives by His grace. This plan of God is established upon Jesus being given as a sacrifice for our sins: "He who did not spare His own Son, but delivered Him up for us all." This gift of God's Son assures us that God will also give us with Christ everything we need. "How shall He not with Him also freely give us all things?" God's giving is to be coupled with man's receiving. As God is freely giving to man, He wants man to be humbly receiving from Him.
Every blessing that we have was received from God. "What do you have that you did not receive?" There is no other source from which we can receive true spiritual benefits than the Lord above. "A man can receive nothing unless it has been given to him from heaven" (John 3:27). The joy of having Jesus dwelling in our lives became ours by receiving Christ. "As many as received Him, to them He gave the right to become children of God" (John 1:12). The fact that we are now reconciled to God and are no longer His enemies is based upon receiving the gift of reconciliation. "We also rejoice in God through our Lord Jesus Christ, through whom we have now received the reconciliation" (Romans 5:11). The privilege of serving the Lord in ministry is a gift of grace to be received: "the ministry which I received from the Lord Jesus, to testify to the gospel of the grace of God" (Acts 20:24). Another blessing we received from the Lord is the spiritual gifting that enables us in our ministries. "As each one has received a gift, minister it to one another" (1 Peter 4:10).
From initial salvation to growth and service, all that is needed must be received from the Lord. This is an encouraging reality. Yet, it is also a humbling truth. It leaves no room for us to glory in ourselves. "Now if you did indeed receive it, why do you glory as if you had not received it?"
Dear Lord, I confess that every blessing I have ever received was given by You from above. I bow humbly before You, admitting that I do not deserve even one of Your innumerable benefits. Lord, I praise You for freely giving to me. I want to humbly receive from You day by day, in Your gracious name, Amen.
Today's Grace Gem
Poison!

(J.C. Ryle)

"But Martha was distracted by all the preparations that had to be made. She came to him and asked: Lord, don't You care that my sister has left me to do the work by myself? Tell her to help me!" Luke 10:40

Let us observe what a snare to our souls the cares of this world may be--if allowed to take up too much attention. It is plain from the tone of the passage before us, that Martha allowed her anxiety to provide a suitable entertainment for the Lord, to carry her away. Her excessive zeal for temporal provisions--made her forget, for a time, the things of her soul.

She brought down on herself a solemn rebuke, and had to learn a lesson which probably made a lasting impression. Alas! how great a matter is kindled by a little fire! The beginning of all this, was a little over-anxiety about the innocent household affairs of this world!

The fault of Martha should be a perpetual warning to all Christians. If we desire to grow in grace, and to enjoy soul-prosperity--then we must beware of the cares of this world. Unless we watch and pray, they will insensibly eat up our spirituality, and bring leanness on our souls.

It is not open sin, or flagrant breaches of God's commandments alone, which lead men to eternal ruin. It is far more frequently an excessive attention to things which are in themselves lawful. It seems so right to provide for our own! It seems so proper to attend to the duties of our station! It is just here that our danger lies! Our families, our business, our daily callings, our household affairs, our interaction with society--all, all may become snares to our hearts, and may draw us away from God. We may go down to the pit of Hell from the very midst of lawful things!

Let us take heed to ourselves in this matter. Let us watch our habits of mind jealously, lest we fall into sin unawares. If we love life--then we must hold the things of this world with a very loose hand, and beware of allowing anything to have the first place in our hearts, excepting God. Let us mentally write "Poison!" on all temporal good things. Used in moderation they are blessings, for which we ought to be thankful. But permitted to fill our minds, and trample upon holy things--they become an inevitable curse. Profits and pleasures are dearly purchased--if in order to obtain them we thrust aside eternity from our thoughts, abridge our Bible-reading, become careless hearers of the Gospel, and shorten our prayers.

A little earth upon the fire within us--will soon make that fire burn low.
Word of the Day
December 15
Seek
zēteō
From Homer onward, the idea in zēteō (G2212) is to seek for something. It became "a technical term for striving after knowledge, especially philosophical investigation." It was also used occasionally for judicial investigation.
Amazingly, zēteō occurs some 400 times in the Septuagint, usually translating the Hebrew bēqash (H1245), "to seek, try to attain." It's used both in the general sense of looking for something, as Joseph looked for his brothers (Gen_37:16), but also in the spiritual sense of seeking after God, as in Isa_9:13, where the people did not seek after God, and in Jer_29:13, where those who do seek Him will find Him "when [they] shall search for [him] with all [their] heart."
The NT usage of zēteō follows those same concepts in some 120 occurrences. When we study this word closely, however, we are profoundly struck by the fact that the will is at the heart of the seeking. In such cases, for example, as the merchant looking for the perfect pearl (Mat_13:45), the woman searching frantically for a lost coin (Luk_15:8), and even Judas looking for just the right moment to betray Jesus (Mat_26:16), we see the will in control.
This provides us with today's powerful application. Of central importance is our seeking God. While before conversion no man "seeketh [ekzēteō, G1567, 'to seek out') after God"-so God is the one who really did the seeking (Luk_19:10)-the true believer can and must seek God diligently. Our Lord Himself declared in Mat_6:33 (and context), "Seek ye first the kingdom of God, and his righteousness; and all these things [i.e., temporal needs] shall be added unto you."
Further, because God seeks "true worshippers" who will "worship [him] in spirit and in truth," it should be our overwhelming desire to praise His glory, exalt His name, glorify His nature, and seek His will. In a day when most people seek their own interests and desires, it is for us to "seek . . . the things which are Jesus Christ's" (Php_2:21), to "seek those things which are above, where Christ sitteth on the right hand of God" (Col_3:1).
Scriptures for Study: What did Paul not seek in Gal_1:10 and 1Th_2:6? What else should we seek, according to 1Co_14:12?
Here at Promise Land Bible Church
We don't change the message, the message changes us.


Here at Promise Land Bible Church, we are honored that you are visiting our web site at www.plbcmh.com
It is our hope at Promise Land Bible Church that you will be encouraged by the preaching and teaching of God's Word presented here. For it is our desire to teach the whole council of God, so that the body can be edified and above all that God may be glorified.
For it is our passion and desire to share the Gospel message with everyone who will hear, in obedience to God's word.
Welcome to our site here at www.plbcmh.com
The fellowship of believers who call Promise Land Bible Church home would like to welcome you to our website. We believe that salvation is by grace alone, thru faith alone, in Christ alone, and that the Holy Scripture is our sole source of authority for what we do and how we live, and that everything we do, should be done for the glory of God. This is commonly called the 5 Solas of the Reformed Faith.
So here is our invitation to you;
If you are looking for a church that affirms the sole authority of the Holy Scriptures for all of faith and practice, the pre-eminence of the preaching of the Word of God, the glorious truths of salvation called the Doctrines of Grace, the necessity and responsibility of evangelism and a serious approach to the joyful worship of God, then we warmly invite you to come and visit us.
Join us as we look to the truth of scripture and Worship the Lord.
At www.plbcmh.com we do our best to present the truth of the gospel.
Today's Memory Verse
"But as he which has called you is holy, so be holy in all manner of conversation; because it is written, Be holy; for I am holy."
1 PETER 1:15, 16

American Minute
"FIRST in War, FIRST in Peace, and FIRST in the Hearts of his Countrymen!
He caught a chill riding horseback several hours in the snow while inspecting his Mount Vernon farm.
The next morning it developed into "acute laryngitis" and the doctors were called in.

Their response was to bleed him heavily four times, a process of cutting one's arm to let the "bad blood" out.

They also had him gargle with a mixture of molasses, vinegar and butter.

Despite the doctors' best efforts, they could not save former President George Washington and he died DECEMBER 14, 1799, at the age of sixty-seven.

George Washington said "Doctor, I die hard, but I am not afraid to go" and "I should have been glad, had it pleased God, to die a little easier, but I doubt not it is for my good."

George Washington, at about eleven o'clock in the evening, uttered his last words: "Father of mercies, take me unto thyself."

On Washington's tomb at Mount Vernon is engraved: "I am the Resurrection and the Life; sayeth the Lord. He that believeth in Me, though he were dead yet shall he live. And whosoever liveth and believeth in Me shall never die."

The Washington Monument in Washington, D.C., which is 555 feet tall, has engraved on its metal cap the Latin phrase "Laus Deo," which means "Praise be to God."

George Washington led the Continental Army to victory, giving the United States independence from the largest globalist military power--the British Empire.

Rather than staying in power, George Washington only served two terms, setting an example for subsequent Presidents.

Poet Robert Frost wrote: "I often say of George Washington that he was one of the few men in the whole history of the worlds who was not carried away by power."

Three years before his death, Washington delivered his Farewell Address, September 19, 1796, warning: "And of fatal tendency ... to put, in the place of the delegated will of the Nation, the will of a party;--often a small but artful and enterprising minority ...They are likely, in the course of time and things, to become potent engines, by which cunning, ambitious, and unprincipled men will be enabled to subvert the Power of the People and to usurp for the themselves the reins of Government; destroying afterwards the very engines which have lifted them to unjust dominion ..."

Washington added: "But this leads at length to a more formal and permanent despotism ... Disorders and miseries, which result, gradually incline the minds of men to seek security and repose in the absolute power of an Individual ... (who) turns this disposition to the purposes of his own elevation, on the ruins of Public Liberty ... The spirit of encroachment tends to consolidate the powers of all the departments in one, and thus to create, whatever the form of government, a real despotism ..."

Washington concluded: " But let there be no change by usurpation; for though this, in one instance, may be the instrument of good, it is the customary weapon by which free governments are destroyed. The precedent (of usurpation) must always greatly overbalance in permanent evil any partial or transient benefit which the use can at any time yield."

Less than 40 years after Washington's death, President Andrew Jackson remarked in his Farewell Address, 1837: Washington ... seemed to be ... the voice of prophecy, foretelling events and warning us of the evil to come ... There have always been those amongst us who wish to enlarge the powers of the General Government ... to overstep the boundaries marked out for it by the Constitution ... Government ... passed from the hands of the many to the hands of the few, and this organized money power from its secret conclave would have dictated the choice of your highest officers and compelled you to make peace or war, as best suited their own wishes ... It is from within, among yourselves--from cupidity (excessive desire), from corruption, from disappointed ambition and inordinate thirst for power--that factions will be formed and liberty endangered."

President George Washington wrote to Bishop John Carroll, March 15, 1790: "May the members of your society in America, animated alone by the pure spirit of Christianity, and still conducting themselves as the faithful subjects of our free government, enjoy every temporal and spiritual felicity."

Richard Allen, founder of the African Methodist Episcopal Church, delivered a eulogy of Washington in Philadelphia on December 29, 1799.

George Washington, along with Dr. Benjamin Rush, had contributed to Richard Allen's church.

Washington had set the bold example of providing in his Will to free all of his slaves--the only slave-holding founding father to do so--even stipulating that sick and elderly slaves would be supported by his estate in perpetuity.

Rev. Allen described Washington: "To us he has been the sympathizing friend and tender father. He has watched over us, and viewed our degraded and afflicted state with compassion and pity--his heart was not insensible to our sufferings."

Major General Henry "Light Horse Harry" Lee, who served with Washington in the Revolution, was asked by Congress to write a eulogy for his former brother-in-arms.

Lee described Washington as: "First in war--first in peace--and first in the hearts of his countrymen ... He was second to none in the humble and endearing scenes of private life; pious, just, humane, temperate and sincere; uniform, dignified and commanding, his example was as edifying to all around him, as were the effects of that example lasting. "

Benjamin Franklin served as an ambassador of the new United States.

While attending a dinner of foreign dignitaries at Versailles, France, the minister of Great Britain proposed a toast to King George III, likening him to the sun. The French minister, in like kind, proposed a toast to King Louis XVI, comparing him with the moon.

Benjamin Franklin stood up and toasted: "George Washington, Commander of the American armies, who, like Joshua of old, commanded the sun and the moon to stand still, and they obeyed him."
Point to Ponder

In 1976 in Britain, the army was called in to do the work of firefighters during a fireman's strike. When a call came from an elderly woman whose cat was stuck up a tree, the army officers were immediately dispatched to the scene. After the cat was rescued, the grateful woman asked the officers into her home for tea and cookies. Afterwards, fond farewells were given. Then the army drove off ... over the cat and killed it.
When one studies the Christian faith, there seems to be a common denominator. Many were converted after a "ran over the cat and killed it" experience. Some terrible tragedy, financial collapse, or the loss of a loved one brought them to their knees. Sadly, most of us are so rebellious that it does take some traumatic experiences to cause us to stop in our tracks and look heavenward.
Famous Last Words: Aldous Huxley
(1894-1963), author and humanist:
"It is a bit embarrassing to have been concerned with the human problem all one's life and find at the end that one has no more to offer by way of advice than 'Try to be a little kinder.' "

Thanks for visiting our site here at www.plbcmh.com