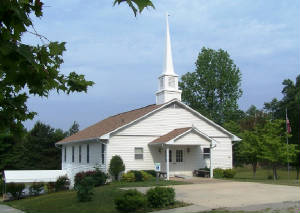 Come and Worship with us at
8256 Promise Land Road
Mountain Home, Arkansas 72653
Our Worship Schedule is
Sunday Bible Study - 9:45am
Sunday Worship - 11:00am
Wednesday Night Prayer Meeting - 6:00pm
Wednesday Night Bible Study - 7:00pm
Today's Memory Verse
"No man can come to me, except the Father which has sent me draw him: and I will raise him up at the last day."
JOHN 6:44

"The chief danger of the 20th century will be religion without the Holy Spirit, Christianity without Christ, forgiveness without repentance, salvation without regeneration, politics without God, and heaven without hell."
WILLIAM BOOTH

"What if someone says, 'I've broken every one of the Ten Commandments'?"

Do not take this statement to mean that the person has seen the gravity of his sinful state before God. He may say something like, "I'm a really bad person!" It is often used as a way of shrugging off conviction. Pharaoh admitted that he had sinned, but his repentance was superficial. Say to the person, "Well, let's take the time to go through the Ten Commandments one by one and see if you have." As the person is confronted with the righteous standard of God's Moral Law, pray that the Holy Spirit brings conviction of sin.

Cameron, K., & Comfort, R. (2004). The school of biblical evangelism: 101 lessons: how to share your faith simply, effectively, biblically-the way Jesus did (p. 123). Gainesville, FL: Bridge-Logos Publishers.
Point to Ponder
Many years ago we had in our home a stubborn spider that kept building a web against our house. No matter how many times we swept it away, the spider and its web would reappear the next morning. One day I enlisted the help of one of my sons, as well as a small stick and a can of insect spray. I had my son gently tap the stick on the web while I made the sound of a fly in distress. The hungry spider came out of his hiding place, and that's when I killed him with the insect spray.
There is a stubborn web of sin that continually plagues mankind. It is the web of violence, corruption, rape, greed, wars, theft, etc. We try to sweep it away through political means. Yet these crimes remain, and few seem to identify the root cause of the problem. That remains in hiding.
We must use the stick of God's Law to gently tap on the human heart. Suddenly, the cause of sin appears. And that's when sin can be put to death with the power of the gospel. It is God's Law that reveals the human heart as desperately wicked, and it is the gospel that delivers us from the power of sin. In Christ we are born again (John 3:3) and become new creatures.


Day by Day by Grace
More than Conquerors Even in Impossibilities
Who shall separate us from the love of Christ? Shall tribulation, or distress, or persecution, or famine, or nakedness, or peril, or sword? As it is written: "For Your sake we are killed all day long; we are accounted as sheep for the slaughter." Yet in all these things we are more than conquerors through Him who loved us. (Romans 8:35-37)
When considering the triumphant Christian life, we may wrongly think that victory depends upon getting out of impossible situations. Actually, we are already "more than conquerors" even while we are in the midst of the impossibilities.
For us to be ultimately defeated, we would have to be separated from Christ's love for us. We would have to be cut off from the loving care of our victorious Lord. Can any foe or any situation accomplish that? "Who shall separate us from the love of Christ?" This question is answered in verses 38 and 39. "For I am persuaded that neither death nor life, nor angels nor principalities nor powers, nor things present nor things to come, nor height nor depth, nor any other created thing, shall be able to separate us from the love of God which is in Christ Jesus our Lord."
No spiritual foe can enforce such a separation between God and His redeemed children. Neither can any circumstance of impossibility separate us from our loving God. Verses 35 and 36 list some of the impossibilities that make us feel as though we are being defeated. "Shall tribulation, or distress, or persecution, or famine, or nakedness, or peril, or sword? As it is written: 'For Your sake we are killed all day long; We are accounted as sheep for the slaughter.'" When troubles and pressures arise, when we are attacked or are lacking resources, we may be tempted to think that victory is no longer available. When our experience is like a lamb being led to the slaughter, we may think that victory could never be ours. Nevertheless, the truth is that "in all these things we are more than conquerors."
Yes, right in the middle of the impossibilities of life, we are already more than a spiritual victor. Actually, we have already been made participants in a mighty, eternal, abundant victory, the victory that Christ accomplished on the cross and in the resurrection. "We are more than conquerors through Him who loved us." Our victorious position in any situation is not circumstantial. It is relational. We are united by faith to the victorious one, the Lord Jesus Christ! "But thanks be to God, who gives us the victory through our Lord Jesus Christ" (1 Corinthians 15:57).
Dear Father, I praise You for the constant provision of victory through Your triumphant Son. Lord, help me to view spiritual victory as a relational matter and not a circumstantial one. I thank You that through Christ I am already more than a conqueror right in the midst of my present impossibilities, Amen.
Here at Promise Land Bible Church
We don't change the message, the message changes us.


Here at Promise Land Bible Church, we are honored that you are visiting our web site at www.plbcmh.com
It is our hope at Promise Land Bible Church that you will be encouraged by the preaching and teaching of God's Word presented here. For it is our desire to teach the whole council of God, so that the body can be edified and above all that God may be glorified.
For it is our passion and desire to share the Gospel message with everyone who will hear, in obedience to God's word.
Welcome to our site here at www.plbcmh.com
The fellowship of believers who call Promise Land Bible Church home would like to welcome you to our website. We believe that salvation is by grace alone, thru faith alone, in Christ alone, and that the Holy Scripture is our sole source of authority for what we do and how we live, and that everything we do, should be done for the glory of God. This is commonly called the 5 Solas of the Reformed Faith.
So here is our invitation to you;
If you are looking for a church that affirms the sole authority of the Holy Scriptures for all of faith and practice, the pre-eminence of the preaching of the Word of God, the glorious truths of salvation called the Doctrines of Grace, the necessity and responsibility of evangelism and a serious approach to the joyful worship of God, then we warmly invite you to come and visit us.
Join us as we look to the truth of scripture and Worship the Lord.
At www.plbcmh.com we do our best to present the truth of the gospel.
Today's Grace Gem
Then the scum appears!

(Thomas Brooks, "The Mute Christian Under the Smarting Rod" or, "The Silent Soul with Sovereign Antidotes" 1659)

"I have tried you in the furnace of affliction." Isaiah 48:10

Few Christians see themselves and understand themselves rightfully.
By trials, God reveals much of a man's sinful self to his pious self.

When the fire is put under the pot--then the scum appears!
Just so, when God tries a poor soul, Oh! how does . . .
the scum of pride,
the scum of murmuring,
the scum of distrust,
the scum of impatience,
the scum of worldliness,
the scum of carnality,
the scum of foolishness,
the scum of willfulness
--reveal itself in the heart of the poor creature!

Trials are God's looking-glass, in which His people see their own faults. Oh! . . .
that looseness,
that vileness,
that wretchedness,
that sink of filthiness,
that gulf of wickedness,
which trials show to be in their hearts!

"When He has tried me, I shall come forth as gold!" Job 23:10

"Trials make the promise sweet,
Trials give new life to prayer;
Trials bring me to His feet,
Lay me low, and keep me there!"
Word of the Day
April 24
Draw Near (1)
proserchomai
Heb_10:22 declares, "Let us draw near with a true heart in full assurance of faith, having our hearts sprinkled from an evil conscience, and our bodies washed with pure water." Draw near is proserchomai (G4334), to approach, accede to. It is usually used in the Septuagint to translate the Hebrew qērab (H7126), which also means to come near or approach but also pictures the idea of closeness to the object being approached.
The Greek likewise pictures such closeness. This word appears in Mat_4:11, for example, where the angels "came and ministered unto [Jesus]" after Satan tempted Him and then departed. Jesus' disciples also "came to Him" often (Mat_5:1; Mat_8:25; etc.) showing their closeness to Him. Of special note is 1Ti_6:3-5, where Paul writes that we should withdraw ourselves from anyone who does not "consent" to (i.e., accede or agree to) sound doctrine.
What, then, does it mean biblically to draw near to God?
First, and foremost, drawing near to God means having a sincere desire for truth. The words true heart are alēthinēs kardias. As we studied on February 1-3, both the English word truth and the Greek behind it (aletheia, G225) speak of that which is absolute, incontrovertible, irrefutable, incontestable, unarguable, and unchanging. The specific form of the Greek here also refers to "sincerity." Kardia (G2588, heart, see November 14) refers not just to the emotional nature, but also to the reason and to the faculty of intelligence.
While many people today say such things as, "I want to be near God," or "I want to get close to God," when confronted with the absolutes of God's Word, they rebel. That's a staggering contradiction! They don't want to draw near to God at all. They are like the Israelites, of whom Isaiah wrote, "Wherefore the Lord said, Forasmuch as this people draw near me with their mouth, and with their lips do honour me, but have removed their heart far from me, and their fear toward me is taught by the precept of men" (Isa_29:13). Yes, they say the words, but when it comes down to real truth, they reject it and live according to their own ways. The most important thing that drawing near to God means is that we sincerely want to hear, receive, and obey God's truth.
We'll continue these thoughts tomorrow.
Scriptures for Study: Where can we "come" boldly, according to Heb_4:16? (See also January 5.) What is a prerequisite for coming close to God (Heb_11:6)?
Famous Last Words: Captain John Lee,
who was executed for forgery, sought to do away with God, yet in death longed for the assurance and hope of faith:
"I leave to the world this mournful memento, that however much a man may be favored by personal qualifications or distinguished mental endowments, genius will be useless, and abilities avail little, unless accompanied by religion and attended by virtue. Oh, that I had possession of the meanest place in heaven, and could but creep into one corner of it."

Thanks for visiting our site here at www.plbcmh.com