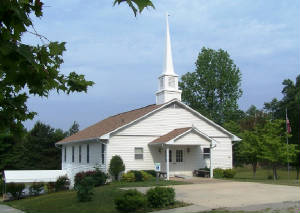 Come and Worship with us at
8256 Promise Land Road
Mountain Home, Arkansas 72653
Our Worship Schedule is
Sunday Bible Study - 9:45am
Sunday Worship - 11:00am
Wednesday Night Prayer Meeting - 6:00pm
Wednesday Night Bible Study - 7:00pm
Today's Memory Verse
"A false witness shall not be unpunished, and he that speaks lies shall not escape."
PROVERBS 19:5

"I do not believe that any man can preach the gospel who does not preach the Law."
CHARLES SPURGEON

"What if someone says they've never lied, stolen, lusted, blasphemed-if they deny having any sin at all?"

Ask the person if he has kept the First of the Ten Commandments. Has he always loved God above all else-with all of his heart, soul, mind, and strength (Mark 12:30)? If he says that he has, gently say, "The Bible says that 'there is none that seeks after God' (Romans 3:11). Nobody (except Jesus Christ) has kept the First of the Ten Commandments. One of you is lying-either you or God-and the Bible says that it is impossible for God to lie" (Hebrews 6:18; Titus 1:2).

Cameron, K., & Comfort, R. (2004). The school of biblical evangelism: 101 lessons: How to share your faith simply, effectively, biblically-the way Jesus did (90). Gainesville, FL: Bridge-Logos Publishers.


Point to Ponder

Two women from Southern California were about to cross the Mexican border to return to the U.S. when they saw what looked like a very small, sick animal in the ditch beside their car. As they examined it in the darkness of the night, they saw that it was a tiny Chihuahua. They decided to take it home with them and nurse it back to health. However, because they were afraid that they were breaking the law, they put it in the trunk of their car, and drove across the border. Once they were in the U.S., they retrieved the animal and nursed it until they arrived home.
One of the women was so concerned for the ailing dog that she actually took it to bed with her, and reached out several times during the night to touch the tiny animal and reassure it that she was still present.
The dog was so sick the next morning, she decided to take it to the veterinarian. That's when she found out that the animal wasn't a tiny, sick dog. It was a Mexican water rat, dying of rabies.
The world, in the blackness of its ignorance, thinks that sin is a puppy to be played with. It is the light of God's Law that enlightens the sinner to the fact that he is in bed with a deadly rat.
We were once "deceived, serving diverse lusts and pleasures," but now, if we are truly converted, our eyes have been opened. We see sin for the sugar-coated venom that it is.


Day by Day by Grace
The Holy Spirit and Starting Out with God
"Unless one is born of water and the Spirit, he cannot enter the kingdom of God. That which is born of the flesh is flesh, and that which is born of the Spirit is spirit...You must be born again." (John 3:5-7)
The new life that allows us to start out with God comes through a spiritual birth provided by the Holy Spirit. "Unless one is born of...the Spirit, he cannot enter the kingdom of God." Just as man must be physically born into the human family, so man must be spiritually born into God's family. There is no other option. That is why Jesus said, "You must be born again."
The reason spiritual new birth is a necessity is because "that which is born of the flesh is flesh." Natural human birth can only produce a natural life. Becoming a child of God involves a supernatural life that God alone can provide.
When Jesus came to secure our redemption, He was generally rejected. "He came to His own, and His own did not receive Him" (John 1:11). Nevertheless, some realized that He was Messiah, the Anointed King and Savior sent from the Father. "But as many as received Him, to them He gave the right to become children of God, even to those who believe in His name" (John 1:12).
Believing in Jesus' name involves trusting in His person and His work. It encompasses relying upon who He is, what He says, and what He has done and can do. Such faith brings a unique new birth: "Who were born, not of blood, nor of the will of the flesh, nor of the will of man, but of God" (John 1:13). This birth is from God. It cannot come by inheritance or genetics through our human bloodline. It is not available through an exercise of our human will. Neither can we have it pronounced upon us by some religious leader.
The Lord desires us to walk in a heavenly, spiritual life, not a mere earthly, human existence. Only a birth from the Spirit of God could bring us this type of life. "That which is born of the Spirit is spirit." All genuine spirituality must come from a work of the Holy Spirit on our behalf. This is true concerning our starting out with God in new birth and justification. "You...were justified in the name of the Lord Jesus and by the Spirit of our God" (1 Corinthians 6:11). We will see in subsequent meditations that this is true concerning our going on with God in growth and sanctification.
Dear Heavenly Father, I thank You for making me Your child through faith in Your Son, Jesus. I praise You for the new life Your Holy Spirit has brought to me. Help me to understand from Your word that the entire Christian experience is to be as supernatural as being born again was. In Jesus' name I pray, Amen.
Today's Grace Gem
The epithet employed to designate the character of God's people

(William Nicholson, "Fears Dispelled" 1862)

"Do not be afraid, O worm Jacob" Isaiah 41:14

The epithet employed to designate the character of God's people is "worm." This word is used to describe a base, weak, vile, and despised thing, "How much less man, who is but a maggot--a son of man, who is only a worm!" Job 25:6

(1.) This epithet implies baseness. A worm is a creature of little worth; its residence is the ground; it has no beauty in it. What is more contemptible than a worm?

Just so, man's origin as to his body, is the dust. In his fallen state, he is empty, having no good in him--and lighter than vanity. Sin has . . . degraded him, enervated his powers, and alienated his heart from God.

This baseness is frequently felt by Christians . . . when they think of the grandeur and glory of God, when they think of their sins and imperfections, when they think of their duties and trials, their ignorance, and their tendency to return to the dust from whence they came.

(2.) This epithet implies pollution. A worm is regarded as unclean. Its element is putrescence.

Just so, man is now degraded from his original dignity even below the brute creation! Yes, he has debased himself even unto Hell! "Ah, sinful nation, a people loaded with guilt, a brood of evildoers, children given to corruption! They have forsaken the LORD; they have spurned the Holy One of Israel and turned their backs on him. Your whole head is injured, your whole heart afflicted. From the sole of your foot to the top of your head there is no soundness--only wounds and welts and open sores, not cleansed or bandaged or soothed with oil!" Isaiah 1:4-6

Every Christian feels his tendency to pollution--he feels himself to be a worm.

(3.) This epithet implies danger. A worm is a creature frequently exposed to danger. Every foot is ready to crush it.

Just so, the body of man is liable to casualties--to death, sudden or protracted, from insignificant causes. And the precious soul of man is surrounded by danger--sin, the world, sinful pleasures, and Satan, are ready to crush it!

(4.) This epithet implies weakness. A worm is not able to make resistance, defend itself, or attack its opponent.

Just so, what resistance can a rebel sinner make against God! Ah! he is only a worm. "Woe to him who quarrels with his Maker, to him who is but a potsherd among the potsherds on the ground!" Isaiah 45:9

What can a believer do against his enemies--the world, the flesh, and the devil--without Divine aid? Without it, he feels himself to be a worm.

"Do not be afraid, O worm Jacob, O little Israel--for I Myself will help you, declares the LORD, your Redeemer, the Holy One of Israel!" Isaiah 41:14
Word of the Day
February 23
Height
hupsos
Concluding our study of four dimensions of God's love in Eph_3:18, we come finally to its height. The Greek hupsos (G5311) figuratively means elevation and dignity. This word appears, for example, in Jas_1:9-10: "Let the brother of low degree rejoice in that he is exalted: But the rich, in that he is made low," which means that "the poor, in contrast to the rich, are lifted up on high by God."
The height of Christ's love, then, shows the position to which believers have been elevated; that is, it shows God's ultimate and final purpose for us. How blessed that is! Not only has Christ's love come down to us, but it also elevates us to a new and exalted position.
Notice Eph_2:6: "[God] hath raised us up together, and made us sit together in heavenly places in Christ Jesus." Think of it! Christ loves us so much that He has actually joined us to Himself. May we put it this way: We have been raised from the depth of our sin to the height of His glory.
Consider one other related passage: "Behold, what manner of love the Father hath bestowed upon us, that we should be called the sons of God: therefore the world knoweth us not, because it knew him not. Beloved, now are we the sons of God, and it doth not yet appear what we shall be: but we know that, when he shall appear, we shall be like him; for we shall see him as he is. And every man that hath this hope in him purifieth himself, even as he is pure" (1Jn_3:1-3). To what greater height could we possibly be elevated!
Expositor John R. W. Stott summarizes these four dimensions with this observation: "The love of Christ is 'broad' enough to encompass all mankind (especially Jew and Gentile, the theme of these chapters), 'long' enough to last for eternity, 'deep' enough to reach the most degraded sinner, and 'high' enough to exalt him to heaven." Let these dimensions become real in your life.
Scriptures for Study: In Jas_1:9, what is a cause for our rejoicing? In Rev_20:1-6, what will the saints of God one day do?
Here at Promise Land Bible Church
We don't change the message, the message changes us.


Here at Promise Land Bible Church, we are honored that you are visiting our web site at www.plbcmh.com
It is our hope at Promise Land Bible Church that you will be encouraged by the preaching and teaching of God's Word presented here. For it is our desire to teach the whole council of God, so that the body can be edified and above all that God may be glorified.
For it is our passion and desire to share the Gospel message with everyone who will hear, in obedience to God's word.
Welcome to our site here at www.plbcmh.com
The fellowship of believers who call Promise Land Bible Church home would like to welcome you to our website. We believe that salvation is by grace alone, thru faith alone, in Christ alone, and that the Holy Scripture is our sole source of authority for what we do and how we live, and that everything we do, should be done for the glory of God. This is commonly called the 5 Solas of the Reformed Faith.
So here is our invitation to you;
If you are looking for a church that affirms the sole authority of the Holy Scriptures for all of faith and practice, the pre-eminence of the preaching of the Word of God, the glorious truths of salvation called the Doctrines of Grace, the necessity and responsibility of evangelism and a serious approach to the joyful worship of God, then we warmly invite you to come and visit us.
Join us as we look to the truth of scripture and Worship the Lord.
At www.plbcmh.com we do our best to present the truth of the gospel.
American Minute with Bill Federer
"Expect great things from God, Attempt great things for God"-William Carey & Adonirum Judson, missionaries to the Far East
"Expect great things from God, Attempt great things for God"-was the motto of William Carey, who left England in 1793 to become a missionary to India.

At the same time, a Second Great Awakening Revival was sweeping America.

In 1806, five Williams College students met by the Hoosic River in Massachusetts near a grove of trees to discuss how to reach the world with the Gospel.

Suddenly a thunderstorm poured down torrential rain and the students hid next to a haystack till it passed. While there, they prayed and committed themselves to world missions.

The book Williamstown and Williams College by Arthur Latham Perry (1904) recorded: "The brevity of the shower, the strangeness of the place of refuge, and the peculiarity of their topic of prayer and conference all took hold of their imaginations and their memories."

The Haystack Prayer Meeting led to the founding of the American Board of Commissioners for Foreign Missions, which in the next 50 years sent out 1250 missionaries to India, China, Hawaii, southeast Asian countries.

In 150 years, it sent out 5,000 to mission fields around the world.

Missionaries established schools, hospitals and translated the Bible into indigenous languages, even creating written languages.

The first missionary sent out by the American Board of Commissioners for Foreign Missions was Adonirum Judson, born in Massachusetts, August 9, 1788.

At age 16, he began attending the College of Rhode Island & Providence Plantations (Brown University).

While there, he became friends with a skeptic and deist named Jacob Eames.

Eames was a fan of godless French philosophies, and in discussions with Judson, convinced him to abandon his Christian faith.

After graduating valedictorian of his class at age 19, Judson opened a small school and wrote grammar and math textbooks.

While traveling to New York City in 1808, Judson stayed at a little inn. He was annoyed and not able to get any sleep because the groans of a dying man in a neighboring room kept him awake all night.

Nevertheless, Judson ignored the cries, as he had become hardened by his college friend at Brown University, Jacob Eames.

The next morning, when checking out, Judson inquired of the innkeeper who the man was who had died in the night. He was petrified when he heard it was none other than Jacob Eames, his college friend.

This rude awakening led Adoniram Judson to reaffirm his Christian faith and become America's first foreign missionary to Burma - modern day Myanmar.

Adoniram Judson fell in love with Ann Hasseltine, also known as Nancy.

Adoniram wrote to Ann's father: "I have now to ask whether you can consent to part with your daughter early next spring, to see her no more in this world; whether you can consent to her departure for a heathen land, and her subjection to the hardships and sufferings of a missionary life; whether you can consent to her exposure to the dangers of the ocean; to the fatal influence of the southern climate of India; to every kind of want and distress; to degradation, insult, persecution, and perhaps a violent death? ... Can you consent to all this for the sake of Him who left his heavenly home, and died for her and for you; for the sake of perishing immortal souls; for the sake of Zion and the glory of God? Can you consent to all this in hope of soon meeting your daughter in the world of glory, with a crown of righteousness brightened by the acclamations of praise which shall redound to her Savior from heathens saved, through her means, from eternal woe and despair?"

At age 23, Adoniram, and his wife Ann, age 22, sailed from New England on FEBRUARY 19, 1812, for Calcutta, India.

They were forced by the British East India Company to Rangoon, Burma.

Adonirum and Ann translated Scriptures, preached in Burmese, and started schools.

When war broke out between the British and Burma, Burmese officers burst into the Judson's home.

They threw Adoniram on the ground in front of his pregnant wife and tied him up with torture thongs.

Accusing him of being a spy for the British, they dragged him away and threw him into the infamous Ava death prison.

After 12 months, Judson was marched with other prisoners, ill and barefoot, to a primitive village near Mandalay.

All but one of the other prisoners died.

While Adoniram was in prison, his wife Ann was alone as the only western woman in the entire country.

She lived in a tiny shack outside the gate and brought him meager food, as the prison did not feed him.

Ann continually lobbied the authorities for his release.

After 20 months of brutal treatment, being in irons and even suspended by his mangled feet, Adoniram was finally released.

The British then pressed him into serving as an interpreter between the British and Burmese, where he gained respect from both sides.

Adoniram Judson compiled an English-Burmese Dictionary and translated the Bible.

Then, in 1826, Adoniram Judson's wife, Ann, died.

Adoniram sank into severe depression.

Later, he was joined by missionaries George Boardman and his wife, Sarah.

It took Judson 12 years to make 18 converts.

One of the first Christian converts was from the Karen people, a man named Ko Tha Byu.

He had been a murderer with a diabolical temper. After being captured, he was sold into slavery. Adoniram Judson and George Boardman began witnessing to him, teaching him to read and write.

Ko Tha Byu converted to Christianity and was baptized on May 16, 1828. For the rest of his life he was a tireless evangelist to the Karen people.

The Karen people had been a hunted minority scattered in the jungles.

Astonishingly, their ancient Karen people beliefs were that there was an all-powerful Creator of heaven and earth who made a man, then took one of the man's ribs and formed a woman.

The Karen people believed that as a result of temptation by a devil, the man and woman fell, but there was a promise that someday a messiah would come to their rescue.

The Karen people lived in expectation of a prophecy that white foreigners would bring them a sacred parchment roll.

Ko Tha Byu was put into the ministry by Adoniram Judson

With Ko Tha Byn's help, from 1828-1840, membership in the Karen Baptist Church grew to 1270.

Ko Tha Byu served as the first native Burmese pastor, refounding the church at Rangoon.

A mission worker described him: " Ko Tha Byu was an ignorant man; yet he did more good than all of us, for God was with him."

Adoniram Judson died in April 12, 1850.

His life's work resulted in Burma having 100 churches, 123 ministers and over 8,000 baptized Christians.

The leader of the Myanmar Evangelical Fellowship stated in 1993: "Today, there are 6 million Christians in Myanmar, and every one of us trace our spiritual heritage to one man - the Reverend Adoniram Judson."

Each July, Baptist churches in Myanmar celebrate "Judson Day."

In the United States, no less than 36 Baptist churches are named after Adoniram Judson, as well as Judson University in Illinois and the town of Judsonia, Arkansas.

His wife, Ann Judson, is the namesake of Judson College in Alabama, as well as a dormitory at Maranatha Baptist University.

At Brown University there is a house named after Adoniram Judson, owned by Christian Union.

During World War II, a U.S. Liberty Ship was stationed in the Philippines named the SS Adoniram Judson.

Surviving 56 air raid attacks day and night for six days, the ship's captain said "It was miraculous that the bombs did not hit the ship."

Expressing his conviction, Adoniram Judson wrote: "How do Christians discharge this trust committed to them? They let three fourths of the world sleep the sleep of death, ignorant of the simple truth that a Savior died for them."
Famous Last Words: Isaac Watts (hymn writer):


"It is a great mercy that I have no manner of fear or dread of death. I could, if God please, lay my head back and die without terror this afternoon."

Thanks for visiting our site here at www.plbcmh.com