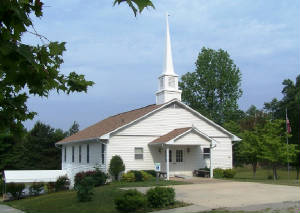 Come and Worship with us at
8256 Promise Land Road
Mountain Home, Arkansas 72653
Our Worship Schedule is
The Church is Open, worship with us inside or outside, message is transmitted on FM 95.1
Sunday Bible Study - 9:45am
Sunday Worship - 11:00am
Wednesday Night Prayer Meeting - 6:00pm
Wednesday Night Bible Study - 7:00pm
Today's Memory Verse
"Depart from evil, and do good; seek peace, and pursue it. The eyes of the LORD are upon the righteous, and his ears are open unto their cry."
PSALM 34:14, 15

"How many observe Christ's birthday! How few, his precepts! O!'tis easier to keep holidays than commandments."
BENJAMIN FRANKLIN

"God is unfair in that Hitler and a dear old lady (who never accepted Jesus) will both go to hell."

Sinners often accuse God of being unjust, because they assume that everyone will receive the same punishment in hell regardless of whether their sins are menial or heinous. God's judgment, however, will be according to righteousness (Acts 17:31). In Matthew 11:24, Jesus said, "It shall be more tolerable for the land of Sodom in the day of judgment, than for you." And in Luke 10:14, we see that the more sinful cities of Chorazin and Bethsaida will receive a more harsh judgment than Tyre and Sidon. These verses show that there will be degrees of punishment. (See also Luke 12:47, 48; Hebrews 10:29.)

Cameron, K., & Comfort, R. (2004). The school of biblical evangelism: 101 lessons: how to share your faith simply, effectively, biblically-the way Jesus did (p. 65). Gainesville, FL: Bridge-Logos Publishers.
Point to Ponder

Back in the Old West, a number of men were upstairs in a boarding house amusing themselves with a game of cards when they heard a cry from the street below: "Fire! Fire!" The men looked at one another in disbelief. One of the windows grew orange with the flames. "Wait!" said the dealer. "Let's just finish this hand; we've got plenty of time-I have a key to the back door." The men nodded in approval, then quickly picked up the dealt cards. Precious minutes passed. One of the men became nervous as the flames licked through the now broken window. With darting eyes and a sweat-filled brow, he asked for the key. "Coward!" muttered the dealer as he tossed across the key. Each of them then rushed to the door and waited with bated breath as the key was placed into the lock. "It won't turn!" the man cried. "Let me have it!" said the dealer. As he tried in vain to turn the key, he whispered in horror, "It's the wrong key!"


Day by Day by Grace
Obedience and the Life of Jesus
"And He who sent Me is with Me. The Father has not left Me alone, for I always do those things that please Him"...Christ in you, the hope of glory. (John 8:29 and Colossians 1:27)
Our Lord Jesus wants His followers to live in obedience to His will: "teaching them to observe all things that I have commanded you" (Matthew 28:20a). Our Lord is with us in every step of our pilgrimage, granting us His grace unto obedience. "I am with you always...through whom we have received grace and apostleship for obedience to the faith" (Matthew 28:20b and Romans 1:4-5). This is also the way that Jesus lived here on earth in relationship with His heavenly Father. "And He who sent Me is with Me. The Father has not left Me alone, for I always do those things that please Him." The Father was with the Son, as the Son lived to please the Father.
Jesus came to earth to live in humble dependence upon, and full obedience to, the Father. "And being found in appearance as a man, He humbled Himself and became obedient to the point of death, even the death of the cross" (Philippians 2:8). Even though obedience led to the cross, Jesus obeyed the will of the Father. In the garden of Gethsemane, the obedient Son wrestled with the implications and impact of the impending cross. The holy, eternal One was to drink the cup of sin and death for all of us. His entire being was repulsed by that which was so contrary to His nature. "My soul is exceedingly sorrowful, even to death...O My Father, if it is possible, let this cup pass from Me" (Matthew 26:38-39). Yet, He obediently yielded to the Father's will. "Nevertheless, not as I will, but as You will" (Matthew 26:39b). This is the ultimate example of obedience.
This same Jesus (who always pleased the Father, even unto death) now lives in us. This same Jesus is our "hope of glory." He is our hope (expectation, confidence) of making it to glory (heaven) some day. He is also our hope of walking in any heavenly reality here on the way to glory. He is our hope of an obedient life.
Obedience is essentially related to the life of Jesus. The life Jesus lived on earth is our perfect example of obedience. The life He now wants to live in and through us is our glorious hope of obedience.
Lord Jesus, I look at Your life on earth and I see the obedience that I yearn to experience. I know that I can not produce such a life on my own. I think of You living in me, and I have hope that I can grow in obedience. So, I place my hope in You to express Your obedient heart in and through my choices, my words, my actions, my entire life, Amen.
Here at Promise Land Bible Church
We don't change the message, the message changes us.


Here at Promise Land Bible Church, we are honored that you are visiting our web site at www.plbcmh.com
It is our hope at Promise Land Bible Church that you will be encouraged by the preaching and teaching of God's Word presented here. For it is our desire to teach the whole council of God, so that the body can be edified and above all that God may be glorified.
For it is our passion and desire to share the Gospel message with everyone who will hear, in obedience to God's word.
Welcome to our site here at www.plbcmh.com
The fellowship of believers who call Promise Land Bible Church home would like to welcome you to our website. We believe that salvation is by grace alone, thru faith alone, in Christ alone, and that the Holy Scripture is our sole source of authority for what we do and how we live, and that everything we do, should be done for the glory of God. This is commonly called the 5 Solas of the Reformed Faith.
So here is our invitation to you;
If you are looking for a church that affirms the sole authority of the Holy Scriptures for all of faith and practice, the pre-eminence of the preaching of the Word of God, the glorious truths of salvation called the Doctrines of Grace, the necessity and responsibility of evangelism and a serious approach to the joyful worship of God, then we warmly invite you to come and visit us.
Join us as we look to the truth of scripture and Worship the Lord.
At www.plbcmh.com we do our best to present the truth of the gospel.
Heaven has become a trifle to you, Hell is almost a jest, eternity an empty notion, and death but a bugbear!

(Charles Spurgeon)

"Many, I say unto you, will seek to enter in, and shall not be able!" Luke 13:24

I do not wonder that so many are deceived, when I see the careless way in which they deal with their souls. When men have to do with their estates, they are very careful; they pay a lawyer to go back over the title-deeds perhaps for two or three hundred years. In trade they will hurry hither and thither to attend to their commercial engagements; they would not launch into speculations, nor would they run great risks.

But the soul, the poor soul--how men play with it as a toy, and despise it as if it were worthless! Two or three minutes in the morning when they first roll out of bed; two or three odd minutes in the evening, when they are nearly asleep--the fag-ends of the day given to their souls, and all the best part given to the body!

And then, with what indifference do you lend your ears too often to the preaching of the Word! It is an old song--you have heard it so many times. Heaven has become a trifle to you, Hell is almost a jest, eternity an empty notion, and death but a bugbear!

Alas! it is a marvel that there are not more deceived. The wonder is that any find the gate, that any discover eternal life, when we are so, so mad, so foolish, so insane--as to trifle where we ought to be solemnly in earnest; and to play and toy--where the whole heart should be given to a work of such everlasting importance. God help us, since it is so easy to be deceived--to search, and watch, and look, and test, and try, that we be not found castaways at the last!

"Enter through the narrow gate. For wide is the gate and broad is the road that leads to destruction, and many enter through it. But small is the gate and narrow the road that leads to life, and only a few find it!" Matthew 7:13-14

"Examine yourselves to see whether you are in the faith; test yourselves. Do you not realize that Christ Jesus is in you--unless, of course, you fail the test?" 2 Corinthians 13:5
Word of the Day
June 4
Abide (3)
menō
One final application of the word abide (menō, G3306) is that not only does God abide in the Christian, but the true Christian also abides in God. What a relationship! But what exactly does it mean to abide in God? God's Word reveals at least four principles concerning our dwelling in God.
First, to dwell in God (or Christ) means that we walk as Christ walked. "He that saith he abideth [menō] in him ought himself also so to walk, even as he walked" (1Jn_2:6). That means we are to think like Christ (Php_2:5) and act like Christ (Joh_13:15).
Second, to dwell in Christ means that we don't habitually live in sin. 1Jn_3:6 declares, "Whosoever abideth [menō] in him sinneth not: whosoever sinneth hath not seen him, neither known him." The construction of the Greek behind both occurrences of "sinneth" is the present tense, so the idea is that we do not continually, habitually sin. Sin is no longer the rule in our life; it's the exception.
Third, to dwell in Christ means that we continue in His Word. Our Lord said, "If ye continue [menō] in my word, then are ye my disciples indeed" (Joh_8:31). One of the most powerful proofs of true Christianity is that we love and obey the Word of God. Someone might claim to be a Christian, but if he doesn't obey God's Word, his profession is just that-a profession. As the apostle John says again, "He that doeth the will of God abideth [menō] for ever" (1Jn_2:17).
Fourth, to dwell in Christ means that we bear fruit. As mentioned yesterday, our Lord again speaks in Joh_15:5: "I am the vine, ye are the branches: He that abideth [menō] in me, and I in him, the same bringeth forth much fruit." A powerful evidence of salvation is that we bear fruit, and we can bear fruit through our: commendation (praise and worship; Heb_13:5); character (Gal_5:22-23); conduct (Col_1:10; Rom_6:22); charity (Php_4:7); and converts (1Co_16:5; Joh_4:36). Fruit-bearing also has levels: "bear fruit" (Joh_15:2a), bear "more fruit" (Joh_15:2b), and bear "much fruit" (Joh_15:5).
Scriptures for Study: Continuing yesterday's reading, read 1Jn_2:24 and 1Jn_4:12-16, again noting each occurrence of abide, remain, and dwell.