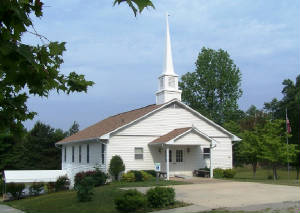 Come and Worship with us at
8256 Promise Land Road
Mountain Home, Arkansas 72653
Our Worship Schedule is
Sunday Bible Study - 9:45am
Sunday Worship - 11:00am
Wednesday Night Prayer Meeting - 6:00pm
Wednesday Night Bible Study - 7:00pm
Today's Memory Verse
"Preach the word; be instant in season, out of season; reprove, rebuke, exhort with all longsuffering and doctrine."
2 TIMOTHY 4:2

"You have nothing to do but to save souls. Therefore spend and be spent in this work. And go not only to those that need you, but to those that need you most ... It is not your business to preach so many times, and to take care of this or that society; but to save as many souls as you can; to bring as many sinners as you possibly can to repentance."
JOHN WESLEY

"Do you think that Christians are better than non-Christians?"

The Christian is no better than a non-Christian, but he is infinitely better off. It is like two men on a plane, one of whom is wearing a parachute while the other is not. Neither is better than the other, but the man with the parachute is certainly better off than the man who is not wearing a parachute. The difference will be seen when they jump from the plane at 20,000 feet. Jesus warned that if we "jump" into death without Him, we would perish.
Even harsher than the law of gravity is the Law of an infinitely holy and just Creator. Scripture states that sinners are God's enemy (Romans 5:10) and that "it is a fearful thing to fall into the hands of the living God" (Hebrews 10:31).

Cameron, K., & Comfort, R. (2004). The school of biblical evangelism: 101 lessons: how to share your faith simply, effectively, biblically-the way Jesus did (pp. 168-169). Gainesville, FL: Bridge-Logos Publishers.
Point to Ponder

A true story is told of a millionaire who had a portrait painted of his beloved son before the son went to war. He was tragically killed in battle, and shortly afterward, the heartbroken millionaire died. His will stated that all his riches were to be auctioned, specifying that the painting must sell first.
Many showed up at the auction, where a mass of the rich man's wealth was displayed. When the painting was held up for sale, no bids were offered. It was an unknown painting by an unknown painter of the rich man's uncelebrated son, so, sadly, there was no interest. After a few moments, a butler who worked for the man recalled how much the millionaire loved his son, so he made a bid and purchased the portrait for a very low price.
Suddenly, to everyone's surprise, the auctioneer brought down his gavel and declared the auction closed. The rich man's will had specified that the person who cared enough to purchase the painting of his beloved son was also to be given all the riches of his will.
This is precisely what God has done through the gospel. He who accepts the beloved Son of God also receives all the riches of His will-the gift of eternal life and "pleasures for evermore." They become "joint heirs" with the Son (Romans 8:16, 17).


Day by Day by Grace
Another "Unpopular" Promise of Sin's Consequences
"So it will be at the end of the age. The angels will come forth, separate the wicked from among the just, and cast them into the furnace of fire. There will be wailing and gnashing of teeth." (Matthew 13:49-50)
Here are some more "unpopular" promises from Jesus. This series of promises intensifies the warning He gave in our previous meditation concerning the consequences of sin. "If you do not believe that I am He, you will die in your sins" (John 8:24). Our present verses reveal by promise the absolute certainty and dreadful duration of sin's consequences. In a world that wants to deny accountability and ignore eternity, these are unpopular promises.
All who die in the guilt of sin will definitely be judged some day. It is an absolute certainty. A day of accountability is coming. "So it will be at the end of the age. The angels will come forth, separate the wicked from among the just." Those who die before this day will also face judgment. "It is appointed for men to die once, but after this the judgment" (Hebrews 9:27). The place of final judgment for the unsaved will be the great white throne. "Then I saw a great white throne and Him who sat on it...And I saw the dead, small and great, standing before God...And the dead [the unredeemed dead] were judged according to their works, by the things which were written in the books...And they were judged, each one according to his works...And anyone not found written in the Book of Life was cast into the lake of fire" (Rev 20:11-15).
This absolutely certain judgment also has a dreadful duration. It is eternal. Sin is a spiritual crime against God. The true and living God is eternal. He is the great "I AM" (Exodus 3:14 and John 8:58). Therefore, the consequences of sin are also eternal. Thus, all unbelievers will be "cast into the lake of fire and brimstone...And they will be tormented day and night forever and ever" (Revelation 20:10). The ultimate torment of hell will be separation from God's presence for eternity. "These shall be punished with everlasting destruction from the presence of the Lord" (2 Thessalonians 1:9).
The absolute certainty and dreadful duration of the consequences of sin make earlier promises we have examined all the more critical. "For the wages of sin is death, but the gift of God is eternal life in Christ Jesus our Lord...And I give them eternal life, and they shall never perish" (Romans 6:23 and John 10:28).
Everlasting Father, I know that I deserve eternal judgment due to my sins against You. I praise You for the gracious gift of eternal life through Jesus Christ, my Lord. Use me to help others know of the reality of judgment and the availability of everlasting life, Amen.
Here at Promise Land Bible Church
We don't change the message, the message changes us.


Here at Promise Land Bible Church, we are honored that you are visiting our web site at www.plbcmh.com
It is our hope at Promise Land Bible Church that you will be encouraged by the preaching and teaching of God's Word presented here. For it is our desire to teach the whole council of God, so that the body can be edified and above all that God may be glorified.
For it is our passion and desire to share the Gospel message with everyone who will hear, in obedience to God's word.
Welcome to our site here at www.plbcmh.com
The fellowship of believers who call Promise Land Bible Church home would like to welcome you to our website. We believe that salvation is by grace alone, thru faith alone, in Christ alone, and that the Holy Scripture is our sole source of authority for what we do and how we live, and that everything we do, should be done for the glory of God. This is commonly called the 5 Solas of the Reformed Faith.
So here is our invitation to you;
If you are looking for a church that affirms the sole authority of the Holy Scriptures for all of faith and practice, the pre-eminence of the preaching of the Word of God, the glorious truths of salvation called the Doctrines of Grace, the necessity and responsibility of evangelism and a serious approach to the joyful worship of God, then we warmly invite you to come and visit us.
Join us as we look to the truth of scripture and Worship the Lord.
At www.plbcmh.com we do our best to present the truth of the gospel.
Today's Grace Gem
(John Newton, Gadsby's Hymnal #1100)

"Since, then, you have been raised with Christ, set your hearts on things above,
where Christ is seated at the right hand of God. Set your minds on things above,
not on earthly things." Colossians 3:1-2

1. Let worldly minds the world pursue,
It has no charms for me;
Once I admired its trifles too,
But grace has set me free.

2. Its pleasures now no longer please,
No more content afford;
Far from my heart be joys like these,
Now I have seen the Lord.

3. As by the light of opening day
The stars are all concealed;
So earthly pleasures fade away,
When Jesus is revealed.

4. Creatures no more divide my choice;
I bid them all depart;
His name, and love, and gracious voice,
Have fixed my roving heart.

5. Now, Lord, I would be thine alone,
And wholly live to thee;
But may I hope that thou wilt own
A worthless worm like me?

6. Yes, though of sinners I'm the worst,
I cannot doubt thy will;
For if thou hadst not loved me first,
I thee had hated still.
Word of the Day
August 18
Unfruitful
akarpos
A few days ago (see August 13), we considered the word darkness. Paul adds to that picture in Eph_5:11 by commanding, "Have no fellowship with the unfruitful works of darkness."
Unfruitful is akarpos (G175). The root karpos (G2590) appears some sixty-six times in the NT and primarily refers to the fruit of plants (Mat_21:19) or the produce of the earth (Jas_5:7, Jas_5:18). The extended meaning, however, is more significant. "The use of the term fruit expressly indicates that it is not a question of deliberate, self-determined action on man's part. Rather it is that 'fruit-bearing' which follows from his turning to God and the power of the Spirit working in him." In other words, just as fruit automatically comes from a plant or tree because it is its nature to do so, spiritual fruit is automatic in the Christian. We don't produce fruit because of our effort, but because of the Spirit's energy. Fruit comes because that is now our nature. That is why our Lord said, "By their fruits ye shall know them" (Mat_7:20).
When the prefix a (G1; the "alpha-negative," April 1) is added, however, akarpos means the exact opposite: "unfruitful, fruitless, barren, unproductive." Among its eight NT appearances, we find it in reference to the "thorny ground hearer" in the Parable of the Sower: "He also that received seed among the thorns is he that heareth the word; and the care of this world, and the deceitfulness of riches, choke the word, and he becometh unfruitful" (Mat_13:22). Jude uses it to refer to apostates, who are "clouds . . . without water, carried about of winds; trees whose fruit withereth, without fruit, twice dead, plucked up by the roots" (Jud_1:12).
So, as fruitfulness is automatic because of natural inclination, so is unfruitfulness. The unsaved man does not have to work at being unfruitful; it comes naturally. As our Lord declared, "Even so every good tree bringeth forth good fruit; but a corrupt tree bringeth forth evil fruit. A good tree cannot bring forth evil fruit, neither can a corrupt tree bring forth good fruit" (Mat_7:17-18).
This challenges us, with Paul, to "have no fellowship with the unfruitful works of darkness" (Eph_5:11), but rather, to bear fruit for God's glory. Tomorrow we'll discover how we bear fruit in the Christian life.
Scriptures for Study: What is spoken of as being unfruitful in 1Co_14:14? In 2Pe_1:5-8, what virtues will prevent unfruitfulness?
Famous Last Words: Henry Wadsworth Longfellow
(1807-1882) is the most famous of American Puritan poets. Having the Christian outlook on life both here and hereafter, Longfellow left us this testimony on the continuity of life beyond the grave:
"There is no death; what seems so is transition."

Thanks for visiting our site here at www.plbcmh.com