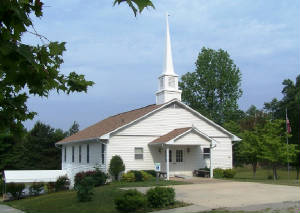 Come and Worship with us at
8256 Promise Land Road
Mountain Home, Arkansas 72653
Our Worship Schedule is
Sunday Bible Study - 9:45am
Sunday Worship - 11:00am
Wednesday Night Prayer Meeting - 6:00pm
Wednesday Night Bible Study - 7:00pm
Today's Memory Verse
"Depart from evil, and do good; seek peace, and pursue it. The eyes of the LORD are upon the righteous, and his ears are open unto their cry."
PSALM 34:14, 15

"How many observe Christ's birthday! How few, his precepts! O!'tis easier to keep holidays than commandments."
BENJAMIN FRANKLIN

"God is unfair in that Hitler and a dear old lady (who never accepted Jesus) will both go to hell."

Sinners often accuse God of being unjust, because they assume that everyone will receive the same punishment in hell regardless of whether their sins are menial or heinous. God's judgment, however, will be according to righteousness (Acts 17:31). In Matthew 11:24, Jesus said, "It shall be more tolerable for the land of Sodom in the day of judgment, than for you." And in Luke 10:14, we see that the more sinful cities of Chorazin and Bethsaida will receive a more harsh judgment than Tyre and Sidon. These verses show that there will be degrees of punishment. (See also Luke 12:47, 48; Hebrews 10:29.)

Cameron, K., & Comfort, R. (2004). The school of biblical evangelism: 101 lessons: how to share your faith simply, effectively, biblically-the way Jesus did (p. 65). Gainesville, FL: Bridge-Logos Publishers.
Point to Ponder
Back in the Old West, a number of men were upstairs in a boarding house amusing themselves with a game of cards when they heard a cry from the street below: "Fire! Fire!" The men looked at one another in disbelief. One of the windows grew orange with the flames. "Wait!" said the dealer. "Let's just finish this hand; we've got plenty of time-I have a key to the back door." The men nodded in approval, then quickly picked up the dealt cards. Precious minutes passed. One of the men became nervous as the flames licked through the now broken window. With darting eyes and a sweat-filled brow, he asked for the key. "Coward!" muttered the dealer as he tossed across the key. Each of them then rushed to the door and waited with bated breath as the key was placed into the lock. "It won't turn!" the man cried. "Let me have it!" said the dealer. As he tried in vain to turn the key, he whispered in horror, "It's the wrong key!"


Day by Day by Grace
The Holy Spirit and Starting Out with God
"Unless one is born of water and the Spirit, he cannot enter the kingdom of God. That which is born of the flesh is flesh, and that which is born of the Spirit is spirit...You must be born again." (John 3:5-7)
The new life that allows us to start out with God comes through a spiritual birth provided by the Holy Spirit. "Unless one is born of...the Spirit, he cannot enter the kingdom of God." Just as man must be physically born into the human family, so man must be spiritually born into God's family. There is no other option. That is why Jesus said, "You must be born again."
The reason spiritual new birth is a necessity is because "that which is born of the flesh is flesh." Natural human birth can only produce a natural life. Becoming a child of God involves a supernatural life that God alone can provide.
When Jesus came to secure our redemption, He was generally rejected. "He came to His own, and His own did not receive Him" (John 1:11). Nevertheless, some realized that He was Messiah, the Anointed King and Savior sent from the Father. "But as many as received Him, to them He gave the right to become children of God, even to those who believe in His name" (John 1:12).
Believing in Jesus' name involves trusting in His person and His work. It encompasses relying upon who He is, what He says, and what He has done and can do. Such faith brings a unique new birth: "Who were born, not of blood, nor of the will of the flesh, nor of the will of man, but of God" (John 1:13). This birth is from God. It cannot come by inheritance or genetics through our human bloodline. It is not available through an exercise of our human will. Neither can we have it pronounced upon us by some religious leader.
The Lord desires us to walk in a heavenly, spiritual life, not a mere earthly, human existence. Only a birth from the Spirit of God could bring us this type of life. "That which is born of the Spirit is spirit." All genuine spirituality must come from a work of the Holy Spirit on our behalf. This is true concerning our starting out with God in new birth and justification. "You...were justified in the name of the Lord Jesus and by the Spirit of our God" (1 Corinthians 6:11). We will see in subsequent meditations that this is true concerning our going on with God in growth and sanctification.
Dear Heavenly Father, I thank You for making me Your child through faith in Your Son, Jesus. I praise You for the new life Your Holy Spirit has brought to me. Help me to understand from Your word that the entire Christian experience is to be as supernatural as being born again was. In Jesus' name I pray, Amen.
Here at Promise Land Bible Church
We don't change the message, the message changes us.