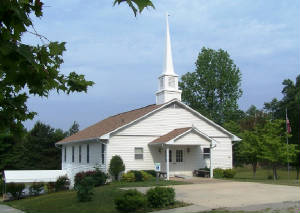 Come and Worship with us at
8256 Promise Land Road
Mountain Home, Arkansas 72653
Our Worship Schedule is
Sunday Bible Study - 9:45am
Sunday Worship - 11:00am
Wednesday Night Prayer Meeting - 6:00pm
Wednesday Night Bible Study - 7:00pm
Today's Memory Verse
"One man regards one day above another, another regards every day alike. Let each man be fully convinced in his own mind."
ROMANS 14:5, 6

"I am no preacher of the old legal Sabbath. I am a preacher of the gospel. The Sabbath of the Jew is to him a task; the Lord's Day of the Christian, the first day of the week, is to him a joy, a day of rest, of peace, and of thanksgiving. And if you Christian men can earnestly drive away all distractions, so that you can really rest today, it will be good for your bodies, good for your souls, good mentally, good spiritually, good temporally, and good eternally."
CHARLES SPURGEON

"I believe I will go to heaven because I live by the Golden Rule."

Much of the world knows the Golden Rule simply as "do unto others as you would have them do unto you" (see Luke 6:31). According to this verse, if we can live by this rule and love our neighbor as much as we love ourselves, we fulfill the Law. Ask those who claim to do this if they have ever lied, stolen, hated, or looked with lust. If they have broken any of these Commandments, then they haven't loved those they have lied to, stolen from, etc. This will show them that they have violated the Golden Rule. They are under God's wrath (John 3:36), desperately needing the Savior's cleansing blood.

Cameron, K., & Comfort, R. (2004). The school of biblical evangelism: 101 lessons: how to share your faith simply, effectively, biblically-the way Jesus did (pp. 59-60). Gainesville, FL: Bridge-Logos Publishers.
Point to Ponder

In 1969, twenty-four people decided to ignore warnings that Hurricane Camille was heading for Mississippi. They instead made up their minds that they were going to ride it out. Twenty-three of them died in the hurricane. The cross is a warning of the fierce hurricane of God's wrath, which no one will "ride out" on Judgment Day. The only way to flee the coming wrath is to "kiss the Son"-to yield to the Lordship of the Savior, Jesus Christ. Those who put their trust in Him are blessed with forgiveness and eternal life.


Day by Day by Grace
Even More Consequences of Accessing Grace through Faith
Who through faith...stopped the mouths of lions, quenched the violence of fire. (Hebrews 11:33b-34a)
Through various testimonies of God's servants, we have considered some consequences of accessing grace through faith. By trusting in the Lord, they "subdued kingdoms, worked righteousness, obtained promises" (Hebrews 11:33a). Yet, through these lives we can see even more blessed consequences.
Through faith in God, they "stopped the mouths of lions." This is clearly a reference to Daniel. His enemies conspired to trap him through a new law that would ban prayer to God. "Whoever petitions any god or man for thirty days, except you, O king, shall be cast into the den of lions" (Daniel 6:7). Such a godless decree could never stop Daniel from his daily practice of prayer. "Now when Daniel knew that the writing was signed, he went home. And in his upper room, with his windows open toward Jerusalem, he knelt down on his knees three times that day, and prayed and gave thanks before his God, as was his custom since early days" (Daniel 6:10). The reluctant king (who respected Daniel greatly) had to apply the irreversible law. "So the king gave the command, and they brought Daniel and cast him into the den of lions" (Daniel 6:16). The next day, Daniel was found alive, rescued by the God in whom he had trusted. "So Daniel was taken up out of the den, and no injury whatever was found on him, because he believed in his God" (Daniel 6:23).
These testimonies also record that they "quenched the violence of fire." This would clearly refer to three contemporaries of Daniel: Shadrach, Meshach, and Abed-Nego. Through faith, they had courage to refuse worship of the king's idol, even though a fiery furnace awaited them. After God preserved them intact, the king extolled the Lord with understanding. "Blessed be the God of Shadrach, Meshach, and Abed-Nego, who...delivered His servants who trusted in Him" (Daniel 3:28).
By faith, we, too, can stop the mouth of the lion that threatens us. "Your adversary the devil walks about like a roaring lion, seeking whom he may devour. Resist him, steadfast in the faith" (1 Peter 5:8-9). Also, by faith in the promises of God, we can quench the violence of fiery trials that come against us. "When you walk through the fire, you shall not be burned, nor shall the flame scorch you. For I am the LORD your God" (Isaiah 43:2-3).
Dear Lord, what a comfort to know that lions and fires are no threat to You. Lord, grant me the courage to do what is pleasing in Your sight, no matter who comes against me. When the roaring adversary attacks, may I trust in You. When fiery circumstances blaze, may I turn to You, for Your glory, Amen.
Famous Last Words: Ludwig van Beethoven
(1770-1827), German composer:
"Too bad, too bad! It's too late!"

Here at Promise Land Bible Church
We don't change the message, the message changes us.


Here at Promise Land Bible Church, we are honored that you are visiting our web site at www.plbcmh.com
It is our hope at Promise Land Bible Church that you will be encouraged by the preaching and teaching of God's Word presented here. For it is our desire to teach the whole council of God, so that the body can be edified and above all that God may be glorified.
For it is our passion and desire to share the Gospel message with everyone who will hear, in obedience to God's word.
Welcome to our site here at www.plbcmh.com
The fellowship of believers who call Promise Land Bible Church home would like to welcome you to our website. We believe that salvation is by grace alone, thru faith alone, in Christ alone, and that the Holy Scripture is our sole source of authority for what we do and how we live, and that everything we do, should be done for the glory of God. This is commonly called the 5 Solas of the Reformed Faith.
So here is our invitation to you;
If you are looking for a church that affirms the sole authority of the Holy Scriptures for all of faith and practice, the pre-eminence of the preaching of the Word of God, the glorious truths of salvation called the Doctrines of Grace, the necessity and responsibility of evangelism and a serious approach to the joyful worship of God, then we warmly invite you to come and visit us.
Join us as we look to the truth of scripture and Worship the Lord.
At www.plbcmh.com we do our best to present the truth of the gospel.
On whom do you trust?

(Charles Spurgeon)

"On whom do you trust?" Isaiah 36:5

Reader, this is an important question. Listen to the Christian's answer, and see if it is yours.

"On whom do you trust?"

"I trust," says the Christian, "in the triune God of Scripture!"

I trust the Father, believing that He has chosen me from before the foundation of the world. I trust Him to provide for me in His providence, to teach me, to guide me, to correct me if need be, and to bring me home to His own house where the many mansions are!

I trust the Son. The man Christ Jesus--is also the true God. I trust in Him as my Redeemer--to take away all my sins by His atoning sacrifice, and to adorn me with His perfect righteousness. I trust Him to be my Intercessor, to present my prayers and desires before His Father's throne. I trust Him to be my Advocate at the last great day, to plead my cause, and to justify me. I trust Him . . . for what He is, for what He has done, and for what He has promised yet to do!

I trust the Holy Spirit. He has begun to save me from my inbred sins; I trust Him to finally drive them all out. I trust Him . . . to curb my debased temperament, to subdue my stubborn will, to enlighten my darkened understanding, to check my evil passions, to comfort my despondency, to help my spiritual weakness, to provide my spiritual nourishment, to reign in me as my loving King, to sanctify me wholly, and then to take me up to dwell forever in glory!

Oh, blessed trust! To trust Him . . . whose power will never be exhausted, whose love will never wane, whose kindness will never change, whose faithfulness will never fail, whose wisdom will never be confounded, and whose perfect goodness can never know a diminution!

Happy are you, reader, if this trust is yours! So trusting, you shall enjoy sweet peace now, and glory hereafter! The foundation of your trust shall never be removed!
Word of the Day
November 12
Study
spoudazō
In 2Ti_2:15, Paul writes, "Study to shew thyself approved unto God, a workman that needeth not to be ashamed, rightly dividing the word of truth."
Study is spoudazō (G4704), a verb derived from the noun spoudē (G4710), meaning speed, haste, diligence. In Classical Greek, this verb means "'to make haste' and is thus closely related to 'to be zealous, active, concerned about something.'" The usual idea in NT usage is "zealous effort."
Concerning our text, many think that newer Bible translations that read, "Be diligent" (NASB), or "Do your best" (NIV, which is a terrible translation), are better. One popular commentary says: "'Study' (KJV) is obviously too narrow a term, usually referring today to the studying of books." On the contrary, we submit that the beauty of the AV's Old English actually says much more. In his unabridged dictionary, Webster says that "study," "to be diligent," and "to be eager" are all "akin," and then defines study as "a state of absorbed contemplation." Now, in all honesty, isn't that better?
Indeed, our attitude and approach to the interpretation of Scripture must be "absorbed contemplation." How much slip-shod, shallow, and sentimental Bible interpretation there is today! Many think they can just read a few verses, make a quick "application," and then hurry on to their next activity. Many preachers do likewise in their sermon preparation, spending an hour or two in the Word and coming away with a shallow, topical "sermonette for Christianettes." Sadly, some Bible colleges are the guiltiest because that is the approach they teach.
Another deadly danger to honest interpretation is the common practice of formulating a preconceived idea, opinion, or position and then going to Scripture to try to defend it. The story is often told of the preacher who said, "I've got a really good sermon in mind; all I need is a Scripture verse to go with it." That might be humorous, but it's more common than you think. This is also common among folks who have held a certain position all their lives and refuse to consider any other teaching.
If I may be frank, we must get out of the way and allow God to speak. We must lay aside whatever we think, and then approach the Scripture to find what God says.
Scriptures for Study: Read the following scriptures, noting the use of spoudazō: Eph_4:3 ("endeavouring"); 2Pe_3:13-14 ("diligent"); 2Pe_1:10 ("diligence" is spoudē).
Thanks for visiting our site here at www.plbcmh.com