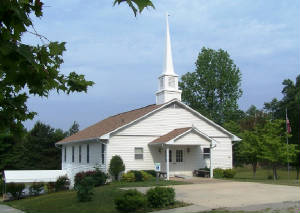 Come and Worship with us at
8256 Promise Land Road
Mountain Home, Arkansas 72653
Our Worship Schedule is
The Church is Open, worship with us inside or outside, message is transmitted on FM 95.1
Sunday Bible Study - 9:45am
Sunday Worship - 11:00am
Wednesday Night Prayer Meeting - 6:00pm
Wednesday Night Bible Study - 7:00pm
"I will believe if God will appear to me."

A proud and ignorant sinner who says this has no understanding of the nature of His Creator. No man has ever seen the essence of God. (When God "appeared" to certain men in the Old Testament, He manifested Himself in other forms, such as a burning bush or "the Angel of the Lord.") When Moses asked to see God's glory, God told him, "I will make all my goodness pass before you, ... [but] you cannot see my face: for there shall no man see me, and live" (Exodus 33:18-23). If all of God's "goodness" were shown to a sinner, he would instantly die. God's "goodness" would just spill wrath upon evil man.
However, the Lord told Moses, "It shall come to pass, while my glory passes by, that I will put you in a cleft of the rock, and will cover you with my hand while I pass by." The only way a sinner can live in the presence of a holy God is to be hidden in the Rock of Jesus Christ (1 Corinthians 10:4).

Cameron, K., & Comfort, R. (2004). The school of biblical evangelism: 101 lessons: how to share your faith simply, effectively, biblically-the way Jesus did (p. 471). Gainesville, FL: Bridge-Logos Publishers.
Point to Ponder

One moonless night, unbeknown to the passengers of a plane, hijackers broke into the cockpit. They took over the controls, contacted the control tower, and demanded that the White House release a large number of political prisoners. When authorities refused to comply with the demands, the terrorists threatened to fire on the passengers and force them out of an open door at 20,000 feet.
During negotiations, the captain was able to scribble a note on official paper warning of the hijackers' threat and telling passengers to reach under their seats. There they would find a parachute, which they were instructed to put on immediately.
As the note was passed among the passengers, there were different reactions. Some saw the note as obviously authentic because it was written on official paper. Besides, they remembered the strange jolt when the hijackers violently took control of the plane. They immediately put the parachute on realizing that they had nothing to lose but their pride if the note was fraudulent, and everything to gain if it was true.
Some passengers refused to believe the note because they thought there was no way that there could be a parachute beneath the seat. They were so sure that they didn't even check.
A couple rejected the note because they noticed a passenger who had only pretended to put on the parachute. They could see that he hadn't bothered to tighten the straps.
Others laughed at the note as though it were some joke, while others didn't bother reading it because they were watching an onboard movie.
Some passengers even ignored the evidence of the official paper and the jolt of the plane and instead maintained that the plane didn't even have a pilot and that there was no aircraft maker. As far as they were concerned it came together by accident, taking millions of years, and could fly itself.
Suddenly, the hijackers burst into the darkened cabin, thrust open the exit doors, and began firing automatic weapons over the terrified passengers' heads, forcing them to jump 20,000 feet into the blackness. Most fell to their deaths. However, those who had had the good sense to believe and obey the captain were saved from such a horrible demise.
There is nothing wrong with sinners questioning the mystery of prayer, the authenticity of the Bible, the existence of God, and the fact of hypocrisy. However, it is wise for them to put on the "parachute" first. They could be made to jump through the door of death into a black and horrifying eternity at any moment. There is a merciless Law awaiting them-a Law far harsher than the law of gravity. They desperately need the Savior. Encourage them to do what the "Note" says-reach under their seat and "Put on the Lord Jesus Christ" (Romans 13:14). After they have secured their own eternal salvation, they can worry about the fate of the pretender. If they think it's important, they can then try to figure out the age of the earth, etc.


Day by Day by Grace
God's Promises and God's Rest
Therefore, since a promise remains of entering His rest, let us fear lest any of you seem to have come short of it. For indeed the gospel was preached to us as well as to them; but the word which they heard did not profit them, not being mixed with faith in those who heard it. For we who have believed do enter that rest. (Hebrews 4:1-3)
Through the promises of God, all who believe can experience spiritual rest. Initially, those who believe enjoy rest from the guilt and condemnation of sin. Additionally, those whose faith embraces other promises from God can enjoy rest from carnal striving and worldly indulgence.
When the children of Israel were delivered from Egypt, they had rest from the bondage they had known there. This pictures our rest from sin and guilt. Yet, the Lord had more rest to share with His people. He wanted to give them rest from the futile wilderness striving they experienced between Egypt and the Promised Land, the land flowing with milk and honey. This pictures how we can rest from the fleshly striving of doubt and disobedience by drawing upon the riches that are ours in Christ.
The Israelites wandered through the wilderness in hardness of heart for forty years. All of that generation (except Joshua and Caleb) missed the additional rest that God wanted them to experience. "Therefore I was angry with that generation, and said, 'They always go astray in their heart, and they have not known My ways.' So I swore in My wrath, 'They shall not enter My rest'" (Hebrews 3:10-11). They were out of Egypt, but they would not enter into the Promised Land.
Are we entering into the additional rest that God has for us? "Therefore, since a promise remains of entering His rest, let us fear lest any of you seem to have come short of it." The Promised Land is a picture of the abundant spiritual life (not a picture of heaven-no battles or failures in heaven). This additional rest is what Jesus offers to all who believe in Him. "I have come that they may have life [eternal life, forgiveness of sin], and that they may have it more abundantly [richness of life, growing in practical righteousness]" (John 10:10). This abundant life is enjoyed as we believe in the word of God, as it describes the riches that are ours in Christ. "Blessed be the God and Father of our Lord Jesus Christ, who has blessed us with every spiritual blessing in the heavenly places in Christ" (Ephesians 1:3). Will we take the Lord at His word and believe that we might enter in? "For we who have believed do enter that rest." Israel did not believe, so they did not enter in. "The word which they heard did not profit them, not being mixed with faith in those who heard it."
Dear Lord, I thank You for giving me rest from sin and guilt, simply by trusting in Your promises. Now, I ask for new measures of additional rest from barrenness and striving, simply by trusting in Your promises of abundant life, in Jesus' name, Amen.
Here at Promise Land Bible Church
We don't change the message, the message changes us.


Here at Promise Land Bible Church, we are honored that you are visiting our web site at www.plbcmh.com
It is our hope at Promise Land Bible Church that you will be encouraged by the preaching and teaching of God's Word presented here. For it is our desire to teach the whole council of God, so that the body can be edified and above all that God may be glorified.
For it is our passion and desire to share the Gospel message with everyone who will hear, in obedience to God's word.
Welcome to our site here at www.plbcmh.com
The fellowship of believers who call Promise Land Bible Church home would like to welcome you to our website. We believe that salvation is by grace alone, thru faith alone, in Christ alone, and that the Holy Scripture is our sole source of authority for what we do and how we live, and that everything we do, should be done for the glory of God. This is commonly called the 5 Solas of the Reformed Faith.
So here is our invitation to you;
If you are looking for a church that affirms the sole authority of the Holy Scriptures for all of faith and practice, the pre-eminence of the preaching of the Word of God, the glorious truths of salvation called the Doctrines of Grace, the necessity and responsibility of evangelism and a serious approach to the joyful worship of God, then we warmly invite you to come and visit us.
Join us as we look to the truth of scripture and Worship the Lord.
At www.plbcmh.com we do our best to present the truth of the gospel.
Today's Memory Verse
"He that believes on him is not condemned: but he that believes not is condemned already, because he has not believed in the name of the only begotten Son of God. And this is the condemnation, that light is come into the world, and men loved darkness rather than light, because their deeds were evil."
JOHN 3:18, 19

"We must thrust the Sword of the Spirit into the hearts of men."
CHARLES SPURGEON

Today's Grace Gem
I could wish He would have spared my son

(Letters of William Romaine, 1714-1795)

My good Friend,
I never was more obliged to you than for your Christian sympathy with us in this time of need. It is a great trial, but it is the Lord who has a right to do what He will with His own. It is my Lord, my old Friend, who never alters His love to me. He has acted for His own glory, and has done the best--what more would I wish? Nothing, but only for His grace to make me submit to His sovereign will.

I could wish He would have spared my son--my soul delighted in him. He was a sweet youth. The remembrance of his person and manners and behavior, his dutifulness (for he never offended me but once in his life), his upright conduct--these draw tears from my eyes while I am writing. I do feel as a parent; I am no stoic.

But thanks be to my good God, His grace conquers nature. The struggle is hard, but God is with me--and through Him, I conquer myself. He forces me to go to Him every moment for His support and His comforts. I have no stock of resignation. It is outside of myself, laid up in the fullness of Jesus; and while I live upon Him for it, He helps me to kiss His chastening rod. He keeps my rebel will under control, and teaches me to say from my heart, "Not my will, Lord, but may Your will be done." Such is the kindness of my Jesus, for which I adore and worship Him.

"The Lord gave, and the Lord has taken away." He has a right to do what He will with His own. He has enabled me to reply, "Blessed be the name of the Lord." And I do praise Him for giving me some of Job's resignation, that I could use his words with the same spirit.
Word of the Day
August 5
Think
logizomai
Among his final words to the believers in Philippi, Paul wrote, "Finally, brethren, whatsoever things are true, whatsoever things are honest, whatsoever things are just, whatsoever things are pure, whatsoever things are lovely, whatsoever things are of good report; if there be any virtue, and if there be any praise, think on these things" (Phi_4:8).
What a profound statement! Think is logizomai (G3049), which means "to put together with one's mind, to count, to occupy oneself with reckonings or calculations." While in Classical Greek, especially in the writings of Plato, it spoke of non-emotional thinking that desires to grasp and apply facts, it later added the idea of subjective, emotional, and volitional character. As he often did, however, Paul gives this word group an even deeper significance, namely, it "must be oriented to the facts established by God," with the result that it now "becomes the term for the 'judgment of faith.'" In other words, all our thinking, pondering, and questioning are put into the context of God's standards.
It's now easy to see exactly what Paul was saying to the Philippians and what he's saying to us today. How are we to think? Are we to think in the cold, calculated, detached way of the philosopher? Indeed not. While we certainly use the mind and calculate facts, those things always apply in some subjective way, they affect our will and character, and they are weighed according to the balance of God's standards.
Paul then goes one step farther to specify several specific things that we should think about, weigh, and apply. One commentator calls these "six ethical terms."
We have already considered three of those subjects in previous studies.
First, we should think about the things that are "true" (truth, see February 1-3), that is, think about things as they really are, not as they are concealed, falsified, or misrepresented.
Second, we are to think about things that are "honest" (gravity, see May 24), things that are solemn, dignified, sublime, and majestic.
Third, we are to think about things that are pure (see May 12), things that are morally, and even doctrinally, holy and chaste.
In the next few days, we'll examine the other subjects Paul lists here. As Pro_23:7 declares: "For as he thinketh in his heart, so is he." Someone once said, "You might not be what you think you are, but what you think, you are."
Scriptures for Study: What great conclusion does Paul come to in Rom_3:28 ("conclude" is logizomai)? What does he also conclude in Php_3:13 ("count" is logizomai)?
Famous Last Words: William Carey
(1761-1834), known as "The Father of Modern Missions," developed remarkable gifts as a linguist. Sent out by the Baptist Missionary Society, he became the first missionary to India. His motto was, "Expect great things from God. Attempt great things for God." On his deathbed he said to a friend:
"When I am gone, say nothing about Dr. Carey; speak about Dr. Carey's Saviour."

Thanks for visiting our site here at www.plbcmh.com