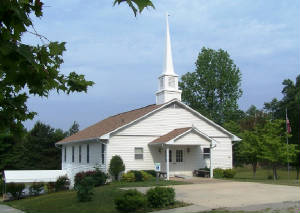 Come and Worship with us at
8256 Promise Land Road
Mountain Home, Arkansas 72653
Our Worship Schedule is
Sunday Bible Study - 9:45am
Sunday Worship - 11:00am
Wednesday Night Prayer Meeting - 6:00pm
Wednesday Night Bible Study - 7:00pm
Today's Memory Verse
"Beloved, believe not every spirit, but try the spirits whether they are of God: because many false prophets are gone out into the world. Hereby know you the Spirit of God: Every spirit that confesses that Jesus Christ is come in the flesh is of God: and every spirit that confesses not that Jesus Christ is come in the flesh is not of God."
1 JOHN 4:1-3

"It comes down to a question of truth. Every false religious expression is a religion of darkness. That doesn't mean there are no good things in that faith. It's not an effort to fail to notice the value of these things. But if Jesus is to be taken seriously when he says, 'No one comes to the Father but through me,' every other proposal is one of darkness."
PAIGE PATTERSON

"What gives you the right to judge me?"

To pronounce another religious group to be false can seem a pompous undertaking, especially in a culture that preaches tolerance for everything from homosexuality to a mother's "right" to kill her unborn child. Tolerance is the banner that unites much of our culture, and anyone who points a judging finger at someone or something is often ridiculed.
But Christians are told in the Bible to separate themselves from the sinful practices of man and to expose error. God's Word tells us to examine all things and hold fast to that which is true (1 Thessalonians 5:21). So we do.
What does it mean to examine if we do not judge what is right and wrong? Jesus judged the Pharisees as hypocrites. Peter judged Ananias and Sapphira as liars (Acts 5:3, 4). Paul judged the Galatians as fools (Galatians 3:1).
Something can be said to be right or wrong because the Bible has laid out before us a moral and doctrinal standard that is clear. It is wrong to lie, so we are able to say to someone who lies, "What you are doing is wrong." That is making a judgment.
Likewise, with the cults, as Christians we are commanded to be able to give answers to everyone (1 Peter 3:15) and to contend for the faith that was delivered to the saints (Jude 3). If we do not fight for the faith, the faith will be lost. If we do not expose the errors of the cults, then the cults will move unchecked in the world and lead even more people into eternal destruction.
To make a judgment means we must recognize that there are absolutes. In a world that worships relativism, absolutes are not welcome and the cults that espouse their demonic doctrines beg tolerance.
The true Church stands for the truth of God's Word, not a compromising collection of beliefs that changes as people's whims change. The cults are cults because they deny the true God, add works to salvation, and corrupt a multitude of biblical truths. Their end and the end of all who follow them is damnation. To do anything other than warn people about them would be unloving.

Cameron, K., & Comfort, R. (2004). The school of biblical evangelism: 101 lessons: how to share your faith simply, effectively, biblically-the way Jesus did (pp. 557-558). Gainesville, FL: Bridge-Logos Publishers.
Day by Day by Grace
The Resurrection Related to Justification and Sanctification
"I am the resurrection and the life. He who believes in Me, though he may die, he shall live. And whoever lives and believes in Me shall never die." (John 11:25-26)
It would be appropriate to again follow a pattern we have used previously, applying our present subject (the resurrection) both to our starting out with God (justification) and our going on with God (sanctification). The great value in doing such is to be repeatedly reminded that the grace of God that starts us out in this new life in Christ is the same grace that develops this life in Christ.
When Jesus proclaimed the words of our present verses, He was standing at the tomb of Lazarus. Martha, one of the sisters, was interacting with Him. She had hoped that Jesus would have arrived earlier, knowing He could have prevented this death. "Lord, if You had been here, my brother would not have died" (John 11:21). Even now, with her brother in the tomb, she realizes He could yet intervene. "But even now I know that whatever You ask of God, God will give You" (verse 22). Jesus comforts her by assuring that Lazarus will be resurrected. "Your brother will rise again" (verse 23). Martha assumes that Jesus is referring to the final resurrection of the saints. "I know that he will rise again in the resurrection at the last day" (verse 24).
At this point, Jesus offers one of those glorious "I am" revelations. "I am the resurrection and the life." Then, He added two wonderful applications. First, faith in Him can even bring the dead to life, like Lazarus. "He who believes in Me, though he may die, he shall live." Second, faith in Him can ensure eternal life to those who are yet alive. "And whoever lives and believes in Me shall never die."
Think again of the implications connected with Jesus' basic statement. "I am the resurrection and the life." Martha desired an immediate resurrection for her brother. She wanted him to live once again. Jesus revealed that He Himself was what Martha desired for her brother. He was "the resurrection and the life." Jesus provides resurrection and life, because in His very person He is resurrection life. He is the resurrection that we all need from our deadness, whether physical or spiritual. "I am the resurrection." He is the life that we need, if we are to live as God intended. "I am...the life." Knowing Christ by faith makes us partakers of what He Himself is: "the resurrection and the life." This is vital to see, because the Christian life is a resurrection life. Such a life can only be found in a resurrected Lord, and it can only be developed following a resurrected Lord.
Jesus, I bow down before You as my resurrected Lord. Apart from You, I would only know spiritual deadness as a fallen son of Adam. In You I have a spiritual resurrection to new life. Now I want to pursue You daily to see that new, resurrected life more fully developed in me. Lord Jesus, lead me, I pray, into more life, Amen.
Here at Promise Land Bible Church
We don't change the message, the message changes us.


Here at Promise Land Bible Church, we are honored that you are visiting our web site at www.plbcmh.com
It is our hope at Promise Land Bible Church that you will be encouraged by the preaching and teaching of God's Word presented here. For it is our desire to teach the whole council of God, so that the body can be edified and above all that God may be glorified.
For it is our passion and desire to share the Gospel message with everyone who will hear, in obedience to God's word.
Welcome to our site here at www.plbcmh.com
The fellowship of believers who call Promise Land Bible Church home would like to welcome you to our website. We believe that salvation is by grace alone, thru faith alone, in Christ alone, and that the Holy Scripture is our sole source of authority for what we do and how we live, and that everything we do, should be done for the glory of God. This is commonly called the 5 Solas of the Reformed Faith.
So here is our invitation to you;
If you are looking for a church that affirms the sole authority of the Holy Scriptures for all of faith and practice, the pre-eminence of the preaching of the Word of God, the glorious truths of salvation called the Doctrines of Grace, the necessity and responsibility of evangelism and a serious approach to the joyful worship of God, then we warmly invite you to come and visit us.
Join us as we look to the truth of scripture and Worship the Lord.
At www.plbcmh.com we do our best to present the truth of the gospel.
Today's Grace Gem
The secret desire of every unconverted heart!

(Robert Murray M'Cheyne, 1813-1843)

"The fool says in his heart, 'There is no God!' They are corrupt, and their ways are vile; there is no one who does good." Psalm 53:1

It is in his heart that he says this. This is the secret desire of every unconverted heart. If the bosom of God were within the reach of men, it would be stabbed a million times in one moment!

When God was manifest in the flesh, He was altogether lovely. He did no sin, and went about continually doing good. Yet they they mocked Him and spat upon Him and crucified Him on the accursed tree! Unconverted men would do the same with God again--if they could.

Learn the fearful depravity of your heart. I venture to say that there is not an unconverted man present, who has the most distant idea of the monstrous wickedness that is now within his bosom. When you are in Hell, it will break out unrestrained.

Yes, you have a heart that would kill God if you could. If the bosom of God were nor within your reach, and one blow would rid the universe of Him--you have a heart fit to do the heinous deed!
Point to Ponder

An African chief got wind of a mutiny being planned in his tribe. In an effort to quash the revolt, he called the tribe together and said that anyone caught in rebellion would be given one hundred lashes, without mercy.
A short time later, to the chief's dismay, he found that his own brother was behind the revolt. He was trying to overthrow him so that he could be head of the tribe. Everyone thought the chief would break his word. But being a just man, he had his brother tied to a tree. Then he had himself tied next to him, and he took those one hundred lashes across his own bare flesh in his brother's place. In doing so, he not only kept his word (justice was done), but he also demonstrated his great love and forgiveness toward his brother.


Word of the Day
March 18
Good
agathos
The Greek agathos (G18), which occurs frequently in the NT (107 times), has a wide range of meanings, including: benevolent, profitable, useful, beneficial, excellent, virtuous, and suitable. As we'll see, every one of those meanings is appropriate to all we say and do.
The whole concept of good was very important to the Greek philosophers, Plato in particular. To him the idea of "the good" was the highest of all ideas because it "preserves and supports in contrast to evil which spoils and destroys." The universe to Plato was not mechanical at its foundation, that is, blind, impersonal, and morally indifferent, but rather it was moral, with "values and ideals [that] are supreme, and at the heart of which there is not only Reason and Purpose, but Goodness."
We point this out for good reason: If goodness could be so important to a pagan, humanistic philosopher, how much more important should it be to the Christian? In light of our mediation on March 16, one of the most important aspects of good is speech, that is, what we say and how we say it. But whether it's our words, deeds, actions, or attitudes, we should strive always for the good.
With that in mind, using the meaning of agathos as our guide, let us test ourselves daily by asking a series of questions:
1. Is what I am about to say or do benevolent? Is it kind, compassionate, and caring?
2. Is what I am about to say or do profitable, beneficial, and useful? Will it accomplish something? Is it constructive or destructive? Will it help or hinder? Is it positive or negative?
3. Is what I am about to say or do excellent? Is it just good or eminently good, the best thing to say or do?
4. Is what I am about to say or do virtuous? Is it righteous, honorable, and moral? Does it avoid suggestiveness, vulgarity, and crudeness?
5. Is what I am about to say or do suitable? Does it fit the moment? Is it proper? Is it appropriate?
Scriptures for Study: What is the great truth of Rom_8:28? What is the command of Rom_12:9? What will that, then, overcome (Rom_12:21)?
Famous Last Words: Prince Henry
of Wales gave utterance to these lines:
"Tie a rope round my body, pull me out of bed, and lay me in ashes, that I may die with repentant prayers to an offended God. Oh! Tom! I in vain wish for that time I lost with thee and others in vain recreations."

Thanks for visiting our site here at www.plbcmh.com