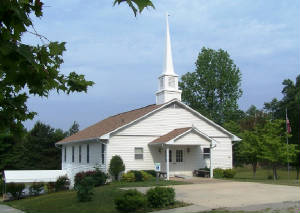 Come and Worship with us at
8256 Promise Land Road
Mountain Home, Arkansas 72653
Our Worship Schedule is
Sunday Bible Study - 9:45am
Sunday Worship - 11:00am
Wednesday Night Prayer Meeting - 6:00pm
Wednesday Night Bible Study - 7:00pm
Today's Memory Verse
"But I say to you, Love your enemies, bless them that curse you, do good to them that hate you, and pray for them which despitefully use you, and persecute you."
MATTHEW 5:44

"I was honored today with having a few stones, dirt, rotten eggs, and pieces of dead cats thrown at me."
GEORGE WHITEFIELD

"I knew some Christians once and they wronged me."

Christians aren't perfect. They make mistakes like anyone else. I hope you can find it in your heart to forgive them. I think that is what they would do for you.
Maybe they didn't know they wronged you. Was it something really bad or was it just a mistake? Have you gone to them and spoken to them about it? Maybe if you were to forgive them you would begin to understand the forgiveness God has for you. We all need to be forgiven, don't you agree?

Cameron, K., & Comfort, R. (2004). The school of biblical evangelism: 101 lessons: How to share your faith simply, effectively, biblically-the way Jesus did (664). Gainesville, FL: Bridge-Logos Publishers.
Point to Ponder

The life and death of Jesus Christ is a standing rebuke to every form of pride of which men are capable:
Pride of birth and rank: "Is not this the carpenter's son?" (Matthew 13:55)
Pride of wealth: "The Son of man has no where to lay his head." (Matthew 8:20)
Pride of personal appearance: "There is no beauty that we should desire him." (Isaiah 53:2)
Pride of reputation: "A friend of publicans and sinners." (Matthew 11:19)
Pride of learning: "How does this Man know letters, having never studied?" (John 7:15)
Pride of superiority: "I am among you as he that serves." (Luke 22:27)
Pride of success: "He was despised and rejected of men." (Isaiah 53:3)
Pride of ability: "I can of my own self do nothing." (John 5:30)
Pride of intellect: "As my Father has taught me, I speak these things." (John 8:28)
Pride of self-will: "I seek not my own will, but the will of the Father who has sent me." (John 5:30)
Pride in death: "He became obedient unto death, even the death of the cross." (Philippians 2:8)
Day by Day by Grace
The Power within Redeemed Earthen Vessels
But we have this treasure in earthen vessels, that the excellence of the power may be of God and not of us. (2 Corinthians 4:7)
In our previous meditation on this same verse, we saw that God has placed extraordinary heavenly treasure in ordinary earthen vessels. "But we have this treasure in earthen vessels." This is true of every person who has been redeemed by the blood of Christ. The Lord has arranged it this way so that the vessels (you and I) must rely upon the treasure (Jesus Christ), not upon ourselves: "that the excellence of the power may be of God and not of us." Also, this arrangement is to bring attention and glory to the Lord, not to the vessels.
The Lord is the treasure in the "clay pot" of our redeemed humanity. He is to be the "excellent power" in our lives. He is the one we are to trust in as our strength for daily living. When the battles become fierce, trust in the Lord. "You have armed me with strength for the battle" (Psalm 18:39). When we need patience or endurance, trust in the Lord: "Strengthened with all might, according to His glorious power, for all patience and longsuffering with joy" (Colossians 1:11). When we need strength for our latter years, trust in the Lord. "The LORD has kept me alive...here I am this day, eighty-five years old...yet I am as strong this day as I was on the day that Moses sent me" (Joshua 14:10-11). Even in times of extreme personal weakness, His strength can be especially apparent. "I will rather boast in my infirmities, that the power of Christ may rest upon me...For when I am weak, then I am strong" (2 Corinthians 12:9-10).
The temptation is to trust in our "sturdy structure" (or in those who claim to be able to strengthen or reinforce weak vessels). Our personal resources will fail, but the Lord who dwells in our hearts will not fail. "My flesh and my heart fail; But God is the strength of my heart and my portion forever" (Psalm 73:26). The world system with all of its impressive riches calls us to place our confidence in its resources. The Lord warns us that such misplaced trust becomes our downfall. "Woe to the rebellious children...who...go down to Egypt...to strengthen themselves in the strength of Pharaoh...the strength of Pharaoh shall be your shame" (Isaiah 30:1-3).
We are to trust the Lord to be our strength. "The LORD is my strength and my shield" (Psalm 28:7a). Then, we are to give the Lord glory for the strength He supplies. "My heart trusted in Him, and I am helped; Therefore my heart greatly rejoices, And with my song I will praise Him" (Psalm 28:7b).
O Lord, the strength of my life, forgive me for relying upon myself and for looking to worldly resources. I want to place all of my trust in Jesus, the treasure who lives within me. May all glory be unto Him, in His mighty name, Amen.
Here at Promise Land Bible Church
We don't change the message, the message changes us.


Here at Promise Land Bible Church, we are honored that you are visiting our web site at www.plbcmh.com
It is our hope at Promise Land Bible Church that you will be encouraged by the preaching and teaching of God's Word presented here. For it is our desire to teach the whole council of God, so that the body can be edified and above all that God may be glorified.
For it is our passion and desire to share the Gospel message with everyone who will hear, in obedience to God's word.
Welcome to our site here at www.plbcmh.com
The fellowship of believers who call Promise Land Bible Church home would like to welcome you to our website. We believe that salvation is by grace alone, thru faith alone, in Christ alone, and that the Holy Scripture is our sole source of authority for what we do and how we live, and that everything we do, should be done for the glory of God. This is commonly called the 5 Solas of the Reformed Faith.
So here is our invitation to you;
If you are looking for a church that affirms the sole authority of the Holy Scriptures for all of faith and practice, the pre-eminence of the preaching of the Word of God, the glorious truths of salvation called the Doctrines of Grace, the necessity and responsibility of evangelism and a serious approach to the joyful worship of God, then we warmly invite you to come and visit us.
Join us as we look to the truth of scripture and Worship the Lord.
At www.plbcmh.com we do our best to present the truth of the gospel.
Today's Grace Gem
Let us abhor the very idea of play-acting and mask-wearing in our Christianity!

(J.C. Ryle, "The Gospel of Luke" 1858)

Let us observe how abominable hypocrisy is in the eyes of Christ. We are told that in the presence of all the people, Jesus said unto His disciples, "Beware of the teachers of the law! They like to walk around in flowing robes--and love to be greeted in the marketplaces and have the most important seats in the synagogues, and the places of honor at banquets. They devour widows' houses--and pretend to be pious by making long prayers in public." Luke 20:46-47

This was a bold and remarkable warning. It was a public denunciation, we must remember, of men who were the recognized teachers of the Jewish people.

No sin seems to be regarded by Christ as more wicked, than hypocrisy. None certainly drew forth from His lips such frequent, strong, and withering condemnation, during the whole course of His ministry.

He was ever full of mercy and compassion for the chief of sinners. "Fury was not in Him" when He saw Zaccheus; the penitent thief; Matthew the tax-collector; Saul the persecutor; and the sinful woman in Simon's house.

But when He saw Scribes and Pharisees wearing a mere cloak of religion, and pretending to great outward sanctity, while their hearts were full of wickedness--His righteous soul seems to have been full of indignation. Eight times in one chapter (Matthew 23) we find Him saying, "Woe unto you, Scribes and Pharisees! You hypocrites!"

Whatever else we are in religion--let us be true. However feeble our faith, and hope, and love, and obedience may be--let us see to it that they are real, genuine, and sincere. Let us abhor the very idea of play-acting and mask-wearing in our Christianity. At any rate, let us be genuine.

The hypocrite will have the lowest place in Hell! "You snakes! You brood of vipers! How will you escape the damnation of Hell?" Matthew 23:33
Word of the Day
May 21
Beseech (Exhort)
parakaleō
Today we examine a similar word to yesterday's. Parakaleō (G3870) is a compound comprised of para (G3844), "beside," and kaleō (G2564), "to call," yielding the meaning "to call alongside." Originally, it spoke of summoning someone and at times "to summon to one's aid for help or encouragement." Its main three meanings in the NT, however, are reflected in the AV by three translations: comfort (twenty-three times), exhort (twenty-one times), and most importantly beseech, that is, to plead with or implore (forty-three times).
Paul declares in Rom_12:1-2, for example, "I beseech you therefore, brethren, by the mercies of God, that ye present your bodies a living sacrifice, holy, acceptable unto God, which is your reasonable service. And be not conformed to this world: but be ye transformed by the renewing of your mind, that ye may prove what is that good, and acceptable, and perfect, will of God." In light of the great doctrinal truths of chapters 1-11, Paul implores the Roman believers to live a life that corresponds to those truths.
Paul writes a similar command to the Ephesians: "I therefore, the prisoner of the Lord, beseech you that ye walk worthy of the vocation wherewith ye are called" (Eph_4:1). He pleaded so fervently with two ladies in the Philippian church who were causing disunity that he uses parakaleō twice: "I beseech Euodias, and beseech Syntyche, that they be of the same mind in the Lord" (Php_4:2).
There was also serious disunity in the church at Corinth, so Paul wrote: "Now I beseech you, brethren, by the name of our Lord Jesus Christ, that ye all speak the same thing, and that there be no divisions among you; but that ye be perfectly joined together in the same mind and in the same judgment" (1Co_1:10). Likewise did Peter plead with his readers: "Dearly beloved, I beseech you as strangers and pilgrims, abstain from fleshly lusts, which war against the soul" (1Pe_2:11).
All those instances of parakaleō, and many more, demonstrate the seriousness of the Christian walk (see June 14), and they challenge us to "walk worthy" (see June 18). So important is this that Paul instructed Timothy and Titus that an important part of preaching is to "exhort" (2Ti_4:2; Tit_2:15). Thank God for pastors who obey that command.
Scriptures for Study: Read the following verses, noting what the writer is imploring you to do: Rom_15:30; Rom_16:17; 1Th_4:9-10; 1Ti_5:1 ("entreat"); Tit_1:9; Jud_1:3.
Famous Last Words:
Matthew Henry
(1662-1774) was the eminent theologian whose devotional commentary still holds a foremost place in its field. He died a week after settling in London as pastor of a church in Hackney, but his end was full of confidence in the Savior's grace. Among his last words were:
"A life spent in the service of God, and in communion with Him, is the most comfortable life that anyone can lead in this present world."

Thanks for visiting our site here at www.plbcmh.com