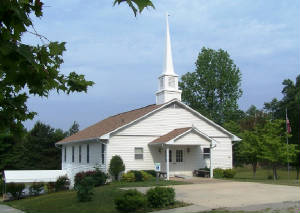 Come and Worship with us at
8256 Promise Land Road
Mountain Home, Arkansas 72653
Our Worship Schedule is
The Church is Open, worship with us inside or outside, message is transmitted on FM 95.1
Sunday Bible Study - 9:45am
Sunday Worship - 11:00am
Wednesday Night Prayer Meeting - 6:00pm
Wednesday Night Bible Study - 7:00pm
Today's Memory Verse
"He that has my commandments, and keeps them, he it is that loves me: and he that loves me shall be loved of my Father, and I will love him, and will manifest myself to him."
JOHN 14:21

"To convince the world of the truth of Christianity, it must first be convinced of sin. It is only sin that renders Christ intelligible."
ANDREW MURRAY

"When you're dead, you're dead."

What if you are wrong? What if God, Jesus, the prophets, the Jews, and Christians are right and you are wrong? If there is no afterlife, no Judgment Day, no heaven, and no hell, then God is unjust and each of the above is guilty of being a false witness. It means that Almighty God couldn't care less about the fact that a man rapes a woman, then cuts her throat and is never brought to justice. If you are right, and there is no ultimate justice, you won't even have the joy of saying, "I told you so." However, if you are wrong, you will lose your soul and end up eternally damned. You are playing Russian roulette with a fully loaded gun.

Cameron, K., & Comfort, R. (2004). The school of biblical evangelism: 101 lessons: how to share your faith simply, effectively, biblically-the way Jesus did (p. 485). Gainesville, FL: Bridge-Logos Publishers.
Day by Day by Grace
The Contrary Desires of the Flesh and the Spirit
For the flesh lusts against the Spirit, and the Spirit against the flesh; and these are contrary to one another, so that you do not do the things that you wish. (Galatians 5:17)
Every believer in Christ has had the frustrating experience of wanting to do what pleases the Lord, but being unable to actually accomplish such. We are told here that a spiritual struggle is behind that failure. "For the flesh lusts against the Spirit, and the Spirit against the flesh." The Spirit of God dwells within our lives. He is the "Spirit of holiness" (Romans 1:4). He desires that we be "partakers of His holiness" (Hebrews 12:10) and thereby walk in godliness. However, the flesh (natural humanity) is also present in our lives. The natural desires of man are not toward holiness, but rather toward self-indulgence and self-sufficiency. Thus, what the Spirit desires and what our flesh craves are set against each other. "These are contrary to one another." The consequence of this internal conflict is "that you do not do the things that you wish." Even though godly desires develop in us as new creatures in Christ, we find ourselves unable to implement these new longings by our good intentions.
The Apostle Paul gave testimony to his own failure in this battle. "For the good that I will to do, I do not do; but the evil I will not to do, that I practice" (Romans 7:19). The problem was that Paul's personal resources (the flesh) were not adequate to produce the desired results. "For I know that in me (that is, in my flesh) nothing good dwells; for to will is present with me, but how to perform what is good I do not find" (Romans 7:18). Yes, Paul had some godly desires. "For I delight in the law of God according to the inward man" (Romans 7:22). Nevertheless, there was a problem that he could not resolve on his own. "But I see another law in my members, warring against the law of my mind, and bringing me into captivity to the law of sin which is in my members" (Romans 7:23). A tendency to sin that dwelt in Paul's human members (his body, his brain) pulled him down to defeat. He needed help.
Access to that necessary divine rescue was through a humble cry for a deliverer. "O wretched man that I am! Who will deliver me from this body of death?" (Romans 7:24). This appropriate confession of the spiritual bankruptcy of his flesh led to another confession of certain victory. "I thank God-[it is] through Jesus Christ our Lord!" (Romans 7:25). This humble turning from self to Christ allows one to walk in the Spirit, living by His victorious resources. "For the law of the Spirit of life in Christ Jesus has made me free from the law of sin and death" (Romans 8:2).
Dear Jesus, Mighty Deliverer, I humbly admit that I am not able to implement by my best efforts the godly desires that are developing in me. I need You, Lord. So many times I have had holy intentions that ended up in carnal defeat. So, Lord, I cry out to You to deliver me from my present struggles, by the power of Your Holy Spirit, Amen.
Famous Last Words: John Bunyan,
author of The Pilgrim's Progress, died in the service of His Master. In 1628 a father and son became alienated, and Bunyan went to London on a mission of reconciliation. On the way home, he was caught in a violent storm and contracted a mysterious sickness; he died ten days later. His last words had a ring of triumph as he said to those at his deathbed:
"Weep not for me, but for yourselves. I go to the Father of our Lord Jesus Christ; who will, no doubt, through the mediation of His Blessed Son, receive me, though a sinner: when I hope we shall ere long meet to sing the new song, and remain everlastingly happy, world without end. Amen!"

Here at Promise Land Bible Church
We don't change the message, the message changes us.


Here at Promise Land Bible Church, we are honored that you are visiting our web site at www.plbcmh.com
It is our hope at Promise Land Bible Church that you will be encouraged by the preaching and teaching of God's Word presented here. For it is our desire to teach the whole council of God, so that the body can be edified and above all that God may be glorified.
For it is our passion and desire to share the Gospel message with everyone who will hear, in obedience to God's word.
Welcome to our site here at www.plbcmh.com
The fellowship of believers who call Promise Land Bible Church home would like to welcome you to our website. We believe that salvation is by grace alone, thru faith alone, in Christ alone, and that the Holy Scripture is our sole source of authority for what we do and how we live, and that everything we do, should be done for the glory of God. This is commonly called the 5 Solas of the Reformed Faith.
So here is our invitation to you;
If you are looking for a church that affirms the sole authority of the Holy Scriptures for all of faith and practice, the pre-eminence of the preaching of the Word of God, the glorious truths of salvation called the Doctrines of Grace, the necessity and responsibility of evangelism and a serious approach to the joyful worship of God, then we warmly invite you to come and visit us.
Join us as we look to the truth of scripture and Worship the Lord.
At www.plbcmh.com we do our best to present the truth of the gospel.
Today's Grace Gem
God's most comforting attribute!
"And we know that God causes all things to work together for good to those who love God, to those who are called according to His purpose!" Romans 8:28

There is no attribute of God more comforting to His children than that of God's sovereignty. Under the most adverse circumstances, in the most severe troubles, they believe . . . that Sovereignty has ordained their afflictions, that Sovereignty overrules them, and that Sovereignty will sanctify them all.

There is nothing for which the children of God ought more earnestly to contend, than . . . the doctrine of their Master ruling over all creation, the kingship of God over all the works of His own hand, the throne of God, and His right to reign upon that throne.

"Our God is in the heavens; He does whatever He pleases!" Psalm 115:3

"All the peoples of the earth are regarded as nothing. He does as He pleases with the powers of heaven and the peoples of the earth." Daniel 4:35

"Hallelujah! For our Lord God Almighty reigns!" Revelation 19:6


"To be God and sovereign are inseparable!" (Stephen Charnock)

"Sovereignty characterizes the whole being of God. He is sovereign in all His attributes!" (Arthur Pink)

"God has sovereign right to dispose of us as He pleases. We ought to acquiesce in all that God does with us and to us." (William Carey)
Point to Ponder

UPI, Toronto-Police reported that a lawyer demonstrating the safety of windows in a downtown Toronto skyscraper crashed through a pane with his shoulder and plunged 24 floors to his death. A police spokesman said that Garry Hoy, 39, fell into the courtyard of the Toronto Dominion Bank Tower early Friday evening as he was explaining the strength of the building's windows to visiting law students. Hoy previously had conducted demonstrations of window strength, according to police reports. Peter Lauwers, managing partner of the firm Holden Day Wilson, told the Toronto Sun newspaper that Hoy was one of the best and brightest in the 200-member association.
This tragic incident is an excellent illustration of how people will trust their lives to something that often proves untrustworthy.


Word of the Day
February 26
Enlightened
phōtizō
Turning one final time to Eph_1:18-"the eyes of your understanding being enlightened"-we see one other word. Enlightened is the verb phōtizō (G5461), which means "to give light, to shine." It, along with the noun phōs (G5457; see June 15-16), is the source of such English words as photo.
The apostle John declares that, "In [Christ] was life; and the life was the light of men. And the light shineth in darkness; and the darkness comprehended it not" (Joh_1:4-5). Using phōs as a proper name, the apostle John goes on to recount how God sent John the Baptist to "to bear witness of the Light, that all men through him might believe" and that Christ alone "was the true Light, which lighteth every man that cometh into the world" (Joh_1:7, Joh_1:9). And even though the Light is there, men "comprehended it not" (Joh_1:5) and willfully continue to walk (Joh_12:35), and even "abide" (menō, "to remain in one place," see June 2) "in darkness" (Joh_12:46).
Paul uses phōtizō in 1Co_4:5 to describe coming judgment, that the Lord "will bring to light the hidden things of darkness, and will make manifest the counsels of the hearts." Men think they can hide their actions and even themselves from God, but one day everything will be exposed.
In Eph_1:18, then, phōtizō speaks of giving understanding, and culminates what Paul has been saying. Enlightenment does not come from sitting cross-legged on the floor and "contemplating the sound of one hand clapping" or other such nonsensical notions. True enlightenment comes from Christ and His Word.
I cannot begin to count how many times during in-depth study of a particularly difficult passage, verse, or word that God has enlightened me, when, as the expression goes, "the light came on" and I saw the truth. That's what God does-He brings understanding of His truth to our minds. It is through our "spiritual eyes" that we are enlightened and know God's truth.
You might not have the physical eyes of legendary fighter and test pilot Chuck Yeager who could see enemy planes fifty miles away, but God has given you perfect spiritual sight if you but use it.
Scriptures for Study: What has been brought to light by the Gospel (2Ti_1:10)? What great truth does Rev_21:23 declare?
Thanks for visiting our site here at www.plbcmh.com