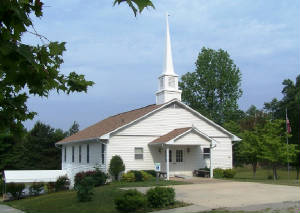 Come and Worship with us at
8256 Promise Land Road
Mountain Home, Arkansas 72653
Our Worship Schedule is
Sunday Bible Study - 9:45am
Sunday Worship - 11:00am
Wednesday Night Prayer Meeting - 6:00pm
Wednesday Night Bible Study - 7:00pm
Today's Memory Verse
"For the word of God is quick, and powerful, and sharper than any two-edged sword, piercing even to the dividing asunder of soul and spirit, and of the joints and marrow, and is a discerner of the thoughts and intents of the heart."
HEBREWS 4:12

"We account the Scriptures of God to be the most sublime philosophy. I find more sure marks of authenticity in the Bible than in any profane history whatsoever."
SIR ISAAC NEWTON

"I've tried to read the Bible, but I can't understand it."

The Scriptures tells us that the "natural man" cannot understand the things of the Spirit of God. Most Americans would find it difficult to understand the Chinese language. However, a child who is born into a Chinese family can understand every word. That's why you must be born again with God's Spirit living within you to give you understanding (John 3:3). The moment you become part of God's family, the Bible will begin to make sense.

Cameron, K., & Comfort, R. (2004). The school of biblical evangelism: 101 lessons: how to share your faith simply, effectively, biblically-the way Jesus did (p. 358). Gainesville, FL: Bridge-Logos Publishers.
Day by Day by Grace
A Warning Against Changing God's Grace
I found it necessary to write to you exhorting you to contend earnestly for the faith...For certain men have crept in unnoticed...ungodly men, who turn the grace of our God into licentiousness. (Jude 3-4)
From the early days of the Lord's church, a constant threat has been posed by those who want to change God's grace into something it is not. The attempted changes always relate to either licentiousness or legalism.
Jude addressed this problem in his powerful letter of warning. He called all followers of Christ to engage in a zealous battle for the integrity of the word of God. "I found it necessary to write to you exhorting you to contend earnestly for the faith." Such contending is essential, because carnal religious people desire to alter grace, as they quietly operate within churches. "For certain men have crept in unnoticed...ungodly men, who turn the grace of our God into licentiousness." Their intended modifications involved turning grace into a license to sin. Grace is God's means of forgiving our sins, as well as transforming the sinner that he might sin less and less. Grace is not God's sanction by which we plan and excuse our personal indulgence.
This issue also appears in Romans, as some took God's grace in the same unwarranted direction. They started with a glorious truth. "Where sin abounded, grace abounded much more" (Romans 5:20). What a grand actuality this is! No matter how atrocious the extent of our sins, the grace of God unto forgiveness and transformation is far greater. Yet, how heinous is the licentious thought that more indulgence in sin would be a good thing, since such would only present further opportunities for more abounding grace. "What shall we say then? Shall we continue in sin that grace may abound?" (Romans 6:1). The answer is a resounding negation. "Certainly not! How shall we who died to sin live any longer in it?" (Romans 6:2). Anticipated grace is never an excuse for planning to sin.
In Galatians, the converse problem of legalism is confronted. "I marvel that you are turning away so soon from Him who called you in the grace of Christ, to a different gospel, which is not another; but there are some who trouble you and want to pervert the gospel of Christ" (Galatians 1:6-7). Here, some were trying to add law requirements to the good news of God's grace. This attempt to turn grace into a performance standard is described as a perversion, a grievous twisting, of grace. Whether license or legalism, both change and undermine the grace of God.
Dear gracious Master, I repent of any times I have used grace as an excuse for carnal indulgence or have treated Your grace as a call to religious performance. Thank You for Your forgiving and transforming grace. Grant me discernment and courage to earnestly contend for true grace, through Christ, my Lord, Amen.
Here at Promise Land Bible Church
We don't change the message, the message changes us.


Here at Promise Land Bible Church, we are honored that you are visiting our web site at www.plbcmh.com
It is our hope at Promise Land Bible Church that you will be encouraged by the preaching and teaching of God's Word presented here. For it is our desire to teach the whole council of God, so that the body can be edified and above all that God may be glorified.
For it is our passion and desire to share the Gospel message with everyone who will hear, in obedience to God's word.
Welcome to our site here at www.plbcmh.com
The fellowship of believers who call Promise Land Bible Church home would like to welcome you to our website. We believe that salvation is by grace alone, thru faith alone, in Christ alone, and that the Holy Scripture is our sole source of authority for what we do and how we live, and that everything we do, should be done for the glory of God. This is commonly called the 5 Solas of the Reformed Faith.
So here is our invitation to you;
If you are looking for a church that affirms the sole authority of the Holy Scriptures for all of faith and practice, the pre-eminence of the preaching of the Word of God, the glorious truths of salvation called the Doctrines of Grace, the necessity and responsibility of evangelism and a serious approach to the joyful worship of God, then we warmly invite you to come and visit us.
Join us as we look to the truth of scripture and Worship the Lord.
At www.plbcmh.com we do our best to present the truth of the gospel.
There are so many lean Christians who devour hundreds of sermons!

(Edmund Calamy, 1600-1666)

"His delight is in the law of the Lord, and on His law he meditates day and night." Psalm 1:2

"I meditate on Your precepts and consider Your ways." Psalm 119:15

It is not merely hearing a sermon that does you good, but meditating on what you hear. So when you hear a sermon, if you do not meditate and ponder upon what you hear, you will never get any good.

There are so many lean Christians who devour hundreds of sermons--and are never any better, never any fatter in grace. They never meditate, ponder and consider what they hear--that is the reason why they are so lean in grace.

Pray unto God to enlighten your understandings, to quicken your devotion, to warm your affections--that by meditation on holy things . . .
you may be made more holy,
you may have your lusts more mortified,
you may have your graces more increased,
you may better behold the vanity of the world,
you may lifted up to Heaven and eternal realities.

"Meditate upon these things." 1 Timothy 4:15
Word of the Day
February 19
Knowledge (2)
epignōsis
Yesterday we pondered the word gnosis, which means "experiential knowledge." In Eph_1:17, however-"That the God of our Lord Jesus Christ, the Father of glory, may give unto you the spirit of wisdom and revelation in the knowledge of him"-Paul uses an intensified form of this word, epignōsis (G1922). By adding the prefix epi (G1909, "motion upon or toward"), the word takes on the meaning of "an experiential, personal knowledge that is full and thorough." It also speaks of "precise and correct knowledge." How vital it is that we have full, precise, thorough, and correct knowledge of God.
A driving force in my own life and ministry is a passion for precision. I loathe the ambiguity and relativism that rule our day. Paul speaks here of precise doctrine, exact knowledge, not something vague and relative to each person's experience. The modern philosophies of "open-mindedness" and "tolerance" were foreign to Paul's thinking and they should be expunged from the thinking of Christians today. Many today have "a zeal of God, but not according to knowledge" (epignōsis, Rom_10:2). No, we shall never know everything, but our knowledge is full in the sense that we know what is right and necessary for Christian living. And, of course, our knowledge continues to grow with more involvement with God's Word. In other words, our knowledge can be full from moment to moment; we can right now know what God wants us to know, but tomorrow we will know more; so, each moment we are living in the full potential of our present knowledge.
That should be the prayer of every pastor for his flock, as it was Paul's prayer for the Colossian believers: "For this cause we also, since the day we heard it, do not cease to pray for you, and to desire that ye might be filled with the knowledge of his will in all wisdom and spiritual understanding; That ye might walk worthy of the Lord unto all pleasing, being fruitful in every good work, and increasing in the knowledge of God" (Col_1:9-10).
Scriptures for Study: In 2Ti_3:7, what is the sad condition of the unsaved person? In 2Pe_1:3, what comes to us through the knowledge of Christ?
Famous Last Words: John Locke
(1632-1709), English philosopher, being read to out of Psalms by Lady Masham, exclaimed:
"Oh the depth of the riches of the goodness and knowledge of God. Cease now."

Thanks for visiting our site here at www.plbcmh.com