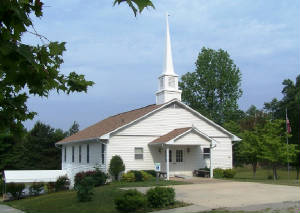 Come and Worship with us at
8256 Promise Land Road
Mountain Home, Arkansas 72653
Our Worship Schedule is
The Church is Open, worship with us inside or outside, message is transmitted on FM 95.1
Sunday Bible Study - 9:45am
Sunday Worship - 11:00am
Wednesday Night Prayer Meeting - 6:00pm
Wednesday Night Bible Study - 7:00pm
Today's Memory Verse
"And Jesus answered him, The first of all the commandments is, Hear, O Israel; The Lord our God is one Lord: And you shall love the Lord your God with all your heart, and with all your soul, and with all your mind, and with all your strength: this is the first commandment."
MARK 12:29, 30

"What comes into our minds when we think about God is the most important thing about us."
A. W. TOZER

"Why does God allow evil?"

Why does God allow evil men and women to live? Should He instead kill them before they do evil deeds? Should He punish murderers and rapists now? What about thieves and liars, adulterers, fornicators, those who lust, and those who hate? If God judged evil today, all unconverted men and women would perish under His wrath. Thank God that He is patiently waiting for them to turn to the Savior and thus be saved from His terrible wrath.

Cameron, K., & Comfort, R. (2004). The school of biblical evangelism: 101 lessons: how to share your faith simply, effectively, biblically-the way Jesus did (p. 309). Gainesville, FL: Bridge-Logos Publishers.
Point to Ponder

The world's has many ignorant maxims: 1. "All good things must come to an end." This isn't true for the Christian; see Ephesians 2:4-7. 2. "Which came first, the chicken or the egg?" The chicken; see Genesis 1:20. 3. "There's no such thing as a free lunch." See Matthew 14:19. 4. "You can't take it with you." The Christian's works "follow" him; see Revelation 14:13. 5. "There are only two things in life that are sure-death and taxes." Plenty of people avoid taxes; none avoid death. See Hebrews 9:27. 6. "Crime doesn't pay." It does ... up until Judgment Day; see Romans 2:6. 7. "As miserable as sin." Sin gives pleasure; see Hebrews 11:25. 8. "That's impossible!" With God, nothing is impossible; see Mark 10:27. 9. "No one will know!" God knows; see 1 John 3:20. 10. "It's the perfect crime." Judgment Day will prove that there is no such thing as a crime that escapes justice; see Hebrews 4:13. 11. "Seeing is believing." Any magician knows that isn't true. The eyes are easily fooled; see Proverbs 28:26. 12. "God helps those who help themselves." God helps those who cannot help themselves; see Romans 5:6.


Day by Day by Grace
Enoch's Pleasing Walk with God, by Faith
By faith Enoch was taken away so that he did not see death, "and was not found, because God had taken him"; for before he was taken he had this testimony, that he pleased God. But without faith it is impossible to please Him.... (Hebrews 11:5-6)
It is the will of God that we learn to walk in a manner pleasing to the Lord: "that you may have a walk worthy of the Lord, fully pleasing Him" (Colossians 1:10). Again, such godly living can only be developed by faith. Much helpful insight into such a life is provided in Enoch's pleasing walk with God, by faith.
Enoch was one of our earliest forefathers. "Enoch lived sixty-five years, and begot Methuselah" (Genesis 5:21). After the birth of Methuselah (who became, at 969 years, the oldest man ever on earth), Enoch began a three hundred year-long journey of close fellowship with God. "After he begot Methuselah, Enoch walked with God three hundred years" (Genesis 5:22). After three centuries of spiritual intimacy, Enoch was taken into heaven without experiencing death. "And Enoch walked with God; and he was not, for God took him" (Genesis 5:24). Enoch's intimacy with God and his unique homegoing were related to a life of reliance upon the Lord. "By faith Enoch was taken away so that he did not see death...for before he was taken he had this testimony, that he pleased God." Of course, what was so pleasing to God about Enoch's walk was his trust in the Lord. "But without faith it is impossible to please Him."
Enoch is a wonderful reminder of what life is all about-walking with God by faith throughout our days on earth, then walking right on into the presence of God in heaven someday. Many will eventually do this, like Enoch, without facing death. "For the Lord Himself will descend from heaven with a shout, with the voice of an archangel, and with the trumpet of God. And the dead in Christ will rise first. Then we who are alive and remain shall be caught up together with them in the clouds to meet the Lord in the air. And thus we shall always be with the Lord" (1 Thessalonians 4:16-17). Others may face death, but the key ingredient of fellowship on earth right on into heaven is the same. "I am continually with You; You hold me by my right hand. You will guide me with Your counsel, And afterward receive me to glory" (Psalm 73:23-24).
Dear God of heaven and earth, I desire to please You by a life of faith here on earth. Help me to walk closely with You day by day throughout my pilgrimage here below. I eagerly anticipate the day that I will forever be with You in the fullness of Your glorious presence in heaven above, Amen.
Here at Promise Land Bible Church
We don't change the message, the message changes us.


Here at Promise Land Bible Church, we are honored that you are visiting our web site at www.plbcmh.com
It is our hope at Promise Land Bible Church that you will be encouraged by the preaching and teaching of God's Word presented here. For it is our desire to teach the whole council of God, so that the body can be edified and above all that God may be glorified.
For it is our passion and desire to share the Gospel message with everyone who will hear, in obedience to God's word.
Welcome to our site here at www.plbcmh.com
The fellowship of believers who call Promise Land Bible Church home would like to welcome you to our website. We believe that salvation is by grace alone, thru faith alone, in Christ alone, and that the Holy Scripture is our sole source of authority for what we do and how we live, and that everything we do, should be done for the glory of God. This is commonly called the 5 Solas of the Reformed Faith.
So here is our invitation to you;
If you are looking for a church that affirms the sole authority of the Holy Scriptures for all of faith and practice, the pre-eminence of the preaching of the Word of God, the glorious truths of salvation called the Doctrines of Grace, the necessity and responsibility of evangelism and a serious approach to the joyful worship of God, then we warmly invite you to come and visit us.
Join us as we look to the truth of scripture and Worship the Lord.
At www.plbcmh.com we do our best to present the truth of the gospel.
Today's Grace Gem
When you have felt the wickedness of your own heart to the uttermost

(Robert Murray McCheyne, 1813-1843)

"The Lord saw how great man's wickedness on the earth had become, and that every inclination of the thoughts of his heart was only evil all the time." Genesis 6:5

"If God places no trust in His holy ones, if even the heavens are not pure in His eyes--how much less man, who is vile and corrupt, who drinks up evil like water!" Job 15:15-16

"The human heart is the most deceitful of all things, and desperately wicked.
Who really knows how bad it is?" Jeremiah 17:9

Learn to be humbled far more than you have ever been. None of you has ever been sufficiently humbled under a sense of sin, for the reason that none of you has ever fully seen the plague of your own heart.

There are chambers in your heart you have never yet seen into;
there are caves in that ocean you have never fathomed;
there are fountains of bitterness you have never tasted.

When you have felt the wickedness of your own heart to the uttermost, then lie down under this solemn truth: that you have only seen a few yards into a pit that is bottomless; that you carry about with you a slumbering volcano, a heart whose wickedness you do not and cannot know.

John Berridge: O heart, heart! You are a mass of foolishness and absurdities--the vainest, foolishest, craftiest, wickedest thing in the world. Yet the Lord Jesus asks me for this heart--woos me for it--died to win it! O wonderful love! Adorable condescension!

Charles Spurgeon: There is no wolf or lion or serpent which is so brutish as that beast, man!
Men will never value a Redeemer so well as when they have a very clear consciousness of the ruin from which He has redeemed them.
Look to the cross, and hate your sin--for sin nailed your Well-Beloved to the tree!
Word of the Day
October 23
Door
thura
As one might assume, the meaning of the word door is pretty obvious. The Greek thura (G2374) referred to a house door, the "outer door" that led from the street to the courtyard, the door of a walled sheepfold, the door of a single room or prison cell, the gate of a city, and even the rough-cut door of a cave or sepulcher.
Obviously, those literal meanings are found in the NT. The most striking examples are the three "door miracles" in the book of Acts, where Peter and John (Act_5:19), Peter alone (Act_12:6-11), and Paul and Silas (Act_16:26-31) were miraculously released from prison.
It's again the figurative meanings, however, that capture our attention. One such use is our Lord's statement that entering His Kingdom requires us to go through a door, but when that door is closed in judgment, there's no more opportunity for those who knock because the owner never knew them (Luk_13:24-25; cf. Mat_7:21-23).
Most significant of all, our Lord Himself is called "the Door." Among many other metaphors for Christ-the Bread of Life (Joh_6:31-35), the Light of the World (Joh_8:12), the Vine (Joh_15:5), and others-this one, too, paints a vivid picture. Again speaking of Himself, our Lord declares in Joh_10:1-10 that the true shepherd of the sheep enters through the door. He goes on to say, however, that false shepherds try to enter the fold and try to steal the sheep (or at least fleece them). As a safeguard, Jesus says in Joh_10:5, "And a stranger will they not follow, but will flee from him: for they know not the voice of strangers."
While that safeguard works with literal sheep, it tragically does not with many Christians today because they simply are not listening to the Shepherd. Where does the Shepherd speak? Nowadays it's claimed that He speaks through visions, dreams, inner urgings, and other such subjective means. Such sincere folks think they're hearing the Shepherd, but they are not. He speaks through Scripture alone, and because people don't recognize that fact, they don't even know what His voice sounds like. As a result, they mistake the voice of false shepherds for the true Shepherd and are led into error and even destruction.
Let us "tune our ears" to the voice of the Shepherd and recognize His voice alone. We'll examine another figurative use of the word door tomorrow-the open door.
Scriptures for Study: What is the obvious application of Mat_6:6? What is our Lord telling us in Mat_28:2?
Famous Last Words: Dr. Samuel Johnson
(1709-1784), the lexicographer author, after being told by his doctor that he could not recover, said:
"Then I will take no more physics-not even opiates. I have prayed that I may render up my soul to God unclouded."

Thanks for visiting our site here at www.plbcmh.com