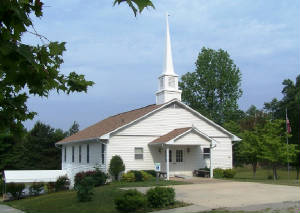 Come and Worship with us at
8256 Promise Land Road
Mountain Home, Arkansas 72653
Our Worship Schedule is
Sunday Bible Study - 9:45am
Sunday Worship - 11:00am
Wednesday Night Prayer Meeting - 6:00pm
Wednesday Night Bible Study - 7:00pm
Today's Memory Verse
"For the Father himself loves you, because you have loved me, and have believed that I came out from God. I came forth from the Father, and am come into the world: again, I leave the world, and go to the Father."
JOHN 16:27, 28

Quote of the Day
"The gospel has not been clearly preached if the hearer doesn't know that not to make a decision is a decision."
DAN ARNOLD

"Why are there so many denominations?"

In the early 1500s, a German monk named Martin Luther was so conscious of his sins that he spent up to six hours in the confessional. Through study of the Scriptures he found that salvation didn't come through anything he did, but simply through trusting in the finished work of the cross of Jesus Christ. He listed the contradictions between what the Scriptures said and what his church taught, and nailed his "95 Theses" to the church door in Wittenberg, Germany.
Martin Luther became the first to "protest" against the Roman church, and thus he became the father of the Protestant church. Since that split, there have been many disagreements about how much water one should baptize with, how to sing what and why, who should govern who, etc., causing thousands of splinter groups. Many of these groups are convinced that they are the only ones who are right. These groups have become known as Protestant "denominations." Despite the confusion, these churches subscribe to certain foundational beliefs such as the deity, death, burial, and resurrection of Jesus Christ. The Bible says, "The foundation of God stands sure, having this seal, The Lord knows them that are his" (2 Timothy 2:19).

Cameron, K., & Comfort, R. (2004). The school of biblical evangelism: 101 lessons: How to share your faith simply, effectively, biblically-the way Jesus did (612-613). Gainesville, FL: Bridge-Logos Publishers.
Day by Day by Grace
More on the Boldness of Grace
I have written more boldly to you on some points...because of the grace given to me by God...Great is my boldness of speech toward you. (Romans 15:15 and 2 Corinthians 7:4)
When the grace of God is at work in the lives of His people, spiritual boldness is a common result. This was clearly the testimony of the early church. "They spoke the word of God with boldness ...And great grace was upon them all" (Acts 4:31, 33).
The Apostle Paul experienced this same boldness, as he ministered by the grace of God. "I have written more boldly to you on some points...because of the grace given to me by God." Paul's letters often displayed the boldness of grace. Romans was no exception. As he applied the radical truths of the gospel of grace (given in the earlier chapters of Romans), he spoke with characteristic boldness. His exhortation to lay our lives on God's altar is a prime example. "I beseech you therefore, brethren, by the mercies of God, that you present your bodies a living sacrifice, holy, acceptable to God, which is your reasonable service. And do not be conformed to this world, but be transformed by the renewing of your mind, that you may prove what is that good and acceptable and perfect will of God" (Romans 12:1-2). His call to be clothed in Christ, leaving no room for fleshly tendencies, is another notable instance of boldness. "Let us walk properly, as in the day, not in revelry and drunkenness, not in licentiousness and lewdness, not in strife and envy. But put on the Lord Jesus Christ, and make no provision for the flesh, to fulfill its lusts" (Romans 13:13-14). His pronouncement concerning the Lord's ownership of our lives is one more illustration of the boldness of grace. "For if we live, we live to the Lord; and if we die, we die to the Lord. Therefore, whether we live or die, we are the Lord's" (Romans 14:8).
"Great is my boldness of speech toward you" wrote Paul to the saints at Corinth. Just prior to this confession of boldness, he had given a radical request to be separate from the defilements of the world. "Do not be unequally yoked together with unbelievers. For what fellowship has righteousness with lawlessness? And what communion has light with darkness? And what accord has Christ with Belial? Or what part has a believer with an unbeliever? And what agreement has the temple of God with idols? For you are the temple of the living God" (2 Corinthians 6:14-16). Yes, God's grace works boldness into our lives.
Dear Father, I praise You for the radical nature of You and Your truth. I thank You for the boldness that Your grace can bring into lives. By Your grace at work in me, cause me to think, pray, speak, and act in godly boldness. For Your glory, grant me, I pray, a boldness that is confident, but not arrogant; daring, but not reckless; uncompromising, but not harsh; unrelenting, but not insensitive; fearless, but not unloving.
Word of the Day
December 9
Law
nomos
In light of yesterday's mention of the Judaizers, today we consider the debated issue of law. The noun nomos (G3551), which in turn is derived from the verb nemō (not in NT), "to deal out, distribute, apportion." Nomos, then, "originally referred to distributing and what follows from it . . . [namely] custom, usage, statute, law, especially in the context of distribution of goods, and of law and order."
Some Bible teachers talk about the "law" of the OT and the "grace" of the NT. That is a little misleading because grace has always been in operation and law is still in operation, although a different law is now in force.
What do we mean by that? Jesus Himself said, "Think not that I am come to destroy the law, or the prophets: I am not come to destroy, but to fulfil" (Mat_5:17). He even summarized the entire law into two: love God and your neighbor, on which "hang all the law and the prophets" (Mat_22:36-40).
So, if the old Law was fulfilled, what law is in operation now? The law of love. As Paul wrote, "He that loveth another hath fulfilled the law. . . . Love worketh no ill to his neighbour: therefore love is the fulfilling of the law" (Rom_13:8, Rom_13:10). He also told the Galatians, "For all the law is fulfilled in one word, even in this; Thou shalt love thy neighbour as thyself " (Gal_5:14). He adds that as we "bear one another's burdens," we "so fulfil the law of Christ" (Gal_6:2).
This new law is, in fact, far superior to the old. Jesus provides several examples in Matthew 5. While the old law said to not commit adultery, the new says to not even look with lust (Mat_5:27-28; cf. Exo_20:14). While the old said to not swear falsely, the new says, "Swear not at all," that is, carelessly or profanely (Mat_5:33-34; cf. Lev_19:12). While the old said "an eye for an eye," the new says "turn the other cheek" (Mat_5:38-39; cf. Exo_21:24).
As Gal_3:1-3 declares, it's not the old law that makes us "perfect" (mature, teleios, see July 14); rather, the Holy Spirit does so through the law of Christ. While the old law was the "schoolmaster," Christ now is the teacher (Gal_3:24).
Scriptures for Study: Read Gal_5:16-26, noting the great superiority of walking in the Spirit over following "the weak and beggarly elements" of the old law (Gal_4:9).
Famous Last Words: William Ceiller,
eminent British physician and medical lecturer, said as he died:
"I wish I had the power of writing; I would describe how pleasant it is to die."

Here at Promise Land Bible Church
We don't change the message, the message changes us.


Here at Promise Land Bible Church, we are honored that you are visiting our web site at www.plbcmh.com
It is our hope at Promise Land Bible Church that you will be encouraged by the preaching and teaching of God's Word presented here. For it is our desire to teach the whole council of God, so that the body can be edified and above all that God may be glorified.
For it is our passion and desire to share the Gospel message with everyone who will hear, in obedience to God's word.
Welcome to our site here at www.plbcmh.com
The fellowship of believers who call Promise Land Bible Church home would like to welcome you to our website. We believe that salvation is by grace alone, thru faith alone, in Christ alone, and that the Holy Scripture is our sole source of authority for what we do and how we live, and that everything we do, should be done for the glory of God. This is commonly called the 5 Solas of the Reformed Faith.
So here is our invitation to you;
If you are looking for a church that affirms the sole authority of the Holy Scriptures for all of faith and practice, the pre-eminence of the preaching of the Word of God, the glorious truths of salvation called the Doctrines of Grace, the necessity and responsibility of evangelism and a serious approach to the joyful worship of God, then we warmly invite you to come and visit us.
Join us as we look to the truth of scripture and Worship the Lord.
At www.plbcmh.com we do our best to present the truth of the gospel.
American Minute
December 9th:
The Play, "Fiddler on the Roof," recounts the story of Jewish persecution in Eastern Europe and Russia.

President Abraham Lincoln, shortly after he signed the Emancipation Proclamation, met with Canadian Christian Zionist, Henry Wentworth Monk regarding the oppression of Russian and Turkish Jews.

Lincoln showed sympathy for Monk's pleas of: "restoring them to their national home in Palestine."

Lincoln noted this was "a noble dream and one shared by many Americans."

On May 22, 1872, President Ulysses S. Grant wrote to Congress: "In answer to a resolution of the House of Representatives ... requesting me to join the Italian Government in a protest against the intolerant and cruel treatment of the Jews in Romania, I transmit a report from the Secretary of State relative to the subject."

President Chester A. Arthur had stated, December 4, 1882: "Our long-established friendliness with Russia ... has prompted me to proffer the earnest counsels of this Government that measures be adopted for suppressing the proscription which the Hebrew race in that country has lately suffered."

In 1891, pogroms incited by Czar Alexander III provoked an outcry by many prominent Americans, including the Chief Justice of the Supreme Court and Speaker of the House.

Rev. William E. Blackstone and Cardinal James Gibbons presented a petition on behalf of the persecuted Jews of Russia to President Benjamin Harrison and Secretary of State James Blaine.

The petition was signed by notable leaders, including John D. Rockefeller, J.P. Morgan, Cyrus McCormick, the U.S. Supreme Court Chief Justice, D.L. Moody, A.T. Pierson, Philip Schaff, and future president William McKinley.

The petition stated: "Why shall not the powers which under the treaty of Berlin, in 1878, gave Bulgaria to the Bulgarians and Serbia to the Serbians now give Palestine back to the Jews? ... These provinces, as well as Romania, Montenegro, and Greece, were wrested from the Turks and given to their natural owners. Does not Israel as rightfully belong to the Jews?"

Rev. William E. Blackstone's petition, which he also sent to Queen Victoria and Czar Alexander III, continued: "We believe this is an appropriate time for all nations and especially the Christian nations of Europe to show kindness to Israel. A million of exiles, by their terrible suffering, are piteously appealing to our sympathy, justice, and humanity. Let us now restore to them the land of which they were so cruelly despoiled by our Roman ancestors."

Rev. William E. Blackstone, who later corresponded with Theodor Herzl, called for the first international conference: "to consider the Israelite claim to Palestine as their ancient home, and to promote in any other just and proper way the alleviation of their suffering condition."

President Benjamin Harrison wrote DECEMBER 9, 1891: "This Government has found occasion to express ... to the Government of the Czar its serious concern because of the harsh measures now being enforced against the Hebrews in Russia ... By the revival of anti-semitic laws, long in abeyance, great numbers of those unfortunate people have been constrained to abandon their homes and leave the Empire by reason of the impossibility of finding subsistence within the pale to which it is sought to confine them ..."

President Harrison continued: "The immigration of these people to the United States - many others countries being closed to them - is largely increasing... It is estimated that over 1,000,000 will be forced from Russia within a few years ..."

Harrison went on: "The Hebrew is never a beggar; he has always kept the law--life by toil--often under severe and oppressive civil restrictions ... It is also true that no race, sect, or class has more fully cared for its own than the Hebrew race ..."

President Benjamin Harrison concluded: "This consideration, as well as the suggestion of humanity, furnishes ample ground for the remonstrances which we have presented to Russia."

On December 2, 1895, President Grover Cleveland wrote to Congress: "Correspondence is on foot touching the practice of Russian consuls ... to interrogate citizens as to their race and religious faith, and upon ascertainment thereof to deny to Jews authentication of passports of legal documents for use in Russia ... Such a proceeding imposes a disability ... and ... is an obnoxious invasion ... It has elicited fitting remonstrance."

President Theodore Roosevelt addressed Congress, December 6, 1904: "It is inevitable that such a nation should desire eagerly to give expression to its horror on an occasion like that of the massacre of the Jews in Kishenef."

President Woodrow Wilson made a plea for aid to stricken Jewish people, January 11, 1916: "Whereas in the various countries now engaged in war there are nine millions of Jews, the great majority of whom are destitute of food, shelter, and clothing ... have been driven from their homes without warning, deprived of an opportunity to make provision for their most elementary wants, causing starvation, disease and untold suffering; and

Whereas the people of the United States of America have learned with sorrow of this terrible plight of millions of human beings and have most generously responded to the cry for help ...

Now, Therefore, I, Woodrow Wilson, President of the United States ... do appoint and proclaim January 27, 1916, as a day upon which

the people of the United States may make such contributions as they feel disposed for the aid of the stricken Jewish people."
Today's Grace Gem
Gems from Octavius Winslow
~ ~ ~ ~
So completely was Jesus bent upon saving sinners by the sacrifice of Himself, that He created the tree upon which He was to die--and nurtured from infancy, the men who were to nail Him to the accursed wood!
~ ~ ~ ~
Christ took your cup of grief, your cup of the curse, pressed it to his lips, drank it to its dregs--then filled it with His sweet, pardoning, sympathizing love, and gave it back for you to drink, and to drink forever!
~ ~ ~ ~
It is because we have such shallow views of God's love--that we have such defective views of God's dealings. We blindly interpret the symbols of His providence--because we so imperfectly read the engravings of His heart!
Thanks for visiting our site here at www.plbcmh.com