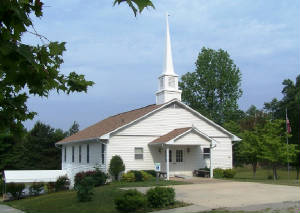 Come and Worship with us at
8256 Promise Land Road
Mountain Home, Arkansas 72653
Our Worship Schedule is
The Church is Open, worship with us inside or outside, message is transmitted on FM 95.1
Sunday Bible Study - 9:45am
Sunday Worship - 11:00am
Wednesday Night Prayer Meeting - 6:00pm
Wednesday Night Bible Study - 7:00pm
Today's Memory Verse
"But without faith it is impossible to please him: for he that comes to God must believe that he is, and that he is a rewarder of them that diligently seek him."
HEBREWS 11:6

"The beginning of anxiety is the end of faith, and the beginning of true faith is the end of anxiety."
GEORGE MUELLER

"If God gives me some 'sign,' then I will believe."

The unsaved often want a "sign" from God. This is in spite of the testimony of creation, their conscience, the Bible, and the Christian. The cross is the only thing that can truly convince sinners of the reality of who Jesus is. Once they understand that the holes in His hands and His feet are there because of their own sin, they will fall at His feet and cry, "My Lord and my God!"

Cameron, K., & Comfort, R. (2004). The school of biblical evangelism: 101 lessons: how to share your faith simply, effectively, biblically-the way Jesus did (p. 242). Gainesville, FL: Bridge-Logos Publishers.
Point to Ponder

I have often heard cynics say, "You can't trust the Bible-it's full of mistakes." It is. The first mistake was when man rejected God, and the Scriptures show men and women making the same tragic mistake again and again. It's also full of what seem to be contradictions. For example, the Scriptures tell us that "with God, nothing shall be impossible" (Luke 1:37). We are told that there is nothing Almighty God can't do. Yet we are also told that it is "impossible for God to lie" (Hebrews 6:18). So there is something God cannot do! Isn't that an obvious "mistake" in the Bible? No, it isn't. The answer to this dilemma is found in the lowly worm.
I can safely say that it would be impossible for me to eat worms, although I have seen it done. I once saw a man on TV butter his toast, then pour on a can of live, fat, wriggling, dirt-filled worms. He carefully took a knife and fork, cut into his moving meal, and ate it. It made me feel sick. It was disgusting. The thought of chewing cold, live worms is so repulsive, so distasteful, that it would be impossible for me to eat them. It is so abhorrent, I draw on the strength of the word "impossible" to substantiate my claim.
Lying, deception, bearing false witness, etc., are so repulsive to God, so disgusting to Him, so against His holy character, that the Scriptures draw on the strength of the word "impossible" to substantiate the claim. He cannot, could not, and would not lie.
That means that in a world where we are frequently let down, we can totally rely on, trust in, and count on His promises. They are sure, certain, indisputable, true, trustworthy, reliable, faithful, unfailing, dependable, steadfast, and an anchor for the soul. In other words, you can truly believe them, and because of that, you can throw yourself blindfolded and without reserve into His mighty hands. He will never, ever let you down. Do you believe that?


Day by Day by Grace
The New Covenant Inaugurated for the Church
But now He has obtained a more excellent ministry, inasmuch as He is also Mediator of a better covenant, which was established on better promises...And the Holy Spirit also witnesses to us..."This is the covenant that I will make with them after those days, says the Lord: I will put My laws into their hearts"...Therefore, brethren, having boldness to enter the Holiest by the blood of Jesus, by a new and living way which He consecrated for us. (Hebrews 8:6; 10:15-16, 19-20)
This new covenant of grace (promised to Israel eventually) has already been inaugurated for the church now. The book of Hebrews documents this fact repeatedly. "But now He has obtained a more excellent ministry, inasmuch as He is also Mediator of a better covenant, which was established on better promises." Here in chapter 8, verse 6, the new covenant is referred to as "a better covenant." Then, the instituting of this new covenant is described in the past tense, "was established." It has already been put into operation for the church.
In Hebrews 10:16, the promise of the new covenant is quoted from Jeremiah 31. "This is the covenant that I will make with them after those days, says the Lord: I will put My laws into their hearts." In the previous verse, we are told that this quote from Jeremiah includes a message from the Holy Spirit to us, the church of Jesus Christ. "And the Holy Spirit also witnesses to us."
Furthermore, in Hebrews 10:19-20, the new covenant is applied to the access of the "brethren" (the church, God's children) to their holy God and Father. "Therefore, brethren, having boldness to enter the Holiest by the blood of Jesus, by a new and living way which He consecrated for us." Through His death on the cross, Jesus consecrated (that is, inaugurated, instituted, established, put into operation) the new covenant for us today!
Of course, this all fits perfectly with the application of the new covenant to the church celebrating the Lord's Supper. "In the same manner He also took the cup after supper, saying, 'This cup is the new covenant in My blood'" (1 Corinthians 11:25).
Dear Lord of Glory, I rejoice with great gladness that Your new covenant of grace is the wondrous manner in which I am invited to relate to You. In this rich covenant, I have found forgiveness of all my sins. Praise be to Your name! In this bountiful arrangement, I can grow in intimacy with You. Blessed be Your name! In this generous provision, I anticipate being changed and enabled by You from deep within my heart. Glory be to Your name forevermore!
Famous Last Words: Casanova,
renowned for his self-indulgence, probably ended his life in self-deception. On his deathbed at the age of 73, he said:
"I have lived as a philosopher and die as a Christian."

Here at Promise Land Bible Church
We don't change the message, the message changes us.


Here at Promise Land Bible Church, we are honored that you are visiting our web site at www.plbcmh.com
It is our hope at Promise Land Bible Church that you will be encouraged by the preaching and teaching of God's Word presented here. For it is our desire to teach the whole council of God, so that the body can be edified and above all that God may be glorified.
For it is our passion and desire to share the Gospel message with everyone who will hear, in obedience to God's word.
Welcome to our site here at www.plbcmh.com
The fellowship of believers who call Promise Land Bible Church home would like to welcome you to our website. We believe that salvation is by grace alone, thru faith alone, in Christ alone, and that the Holy Scripture is our sole source of authority for what we do and how we live, and that everything we do, should be done for the glory of God. This is commonly called the 5 Solas of the Reformed Faith.
So here is our invitation to you;
If you are looking for a church that affirms the sole authority of the Holy Scriptures for all of faith and practice, the pre-eminence of the preaching of the Word of God, the glorious truths of salvation called the Doctrines of Grace, the necessity and responsibility of evangelism and a serious approach to the joyful worship of God, then we warmly invite you to come and visit us.
Join us as we look to the truth of scripture and Worship the Lord.
At www.plbcmh.com we do our best to present the truth of the gospel.
Today's Grace Gem
The Omnipresence of God
(John MacDuff, "The Night Watches")
"Where shall I go from Your Spirit? Where shall I flee from Your presence?" Psalm 139:7

The omnipresence of God! How baffling to any finite comprehension! To think that above us, and around us, and within us--there is Deity--the invisible footprints of an Omniscient, Omnipresent One!

"His Eyes are in every place!" On rolling planets--and tiny atoms; on the bright seraph--and the lowly worm; roaming in searching scrutiny through the tracks of immensity--and reading the dark and hidden page of my heart! "All things are naked and opened unto the eyes of Him with whom we have to do!"

O God! shall this Your Omnipresence appall me? No! In my seasons of sadness and sorrow and loneliness--when other comforts and comforters have failed--when, it may be, in the darkness and silence of some midnight hour, in vain I have sought repose--how sweet to think, "My God is here! I am not alone. The Omniscient One, to whom the darkness and the light are both alike--is hovering over my sleepless pillow!" O my Unsetting Sun, it cannot be darkness or loneliness or sadness--where You are. There can be no night to the soul which has been cheered with Your glorious radiance!

"Surely, I am with you always!" How precious, blessed Jesus, is this, Your legacy of parting love! Present with each of Your people until the end of time--ever present, omnipresent. The true "Pillar of cloud" by day--and "Pillar of fire" by night, preceding and encamping by us in every step of our wilderness journey. My soul! think of Him at this moment--as present with every member of the family that He has redeemed with His blood! Yes, and as much present with every individual soul, as if He had none other to care for--but as if that one engrossed all His affection and love!

The Great Builder--surveying every stone and pillar of His spiritual temple; the Great Shepherd--with His eye on every sheep of His fold; the Great High Priest--marking every tear-drop; noting every sorrow; listening to every prayer; knowing the peculiarities of every case: no number perplexing Him--no variety bewildering Him; able to attend to all, and satisfy all, and answer all--myriads drawing hourly from His Treasury--and yet no diminution of that Treasury--ever emptying, and yet ever filling, and always full!

Jesus! Your perpetual and all-pervading presence turns darkness into day! I am not left un-befriended to weather the storms of life--Your hand is from hour to hour piloting my frail vessel.

The omnipresence of God--gracious antidote to every earthly sorrow!

"I have set the Lord always before me!" Even now, as night is drawing its curtains around me, be this my closing prayer: "Blessed Savior! abide with me, for it is toward evening, and the day is far spent! Under the shadowing wings of Your presence and love, I will both lie down and sleep in peace, for You alone, O Lord, make me live in safety!" Psalm 4:8
Word of the Day
January 21
Love (2)
phileō
While English has only a single word for love, Greek has four. Eros speaks of sexual passion (English "erotic") and never appears in the NT. Stergō speaks of mutual love between parents and children, a god and its people, and even a dog for its master, and also is not used in the NT (except for compounds such as astorgos [794], Rom_1:31, and philostorgos [5387] Rom_12:10). Agapē, which we've studied already, speaks of sacrificial love.
We turn now to phileō (verb, G5368) and philos (noun, G5384, see November 18). While there's a little disagreement among scholars of the differences between this and agapē, phileō seems to be clearly distinct and speaks of esteem, high regard, and tender affection and is more emotional. While passionate, however, it does not imply a loss of reason.
By far, the most vivid example of the difference appears in John 21, where our Lord and Peter speak after Peter's denial and the Lord's resurrection. The picture of Peter is that of a broken man who is ashamed of what he has done. Interestingly, our Lord doesn't rebuke Peter for that or ask why he did it, rather He simply asks his passionate disciple (Joh_21:15), "Peter, do you agapaō Me more than these other disciples?" But in his shame, and knowing his Lord could see in his heart, Peter could not bring himself to say that he loved the Lord in an all-giving, sacrificial way, so he answers, "Yea, Lord; thou knowest that I phileō thee." In Joh_21:16, Jesus asks again using agapaō and Peter again responds with phileō.
But then something extraordinary happens (Joh_21:17). The Lord comes down to Peter's level and asks, "Peter, do you really phileō Me?" I have always imagined the tears streaming down Peter's face as he answered in his grief and cracking voice, "Lord, thou knowest all things; thou knowest that I phileō thee."
A key to understanding this scene is that in all three exchanges, the Lord recommissions Peter to service, telling him to feed His people. The blessing here is that even our tender affection qualifies us for service. As we grow, that affection will turn to agapē, as it did in Peter (for he uses agapaō in 1Pe_1:8).
My dear Christian friend, do you love the Lord? How much?
Scriptures for Study: In 1Co_16:22, what is to be declared of the person who does not love (phileō) the Lord? (see also February 6). In Rev_3:19, the Lord does what because He loves (phileō) us?
Thanks for visiting our site here at www.plbcmh.com