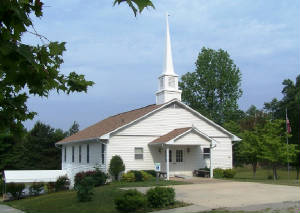 Come and Worship with us at
8256 Promise Land Road
Mountain Home, Arkansas 72653
Our Worship Schedule is
The Church is Open, worship with us inside or outside, message is transmitted on FM 95.1
Sunday Bible Study - 9:45am
Sunday Worship - 11:00am
Wednesday Night Prayer Meeting - 6:00pm
Wednesday Night Bible Study - 7:00pm
Today's Memory Verse
"Submit yourselves therefore to God. Resist the devil, and he will flee from you. Draw near to God, and he will draw near to you. Cleanse your hands, you sinners; and purify your hearts, you double minded."
JAMES 4:7, 8

"Satan, the God of all dissension, stirreth up daily new sects, and last of all, which of all other I should never have foreseen or once suspected, he has raised up a sect such as teach ... that men should not be terrified by the Law, but gently exhorted by the preaching of the grace of Christ."
MARTIN LUTHER

"The Bible says 'an eye for an eye,' encouraging us to take the law into our own hands by avenging wrongdoing."

This verse is so often misquoted by the world. Many believe it is giving a license to take matters into our own hands and render evil for evil. In reality, it is referring to civil law concerning restitution. If someone steals your ox, he is to restore the ox. If someone steals and wrecks your car, he is to buy you another one ... a car for a car, an eye for an eye, a tooth for a tooth.
The spirit of what Jesus is saying here is radically different from the "sue the shirt off the back of your neighbor" society in which we live.

Cameron, K., & Comfort, R. (2004). The school of biblical evangelism: 101 lessons: how to share your faith simply, effectively, biblically-the way Jesus did (pp. 271-272). Gainesville, FL: Bridge-Logos Publishers.
Day by Day by Grace
Even More on God's Ability and His Promises
Our God whom we serve is able to deliver us from the burning fiery furnace...Now to Him who is able to keep you from stumbling, and to present you faultless before the presence of His glory with exceeding joy. (Daniel 3:17 and Jude v. 24)
The basic subject matter in this section of our meditations on growing in the grace of God pertains to the promises of God. Living by the promises of God is just another way to consider living by the grace of God. Again, our present verses speak of the ability of God. The more we understand what God is able to do, the more extensively we will trust in His promises.
Three young Israelites (Shadrach, Meshach, and Abed-Nego) gave powerful testimony of the ability of God. King Nebuchadnezzar had ordered all the people to engage in idolatry, under threat of severe consequences. "To you it is commanded, O peoples, nations, and languages, that at the time you hear the sound of the horn...you shall fall down and worship the gold image that King Nebuchadnezzar has set up; and whoever does not fall down and worship shall be cast immediately into the midst of a burning fiery furnace" (Daniel 3:4-6). The three young men had a bold answer, based on the ability of God. "Our God whom we serve is able to deliver us from the burning fiery furnace." They did not bow down, so they were thrown into the blazing furnace. Yet, the Lord demonstrated His ability on their behalf. When the king looked into the furnace, he exclaimed, "Look!...I see four men loose, walking in the midst of the fire; and they are not hurt, and the form of the fourth is like the Son of God" (Daniel 3:25). Yes, God proved able to deliver them.
Hundreds of years later, Jude wrote of God's ability in two other important arenas. "Now to Him who is able to keep you from stumbling, and to present you faultless before the presence of His glory with exceeding joy." This aspect of God's ability offers assurance that God can keep His people from stumbling while on earth and present them faultless when they reach heaven. We all know our own capacity to stumble spiritually into transgression or compromise. Also, the enemy's condemnations often rob us of the expectation that we will eventually stand before our Lord in glory, fully forgiven, cleansed, and transformed. Our God is able to work effectively in both arenas for all who humbly trust in Him.
Lord, how able You are! You are able to deliver me from the threatening situations of life. You are able to keep me from stumbling into sin. You are able to present me faultless before You some day in heaven. Lord, Your great ability encourages me to humbly depend upon Your many promises!
Here at Promise Land Bible Church
We don't change the message, the message changes us.


Here at Promise Land Bible Church, we are honored that you are visiting our web site at www.plbcmh.com
It is our hope at Promise Land Bible Church that you will be encouraged by the preaching and teaching of God's Word presented here. For it is our desire to teach the whole council of God, so that the body can be edified and above all that God may be glorified.
For it is our passion and desire to share the Gospel message with everyone who will hear, in obedience to God's word.
Welcome to our site here at www.plbcmh.com
The fellowship of believers who call Promise Land Bible Church home would like to welcome you to our website. We believe that salvation is by grace alone, thru faith alone, in Christ alone, and that the Holy Scripture is our sole source of authority for what we do and how we live, and that everything we do, should be done for the glory of God. This is commonly called the 5 Solas of the Reformed Faith.
So here is our invitation to you;
If you are looking for a church that affirms the sole authority of the Holy Scriptures for all of faith and practice, the pre-eminence of the preaching of the Word of God, the glorious truths of salvation called the Doctrines of Grace, the necessity and responsibility of evangelism and a serious approach to the joyful worship of God, then we warmly invite you to come and visit us.
Join us as we look to the truth of scripture and Worship the Lord.
At www.plbcmh.com we do our best to present the truth of the gospel.
Today's Grace Gem
The choicest, sweetest, wisest and strongest Christian!

(Thomas Brooks)

If it is not the aim of your heart to practice what you read, to what end do you read?

To increase your own condemnation? If your light and knowledge is not turned into practice, the more knowing man you are, the more miserable man you will be in the day of recompense! Your light and knowledge will be . . .
that rod that will eternally lash you,
and that scorpion that will forever bite you,
and that worm that will everlastingly gnaw you!

Therefore read and labor to know, that you may DO--or else you are undone for ever!

Remember, it is not hasty reading, but serious meditating upon holy and heavenly truths, that make them prove sweet and profitable to the soul.

It is not the bee's touching of the flower that gathers honey, but her abiding for a time upon the flower that draws out the sweet.

It is not he who reads most, but he who meditates most--who will prove the choicest, sweetest, wisest and strongest Christian!
Word of the Day
July 7
Witness
martus
In Eph_4:12, Paul declares that the evangelist and pastor-teacher are to train Christians "for the work of the ministry." But what exactly is the work of the ministry? Act_1:8 is the most important verse to church outreach, the verse that speaks of the commission given to every believer: "But ye shall receive power, after that [i.e., when] the Holy Ghost is come upon you: and ye shall be witnesses unto me." That truly is "the Great Commission" (cf. Mat_28:19-20).
The original setting of the Greek martus (G3144, English martyr) was the legal sphere, just like today. The witness gives solemn testimony to that which he knows and offers evidence. The Christian, therefore, is one who testifies of Christ and gives evidence through his or her life. So, it's not just that we witness for Christ with our lips, but rather what we also do through our life. It's not so much that the local church evangelizes through "programs of evangelism" or "evangelistic campaigns," but rather individual believers are the outreach.
To illustrate, we see today multimillion-dollar public schools with huge gymnasiums, Olympic swimming pools, state-of-the-art science labs, cutting-edge computer technology, and ultra-competitive athletic programs. Billions of dollars are thrown at public education, but study after study shows that the quality of education continues to decline. Why? Because we have forgotten what education is. As one unknown sage has put it: "A school is a log with a teacher on one end and a student on the other."
Likewise, evangelism is not dependent upon a multimillion-dollar facility, the latest marketing technique, or some spiel we recite to manipulate someone to "believe in Jesus." Biblical evangelism (euaggelion, G2088, see February 8) is one person telling another person about the only Person.
What then is the purpose of the local church in this regard? The local church is the training ground. The local church is where Christians are to be trained so they are equipped to serve, to be effective witnesses. This challenges each one of us to be the witness God wants us to be and challenges pastors to do the appropriate equipping.
Scriptures for Study: Read the following scriptures, noting the one-on-one nature of personal evangelism: Joh_4:5-14; Act_8:26-35.
Famous Last Words: John Bacon,
the British sculptor of great ability who died in 1799, left the following self-composed inscription for his tombstone:
"What I was as an artist seemed to me of some importance while I lived, but what I really was as a believer in Christ Jesus is the thing of importance to me now."

Thanks for visiting our site here at www.plbcmh.com