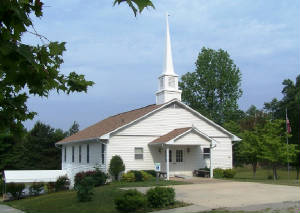 Come and Worship with us at
8256 Promise Land Road
Mountain Home, Arkansas 72653
Our Worship Schedule is
Sunday Bible Study - 9:45am
Sunday Worship - 11:00am
Wednesday Night Prayer Meeting - 6:00pm
Wednesday Night Bible Study - 7:00pm
Today's Memory Verse
"Go therefore, and teach all nations, baptizing them in the name of the Father, and of the Son, and of the Holy Spirit: teaching them to observe all things whatsoever I have commanded you: and, lo, I am with you always, even to the end of the world. Amen."
MATTHEW 28:19, 20

Quote of the Day
"The greatest proof of Christianity for others is not how far a man can logically analyze his reasons for believing, but how far in practice he will stake his life on his belief."
T. S. ELIOT

"Because Jesus died on the cross, we are all forgiven of every sin."

The forgiveness that is in Jesus Christ is conditional upon "repentance toward God, and faith toward our Lord Jesus Christ" (Acts 20:21). It is a gift that God offers to everyone, but individuals must receive it by repenting and trusting in Christ, or they will remain dead in their sins.
No one has biblical grounds to continue in sin, assuming that they are safe just because Jesus died on the cross. See 1 John 3:4-6.

Cameron, K., & Comfort, R. (2004). The school of biblical evangelism: 101 lessons: How to share your faith simply, effectively, biblically-the way Jesus did (297). Gainesville, FL: Bridge-Logos Publishers.
Point to Ponder

A man was having difficulty hearing, but not to a point where it would justify the purchase of an expensive hearing device. He was tired of asking people to speak louder, so he had a simple but novel idea. He tied two small buttons to some thread, placed one button in his shirt pocket, and the other in his ear. Those who spoke to him saw the thread running from his pocket to his ear, concluded that he was having trouble hearing, and consequently spoke louder. The devise was simple, cheap, and effective. The lesson is that we should never overlook the power of simplicity.
The apostle Paul reminds those who preach the gospel not to move away from the "simplicity that is in Christ" (2 Corinthians 11:3). Thank God that He made the message of salvation so simple that all humanity can understand it.



Day by Day by Grace
Outer Man Perishing, Inner Man Renewed
Therefore we do not lose heart. Even though our outward man is perishing, yet the inward man is being renewed day by day. (2 Corinthians 4:16)
Those who learn to live by the grace of God are increasingly protected from discouragement. "Therefore we do not lose heart." This truth was touched upon in an earlier verse from this fourth chapter of 2 Corinthians. "Therefore, since we have this ministry, as we have received mercy, we do not lose heart" (2 Corinthians 4:1). The protection from discouragement there involved mercy and grace. Since we serve the Lord by mercy and grace (and not by our merit or by our resources), we have a built-in supply of heavenly encouragement available to us daily.
In our present verse, encouragement comes from the contrast between what is happening to the "outward man" and to the "inward man." The "outward man" is the physical person, which can be observed by human sight. This is generally the object of attention among the unredeemed (as well as among believers who are walking according to the flesh). This man is "perishing" because sin has impacted all of us. "Therefore, just as through one man sin entered the world, and death through sin, and thus death spread to all men, because all sinned" (Romans 5:12). Man began from dust. "And the LORD God formed man of the dust of the ground" (Genesis 2:7). Due to sin, the outer, physical man is headed back toward that initial starting point. "In the sweat of your face you shall eat bread till you return to the ground, for out of it you were taken; for dust you are, and to dust you shall return" (Genesis 3:19). For those who do not know the Lord, this is a discouraging fact. They often strive desperately to prevent this inevitable process.
On the other hand, servants of new covenant grace are not discouraged by this fact. "Therefore we do not lose heart." It is true that our outer man is also perishing. Yet, we see a bigger picture than that. "Even though our outward man is perishing, yet the inward man is being renewed day by day." As our outer man is deteriorating, we are still encouraged, because our inner man can be in the process of renewal: "And have put on the new man who is renewed in knowledge according to the image of Him who created him" (Colossians 3:10). As we are humbly seeking the Lord in His word, we are being changed, brought more and more into the newness of Christ: "Beholding as in a mirror the glory of the Lord, are being transformed into the same image from glory to glory, just as by the Spirit of the Lord" (2 Corinthians 3:18).
O Lord, as my outer man deteriorates, remind me of the encouraging reality that my inner man can be renewed. Help me to desire inner spiritual progress, rather than outer physical prowess. This I pray through Christ, my Lord, Amen.
Today's Grace Gem
That pestilent and most wretched John Wycliffe!

John Wycliffe was the first to translate the complete Bible into the English language in the 1380's.
John Wycliffe wrote the following:
Holy Scripture is the preeminent authority for every Christian, and the rule of faith.
Forasmuch as the Bible contains all that is necessary for salvation--it is necessary for all men, not for priests alone. It alone is the supreme law that is to rule the Church . . . without human traditions and statutes.
Christ and His Apostles taught the people in the language best known to them. Therefore, the doctrine should not only be in Latin but in the common tongue. The laity ought to understand the faith and, as doctrines of our faith are in the Scriptures, believers should have the Scriptures in a language which they fully understand.

The Catholic Archbishop of Canterbury wrote the following:
"That pestilent and most wretched John Wycliffe, of damnable memory, a child of the old devil, and himself a child or pupil of Antichrist... crowned his wickedness by translating the Scriptures into the mother tongue!"
N.B. The Roman Catholic Council of Constance declared Wycliffe to be a heretic, and decreed that Wycliffe's works should be burned. In 1428, under the direction of Pope Martin V--Wycliffe's corpse was exhumed and burned.
Word of the Day
May 26
Unsearchable Riches
anexichniaston plouton
In the past few days we've been considering the importance of preaching. That being understood, then, what exactly should we preach? Paul tells us in Eph_3:8: "That I should preach among the Gentiles the unsearchable riches of Christ." What a wondrous and staggering thought!
Unsearchable is anexichniastos (G421), "that which cannot be traced out." The root is a noun that means "a track or a trail." The verb appears only one other place in the NT: "O the depth of the riches both of the wisdom and knowledge of God! how unsearchable are his judgments, and his ways past finding out!" (Rom_11:33). The word is also found in the Septuagint. It was one of Job's favorite words, in fact: "Which doeth great things and unsearchable; marvellous things without number" (Job_5:9; Job_9:10).
Riches is ploutos (G4249), which literally means "wealth." The meaning here, however, is figurative; it speaks of the whole wealth of salvation and growth in Christ. It's interesting that Paul was the only Scripture writer who used the figurative meaning of ploutos, and that five of those fourteen usages are in Ephesians (Eph_1:7, Eph_1:18; Eph_2:7; Eph_3:8, Eph_3:16).
Putting all that together, then, we see: The wealth we have in Christ is a pathway we cannot trace; it is unfathomable from human understanding. Instead of the fluff and shallowness of most contemporary preaching, Paul declares that we are to preach unfathomable truths. Calvin called this "the astonishing and boundless treasures of grace."
Now, to what riches is Paul specifically referring? Is he implying entertainment, pop-psychology, "felt needs," or other popular notions? Hardly! He is, of course, referring back to the riches spoken of in Ephesians 1. How can any of us fathom ("trace out") redemption, forgiveness, acceptance, election, adoption, God's will, or the ministry of the Holy Spirit? We can't! From human understanding we cannot understand ("trace out") such truth; it's a path in the jungle we could never find, much less follow. Rather, it's the Holy Spirit who gives us understanding. Do you see? Paul was to preach all that truth, but it was the Holy Spirit who would illumine it to men.
So, instead of shallow sermons, motivational talks, feel-good discussions, and bad theology, every preacher should be preaching the doctrine of the unsearchable riches of Christ. Let's preach doctrine, not drivel.
Scriptures for Study: Read a few of the other occurrences of ploutos and identify what riches Paul is speaking of: Rom_2:4; Rom_9:23; Eph_1:7, Eph_1:18; Eph_2:7; Eph_3:16; Col_2:2.
Famous Last Words: Colonel Charters,
an infidel who at the end was not so blatant in his denial of an afterlife, said as he died:
"I would gladly give 30,000 Lira to have it proved to my satisfaction that there is no such place as hell."

Here at Promise Land Bible Church
We don't change the message, the message changes us.


Here at Promise Land Bible Church, we are honored that you are visiting our web site at www.plbcmh.com
It is our hope at Promise Land Bible Church that you will be encouraged by the preaching and teaching of God's Word presented here. For it is our desire to teach the whole council of God, so that the body can be edified and above all that God may be glorified.
For it is our passion and desire to share the Gospel message with everyone who will hear, in obedience to God's word.
Welcome to our site here at www.plbcmh.com
The fellowship of believers who call Promise Land Bible Church home would like to welcome you to our website. We believe that salvation is by grace alone, thru faith alone, in Christ alone, and that the Holy Scripture is our sole source of authority for what we do and how we live, and that everything we do, should be done for the glory of God. This is commonly called the 5 Solas of the Reformed Faith.
So here is our invitation to you;
If you are looking for a church that affirms the sole authority of the Holy Scriptures for all of faith and practice, the pre-eminence of the preaching of the Word of God, the glorious truths of salvation called the Doctrines of Grace, the necessity and responsibility of evangelism and a serious approach to the joyful worship of God, then we warmly invite you to come and visit us.
Join us as we look to the truth of scripture and Worship the Lord.
At www.plbcmh.com we do our best to present the truth of the gospel.
American Minute
May 26th
Patrick Henry's speech "Give me liberty, or give me death!" & Jefferson's Day of Prayer as Virginia's Governor
Virginia's Royal Governor, Lord Dunmore, dismissed Virginia's House of Burgesses on May 27, 1774.

Why?

Thomas Jefferson had drafted a resolution calling for a Day of Fasting and Prayer, being introduced by Robert Carter Nicholas and passing unanimously.

It was to be observed the same day Britain's navy planned to blockade Boston's harbor as punishment for the Boston Tea Party.

Lord Dunmore considered it a protest against the King.

After being dismissed, the delegates reconvened down the street at Raleigh Tavern.

Then, on the night of MAY 30, 1774, they met at the home of Speaker of the House, Peyton Randolph, the older cousin of Thomas Jefferson.

At Peyton Randolph's home, the decision was made to invite delegates from all of Virginia's counties to a Convention.

Citizens of Fairfax County met in Alexandria's court house on July 18, 1774, where they approved George Mason's Fairfax Resolves identifying American rights and resolving to defend them.

The delegate chosen to carry the Fairfax Resolves to the First Virginia Convention in Williamsburg, August 1, 1774, was George Washington.

The Fairfax Resolves stated: "Resolved that the most important...part of the British Constitution ... is the fundamental Principle of the People's being governed by no Laws, to which they have not given their Consent ... for if this Part of the Constitution was taken away ... the Government must degenerate ... into an absolute and despotic Monarchy ... and t he freedom of the people be annihilated ..."

The Fairfax Resolves continued: "The British ... extort from us our money without our consent ... diametrically contrary to the first principles of the Constitution ... totally incompatible with the privileges of a free people and the natural rights of mankind ... calculated to reduce us ... to slavery and misery ... We will use every means which Heaven hath given us to prevent our becoming its slaves."

The Virginia Convention sent their Resolves with delegates Peyton Randolph, Patrick Henry and George Washington to the First Continental Congress, which began meeting in Carpenters' Hall, Philadelphia, September 6, 1774.

Payton Randolph was chosen as the first President of the First Continental Congress, making him the first to have the title "Father of our Country."

The Fairfax Resolves were revised and approved as the Continental Association of October 20th, 1774.

Other colonies also wrote resolves, such as Massachusetts' Suffolk Resolves, which were drafted Dr. Joseph Warren.

The Suffolk Resolves were adopted at a convention meeting at Woodward Tavern in Dedham, Massachusetts, then delivered by Paul Revere to the First Continental Congress in Philadelphia, where they were endorsed, September 17, 1774.

The next year, Peyton Randolph was President of the Second Continental Congress which met in Richmond, Virginia.

This is where Patrick Henry gave his speech, March 23, 1775: "I know of no way of judging of the future but by the past ... Suffer not yourselves to be betrayed with a kiss ... If we wish to be free ... we must fight! An appeal to arms and to the God of Hosts is all that is left us! ... We are not weak, if we make a proper use of the means which the God of nature hath placed in our power. Three millions of people, armed in the holy cause of liberty, and in such a country as that which we possess, are invincible by any force which our enemy can send against us ..."

Henry continued: "Besides, sir, we shall not fight our battles alone. There is a just God who presides over the destinies of nations, and who will raise up friends to fight our battles for us. The battle, sir, is not to the strong alone; it is to the vigilant, the active, the brave... There is no retreat but in submission and slavery! Our chains are forged! Their clanking may be heard on the plains of Boston! ...

... The war is inevitable -- and let it come! ... Gentlemen may cry, 'Peace! Peace!' -- but there is no peace. The war is actually begun! Is life so dear, or peace so sweet, as to be purchased at the price of chains and slavery? Forbid it, Almighty God! I know not what course others may take; but as for me, give me liberty, or give me death!"

Less than a month later took place the Battles of Lexington and Concord in Massachusetts, April 19, 1775.

The next day, Virginia's Royal Governor, Lord Dunmore, confiscated the arms and gunpowder from Williamsburg's magazine in what is called The Gunpowder Incident.

A mob formed at the courthouse threatening violence, but Peyton Randolph calmed them down and persuaded them to avert violence.

In May of 1775, the British General Thomas Gage arrived in America with a list of people to be arrested and executed. The list included Peyton Randolph.

In late August of 1775, Peyton Randolph left to meet with the Continental Congress in Philadelphia.

He died on October 23, 1775. When Peyton Randolph's widow died, his estate was auctioned in 1783.

Randolph's cousin, Thomas Jefferson, bought his library. Jefferson later sold it to the federal government to help begin the Library of Congress.

On December 13,1775, after the Battle of Great Bridge, Robert Carter Nicholas introduced a motion in the Virginia House of Burgesses to denounce Lord Dunmore for proclaiming martial law, calling him a monster, inimical and cruel, and a champion of "tyranny."

Two days later, Robert Carter Nicholas made a motion to grant pardons to slaves who had been deluded into joining the British forces.

On January 1, 1776, the British burned the city of Norfolk, Virginia, prompting Lord Dunmore to flee to New York, and then to Britain.

He was Britain's last Royal Governor of Virginia.

The newly independent Commonwealth of Virginia elected Patrick Henry as its first Governor.

Virginia's State Seal has a female figure personifying "Virtus" -- the Roman Republic's attribute of virtue, with her foot crushing the neck of a tyrant.

The Seal's Latin motto Sic semper tyrannis, means "Thus always to tyrants."

Patrick Henry, elected five times as Governor of Virginia, stated June 5, 1788: "Examples are to be found in ancient Greece and ancient Rome ... of the people losing their liberty by their carelessness and the ambition of a few ... We are told that we need not fear; because those in power, being our Representatives, will not abuse the power we put in their hands: I am not well versed in history, but I will submit to your recollection, whether liberty has been destroyed ... by the tyranny of rulers? ..."

Henry continued: "Nations ... negligently suffering their liberty to be wrested from them, have groaned under intolerable despotism. Most of the human race are now in this deplorable condition ... My great objection to this Government is, that it does not leave us the means of defending our rights, or of waging war against tyrants ... Did you ever read of ... the punishment of those in power, inflicted by those who had no power at all? ... When the American spirit was in its youth ... liberty, Sir, was then the primary object ... But now, Sir, the American spirit, assisted by the ropes and chains of consolidation, is about to convert this country to a powerful and mighty empire ... There will be no checks, no real balances, in this government ... "

Henry concluded: "My great objection to the Constitution (is) ... that the preservation of our liberty depends on the single chance of men being virtuous enough to make laws to punish themselves."

Patrick Henry is credited with the warning: "It is when a people forget God that tyrants forge their chains."

After Patrick Henry, the second Governor of the Commonwealth of Virginia was Thomas Jefferson.

Governor Thomas Jefferson signed a Proclamation of Prayer, November 11, 1779: "Congress ... hath thought proper ... to recommend to the several States ... a day of public and solemn Thanksgiving to Almighty God ...

That He would ... crown our arms with victory; That He would grant to His church, the plentiful effusions of Divine Grace, and pour out His Holy Spirit on all Ministers of the Gospel; That He would bless and prosper the means of education, and spread the light of Christian knowledge through the remotest corners of the earth ...

... I do therefore ... issue this proclamation ... appointing ... a day of public and solemn thanksgiving and prayer to Almighty God ...

Given under by hand...this 11th day of November, in the year of our Lord, 1779. - Thomas Jefferson."
Thanks for visiting our site here at www.plbcmh.com