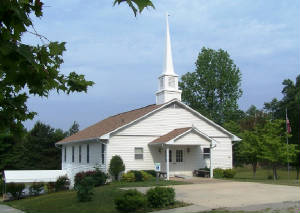 Come and Worship with us at
8256 Promise Land Road
Mountain Home, Arkansas 72653
Our Worship Schedule is
The Church is Open, worship with us inside or outside, message is transmitted on FM 95.1
Sunday Bible Study - 9:45am
Sunday Worship - 11:00am
Wednesday Night Prayer Meeting - 6:00pm
Wednesday Night Bible Study - 7:00pm
Today's Memory Verse
"Marvel not at this: for the hour is coming, in the which all that are in the graves shall hear his voice, and shall come forth; they that have done good, to the resurrection of life; and they that have done evil, to the resurrection of damnation."
JOHN 5:28, 29

"Why does the Church stay indoors? They have a theology that has dwindled into a philosophy, in which there is no thrill of faith, no terror of doom, and no concern for souls. Unbelief has put out the fires of passion, and worldliness garlands the altar of sacrifice with the tawdry glitter of unreality."
SAMUEL CHADWICK

"The Bible was written so that it would only look like Jesus fulfilled prophecy."

This would mean that the New Testament writers lied about Jesus-He really didn't rise from the dead and all those miracles about Him are really false.
If that were the case, how would you account for the writers of the New Testament teaching about truth, love, honesty, giving, etc., all based on lies? Why would they suffer hardships like beatings, starvation, shipwreck, imprisonments, and finally execution for nothing but lies? This claim doesn't make any sense and raises more questions than it answers.
While many cult members (Muslims, Mormons, Jehovah's Witnesses) will die for their faith as well, they die for something they believe in, not that they have seen. But the New Testament believers died for what they saw and believed, not for what they believed only. That is a big difference. The NT writers died claiming that they had seen the risen Lord. The cult members die for what they believe, and we know that believing something doesn't make it true.
The only logical explanation is that the fulfilled prophecies really did happen. Jesus actually rose from the dead. He performed miracles and He forgave sins. He can still forgive sins now just as He did then. My sins are forgiven; are yours?

Cameron, K., & Comfort, R. (2004). The school of biblical evangelism: 101 lessons: how to share your faith simply, effectively, biblically-the way Jesus did (pp. 594-595). Gainesville, FL: Bridge-Logos Publishers.
Point to Ponder

The BBC once broadcast a documentary about a man who played castanets to his tomatoes. The gentleman placed earphones on his tomatoes and played classical music for them-in stereo, of course. This man was obviously a nut. However, the program then revealed that the man's name was in The Guinness Book of World Records for having the world's largest tomato: four-and-a-half pounds. The valuable lesson learned is that we should never knock something until we see its results.
The next time you see a caterpillar on a leaf, study it for a while. You will notice that it twists and turns until it has wound itself into a web, finally encasing itself into a cocoon. We don't knock what it's doing because we know that a metamorphosis is taking place within the cocoon. A miracle of nature is happening. In time, a beautiful butterfly will appear.
To those who don't understand, Christians are doing no more than wrapping themselves with rules and regulations, hiding from the real world in the cocoon of Christianity. But wait. Don't knock it until you see the results. When you look at the Church today, you're looking at the grub. Granted, we do seem to lack in so many areas. But the One who created the process of metamorphosis is at work in the hearts of those who love Him, and the day will come when the butterfly will emerge.


Day by Day by Grace
Continuing in the Grace of God
When he came and had seen the grace of God, he was glad, and encouraged them all that with purpose of heart they should continue with the Lord...Now when the congregation had broken up, many of the Jews and devout proselytes followed Paul and Barnabas, who, speaking to them, persuaded them to continue in the grace of God. (Acts 11:23; 13:43)
Whenever the grace of God is allowed to work in human hearts, there will be evidences that appear. This can bring joy to those who are outwardly observing this inward work of grace. Still, it is appropriate to exhort those who have made progress in grace to continue in the grace of God.
When Barnabas arrived in Antioch to evaluate the reported spiritual revival, he was able to observe the outward confirmations of God's inward work of grace. These verifications of grace caused him to rejoice. "He was glad." However, he knew that words of exhortation were appropriate. Thus, he began to urge them to press on with Christ. He "encouraged them all that with purpose of heart they should continue with the Lord." It is important for those who have started out with the Lord (through faith in His name) to go on with the Lord. Life in Christ is basically about the most vital relationship of all. "And this is eternal life, that they may know You, the only true God, and Jesus Christ whom You have sent" (John 17:3). The Christian life is not only about meeting the Lord and receiving eternal life. This life-giving relationship with the Lord is to be nurtured and developed day by day unto abundant life.
Some time after Barnabas shared this exhortation with the saints in Antioch (north of Israel), he and Paul were visiting the believers in another Antioch (in Pisidia, in the region of modern day Turkey). Here, they gave a similar exhortation. However, on this occasion, their urging was related to God's grace: "[they] persuaded them to continue in the grace of God." Yes, grace is not only the way we begin with the Lord, but it is also the means by which we go on with Him. God's grace is to be sought every day. It is a major error of the faith to relegate grace to days gone by. We can praise and thank the Lord for all of His grace experienced in previous years. Nevertheless, the grace of God is essential today-and in each new day. Also, it is so fitting that the saints in one town were exhorted concerning continuing in the Lord, whereas others later were urged regarding continuing in grace. Grace cannot be separated from the Lord Jesus. "For you know the grace of our Lord Jesus Christ" (2 Corinthians 8:9).
Lord, I want to continue with You and Your grace. I do not want my experience of You and Your grace to consist only of days gone by. I long to know You better and to experience Your grace more-each day!
Famous Last Words: Sir Walter Raleigh,
at his execution:
"So the heart be right, it is no matter which way the head lieth."

Here at Promise Land Bible Church
We don't change the message, the message changes us.


Here at Promise Land Bible Church, we are honored that you are visiting our web site at www.plbcmh.com
It is our hope at Promise Land Bible Church that you will be encouraged by the preaching and teaching of God's Word presented here. For it is our desire to teach the whole council of God, so that the body can be edified and above all that God may be glorified.
For it is our passion and desire to share the Gospel message with everyone who will hear, in obedience to God's word.
Welcome to our site here at www.plbcmh.com
The fellowship of believers who call Promise Land Bible Church home would like to welcome you to our website. We believe that salvation is by grace alone, thru faith alone, in Christ alone, and that the Holy Scripture is our sole source of authority for what we do and how we live, and that everything we do, should be done for the glory of God. This is commonly called the 5 Solas of the Reformed Faith.
So here is our invitation to you;
If you are looking for a church that affirms the sole authority of the Holy Scriptures for all of faith and practice, the pre-eminence of the preaching of the Word of God, the glorious truths of salvation called the Doctrines of Grace, the necessity and responsibility of evangelism and a serious approach to the joyful worship of God, then we warmly invite you to come and visit us.
Join us as we look to the truth of scripture and Worship the Lord.
At www.plbcmh.com we do our best to present the truth of the gospel.
Today's Grace Gem
This pleasure-loving, pleasure-seeking, and pleasure-inventing age
(J.A. James, "HINDRANCES to Christian Progress")

A taste for worldly amusements will inevitably prove, wherever it is indulged--a powerful obstacle to growth in grace.

Man is unquestionably made for enjoyment. He has a capacity for bliss--an instinctive appetite for gratification; and for this, God has made ample provision of a healthful and lawful kind. But "a taste for worldly pleasure" means that this God-given capacity is directed to wrong sources, or carried to an excess.

Now there are some amusements which in their very nature are so utterly incompatible with true godliness, that a liking for them, and a hankering after them, and especially an indulgence in them--cannot exist with real, earnest, and serious piety.

The dissolute parties of the glutton and the drunkard; the fervency for the gambling-table; the pleasures of the race-course; the performances of the theater--are all of this kind. A taste for them is utterly uncongenial with a spirit of godliness! So is a love for the gay and fashionable entertainments of the ball-room, and the wanton parties of the upper classes. These are all unfriendly to true religion, and are usually renounced by people intent upon the momentous concerns of eternity.

We would not doom to perdition, all who are at any time found in this round of worldly pleasure--but we unhesitatingly say, that a taste for them is entirely opposed to the whole spirit of Christianity! They are all included in that "world" which is overcome by faith and the new birth.

True religion is, though a happy, a very serious thing--and can no more live and flourish in the uncongenial atmosphere of those parties, than could a young tender plant survive if brought into a frigid zone.

But in this pleasure-loving, pleasure-seeking, and pleasure-inventing age, there is a great variety of amusements perpetually rising up, which it would be impossible to say are sinful, and therefore unlawful. Yet the 'supposition of their lawfulness' viewed in connection with their abundance, variety, and constant repetition, is the very thing that makes them dangerous to the spirit of true religion.

A taste for even lawful worldly amusements, which leads its possessor to be fond of them, seeking them, and longing for them--shows a mind that is in a very poor state as to vital piety.

A Christian is not to partake of the pleasures of the world, merely to prove that his religion does not debar him from enjoyment. But he is to let it be seen by his "peace which passes understanding," and his "joy unspeakable and full of glory," that his godliness gives far more enjoyment than it takes away--that, in fact, it gives him the truest happiness!

The way to win a worldly person to true religion is not to go and partake of his amusements; but to prove to him that we are happier with our pleasures, than he is with his; that we bask in full sunshine--while he has only a smoking candle; that we have found the "river of water of life, clear as crystal, proceeding from the throne of God and the Lamb"--while he is drinking of the muddy streams which issue from the earth!

"Many are asking, 'Who can show us any good?' Let the light of your face shine upon us, O Lord. You have filled my heart with greater joy than when their grain and new wine abound!" Psalm 4:6-7

After all, it is freely admitted--
1. That true religion is not hostile to anything which is not hostile to it.
2. That many things which are not strictly pious, though not opposed to piety--may be lawfully enjoyed by the Christian.
3. That what he has to do in this matter is not to practice total abstinence--but "moderation".
4. Yet the Christian should remember how elastic a term "moderation" is, and to be vigilant lest his moderation should continually increase its latitude, until it has swelled into the imperial tyranny of an appetite which acknowledges no authority--and submits to no restraint!
Word of the Day
December 1
Heal
therapeuō
Our English word therapeutic refers to the treatment of disease and is rooted in the Greek therapeuō (G2323). Interestingly, its original meaning in early Classical Greek had nothing to do with medicine; it meant "to wait upon, minister to, render voluntary service." Plato, for example, used it in the sense of slaves ministering to their masters. Later, also in Plato and others, it acquired the sense of caring for the sick, treating medically, and curing.
During the writing of this book, I had a health issue arise and needed to visit our local clinic, which had recently been "reorganized." As I stood at the check-in window, I looked over to see a sign that partially read, "Notice to our customers." Sadly, no longer are we patients in need of care, much less people in need of service or ministry, but rather, customers to feed a business. Like abortion, that attitude is a long way from the original intent of the Hippocratic Oath.
In stark contrast, therapeuō speaks of service and ministry, which is actually at the foundation of medical care. While money certainly has to be charged to support the system, that should be only secondary to what the practice of medicine was originally about.
We see this clearly when we turn to the NT usage of therapeuō, which appears some forty-three times, forty of which appear in the Gospels and Acts. In all of those the meaning is healing (except Act_17:25, where the point is that God doesn't require temples to be "worshipped").
Further, only twice (Luk_4:23; Luk_8:43) does therapeuō refer to ordinary healing by medical means. In all the rest, healing comes by miraculous means. At the heart of Jesus' earthly ministry was healing, which served not only as a confirming sign of His claim to be the Messiah (Luk_4:40-41; Joh_2:11; cf. Mat_12:38-40), but also pictured the greater spiritual healing that only He could provide.
After healing the woman with an issue of blood, who out of faith touched the hem of Jesus' garment, He said to her, "Daughter, be of good comfort: thy faith hath made thee whole; go in peace" (Luk_8:43-48). She went away not just healed of her physical illness, but healed "in full," healed spiritually in Christ.
Let us rejoice throughout this day in the true healing we have in the Great Physician.
Scriptures for Study: Read Mat_8:5-13. Like the account of the woman with an issue of blood, what is the point of this incident?
Thanks for visiting our site here at www.plbcmh.com