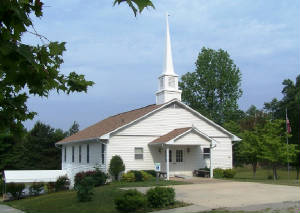 Come and Worship with us at
8256 Promise Land Road
Mountain Home, Arkansas 72653
Our Worship Schedule is
Sunday Bible Study - 9:45am
Sunday Worship - 11:00am
Wednesday Night Prayer Meeting - 6:00pm
Wednesday Night Bible Study - 7:00pm
Today's Memory Verse
"Wherefore, as by one man sin entered into the world, and death by sin; and so death passed upon all men, for that all have sinned."
ROMANS 5:12

"An increasing number of scientists, most particularly a growing number of evolutionists ... argue that Darwinian evolutionary theory is no genuine scientific theory at all ... Many of the critics have the highest intellectual credentials."
MICHAEL RUSE, "DARWIN'S THEORY: AN EXERCISE IN SCIENCE," NEW SCIENTIST

"Adam was a mythical figure who never really lived."

Adam is a key figure in Scripture. He is described as the "first Adam," the one who brought sin into the world (1 Corinthians 15:22). He made it necessary for Jesus, the "last Adam" (1 Corinthians 15:45), to atone for all humans, and then rise from the grave with the promise of complete redemption for fallen man and fallen creation. If Adam were just a myth, we would not be able to fully understand the work of Jesus. If Adam and Eve were not real, then we ought to doubt whether their children were real too, and their children ... and then we ought to doubt the first eleven chapters of Genesis, and so on. All the genealogies accept Adam as being a literal person, so their children Cain and Abel (Genesis 4:9, 10; Luke 11:50, 51) must therefore be real too. The Bible tells us that Jesus was descended from Adam (Luke 3:38), and it is impossible to be descended from a myth.

Cameron, K., & Comfort, R. (2004). The school of biblical evangelism: 101 lessons: how to share your faith simply, effectively, biblically-the way Jesus did (pp. 433-434). Gainesville, FL: Bridge-Logos Publishers.
Point to Ponder

A magnificent doe stands with its foal and drinks cool water from a mountain stream. The sun sparkles off the dew on deep green leaves of native tree branches. The mother gently caresses her offspring as it begins to drink from the brook. The scene is one of incredible serenity ... the picture of innocence. What more could optimize the beauty of God's creation?
Suddenly a mountain lion leaps from a tree and digs its sharp claws deep into the mother's neck, dragging the helpless creature to the ground. As it holds its terrified prey in a death grip, its powerful jaws bite into the jugular vein, turning the mountain stream crimson with the creature's blood.
It is a strong consolation to know that this isn't the way God planned it in the beginning. Animals were not created to devour each other; they were created to be vegetarian (Genesis 1:29, 30). The original creation was "good" and was not filled with violence and bloodshed. We live in a fallen creation (Romans 8:20-23). As a result of Adam's sin, the perfect creation was cursed and death was introduced into the world (Romans 5:12). The day will come when the entire creation will be delivered from the "bondage of corruption" and there will be no more curse. In the new heaven and new earth, "the wolf and the lamb shall feed together, and the lion shall eat straw like the bullock ... They shall not hurt nor destroy in all my holy mountain" (Isaiah 65:25; see also Isaiah 11:6-9).


Day by Day by Grace
More on Substance, not Shadows, under Grace
For the law, having a shadow of the good things to come...Therefore let no one judge you in food or in drink, or regarding a festival or a new moon or sabbaths, which are a shadow of things to come, but the substance is of Christ. (Hebrews 10:1 and Colossians 2:16-17)
Just as an approaching shadow points to the arrival of the person casting the shadow, so the law pointed to the coming of the Lord Jesus Christ. Jesus (with His abounding grace) is the substance which the law foreshadows. "The substance is of Christ." Jesus is the one who brought "the good things to come."
One of these "good things" that Jesus brings by His grace is the full rest seen in the shadow of the Sabbath. The law of God called for a day of rest every week for His people. "Remember the Sabbath day, to keep it holy...Work shall be done for six days, but the seventh is the Sabbath of rest, holy to the LORD" (Exodus 20:8; 31:15). This shadow provided regular physical rest for the Israelites. However, it pictured the substantial rest (true spiritual rest) that Jesus brings us. "Come to Me, all you who labor and are heavy laden, and I will give you rest. Take My yoke upon you and learn from Me, for I am gentle and lowly in heart, and you will find rest for your souls" (Matthew 11:28-29). Jesus is now the daily Sabbath rest for all who humbly depend upon Him. "For we who have believed do enter that rest" (Hebrews 4:3).
Another of the "good things" that Jesus provides by His grace is the full fellowship foreshadowed in the Tabernacle of the Old Covenant. The Tabernacle reveals God's desire to dwell in the midst of men. "Let them make Me a sanctuary, that I may dwell among them. According to all that I show you, that is, the pattern of the tabernacle...just so you shall make it" (Exodus 25:8-9). This elaborate portable tent was to be set up right in the middle of God's people. "You shall appoint the Levites over the tabernacle of the Testimony...they shall carry the tabernacle...and camp around the tabernacle" (Numbers 1:50). The priests of the tribe of Levi would encircle the Tabernacle, with the other tribes of Israel encamped around them. This is a significant shadow: God dwelling at the center of His people. Yet, something far more substantial than this shadow is fulfilled in Christ. "And the Word became flesh and dwelt [literally, "tabernacled"] among us, and we beheld His glory, the glory as of the only begotten of the Father, full of grace and truth" (John 1:14). Now, this same Jesus has made the church collectively, and our lives individually, the tabernacle of His presence among men! "Do you not know that you are the temple of God...that Christ may dwell in your hearts through faith" (1 Corinthians 3:16 and Ephesians 3:17).
Dear Lord Jesus, I praise You for coming to dwell in my life by grace through faith. I hope in You now for the daily rest my weary soul desperately needs, Amen.
Famous Last Words: Joseph Addison,
English writer, died June 17, 1719:
"See in what peace a Christian can die."

Here at Promise Land Bible Church
We don't change the message, the message changes us.


Here at Promise Land Bible Church, we are honored that you are visiting our web site at www.plbcmh.com
It is our hope at Promise Land Bible Church that you will be encouraged by the preaching and teaching of God's Word presented here. For it is our desire to teach the whole council of God, so that the body can be edified and above all that God may be glorified.
For it is our passion and desire to share the Gospel message with everyone who will hear, in obedience to God's word.
Welcome to our site here at www.plbcmh.com
The fellowship of believers who call Promise Land Bible Church home would like to welcome you to our website. We believe that salvation is by grace alone, thru faith alone, in Christ alone, and that the Holy Scripture is our sole source of authority for what we do and how we live, and that everything we do, should be done for the glory of God. This is commonly called the 5 Solas of the Reformed Faith.
So here is our invitation to you;
If you are looking for a church that affirms the sole authority of the Holy Scriptures for all of faith and practice, the pre-eminence of the preaching of the Word of God, the glorious truths of salvation called the Doctrines of Grace, the necessity and responsibility of evangelism and a serious approach to the joyful worship of God, then we warmly invite you to come and visit us.
Join us as we look to the truth of scripture and Worship the Lord.
At www.plbcmh.com we do our best to present the truth of the gospel.
Today's Grace Gem
Nothing in God's universe breathes or wiggles contrary to His decree!

(Don Fortner)

Providence is God's government of the universe. If we have a proper view of God's providence, we will see the hand of God and the heart of God in everything, in all the experiences of our lives.

God almighty, our God and heavenly Father, is always at work, governing His world.

We recognize that God's providence is mysterious (Romans 11:33-36). His judgments are a great deep. His ways are past finding out.

God's providence is as minute as it is mysterious. Our God has ordained the number of hairs on the heads of all. Not even a worthless sparrow falls to the ground without His decree.

God's providence is all-inclusive. God rules everything, great and small, everywhere, and at all times. He who created all things, rules all things.

Our God and heavenly Father controls (absolutely and totally) all rational creatures. He controls all men and women everywhere, good and bad, in the good they do and in the evil they perform. All angels, all demons, and Satan himself are under the total control of our God (Psalm 76:10; Isaiah 14:24-27). Nothing in God's universe breathes or wiggles contrary to His decree (Isaiah 46:9-13). Satan is not a rival to our God, but His vassal!

As a wise, skilled pharmacist mixes medicine, so our heavenly Father wisely mixes exactly the right measure of bitter things and sweet things to do us good.
Too much joy would intoxicate us.
Too much misery would drive us to despair.
Too much sorrow would crush us.
Too much suffering would break our spirits.
Too much pleasure would ruin us.
Too much defeat would discourage us.
Too much success would puff us up.
Too much failure would keep us from doing anything.
Too much criticism would harden us.
Too much praise would make us prideful.
Our great God knows exactly what we need.
His providence is wisely designed and sovereignly sent for our good!
Let Him therefore send and do whatever He will.
By His grace, if we are His, we will bow to it, accept it, and give thanks for it.

God's providence is always executed in the wisest manner possible. We are often unable to see and understand the reasons and causes for specific events in our lives, in the lives of others, or in the history of the world. We bow to His will, which is evident in His works of providence, and say, "Oh, the depth of the riches both of the wisdom and knowledge of God! How unsearchable are His judgments and unfathomable His ways!" Romans 11:33

All God's works of providence are executed in perfect holiness and righteousness. Even the way He uses the evil works of men and devils, is totally free of sin on His part. Though He has predestined and permits deeds of wickedness, sin cannot be imputed to the Almighty. "The Lord is righteous in all His ways, and holy in all His works." Psalm 145:17

God's providence demands and deserves our unceasing praise.

He who is God indeed, is the God of providence, the God who rules all things, and rules all things well. How we ought to trust Him! Ever remember, our heavenly Father is God all-wise, good, and omnipotent. He is . . .
too wise to err,
too good to do wrong,
and too strong to fail!
Word of the Day
June 18
Worthy
axios
Here is another interesting word in the Greek NT. In Classical Greek, axios (G514) carried the idea of balancing scales, of one side of the scale counterbalancing the other side. A dramatic example of that idea appears in Joh_1:27, where John the Baptist says, "He it is, who coming after me is preferred before me, whose shoe's latchet I am not worthy to unloose." Picturing his unworthiness in comparison to Christ, John says in effect, "I don't even come close to balancing the scales."
On the other hand, in view of man's utter depravity, Paul writes that without Christ we are all "worthy of death," that is, we, like Belshazzar, have been "weighed in the balances, and art found wanting" (Dan_5:27).
In Eph_4:1, Paul challenges us to "walk worthy of the vocation wherewith ye are called." In other words, we are therefore to walk in balance to something. And to what are we to walk in balance? What is the "counterbalance" on the scales? Our calling as Christians, that is, the way we are called upon to live. And how are we called upon to live? Another usage of axios answers that question: "Bring forth therefore fruits meet [axios] for repentance" (Mat_3:8). Like anything that is living, the Christian is called upon to bear fruit (see June 4 for how we do that).
Paul writes another challenge in 1Th_2:12: "That [we] would walk worthy of God." What a startling statement! How can we balance the scales when God Himself is the counter-balance? While we certainly can't compare with God in His nature, we can "balance the scales" in our conduct. That is why Peter could write that we are to "follow his steps" (1Pe_2:21). John adds that we are "to walk, even as he walked" (1Jn_2:6). And how do we do that? We "walk after his commandments" (2Jn_1:6).
No, we will never have the attributes of God's nature, such as omniscience, omnipotence, omnipresence, sovereignty, and others, but we can "balance the scales" when it comes to the Christlikeness of character (Gal_5:22-23).
Scriptures for Study: Read the following verses, noting what other behavior "balances the scales" in our Christian living: Eph_4:1-3; Col_1:10-12.
Thanks for visiting our site here at www.plbcmh.com