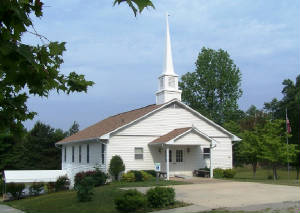 Come and Worship with us at
8256 Promise Land Road
Mountain Home, Arkansas 72653
Our Worship Schedule is
Sunday Bible Study - 9:45am
Sunday Worship - 11:00am
Wednesday Night Prayer Meeting - 6:00pm
Wednesday Night Bible Study - 7:00pm
Today's Memory Verse
"If we say that we have no sin, we deceive ourselves, and the truth is not in us. If we confess our sins, he is faithful and just to forgive us our sins, and to cleanse us from all unrighteousness."
1 JOHN 1:8, 9

Quote of the Day
"Give me one hundred preachers who fear nothing but sin and desire nothing but God, and I care not a straw whether they be clergymen or laymen, such alone will shake the gates of hell and set up the kingdom of God upon earth."
JOHN WESLEY

"Jesus didn't condemn the woman caught in the act of adultery, but condemned those who judged her. Therefore you shouldn't judge others."

The Christian is not "judging others" but simply telling the world of God's judgment-that God (not the Christian) has judged all the world as being guilty before Him (Romans 3:19, 23). Jesus was able to offer that woman forgiveness for her sin, because He was on His way to die on the cross for her. She acknowledged Him as "Lord," but still He told her, "Go, and sin no more." If she didn't repent, she would perish.

Cameron, K., & Comfort, R. (2004). The school of biblical evangelism: 101 lessons: How to share your faith simply, effectively, biblically-the way Jesus did (146). Gainesville, FL: Bridge-Logos Publishers.
Day by Day by Grace
Pride and Shame or Humility and Wisdom
When pride comes, then comes shame; but with the humble is wisdom...The wise shall inherit glory, but shame shall be the legacy of fools. (Proverbs 11:2 and 3:35)
In order to live by the grace of God, we must be willing to walk in humility, instead of in pride. "God resists the proud, but gives grace to the humble" (1 Peter 5:5). We must be willing to acknowledge our daily, desperate need for God. Any other approach to life is based upon pride (which is a foolish, inaccurate assumption that we are adequate to produce a life on our own). Those who walk in pride end up with shame. Those who walk in humility end up with wisdom.
The Scriptures describe those who foolishly walk in pride, as well as declaring the shame that they experience. "When pride comes, then comes shame...shame shall be the legacy of fools." One example would be the wicked way that many privileged and powerful people persecute the downtrodden and the vulnerable. They are demonstrating their pride. "The wicked in his pride persecutes the poor; Let them be caught in the plots which they have devised" (Psalm 10:2). Their shame is that they can become entangled in the very schemes that they have contrived. Another example is seen in those who arrogantly oppose the people of God. "This they shall have for their pride, because they have reproached and made arrogant threats against the people of the LORD of hosts" (Zephaniah 2:10). Their shame was announced as a barrenness so severe as to be likened unto the end of Sodom and Gomorrah. "'Therefore, as I live,' says the LORD of hosts, the God of Israel, 'Surely Moab shall be like Sodom, and the people of Ammon like Gomorrah-overrun with weeds and saltpits, and a perpetual desolation'" (Zephaniah 2:9).
In contrast to the shame that comes to the prideful, is the wisdom (and resulting glory, or honor) that comes to the humble. "With the humble is wisdom... The wise shall inherit glory." Those who walk humbly before the Lord find the godly wisdom available in the Lord's infallible word. "The testimony of the LORD is sure, making wise the simple" (Psalm 19:7). This wisdom from God brings honor to the humble ones who live by it. "A man's pride will bring him low, but the humble in spirit will retain honor" (Proverbs 29:23). Again, this honor for the humble is in striking contrast to the wretched and ignoble end that pride engenders.
Dear Lord of Glory, how fitting that those who pridefully oppose You will be brought low and will end up in shame. I do not want to be numbered among them. I desire to walk in humility, to eagerly acknowledge my desperate need for You every day in every way, and to be compassionate toward the needy. I desire to bless Your people, to humbly seek the wisdom of Your word, and to be a vessel of honor unto You, through Christ Jesus, my Lord, Amen.
Today's Grace Gem
It is the blood of Jesus, applied by the Spirit
There is a perpetual proneness to seek our fruitfulness from anything but a close, spiritual, and constant dealing with the cross of Jesus. But as well might we expect the earth to clothe itself with verdure, or the tree to blossom, and the blossom ripen into fruit, without the sun's genial warmth--as to look for fruitfulness in a regenerate soul, without a constant dealing with the Lord Jesus Christ. For just what the sun is to the kingdom of nature, Jesus the Sun of righteousness is to the kingdom of grace--the blessed source of all its verdure, fragrance, and fruitfulness. Then, let all your expectations be centered here.
No real good can come to you, no healing to your spirit, no fruitfulness to your soul, from a perpetual living upon convictions of sin, legal fears, or transient joys--the Divine life can derive no nourishment from these. But live upon the atoning blood of Jesus--here is the fatness of your soul found. This is that which heals the wound, wins the heart, and hushes to repose every fear of condemnation. This is that which enables a poor sinner to look fully at God--feeling that justice, holiness, truth, and every Divine perfection are on his side.
It is the blood of Jesus, applied by the Spirit--which moistens each fiber of the root of holiness in the soul, and is productive of its fruitfulness. This is that which sends the warm current of life through every part of the regenerate man, quickening the pulse of love, and imparting a healthy and vigorous power to every act of obedience.
And when the spiritual seasons change--for it is not always spring-time with the soul of a child of God; when the summer's sun withers, or the autumnal blast scatters the leaves, and winter's fiercer storm beats upon the smitten bough--then the blood and righteousness of Christ, lived upon, loved, and cherished--will yet sustain the Divine life in the soul, and in due season the spring blossom and the summer fruit shall again appear, proving that the Divine life of a believer is "hid with Christ in God."
Then shall be said of you, as was said of the church by her Beloved: "Look, the winter is past, and the rains are over and gone. The flowers are springing up, the season of singing birds has come, and the cooing of turtledoves fills the air. The fig trees are forming young fruit, and the fragrant grapevines are blossoming. Rise up, My darling! Come away with Me, My fair one!"
Then let your heart respond, "Awake, north wind! Rise up, south wind! Blow on my garden and spread its fragrance all around. Come into Your garden, my Beloved--taste its finest fruits!"
Word of the Day
September 29
Eyeservice [and] Menpleasers
ophthalmodouleia [and] anthropareskos
As we considered yesterday, some folks give or do other service with the ulterior motive of getting something in return. There are others, however, who do it for a different reason, namely, to be recognized or praised.
Paul mentions this in only two verses, which are both in the context of the labor of slaves (or employees), but they apply to every Christian. In Eph_6:6, he writes, "Not with eyeservice, as menpleasers; but as the servants of Christ, doing the will of God from the heart" (cf. Col_3:22).
Menpleasers is anthropareskos (G441), from anthropos (G444), "man," and areskō (G700), "to please." Augustus Strong offers the most graphic meaning of "man-courting, i.e., fawning." How many people there are today who fawn over someone else to get their approval or praise. Eyeservice, then, is ophthalmodouleia (G3787), which is comprised of ophthalmos (G3788), "eye" (English ophthalmologist), and douleia (G1397), "service, slavery, bondage," and means that one serves only when someone else has their eye on him, only serves for the sake of appearance.
But the godly employee doesn't do that. He doesn't look busy only when the boss is around; he doesn't just do the minimum of work to get by; he doesn't need to be constantly watched; he doesn't even do his work to please his boss, to get commended by his boss, or even to get a raise in pay. In short, he's not trying to please men! His incentive is to please the Lord, to "[do] the will of God from the heart" (Eph_6:6). One expositor well says:
Mark how this motive sweetens, sanctifies, ennobles our earthly work. It then becomes a part of our worship. Animated by such a thought, the school boy diligently, joyfully applies himself to his task. The clerk needs no other master's eye over him to keep him to his work. The tradesman carefully executes his orders to the last stitch, when he feels that he works not merely for men, but for Christ. The merchant no longer sells spurious or adulterated goods, when he feels that he sells, not to men, but to the Lord Himself. The minister, the physician, the lawyer, are no longer content with a formal or perfunctory discharge of duty. The creditor, presenting his account, asks no more than is really due, and the debtor faithfully pays it.
Scriptures for Study: Read the following verses, noting Paul's motive in service: Gal_1:10; 1Th_2:4. Note this attitude also among the Philippians (Php_2:12).
Famous Last Words: Karl Marx,
revolutionary, died in 1883. To his housekeeper, who urged him to tell her his last words so she could write them down for posterity, he answered:
"Go on, get out-last words are for fools who haven't said enough."

Here at Promise Land Bible Church
We don't change the message, the message changes us.


Here at Promise Land Bible Church, we are honored that you are visiting our web site at www.plbcmh.com
It is our hope at Promise Land Bible Church that you will be encouraged by the preaching and teaching of God's Word presented here. For it is our desire to teach the whole council of God, so that the body can be edified and above all that God may be glorified.
For it is our passion and desire to share the Gospel message with everyone who will hear, in obedience to God's word.
Welcome to our site here at www.plbcmh.com
The fellowship of believers who call Promise Land Bible Church home would like to welcome you to our website. We believe that salvation is by grace alone, thru faith alone, in Christ alone, and that the Holy Scripture is our sole source of authority for what we do and how we live, and that everything we do, should be done for the glory of God. This is commonly called the 5 Solas of the Reformed Faith.
So here is our invitation to you;
If you are looking for a church that affirms the sole authority of the Holy Scriptures for all of faith and practice, the pre-eminence of the preaching of the Word of God, the glorious truths of salvation called the Doctrines of Grace, the necessity and responsibility of evangelism and a serious approach to the joyful worship of God, then we warmly invite you to come and visit us.
Join us as we look to the truth of scripture and Worship the Lord.
At www.plbcmh.com we do our best to present the truth of the gospel.
American Minute
September 29th:
Of 102 Pilgrims that landed in Massachusetts in November of 1620, only half survived till spring.

In the Spring of 1621, as recorded by Governor William Bradford in his Of Plymouth Plantation:

"About the 16th of March, a certain Indian came boldly amongst them and spoke to them in broken English... His name was Samoset. He told them also of another Indian whose name was Squanto, a native of this place, who had been in England and could speak better English than himself... Massasoyt, who about four or five days after, came with the chief of his friends and other attendants, and with Squanto. With him, after friendly entertainment and some gifts, they made a peace which has now continued for twenty-four years..."

Governor William Bradford described Squanto as "a special instrument sent of God."

William Bradford continued: "Squanto stayed with them and was their interpreter and was a special instrument sent of God for their good beyond their expectation. He showed them how to plant corn, where to take fish and other commodities, and guided them to unknown places, and never left them till he died."

Governor Bradford added: "The settlers, as many as were able, then began to plant their corn, in which service Squanto stood them in good stead, showing them how to plant it and cultivate it.

He also told them that unless they got fish to manure this exhausted old soil, it would come to nothing, and he showed them that in the middle of April plenty of fish would come up the brook by which they had begun to build, and taught them how to catch it, and where to get other necessary provisions; all of which they found true by experience..."

Though records are scarce, it appears that Squanto was kidnapped around 1605, along with other Patuxet natives, by George Weymouth's expedition and taken to England where he lived with Sir Ferdinando Gorges of Plymouth.

On Sir Ferdinando's 1614 expedition to map the New England coast, Squanto served as interpreter.

Allowed to return to his tribe, Squanto, with other Patuxet and Nausets, was kidnapped again by Captain Thomas Hunt, who intended to sell them at the slave markets of Malaga, Spain, a city notorious for the slave trade which began during its Muslim occupation.

Governor Bradford wrote of Squanto: "He was a native of these parts, and had been one of the few survivors of the plague hereabouts. He was carried away with others by one Hunt, a captain of a ship, who intended to sell them for slaves in Spain..."

Squanto was rescued by some Christian friars, who introduced him to Christianity and gave him his freedom.

Squanto returned to England where he was hired by John Slaney, treasurer of the Newfoundland Company. Squanto worked for Newfoundland Colony governor John Mason, then for Captain Thomas Dermer, agent of Sir Ferdinando Gorges.

Governor William Bradford wrote of Squanto: "He got away for England, and was received by a merchant in London, and employed in Newfoundland and other parts, and lastly brought into these parts by a Captain Dermer, a gentleman employed by Sir Ferdinand Gorges..."

When Squanto finally returned to his tribe in 1619, he found that all of them had died of a plague. Depressed, he lived with the neighboring Wampanoag tribe.

As tragic as his kidnapping was, had Squanto not been kidnapped he most likely would have died in that plague.

Pilgrim Governor William Bradford continued: "Captain Dermer had been here the same year that the people of the Mayflower arrived, as appears in an account written by him, and given to me by a friend, bearing date, June 30th, 1620... 'I will first begin,' says he, 'with the place from which Squanto (or Tisquantem) was taken away, which in Captain Smith's map is called 'Plymouth'; and I would that Plymouth (England) had the same commodities. I could wish that the first plantation might be situated here, if there came to the number of fifty persons or upward; otherwise at Charlton, because there the savages are less to be feared... The Pokanokets (Patuxet), who live to the west of Plymouth, bear an inveterate hatred to the English... ...For this reason Squanto cannot deny but they would have killed me when I was at Namasket, had he not interceded hard for me.'"

The plague that wiped out the Patuxet may have come from survivors of a shipwreck at Cape Cod three years before the Pilgrims landed.

Governor William Bradford described the fate of a French ship which wrecked in 1617: "About three years before, a French ship was wrecked at Cape Cod, but the men got ashore and saved their lives and a large part of their provisions. When the Indians heard of it, they surrounded them and never left watching and dogging them till they got the advantage and killed them, all but three or four, whom they kept, and sent from one Sachem to another, making sport with them and using them worse than slaves."

Bradford added: "Another Indian, called Hobbamok came to live with them, a fine strong man, of some account amongst the Indians for his valor and qualities.

He remained very faithful to the English till he died.

He and Squanto having gone upon business among the Indians, a Sachem called Corbitant...began to quarrel with them, and threatened to stab Hobbamok; but he being a strong man, cleared himself of him, and came running away, all sweating, and told the Governor what had befallen him, and that he feared they had killed Squanto... ...So it was resolved to send the Captain and fourteen men, well armed... The Captain, giving orders to let none escape, entered to search for him. But Corbitant had gone away that day; so they missed him, but learned that Squanto was alive, and that Corbitant had only threatened to kill him, and made as if to stab him, but did not..."

Bradford wrote further: "After this, on the 18th of September, they sent out their shallop (small sailboat) with ten men and Squanto as guide and interpreter to the Massachusetts, to explore the bay and trade with the natives, which they accomplished, and were kindly received... Nor was there a man among them who had ever seen a beaver skin till they came out, and were instructed by Squanto."

Governor William Bradford wrote the account of Squanto's death in LATE SEPTEMBER 1622: "Captain Standish was appointed to go with them, and Squanto as a guide and interpreter, about the LATTER END OF SEPTEMBER; but the winds drove them in; and putting out again, Captain Standish fell ill with fever, so the Governor (Bradford) went himself. But they could not get round the shoals of Cape Cod, for flats and breakers, and Squanto could not direct them better. The Captain of the boat dare not venture any further, so they put into Manamoick Bay, and got what they could there..."

Governor Bradford concluded: "Here Squanto fell ill of Indian fever, bleeding much at the nose, which the Indians take for a symptom of death, and within a few days he died. He begged the Governor to pray for him, that he might go to the Englishmen's God in Heaven, and bequeathed several of his things to some of his English friends, as remembrances. His death was a great loss."
Point to Ponder

Years ago, a television advertisement had a deep-voiced commentator ask the sobering question, "What goes through the mind of a driver at the moment of impact in a head-on collision if he's not wearing a seat belt?" As he spoke, the commercial showed a dummy without a safety belt, reacting in slow motion to a head-on collision. As the dummy moved forward on impact, the steering wheel went right through its skull. Then the commentator somberly continued, "... the steering wheel. You can learn a lot from a dummy. Buckle up!"
How could the censors allow such fear tactics? This advertisement struck trepidation in the hearts of motorists. The reason is clear: they were speaking the truth. It is a fearful thing to be in a head-on collision when you're not wearing a seat belt.
What you are sharing with people is the gospel truth. The Bible warns, "It is a fearful thing to fall into the hands of the living God." It is right that sinners should fear, because they are in danger of eternal damnation. They are going to collide head-on with God's Law. Let Judgment Day play out before their eyes in slow motion.


Thanks for visiting our site here at www.plbcmh.com