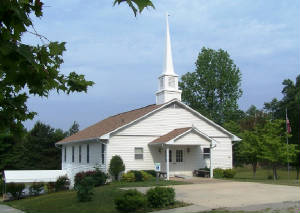 Come and Worship with us at
8256 Promise Land Road
Mountain Home, Arkansas 72653
Our Worship Schedule is
Sunday Bible Study - 9:45am
Sunday Worship - 11:00am
Wednesday Night Prayer Meeting - 6:00pm
Wednesday Night Bible Study - 7:00pm
Today's Memory Verse
"Whosoever will come after me, let him deny himself, and take up his cross, and follow me. For whosoever will save his life shall lose it; but whosoever shall lose his life for my sake and the gospel's, the same shall save it."
MARK 8:34, 35

"Never be afraid to try something new. Remember, amateurs built the ark; professionals built the Titanic."
UNKNOWN

"Should we ever swear an oath?"

Numbers 30:2 says, "If a man vow a vow to the LORD, or swear an oath ... he shall not break his word." But in James 5:12 we are told, "Swear not, neither by heaven, neither by the earth, neither by any other oath: but let your yes be yes; and your no, no; lest you fall into condemnation."
The first verse pertains to swearing to the Lord; the second verse deals with the issue of swearing by something. It is vain to swear by something over which we have no control. The only legitimate application would be to swear by our own integrity, but that is implied when we swear an oath. God swears by Himself because He has control over Himself (Hebrews 6:13). But to swear on our mother's grave or something similar is simply vain. It's meaningless, and such a person would be falsely implying that he has control over such things, which is where sin comes into play.

Cameron, K., & Comfort, R. (2004). The school of biblical evangelism: 101 lessons: how to share your faith simply, effectively, biblically-the way Jesus did (pp. 658-659). Gainesville, FL: Bridge-Logos Publishers.
Day by Day by Grace
Even More on Relating Rightly to the God of All Grace
The God of all grace...Not that we are sufficient of ourselves to think of anything as being from ourselves, but our sufficiency is from God...He is also Mediator of a better covenant, which was established on better promises. (1 Peter 5:10; 2 Corinthians 3:5; and Hebrews 8:6)
If we are going to live by grace as God intends, we must get to know "the God of all grace." As we get to know Him, humility and faith develop in our lives. They are relational realities. They become real in our lives as a result of getting to know the Lord better and better. As we walk with the Lord in humble dependence, we are living by the grace of God. The Lord gives grace to the humble (1 Peter 5:5 and James 4:6), and faith accesses grace (Romans 5:2; 4:16). The Scriptures indicate that there are many ways to relate rightly to the Lord in humility and faith. In our previous meditation, we saw that living by the Spirit and living by resurrection power are two examples of this truth. Now we will consider two more examples.
Living by the sufficiency of God is a profound opportunity to relate to the Lord in humility and faith. This heavenly perspective begins with a declaration of our own inadequacy. "Not that we are sufficient of ourselves to think of anything as being from ourselves." It is true that we disciples of Jesus Christ are so inadequate that we are unable to produce any of the Christian life ourselves. Jesus Himself taught this radical fact. "Without Me you can do nothing" (John 15:5b). If we embrace this humbling truth, we are walking in humility before the Lord. The corresponding declaration points us to the source that we need. "But our sufficiency is from God." Only God's resources are sufficient to produce the kind of fruitful spiritual life that God calls us to live. Jesus taught this great truth as well. "I am the vine, you are the branches. He who abides in Me, and I in him, bears much fruit" (John 15:5a). If we accept this encouraging truth, we are walking in faith toward the Lord.
Living by the promises of God offers another significant opportunity to relate to the Lord in humility and faith. "He is also Mediator of a better covenant, which was established on better promises." The promises of the old covenant of law (which are basically, "Do these commands, and you shall live"-see Leviticus 18:5) depend on man's ability and faithfulness. The better promises of the new covenant of grace depend upon God's ability and faithfulness. Abraham was "fully convinced that what He had promised He was also able to perform" (Romans 4:21). Sarah "judged Him faithful who had promised" (Hebrews 11:11). It is humbling to know that we can't perform well enough to enjoy the promises of the law. Contrariwise, it is faith building to know we can trust in the Lord to fulfill all His promises of grace.
Dear Lord of all grace, I humbly admit that I can only live by Your sufficiency and your promises. By faith, I look to You to do for me and in me what You alone can do, Amen.
Famous Last Words: William Pope,
who died in 1797, was the leader of a company of infidels who ridiculed everything religious. One of their exercises was to kick the Bible around the floor or tear it up. Friends present in his death-chamber spoke of it as a scene of terror as he died crying:
"I have no contrition. I cannot repent. God will damn me. I know the day of grace is past ... You see one who is damned forever ... Oh, Eternity! Eternity! Nothing for me but hell. Come eternal torments ... I hate everything God has made, only I have no hatred for the devil-I wish to be with him. I long to be in hell. Do you not see? Do you not see him?"

Here at Promise Land Bible Church
We don't change the message, the message changes us.


Here at Promise Land Bible Church, we are honored that you are visiting our web site at www.plbcmh.com
It is our hope at Promise Land Bible Church that you will be encouraged by the preaching and teaching of God's Word presented here. For it is our desire to teach the whole council of God, so that the body can be edified and above all that God may be glorified.
For it is our passion and desire to share the Gospel message with everyone who will hear, in obedience to God's word.
Welcome to our site here at www.plbcmh.com
The fellowship of believers who call Promise Land Bible Church home would like to welcome you to our website. We believe that salvation is by grace alone, thru faith alone, in Christ alone, and that the Holy Scripture is our sole source of authority for what we do and how we live, and that everything we do, should be done for the glory of God. This is commonly called the 5 Solas of the Reformed Faith.
So here is our invitation to you;
If you are looking for a church that affirms the sole authority of the Holy Scriptures for all of faith and practice, the pre-eminence of the preaching of the Word of God, the glorious truths of salvation called the Doctrines of Grace, the necessity and responsibility of evangelism and a serious approach to the joyful worship of God, then we warmly invite you to come and visit us.
Join us as we look to the truth of scripture and Worship the Lord.
At www.plbcmh.com we do our best to present the truth of the gospel.
Paul's three-word description of what sin does to all people

"People will be lovers of themselves" 2 Timothy 3:2

It's the inescapable, destructive commitment of every person that was ever born. It marches down a pathway of separation from God and our ultimate doom. None of us successfully avoid it. We see it in others and it bothers us, but somehow we are blind to it in ourselves. It shapes what we think, desire, say, and do. It shapes our unwritten law for the people we live with and a host of unrealistic expectations for the situations we live in. It explains why we are so often irritated and impatient. It describes why some of us are perennially unhappy and some of us trudge through life depressed. It causes us to want what we will never, ever have and to demand what we do not deserve. It puts us at odds with one another and in endless fights with God. It is one of the deep diseases of our sin nature and a core reason for the birth of Jesus.

Paul says that Jesus came so "that those who live might no longer live for themselves" (2 Corinthians 5:14-15). Consider Paul's three-word description of what sin does to all people: "live for themselves." That's what we all do from the first moment of our lives. We all demand to be in the center of our world. We all tend to be too focused on what we want, on what we think we need, and on our feelings. We all want our own way, and we want people to stay out of our way. We all want to be sovereign over our lives and to write our own rules. We demand to be served, indulged, agreed with, accepted, and respected. In our self-centeredness, we convince ourselves that our wants are our needs, and when we do, we judge the love of God and others by their willingness to deliver them. When we are angry, it's seldom because the people around us have broken God's law; most often we are angry because people have broken the law of our happiness. Because we live for our happiness, happiness always eludes us--because every fulfilled desire is followed by yet another desire.

[Taken from "Come Let Us Adore Him" by Paul David Tripp, 2017, pp. 82-82. Used by permission of Crossway, a publishing ministry of Good News Publishers, Wheaton, IL 60187, www.crossway.org.]
Point to Ponder
In 1950, a woman said of her first husband, "I love him better every day." She divorced him and in 1952 said of her second husband, "I just want to be with him, to be his wife." That marriage ended in divorce. In 1959 she predicted that she would be with husband number four for "thirty or forty years." That also ended in divorce. In 1964 she said of her next husband, "This marriage will last forever." After divorcing him and then remarrying him in 1975 she said, "We are stuck together like chicken feathers to tar." After divorcing him in 1976 she married a senator and said, "I have never been so happy." She divorced him also, and as she married Larry Fortensky in 1991, she said, "This is it, forever." Their divorce was in 1995. Who is this woman? Elizabeth Taylor.


Word of the Day
December 18
Lion
leōn
In startling contrast, while Jesus is called the "Lamb," He is also called the "Lion." We'll return to that thought later.
Our English word lion actually comes from the Greek leōn (G3023), which is found in writings all the way back to the time of Homer. Not only does it refer to the literal animal, but it also carries a figurative sense, such as the constellation or a brave or violent man. Of all animals, the lion is seen most often in ancient fables, usually as a symbol of power and courage.
The lion is mentioned some 150 times in the Septuagint, usually in a comparative way. Eze_1:10, for example, describes the cherubim as having heads like a lion, picturing power.
A fascinating feature of the NT use of leōn is that every occurrence (there are nine) alludes to the OT. Paul, for example, writes to Timothy about being "delivered out of the mouth of the lion" (2Ti_4:17), that is, mortal danger, an allusion to Daniel's ordeal in the lion's den (Dan_6:22). The same reference to Daniel occurs in Heb_11:33. (Note today's "Scriptures for Study" for another example.)
Turning to Revelation, in Rev_4:7 we again see the cherubim of Ezekiel 1 and then see images using the figure of a lion (Rev_9:8, Rev_9:17; Rev_10:3; Rev_13:2).
The greatest image of all, however, is in Rev_5:5, where we read, "Behold, the Lion of the tribe of Juda, the Root of David, hath prevailed to open the book, and to loose the seven seals thereof." Looking back to Gen_49:8-10, one of the "elders" before the heavenly throne refers to the chief member of the tribe of Judah, the Lord Jesus Himself, who is of the "Root of David," that is, He who fulfills God's covenant with David (cf. Isa_11:1, Isa_11:10). He is also pictured there as holding a scepter, as He will become the King of Israel, and will rule the world.
Before the King comes to rule, however, He must judge. The image pictured here occurs just before the judgments of the Tribulation begin in chapter 6 and continue through chapter 18. While Christ came the first time as a Lamb to the slaughter, He will come the second time as a Lion to devour. "Even so, come, Lord Jesus" (Rev_22:20).
Scriptures for Study: Read Peter's warning about apostasy in 1Pe_5:8, and then note how he, too, alludes to the OT (Eze_22:25; Hos_13:8).
Thanks for visiting our site here at www.plbcmh.com