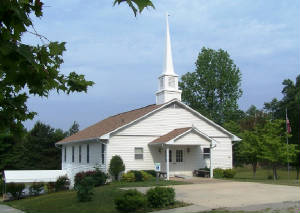 Come and Worship with us at
8256 Promise Land Road
Mountain Home, Arkansas 72653
Our Worship Schedule is
Sunday Bible Study - 9:45am
Sunday Worship - 11:00am
Wednesday Night Prayer Meeting - 6:00pm
Wednesday Night Bible Study - 7:00pm
Today's Memory Verse
"As it is written, There is none righteous, no, not one: there is none that understands, there is none that seeks after God. They are all gone out of the way, they are together become unprofitable; there is none that does good, no, not one."
ROMANS 3:10-12

Quote of the Day
"The evangelist who preaches for eternity is never great on numbers. He is not apt to count hundreds of converts where there is no restitution, no confession, and no glad cry which proclaims, 'The lost is found, the dead is made alive again!' "
E. M. BOUNDS

"Adam didn't die the day God said he would!"

He certainly did-he died spiritually. The moment he sinned, he became "dead in trespasses and sins" (Ephesians 2:1). Ezekiel 18:4 says, "The soul that sins, it shall die." Ian Thomas explained it this way: "We are born dead in trespasses and sins, alienated, cut off, detached from the life of God. The day that man believed the devil's lie (which is sin), he forfeited the life that distinguished him from the animal kingdom-the life of God. When sin came in, the life went out."
It is because we are born spiritually dead that Jesus came to give us spiritual life (John 5:40; 10:10; 14:6; etc.). This is why Jesus told us that we must be born again (John 3:3). When we repent of our sins and place our trust in the Savior, the Bible tells us that we "pass from death to life" (John 5:24; Romans 6:13; 1 John 3:14).

Cameron, K., & Comfort, R. (2004). The school of biblical evangelism: 101 lessons: How to share your faith simply, effectively, biblically-the way Jesus did (161-162). Gainesville, FL: Bridge-Logos Publishers.
Point to Ponder

A true story was told of a young soldier in the Civil War. After an explosion left him seriously injured, he lay on the battlefield covered in blood. A male nurse sat beside the helpless trooper, holding his thumb on the man's neck to stop the bleeding.
In the heat of battle, a doctor came alongside the two men. He looked closely at the wound and told the soldier that he was very fortunate. The damage was very close to a main artery, and if that had been severed he would have died almost immediately.
The doctor carefully stitched the small veins over which the nurse had applied pressure.
A few minutes later, he was called back. The terrified nurse was holding his thumb over a main artery, which had suddenly burst. The good doctor explained that he could now do nothing for the soldier. As soon as the nurse removed his thumb, blood would gush out rapidly, and there was no way he could contain its flow.
Over the next three hours, the brave young soldier thanked the nurse for what he had done for him, wrote farewells to his loved ones, put his affairs in order, then told the nurse to remove his thumb. The horrified nurse turned his face away from the young warrior as he removed his thumb; the soldier was dead within minutes.
Whether we are enlightened to understand it or not, the eternal God of creation holds our life in His hands. When the preserving presence of His hand is removed, we die. We are but mortal human beings, and "in Him we live and move and have our being." Every breath we take, and every heartbeat that follows, comes only because He keeps His gracious hand upon our lives.
He alone is the origin of human life, the One who sustains our very existence.


Day by Day by Grace
Righteousness through Christ in Justification
But now the righteousness of God apart from the law is revealed, being witnessed by the Law and the Prophets, even the righteousness of God, through faith in Jesus Christ, to all and on all who believe. For there is no difference; for all have sinned and fall short of the glory of God, being justified freely by His grace through the redemption that is in Christ Jesus. (Romans 3:21-24)
The basic manner in which Jesus fulfills the law of God for us is by justifying us "freely by His grace." He does this by offering us "the righteousness of God through faith."
In the gospel of Jesus Christ, "the righteousness of God apart from the law is revealed." It is the same righteousness that is spoken of in the law, that is, "being witnessed by the Law." In the law, righteousness is an impossible standard being imposed. In the gospel, righteousness is a gracious gift being offered.
This gift of righteousness is available to all who believe, to all who put their trust in the Lord Jesus Christ to be their Savior and Lord. This gift is, of course, free to the recipients. Yet, it was made available at great cost to the giver. This gift cost the Father His only begotten Son. This gift cost the Son His own life, as He paid the price of redemption to buy us back from the slave market of sin and death.
Every person ever created needs this redemption price paid for them. "For there is no difference; for all have sinned and fall short of the glory of God." Now, for all who believe in the Lord Jesus, the righteousness of God is imputed to them (that is, credited as a gift to their heavenly account). Thereby, the Lord God justifies us "freely by His grace." The Lord declares us righteous in His sight by giving to us "the righteousness of God which is through faith."
Dear Lord, I am so grateful that Your message of righteousness did not come through the law alone. Otherwise, Lord, I would have been condemned before You forever. Thank You for speaking to us of righteousness through Your glorious gospel of grace. I rejoice in You that I am now righteous in Your sight, through faith in Your beloved Son. Lord, I am learning that the righteousness I need for daily sanctification must also come from Jesus, by that same grace, through that same kind of trust. What good, good news is Your grand gospel! I magnify and praise You through Christ, my Lord, Amen.
Today's Grace Gem
We waste far too much of our time upon trifles!
(Charles Spurgeon)

We waste far too much of our time upon trifles!
Time is short--and eternity is near!
"So teach us to number our days aright, that we may gain a heart of wisdom!" Psalm 90:12
Word of the Day
January 17
Foreknowledge
proginoskō
Here is one more of those "controversial" terms, but there is again no need for debate. A common belief is that foreknowledge simply means "prior knowledge," just knowing something before it happens. But that simply is not so. The Greek word proginoskō (G4267) also carries the idea of foreordination.
A good example is found in Act_2:23, where Peter is preaching on the Day of Pentecost and reminding the Jews about Jesus: "Him, being delivered by the determinate counsel and foreknowledge of God, ye have taken, and by wicked hands have crucified and slain." Now, is Peter saying that God foreknew in eternity past that Christ would die on the cross? Is he saying that God simply looked down through time and said, "Oh, yes, I see that they will put my Son to death." Obviously not. What Peter is saying is that Christ died on the cross because God purposefully sent Him to do so. The construction of the verse further bears this out. "Determinate" is from horizō (which we studied yesterday), and "counsel" is from boulē (G1012), which in Classical Greek referred to an officially convened, decision-making council. Therefore, God, who is His own "decision-making council," purposefully set up boundaries in which men could act.
Deeper and more blessed, however, is that the root ginoskō means "to know by experience" and often is practically synonymous with love and intimacy. Mat_1:25, for example, says that Joseph "did not know" Mary before Jesus was born, that is, they had not yet been physically intimate. Jesus used the same word in Mat_7:23 where He speaks of those who have professed to be believers but are not: "And then will I profess unto them, I never knew you: depart from me, ye that work iniquity" (emphasis added).
This is exactly what we see in 1Pe_1:1-2: "Peter, an apostle of Jesus Christ, to the strangers scattered throughout Pontus, Galatia, Cappadocia, Asia, and Bithynia, Elect according to the foreknowledge of God the Father." Some insist this just means prior knowledge, but now notice 1Pe_1:20: "[Christ] verily was foreordained before the foundation of the world, but was manifest in these last times for you." This is significant because the Greek for foreordained is the same word for foreknowledge in 1Pe_1:2. Therefore, it's obvious that this doesn't mean that God simply foresaw that Christ would be manifested. Rather, He was, as we are, foreordained and foreknown by an intimate relationship before the foundation of the world. What a staggering truth!
Scriptures for Study: In Rom_8:29-30, which action of God is first in the progression? In light of today's study, how does that action strike you? In Rom_11:1-24, what people has God not "cast away"? What will He do in the future?
Here at Promise Land Bible Church
We don't change the message, the message changes us.


We at Promise Land Bible Church would like to extend a Merry Christmas prayer, to all the men and women who are serving our Nation in the US Military.
Almighty God, we ask You, the Creator of all thing, Holy and True, to be the guiding light for the men and women who serve this Nation. May You grant them wisdom, strength, and favor Lord in what they are required to do. May Your hand of protection cover our service members, so that they might make it home to their families. Once home, Lord, we pray that You would help them to readjust to life with their families. Restore their families, rekindle their love, may Your presence be felt by them, and may they know that You are there, at all times willing and waiting, to help, lead, guide, and protect. May Psalm 91, be their guiding Scripture, and may they find shelter in the shadow of the Most High.
In Jesus Holy Name, Amen
Here at Promise Land Bible Church, we are honored that you are visiting our web site at www.plbcmh.com
It is our hope at Promise Land Bible Church that you will be encouraged by the preaching and teaching of God's Word presented here. For it is our desire to teach the whole council of God, so that the body can be edified and above all that God may be glorified.
For it is our passion and desire to share the Gospel message with everyone who will hear, in obedience to God's word.
Welcome to our site here at www.plbcmh.com
The fellowship of believers who call Promise Land Bible Church home would like to welcome you to our website. We believe that salvation is by grace alone, thru faith alone, in Christ alone, and that the Holy Scripture is our sole source of authority for what we do and how we live, and that everything we do, should be done for the glory of God. This is commonly called the 5 Solas of the Reformed Faith.
So here is our invitation to you;
If you are looking for a church that affirms the sole authority of the Holy Scriptures for all of faith and practice, the pre-eminence of the preaching of the Word of God, the glorious truths of salvation called the Doctrines of Grace, the necessity and responsibility of evangelism and a serious approach to the joyful worship of God, then we warmly invite you to come and visit us.
Join us as we look to the truth of scripture and Worship the Lord.
At www.plbcmh.com we do our best to present the truth of the gospel.
American Minute
January 17th:
"The bloody butcher" is what colonists called British Colonel Banastre Tarleton.

He let his dragoons bayonet and hack hundreds of surrendering Americans at Buford's Massacre during the Battle of Waxhaw, May 29, 1780.

In January of 1781, 26-year-old Colonel Banastre Tarleton led 1,200 of Britain's best troops, consisting of British dragoons, regulars, highlanders and loyalists, in a hot pursuit of the Americans.

American General Daniel Morgan led Colonel Banastre Tarleton into a trap - the Battle of Cowpens, JANUARY 17, 1781.

The Americans took a stand with the Broad River behind them, leaving them no opportunity to retreat.

Seeing this a foolish decision, British Colonel Tarleton gave into the temptation to pursue without doing any reconnaissance.

This scene was depicted in the movie, The Patriot, in which Mel Gibson's character Benjamin Martin, portrayed a composite of the fiercest Carolina leaders:

Gen. Andrew Pickens (nicknamed "the Wizard Owl");
Gen. Francis Marion (nicknamed "the Swamp Fox); and
Col. Thomas Sumter (nicknamed "the Carolina Gamecock").

At the Battle of Cowpens, American General Daniel Morgan had his line of militia fire twice into the charging British cavalry, then retreat around a hill.

At a full gallop, Tarlton's dragoons charged straight on, only to be surprised by a wall of 400 battle-hardened American Continental soldiers who had been hiding behind the militia.

The American Continentals stood immovable, firing at point-blank range.

The militia then circled around, appearing on the other side of the hill to attack Tarlton's flank.

In the confusion, 110 British were killed and 830 captured.

Captured British officer, Maj. McArthur of the 71st Highlanders commented that "he was an officer before Tarleton was born; that the best troops in the service were put under 'that boy' to be sacrificed."

The Battle of Cowpens is widely considered the tactical masterpiece and turning point of the Revolutionary War.

When British General Cornwallis was told the news, he was leaning on his sword - and leaned so hard the blade snapped.

Cornwallis gave chase, even abandoning his slow supply wagons along the way.

General Daniel Morgan hastily retreated north, meeting up with American General Nathaniel Greene, and they raced to get out of South Carolina, across North Carolina and into Virginia.

Cornwallis regrouped and chased the Americans as fast as he could, discarding slow supply wagons and heavy equipment along the way.

Cornwallis arrived at the Catawba River just two hours after the Americans had crossed, but a sudden storm made the river impassable, delaying the British pursuit.

The British nearly overtook the Americans at the Yadkin River, but again rains flooded the river slowing the British.

Now it was a frantic race to the Dan River.

General Nathaniel Greene quickly got the Americans across before another flash flood blocked the British.

British Commander Henry Clinton wrote: "Here the royal army was again stopped by a sudden rise of the waters, which had only just fallen (almost miraculously) to let the enemy over, who could not else have eluded Lord Cornwallis' grasp, so close was he upon their rear."

Having discarded his supplies in the chase, Cornwallis was at a disadvantage.

General Nathaniel Greene recrossed and fought against Cornwallis again at the Battle of Guilford Court House, March 15, 1781.

Though the British were considered to have won the battle, their heavy losses of over 500 killed or wounded contributed to their later defeat.

Badly needed supplies, Cornwallis was ordered by British General Henry Clinton to move his 8,000 troops to a defensive position where the York River entered Chesapeake Bay, and wait for British ships.

Providentially, Ben Franklin and Marquis de Lafayette were finally successful in their efforts to persuade French King Louis XVI to send ships and troops to help the Americans.

French Admiral de Grasse left off fighting the British in the West Indies and sailed 24 ships to the mouth of Chesapeake Bay, where, in the Battle of the Capes, he drove off 19 British ships which were trying to evacuate Cornwallis' men.

De Grasse's 3,000 French troops and General Rochambeau's 6,000 French troops hurriedly joined General Lafayette's division as they marched to help Washington trap Cornwallis against the sea at Yorktown.

French troops joined those led by Generals Benjamin Lincoln, Baron von Steuben, Modecai Gist, Henry Knox and John Peter Muhlenberg.

Altogether, 17,000 French and American troops surrounded Cornwallis.

On October 19, 1781, Cornwallis surrendered and the Revolutionary War was effectively over.

Yale President Ezra Stiles wrote, May 8, 1783: "Who but God could have ordained the critical arrival of the Gallic (French) fleet, so as to ... assist ... in the siege ... of Yorktown? ...

Should we not ... ascribe to a Supreme energy ... the wise ... generalship displayed by General Greene ... leaving the ... roving Cornwallis to pursue his helter-skelter ill fated march into Virginia ...

It is God who had raised up for us a ... powerful ally ... a chosen army and a naval force: who sent us a Rochambeau...to fight side by side with a Washington ... in the ... battle of Yorktown."

General Washington wrote to William Gordon in March of 1781: "We have ... abundant reasons to thank Providence for its many favorable interpositions in our behalf. It has at times been my only dependence, for all other resources seemed to have failed us."
Famous Last Words: Andrew Jackson
(1767-1845), the seventh President of the U.S., loved to read the Bible, and heaven was near and dear to him. Shortly before he died, he gathered his family and servants to his bedside and told them:
"I have suffered much bodily pain, but my sufferings are but as nothing compared with that which our blessed Redeemer endured upon the accursed cross, that all might be saved who put their trust in Him."

Thanks for visiting our site here at www.plbcmh.com