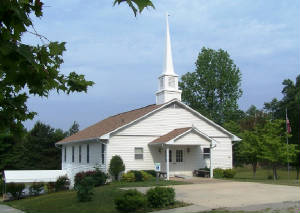 Come and Worship with us at
8256 Promise Land Road
Mountain Home, Arkansas 72653
Our Worship Schedule is
Sunday Bible Study - 9:45am
Sunday Worship - 11:00am
Wednesday Night Prayer Meeting - 6:00pm
Wednesday Night Bible Study - 7:00pm
Today's Memory Verse
"Jesus answered, Verily, verily, I say to you, Except a man be born of water and of the Spirit, he cannot enter into the kingdom of God."
JOHN 3:5

"When we merely say that we are bad, the 'wrath' of God seems a barbarous doctrine; as soon as we perceive our badness, it appears inevitable, a mere corollary from God's goodness ..."
C. S. LEWIS

"Why does the Old Testament show a God of wrath and the New Testament a God of mercy?"

The God of the New Testament is the same as the God of the Old Testament. The Bible says that He never changes. He is just as merciful in the Old Testament as He is in the New Testament. Read Nehemiah 9 for a summary of how God mercifully forgave Israel, again and again, after they repeatedly sinned and turned their backs on Him. The psalms often speak of God's mercy poured out on sinners.
He is also just as wrath-filled in the New Testament as He is in the Old. The Book of Acts records that He killed a husband and wife simply because they told one lie. Jesus warned that He was to be feared because He has the power to cast the body and soul into hell. The apostle Paul said that he persuaded men to come to the Savior because he knew the "terror of the Lord." Read the dreadful judgments of the New Testament's Book of Revelation. That will put the "fear of God" in you, which incidentally is "the beginning of wisdom."
Perhaps the most fearful display of God's wrath is seen in the cross of Jesus Christ. His fury so came upon the Messiah that it seems God enshrouded the face of Jesus in darkness so that creation couldn't gaze upon His unspeakable agony. Whether we like it or not, our God is a consuming fire of holiness (Hebrews 12:29). He isn't going to change, so we had better-before the Day of Judgment. If we repent, God, in His mercy, will forgive us and grant us eternal life in heaven with Him.

Cameron, K., & Comfort, R. (2004). The school of biblical evangelism: 101 lessons: How to share your faith simply, effectively, biblically-the way Jesus did (139-140). Gainesville, FL: Bridge-Logos Publishers.
Day by Day by Grace
Better Promises under Grace
But now He has obtained a more excellent ministry, inasmuch as He is also Mediator of a better covenant, which was established on better promises. (Hebrews 8:6)
In every way, the new covenant of grace is a better covenant than the old covenant of law. "But now He has obtained a more excellent ministry, inasmuch as He is also Mediator of a better covenant." We have considered some of the better aspects of living under grace: a better High Priest to minister to us, a better sacrifice for sins, a greater intimacy with God, and spiritual substance instead of mere shadows. Another better aspect of grace is that it "was established on better promises." To this excellent reality, we will now give continuing attention over many days.
Under the old covenant of law, a basic promise is stated repeatedly. It is present in the first giving of the law, when the children of Israel were delivered from bondage in Egypt. "You shall therefore keep My statutes and My judgments, which if a man does, he shall live by them" (Leviticus 18:5). It was present when the law was given again to Israel, as they were preparing to enter the promised land. "Now it shall come to pass, if you diligently obey the voice of the LORD your God, to observe carefully all His commandments which I command you today, that the LORD your God will set you high above all nations of the earth" (Deuteronomy 28:1). At this time, a corollary promise of warning was made. "But it shall come to pass, if you do not obey the voice of the LORD your God, to observe carefully all His commandments and His statutes which I command you today, that all these curses will come upon you and overtake you" (Deuteronomy 28:15).
The basic promises of the law can be summarized as "do this, and you will live." The promises under the law are contingent upon the performance of man. If man is able to keep the law, the promises of life and blessing will be fulfilled. Ultimately, the children of Israel demonstrated the inability of man to live up to the standards of God's holy law. "Notwithstanding, the children rebelled against Me; they did not walk in My statutes, and were not careful to observe My judgments, 'which, if a man does, he shall live by them'" (Ezekiel 20:21).
The promises under grace are immeasurably better than those under law, because they do not depend upon man's performance. "I will make a new covenant... I will put My law in their minds...I will be their God...I will forgive their iniquity, and their sin I will remember no more" (Jeremiah 31:31-34).
Dear Lord, I rejoice over the new covenant of grace. How wonderful it is to live under promises that do not depend upon my ability to perform. Lord, I put my trust in You to fulfill Your promises in my life. Through Christ I pray, Amen.
Famous Last Words: Cardinal Cesare Borgia (1476-1507):


"I have provided in the course of my life for everything except death, and now, alas, I am to die unprepared."

Here at Promise Land Bible Church
We don't change the message, the message changes us.


Here at Promise Land Bible Church, we are honored that you are visiting our web site at www.plbcmh.com
It is our hope at Promise Land Bible Church that you will be encouraged by the preaching and teaching of God's Word presented here. For it is our desire to teach the whole council of God, so that the body can be edified and above all that God may be glorified.
For it is our passion and desire to share the Gospel message with everyone who will hear, in obedience to God's word.
Welcome to our site here at www.plbcmh.com
The fellowship of believers who call Promise Land Bible Church home would like to welcome you to our website. We believe that salvation is by grace alone, thru faith alone, in Christ alone, and that the Holy Scripture is our sole source of authority for what we do and how we live, and that everything we do, should be done for the glory of God. This is commonly called the 5 Solas of the Reformed Faith.
So here is our invitation to you;
If you are looking for a church that affirms the sole authority of the Holy Scriptures for all of faith and practice, the pre-eminence of the preaching of the Word of God, the glorious truths of salvation called the Doctrines of Grace, the necessity and responsibility of evangelism and a serious approach to the joyful worship of God, then we warmly invite you to come and visit us.
Join us as we look to the truth of scripture and Worship the Lord.
At www.plbcmh.com we do our best to present the truth of the gospel.
The awesome, holy, glorious beauty of Christ!

(Charles Spurgeon)

Come here gracious souls, and behold the Man in the garden of Gethsemane.

Behold His heart so brimming with love that He cannot hold it in--so full of sorrow that it must find a vent.

Behold the Man as they drive the nails into His hands and feet.

Look up and see the sorrowful ravishing image of your suffering Lord.

If we would live right, it must be by the contemplation of His death.

If we would rise to dignity, it must be by considering His humiliation and His sorrow.

The sight of Christ's loveliness, and that alone--shows the soul its own ugliness.

The sense of the awesome, holy, glorious beauty of Christ kills pride and humbles the soul.

"Yes, He is altogether lovely! This is my Beloved, and this is my Friend!" Song of Solomon 5:16
Point to Ponder

A man thought of a unique way to paint the eaves of his A-frame house. He threw a rope over the roof and tied it in a secure knot to the bumper of his car. No doubt he also made sure the emergency brake was on so the vehicle wouldn't roll back with his weight. He then went around to the back of the house, climbed onto the roof, and tied the rope tightly around his waist. Then he leaned back, impressed by his ingenuity.
A short time later his wife, not knowing what her inventive husband had done, came out of the house with her car keys in hand. She got into the vehicle and drove off, pulling her husband over the roof and down the other side. The man was seriously injured.
The moral of this true story is that you are only as secure as that to which you secure yourself. If you entrust yourself to the belief that good works will save you on Judgment Day, it will bring about your tragic and eternal downfall.


Word of the Day
June 19
Call
klēsis
One of the foundational concepts of Christianity is God's calling of men. As far back in ancient Greek as the time of Homer, klēsis (G2821) referred to an invitation into a house or to a feast. If the "invitation conferred special honor, the word came to mean chosen." The full idea of klēsis, then, is "the act of inviting, and more often an official summons by a recognized authority."
All those concepts carried over into the NT, but they were made far more significant because of what God was calling men to. With only a few exceptions, Paul uses this word (and related words, such as the verb kaleō, "to call") to refer to the divine calling of the elect to salvation, as in: "Who hath saved us, and called us with an holy calling, not according to our works, but according to his own purpose and grace, which was given us in Christ Jesus before the world began" (2Ti_1:9). Likewise, Paul's prayer in Eph_1:18 was, "The eyes of your understanding being enlightened; that ye may know what is the hope of his calling, and what the riches of the glory of his inheritance in the saints." In other words, besides being called to salvation, we are also invited and summoned to understand the certainty of our salvation and the spiritual riches we have in Christ.
God's calling, however, also demands something from us. We are summoned, for example, to holiness, as Paul makes clear: "For God hath not called us unto uncleanness, but unto holiness" (1Th_4:7). Peter echoes, "But as he which hath called you is holy, so be ye holy in all manner of conversation; Because it is written, Be ye holy; for I am holy" (1Pe_1:15-16; cf. Lev_11:44-45).
We are also summoned to service. As klēsis was used as a summons to duty, Paul challenged Timothy, and therefore every pastor (and by application, every Christian): "Fight the good fight of faith, lay hold on eternal life, whereunto thou art also called [kaleō], and hast professed a good profession before many witnesses" (1Ti_6:12). Also like Paul, God calls some men to vocational service, that is, to serve Him as their full-time occupation as pastors (1Ti_3:1; cf. Gal_1:15-16).
Let each of us realize what God has called us to be and to do.
Scriptures for Study: Read 2Pe_1:3-10, noting the Christian virtues that enable us to "make [our] calling and election sure," that is, to prove the genuineness of our faith by godly living.
Thanks for visiting our site here at www.plbcmh.com