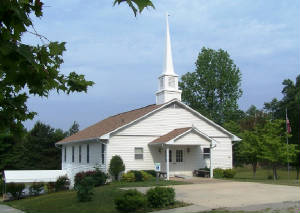 Come and Worship with us at
8256 Promise Land Road
Mountain Home, Arkansas 72653
Our Worship Schedule is
Sunday Bible Study - 9:45am
Sunday Worship - 11:00am
Wednesday Night Prayer Meeting - 6:00pm
Wednesday Night Bible Study - 7:00pm
Today's Memory Verse
"For what shall it profit a man, if he shall gain the whole world, and lose his own soul? Or what shall a man give in exchange for his soul?"
MARK 8:36, 37

"Grace means nothing to a person who does not know he is sinful and that such sinfulness means he is separated from God and damned. It is therefore pointless to preach grace until the impossible demands of the Law and the reality of guilt before God are preached."
JOHN MACARTHUR

"Aren't there some circumstances when violating God's Law is justified?"

A man's wife is dying. She needs medicine that is available at only one store, and it's currently closed. They're too far from any hospital, and the man doesn't have enough money to buy the medicine even if the store were open. So he breaks in that night, steals the medicine (and doesn't touch anything else), and saves his wife's life. Is this morally incorrect? Is this a sin?
The Bible says, "Men do not despise a thief, if he steals to satisfy his soul when he is hungry; but if he be found, he shall restore sevenfold; he shall give all the substance of his house" (Proverbs 6:30, 31).
If a man steals to save the life of his wife, he "steals." He is therefore guilty of breaking both man's law and God's Law. However, any reasonable judge would take into account the motive for his transgression and be merciful. Obviously, God will do the same on Judgment Day with those who have found themselves in such a predicament. God will do what is right. However, if you dig a little into the motive of the person who is asking whether breaking the law is ever justifiable, you will likely find that neither he nor a loved one is in a life-or-death predicament; he is merely creating imaginary scenarios to try to justify his love of sin.

Cameron, K., & Comfort, R. (2004). The school of biblical evangelism: 101 lessons: How to share your faith simply, effectively, biblically-the way Jesus did (84-85). Gainesville, FL: Bridge-Logos Publishers.
Day by Day by Grace
Nebuchadnezzar Exemplifying God's Opposition to Pride
All this came upon King Nebuchadnezzar...he was walking about the royal palace of Babylon. The king spoke, saying, "Is not this great Babylon, that I have built for a royal dwelling by my mighty power and for the honor of my majesty?" While the word was still in the king's mouth, a voice fell from heaven: "King Nebuchadnezzar, to you it is spoken: the kingdom has departed from you." (Daniel 4:28-31)
Our lofty and holy God graciously revives the hearts of all who walk in humility and lowliness. "Though the LORD is on high, yet He regards the lowly; but the proud He knows from afar" (Psalm 138:6). Those who walk in pride experience quite a different response from the Lord. King Nebuchadnezzar exemplified God's opposition to pride.
Nebuchadnezzar was a powerful king in Babylon. One day, he was in his royal palace reflecting upon the greatness of his kingdom. He concluded that it all came to pass because of his own might and for his own glory. "Is not this great Babylon, that I have built for a royal dwelling by my mighty power and for the honor of my majesty?" This prideful evaluation was in stark contrast to David's earlier humble profession. "Yours, O LORD, is the greatness, the power and the glory, the victory and the majesty; for all that is in heaven and in earth is Yours; Yours is the kingdom, O LORD, and You are exalted as head over all. Both riches and honor come from You, and You reign over all. In Your hand is power and might; in Your hand it is to make great and to give strength to all. Now therefore, our God, we thank You and praise Your glorious name" (1 Chronicles 29:11-13).
Before Nebuchadnezzar had finished his self-centered pronouncement, heaven declared God's opposition to his pride. "King Nebuchadnezzar...the kingdom has departed from you." The consequences would be appropriately severe. "And they shall drive you from men, and your dwelling shall be with the beasts of the field. They shall make you eat grass like oxen; and seven times shall pass over you, until you know that the Most High rules in the kingdom of men, and gives it to whomever He chooses" (Daniel 4:32). Another proud ruler experienced similar radical consequences in the days of the early church. "So on a set day Herod, arrayed in royal apparel, sat on his throne and gave an oration to them. And the people kept shouting, 'The voice of a god and not of a man!' Then immediately an angel of the Lord struck him, because he did not give glory to God. And he was eaten by worms and died" (Acts 12:21-23).
Lord God Almighty, Creator of all and Ruler over all, I repent of the times I have spoken pridefully, as Nebuchadnezzar did. I long to openly profess David's humble, God-glorifying perspective day by day throughout my life, Amen.
Here at Promise Land Bible Church
We don't change the message, the message changes us.


Here at Promise Land Bible Church, we are honored that you are visiting our web site at www.plbcmh.com
It is our hope at Promise Land Bible Church that you will be encouraged by the preaching and teaching of God's Word presented here. For it is our desire to teach the whole council of God, so that the body can be edified and above all that God may be glorified.
For it is our passion and desire to share the Gospel message with everyone who will hear, in obedience to God's word.
Welcome to our site here at www.plbcmh.com
The fellowship of believers who call Promise Land Bible Church home would like to welcome you to our website. We believe that salvation is by grace alone, thru faith alone, in Christ alone, and that the Holy Scripture is our sole source of authority for what we do and how we live, and that everything we do, should be done for the glory of God. This is commonly called the 5 Solas of the Reformed Faith.
So here is our invitation to you;
If you are looking for a church that affirms the sole authority of the Holy Scriptures for all of faith and practice, the pre-eminence of the preaching of the Word of God, the glorious truths of salvation called the Doctrines of Grace, the necessity and responsibility of evangelism and a serious approach to the joyful worship of God, then we warmly invite you to come and visit us.
Join us as we look to the truth of scripture and Worship the Lord.
At www.plbcmh.com we do our best to present the truth of the gospel.
The Christian is not a good man

(Martyn Lloyd Jones)

The Christian is not a good man.

He is a vile wretch who has been save by the grace of God!

"You see, at just the right time, when we were still powerless, Christ died for the ungodly." Romans 5:6

"But God demonstrates His own love for us in this: While we were still sinners, Christ died for us." Romans 5:8

"When we were God's enemies, we were reconciled to Him through the death of His Son" Romans 5:10

"Christ Jesus came into the world to save sinners--of whom I am the worst!" 1 Timothy 1:15
Word of the Day
September 23
Marry [and] Marriage
gameō [and] gamos
We have mentioned the word marriage many times up to now, so this would be a good place to deal with it specifically. The verb behind marry is gameō (G1060), which is derived from the root gam (or gem), "to fit together, to pair," and so means "to marry, celebrate a wedding, have sexual relations." The noun marriage (G1062), then, refers to a wedding, a marriage, and even the consummation of a marriage. It's from these words, of course, that we derive such English words as bigamy and monogamy.
Interestingly, and contrary to what one might think, monogamy actually dominated the Greek world, in spite of the fact that we see polygamy referred to many times in the Greek myths. The hero in Homer's writing, for example, was monogamous and faithful. Still, however, the Greek husband was free to have concubines or even relations with harlots with no stigma attached.
While these Greek words seldom appear in the OT Septuagint, when they do they always refer to monogamy and faithfulness in that marriage, as adultery was punishable by death (Lev_20:10; cf. Exo_20:14). We should also note that while polygamy was practiced by Abraham and others, which is the model used by Mormonism to defend this practice, God merely tolerated it; it was never His design.
What, then, is marriage in God's design? The key principle of marriage, according to Mal_2:14, is that it's a covenant (see December 27), often called "the covenant of companionship." A companion is one with whom we are united in goals, values, affections, and, in the case of marriage, even body. So, when the "covenant of companionship" is made, each partner promises to love the other with an agapē love (see January 19), to take away each other's loneliness, to meet each other's sexual needs, to honor and be faithful to the other, to bear children as God dictates, and many other things as well.
As wonderful as marriage is-as I write this, I've been married for thirty-two years, and we're still newlyweds-when we get to heaven there will be no marriage (Mat_22:30), for there we will know far greater glories. In the meantime, however, let us have marriages that are all that God wants them to be.
Scriptures for Study: What counsel does Paul give concerning marriage and remaining single in 1Co_7:8-9? What does the teaching of mandatory celibacy reveal in 1Ti_4:1-3?
Famous Last Words: Socrates
(470-309 B.C.), Greek philosopher of whom Plato was so proud:
"All of the wisdom of this world is but a tiny raft upon which we must set sail when we leave this earth. If only there was a firmer foundation upon which to sail, perhaps some divine word."

Thanks for visiting our site here at www.plbcmh.com