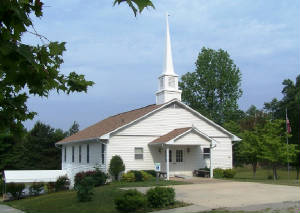 Come and Worship with us at
8256 Promise Land Road
Mountain Home, Arkansas 72653
Our Worship Schedule is
Sunday Bible Study - 9:45am
Sunday Worship - 11:00am
Wednesday Night Prayer Meeting - 6:00pm
Wednesday Night Bible Study - 7:00pm
Today's Memory Verse
"He that has my commandments, and keeps them, he it is that loves me: and he that loves me shall be loved of my Father, and I will love him, and will manifest myself to him."
JOHN 14:21

"When you're dead, you're dead."

What if you are wrong? What if God, Jesus, the prophets, the Jews, and Christians are right and you are wrong? If there is no afterlife, no Judgment Day, no heaven, and no hell, then God is unjust and each of the above is guilty of being a false witness. It means that Almighty God couldn't care less about the fact that a man rapes a woman, then cuts her throat and is never brought to justice. If you are right, and there is no ultimate justice, you won't even have the joy of saying, "I told you so." However, if you are wrong, you will lose your soul and end up eternally damned. You are playing Russian roulette with a fully loaded gun.

Cameron, K., & Comfort, R. (2004). The school of biblical evangelism: 101 lessons: How to share your faith simply, effectively, biblically-the way Jesus did (485). Gainesville, FL: Bridge-Logos Publishers.
Point to Ponder

UPI, Toronto-Police reported that a lawyer demonstrating the safety of windows in a downtown Toronto skyscraper crashed through a pane with his shoulder and plunged 24 floors to his death. A police spokesman said that Garry Hoy, 39, fell into the courtyard of the Toronto Dominion Bank Tower early Friday evening as he was explaining the strength of the building's windows to visiting law students. Hoy previously had conducted demonstrations of window strength, according to police reports. Peter Lauwers, managing partner of the firm Holden Day Wilson, told the Toronto Sun newspaper that Hoy was one of the best and brightest in the 200-member association.
This tragic incident is an excellent illustration of how people will trust their lives to something that often proves untrustworthy.


Day by Day by Grace
Coming to the Lord for Edifying Grace
Coming to Him as to a living stone, rejected indeed by men, but chosen by God and precious, you also, as living stones, are being built up a spiritual house, a holy priesthood, to offer up spiritual sacrifices acceptable to God through Jesus Christ. (1 Peter 2:4-5)
Coming to Jesus habitually for the grace that we need daily is at the heart of growing in grace. These closing verses of our previous meditation provide a profound example of this relational emphasis in the Christian life. The spiritual impact in view here is edification: "being built up." As we saw earlier, God's grace is the edifying resource for our lives. "And now, brethren, I commend you to God and to the word of His grace, which is able to build you up" (Acts 20:32). Now we will look at the relational path that God has designed for accessing that edifying grace.
Jesus is likened here to a "living stone." He is solid and reliable, like a rock. Yet, a rock is lifeless, insensitive, unresponsive. Jesus is a "living stone." He is alive, tender, lovingly responsive. The Lord wants to build us up to be like Him (solid and stable, yet loving and caring). The Lord's way to build us up "as living stones" is to call us to an ongoing process of coming to Himself: "Coming to Him as to a living stone...you also, as living stones, are being built up." In order to practically grow "as living stones," we must be coming to the one who already is innately what He wants us to become. He alone can provide what is needed in our lives.
How do we come to Jesus in this manner? Well, again, it is a matter of relating to Him. When we get into the word of God, we are not merely looking for more biblical information. Jesus is the one we are to be seeking. When we are praying, we are not merely "saying our prayers." Jesus is the one in whose name we are praying and whose will and work we are seeking. When we are worshiping, we are not merely singing songs, we are singing to the Lord Himself. When we are going forth in ministry, we are not merely carrying out a valid task. We are looking to the Lord for enablement, while desiring to please and honor Him.
The more we come to Jesus in this way, to that extent His edifying grace will be building us up "a spiritual house, a holy priesthood, to offer up spiritual sacrifices acceptable to God through Jesus Christ."
Dear Lord, You are the true living stone, stable and loving. So often I am unstable and unloving. I need to be built up as a living stone. I need to be more like You. Lord, help me to come to You daily, habitually. When I am studying the Scriptures, praying, worshiping, or serving, help me to seek You in and through it all, in Your mighty name I pray, Amen.
Famous Last Words: John Bunyan,
author of The Pilgrim's Progress, died in the service of His Master. In 1628 a father and son became alienated, and Bunyan went to London on a mission of reconciliation. On the way home, he was caught in a violent storm and contracted a mysterious sickness; he died ten days later. His last words had a ring of triumph as he said to those at his deathbed:
"Weep not for me, but for yourselves. I go to the Father of our Lord Jesus Christ; who will, no doubt, through the mediation of His Blessed Son, receive me, though a sinner: when I hope we shall ere long meet to sing the new song, and remain everlastingly happy, world without end. Amen!"

Here at Promise Land Bible Church
We don't change the message, the message changes us.


Here at Promise Land Bible Church, we are honored that you are visiting our web site at www.plbcmh.com
It is our hope at Promise Land Bible Church that you will be encouraged by the preaching and teaching of God's Word presented here. For it is our desire to teach the whole council of God, so that the body can be edified and above all that God may be glorified.
For it is our passion and desire to share the Gospel message with everyone who will hear, in obedience to God's word.
Welcome to our site here at www.plbcmh.com
The fellowship of believers who call Promise Land Bible Church home would like to welcome you to our website. We believe that salvation is by grace alone, thru faith alone, in Christ alone, and that the Holy Scripture is our sole source of authority for what we do and how we live, and that everything we do, should be done for the glory of God. This is commonly called the 5 Solas of the Reformed Faith.
So here is our invitation to you;
If you are looking for a church that affirms the sole authority of the Holy Scriptures for all of faith and practice, the pre-eminence of the preaching of the Word of God, the glorious truths of salvation called the Doctrines of Grace, the necessity and responsibility of evangelism and a serious approach to the joyful worship of God, then we warmly invite you to come and visit us.
Join us as we look to the truth of scripture and Worship the Lord.
At www.plbcmh.com we do our best to present the truth of the gospel.
"To convince the world of the truth of Christianity, it must first be convinced of sin. It is only sin that renders Christ intelligible."
ANDREW MURRAY

Five sharp stings!

(Thomas Watson, "A Divine Cordial" 1663)

Many love sin, more than God. "They are haters of God, insolent, proud, and boastful, inventors of evil." Romans 1:30

What is there in sin--that any should love it?

Sin is a debt. "Forgive us our debts." Matthew 6:12
Sin is a debt which binds over to the wrath of God!
And will you love sin? Does any man love to be in debt?

Sin is a disease. "Your whole head is injured, your whole heart is sick. From the sole of your foot to the top of your head there is no soundness--only wounds and welts and open sores, not cleansed or bandaged or soothed with oil." Isaiah 1:5-6. And will you love sin? Will any man hug a disease? Will he love his plague sores?

Sin is a pollution. The apostle calls it "filthiness." James 1:21. It is compared to leprosy and to poison of asps!

Sin is a hideous monster. Lust makes a man brutish--and malice makes him devilish! What is in sin to be loved? Shall we love deformity?

God's heart rises against sinners. "My soul loathed them!" Zechariah 11:8

Sin is an enemy. It is compared to a "serpent". Sin has five sharp stings: shame, guilt, horror, death, damnation!

Will a man love that which seeks his death? Surely then it is better to love God than sin.

God will save you--but sin will damn you! Is he not a fool--who loves damnation!

But love to God will never let sin thrive in the heart. The love of God withers sin. The flower of love kills the weed of sin! How should we labor for that grace of love to God--which is the only corrosive to destroy sin!
Word of the Day
August 14
Express Image [and] Person
charaktēr [and] hupostasis
Today we return to Heb_1:3 to meditate on another reference to the Lord Jesus. Not only is He "the brightness of [the Father's] glory," but He is also "the express image of his person." It would appear that the writer (undoubtedly Paul) was not content with saying that Christ is the radiant splendor of the Father, the very rays of glory coming from the Father as beams of light emit from the sun; he wanted to say more.
Express image is charaktēr (G5481), which is one of those graphic words for which Greek is noted. Our English word character is a direct transliteration of this Greek word. Charaktēr is derived from charassō (not found in the NT), which means "to carve." In Classical Greek, it evolved in meaning. It originally referred to one who sharpens or scratches; then one who writes in stone, wood, or metal, that is, an engraver; and then to the impression itself, such as a stamp for making coins or a character in writing. It finally came to refer to (as the English word character also does) "the basic bodily and psychological structure with which one is born, which is unique to the person and which cannot be changed by education or development."
The word person (hupostasis, G5287), then, refers to that which stands under something else, that is, the foundation of something, the true essence and substance of it. It's used again in that well-known description of faith: "Faith is the substance [hupostasis] of things hoped for, the evidence of things not seen" (Heb_11:1). In other words, the foundation, the very essence of faith is an absolute confidence that while we can't see something, we still know it's real and that it's ours.
That background vividly demonstrates the "character" of our Lord. Think of it! He is the precise imprint of God's substance, the exact copy of His essence. With those terms, coupled with the term brightness earlier in the verse, the author's purpose is to demonstrate the glory of Christ. How can anyone doubt the deity of Christ, as does every cult? What blasphemy it is to in any way doubt, discount, or deny His glorious essence!
Scriptures for Study: Read the following verses in worship of our Lord in His glory: Rom_16:27; 2Co_4:6; 2Th_2:14; Heb_13:21; 2Pe_3:18.
Thanks for visiting our site here at www.plbcmh.com