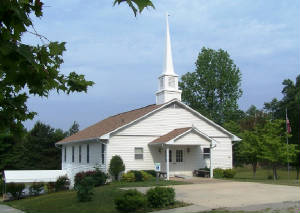 Come and Worship with us at
8256 Promise Land Road
Mountain Home, Arkansas 72653
Our Worship Schedule is
The Church is Open, worship with us inside or outside, message is transmitted on FM 95.1
Sunday Bible Study - 9:45am
Sunday Worship - 11:00am
Wednesday Night Prayer Meeting - 6:00pm
Wednesday Night Bible Study - 7:00pm
Today's Memory Verse
"For by grace are you saved through faith; and that not of yourselves: it is the gift of God: not of works, lest any man should boast."
EPHESIANS 2:8, 9

"Receive every inward and outward trouble, every disappointment, pain, uneasiness, temptation, darkness and desolation with both hands, as to a true opportunity and blessed occasion of dying to self and entering into a fuller fellowship with thy self-denying, suffering Savior."
JOHN WESLEY

"I need to get my life cleaned up first."

Those who think that they can clean up their lives don't see their true plight. They are standing guilty before a wrath-filled God. They have been condemned by His Law (John 3:18; Romans 3:19). If a man commits rape and murder and admits to the judge that he is guilty, will the judge let him go just because the man promises to clean up his life? He is in debt to the law and must be punished. We may be able to clean up our lives in the sight of man, but not in the sight of God. The only way we can be cleansed is to repent and trust in the Savior.

Cameron, K., & Comfort, R. (2004). The school of biblical evangelism: 101 lessons: how to share your faith simply, effectively, biblically-the way Jesus did (pp. 303-304). Gainesville, FL: Bridge-Logos Publishers.
The world's has many ignorant maxims: 1. "All good things must come to an end." This isn't true for the Christian; see Ephesians 2:4-7. 2. "Which came first, the chicken or the egg?" The chicken; see Genesis 1:20. 3. "There's no such thing as a free lunch." See Matthew 14:19. 4. "You can't take it with you." The Christian's works "follow" him; see Revelation 14:13. 5. "There are only two things in life that are sure-death and taxes." Plenty of people avoid taxes; none avoid death. See Hebrews 9:27. 6. "Crime doesn't pay." It does ... up until Judgment Day; see Romans 2:6. 7. "As miserable as sin." Sin gives pleasure; see Hebrews 11:25. 8. "That's impossible!" With God, nothing is impossible; see Mark 10:27. 9. "No one will know!" God knows; see 1 John 3:20. 10. "It's the perfect crime." Judgment Day will prove that there is no such thing as a crime that escapes justice; see Hebrews 4:13. 11. "Seeing is believing." Any magician knows that isn't true. The eyes are easily fooled; see Proverbs 28:26. 12. "God helps those who help themselves." God helps those who cannot help themselves; see Romans 5:6.


Today's Grace Gem
The softest pillow and the strongest staff!
(Charles Spurgeon, "A Basket of Summer Fruit")
I am persuaded that the doctrine of predestination is one of the 'softest pillows' upon which the Christian can lay his head, and one of the 'strongest staffs' upon which he may lean in his pilgrimage along this rough road.

Cheer up, Christian! Things are not left to chance; no blind fate rules the world!

God has purposes, and those purposes are fulfilled!
God has plans, and those plans are wise, and never can be broken!

Your trials always come to you at the right moment. The language of your faith should be, "Great God, I leave my times and seasons in Your hand, for well I know if You smite me again and again, and again, it is that You may multiply blessings to me, that my manifold trials may produce in me manifold blessings."

So be of good cheer, my hearer. He knows when your strength is spent and you are ready to perish; then shall the Sun of Righteousness arrive with healing beneath his wings. Your deliverances from trouble shall always come to you in time enough; but they shall never come too soon, lest you be proud in your heart.

Learn, believer, to be resigned to God's will.

Learn to leave all things in His hand.

Tis pleasant to float along the 'stream of providence'.

There is no more blessed way of living, than the life of faith upon a covenant-keeping God-to know . . .
that we have no care, for He cares for us;
that we need have no fear, except to fear Him;
that we need have no troubles, because we have cast our burdens upon the Lord, and are conscious that He will sustain us.

"My times are in Your hands!" Psalm 31:15
Here at Promise Land Bible Church
We don't change the message, the message changes us.


Here at Promise Land Bible Church, we are honored that you are visiting our web site at www.plbcmh.com
It is our hope at Promise Land Bible Church that you will be encouraged by the preaching and teaching of God's Word presented here. For it is our desire to teach the whole council of God, so that the body can be edified and above all that God may be glorified.
For it is our passion and desire to share the Gospel message with everyone who will hear, in obedience to God's word.
Welcome to our site here at www.plbcmh.com
The fellowship of believers who call Promise Land Bible Church home would like to welcome you to our website. We believe that salvation is by grace alone, thru faith alone, in Christ alone, and that the Holy Scripture is our sole source of authority for what we do and how we live, and that everything we do, should be done for the glory of God. This is commonly called the 5 Solas of the Reformed Faith.
So here is our invitation to you;
If you are looking for a church that affirms the sole authority of the Holy Scriptures for all of faith and practice, the pre-eminence of the preaching of the Word of God, the glorious truths of salvation called the Doctrines of Grace, the necessity and responsibility of evangelism and a serious approach to the joyful worship of God, then we warmly invite you to come and visit us.
Join us as we look to the truth of scripture and Worship the Lord.
At www.plbcmh.com we do our best to present the truth of the gospel.
Day by Day by Grace
Liberty by the Holy Spirit
Now the Lord is the Spirit; and where the Spirit of the Lord is, there is liberty. (2 Corinthians 3:17)
As we have seen, the old covenant of law produces spiritual bondage in those who attempt to live under it. The remedy for that bondage is the new covenant of grace, because it produces spiritual liberty. This liberty is a work of the Holy Spirit. "Now the Lord is the Spirit." The life-giving Lord of grace is the Spirit of God: "the new covenant, not of the letter but of the Spirit; for the letter kills, but the Spirit gives life" (2 Corinthians 3:6).
Living by rules and regulations ("of the letter") has a deadening, binding spiritual effect on people. This is how the Pharisees "ministered." "For they bind heavy burdens, hard to bear, and lay them on men's shoulders" (Matthew 23:4). Jesus came to liberate people, to set them free. This is why Jesus ministered by the Holy Spirit. "The Spirit of the Lord is upon Me, because He has anointed Me to preach the gospel to the poor. He has sent Me to heal the brokenhearted, to preach deliverance to the captives and recovery of sight to the blind, to set at liberty those who are oppressed" (Luke 4:18). As Jesus, the Son of God, humbly served the Father, the Holy Spirit empowered Him to rescue captives, to release the oppressed.
Rescuing people from sin and unrighteousness is the fundamental, liberating work of Jesus. "And having been set free from sin, you became slaves of righteousness" (Romans 6:18). Now, we are free to grow in a life of righteousness. Our new-found freedom is not for personal indulgence. It is for service of the Lord. "As free, yet not using your liberty as a cloak for vice, but as servants of God" (1 Peter 2:16). Now that we are free, we can use our freedom to lovingly minister to others. "For you, brethren, have been called to liberty; only do not use liberty as an opportunity for the flesh, but through love serve one another" (Galatians 5:13).
Another wonder of Christ's rescuing, liberating work is that He wants to save us from self-dependent striving to develop a life of godliness and loving service. He accomplishes this by the work of the Holy Spirit. "For the law of the Spirit of life in Christ Jesus has made me free from the law of sin and death" (Romans 8:2). As we walk in humble dependence, the Holy Spirit imparts to us the life that is in Christ Jesus. This liberates us from the tendency to rely upon fleshly human resources, which are inadequate (due to sin and spiritual deadness).
Dear God of all spiritual liberation, I praise You for setting me free from sin and the service of self. Now I ask You to work in and through me by Your Holy Spirit, setting me free from self-striving in my service of You, in Jesus' name, Amen.
Word for the Day
May 12
Pure
hagnos
In ancient Greek, hagnos (G53, pure, clean) originally carried a religious meaning and spoke of ritual cleanness, chastity, and even virginity. The same basic concept was also true of Septuagint use.
In NT usage, however, the idea of ritual purity was no longer the point, and rightly so. The NT deals with reality, not ritual. Being a Christian is not just about how we act, but who we are. It all started, of course, with the Lord Jesus. As 1Jn_3:3 declares, "And every man that hath this hope in him purifieth himself, even as he is pure." Because Christ was pure (without sin), we also are pure and, therefore, are to live pure.
An interesting occurrence of hagnos appears in 2Co_11:2: "For I am jealous over you with godly jealousy: for I have espoused you to one husband, that I may present you as a chaste virgin to Christ." While the term chaste virgin (see April 16) might seem like ritual, it's actually quite real. The setting of the verse is Paul's desire that the Corinthian believers (and by application all believers) would remain pure from false doctrine. He pictures this by comparing the church to a bride and Christ to the bridegroom. Just as the bride is to remain pure before the wedding, the believer is to remain pure as he or she awaits the coming of Christ. False teaching is everywhere, and it's vital that we remain pure.
This verse is also a great encouragement to both young ladies and young men to remain pure for marriage. Success or failure in a marriage often hinges on this. If a person remains pure before marriage, he or she will better understand "the covenant of companionship" that marriage is (Mal_2:14; see Sept. 23). But if one is impure before marriage, there is a greater chance that he or she will be impure after marriage. Fidelity is non-existent in many marriages today often because of the sexual attitudes that were held before marriage.
There is much in the world that is impure and that will taint the Christian. We each must take care to keep ourselves pure. To that end, Paul further challenges us all to think on things that are pure (Php_4:8; see August 5ff.).
Scriptures for Study: Besides things that are pure, what other things should the Christian think about and do (Php_4:8-9; see August 5-10)? What does Jas_3:17 speak of that is pure?
Famous Last Words: Vicomtesse D'Houdetot,
daughter-in-law of Rousseau's Madame D'Houdetot, left the sad lament:
"I regret my life."

Thanks for visiting our site here at www.plbcmh.com