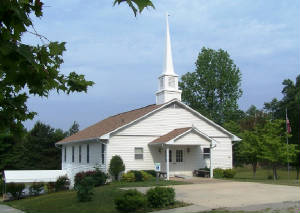 Come and Worship with us at
8256 Promise Land Road
Mountain Home, Arkansas 72653
Our Worship Schedule is
Sunday Bible Study - 9:45am
Sunday Worship - 11:00am
Wednesday Night Prayer Meeting - 6:00pm
Wednesday Night Bible Study - 7:00pm
Today's Memory Verse
"Wherefore, as by one man sin entered into the world, and death by sin; and so death passed upon all men, for that all have sinned."
ROMANS 5:12

"An increasing number of scientists, most particularly a growing number of evolutionists ... argue that Darwinian evolutionary theory is no genuine scientific theory at all ... Many of the critics have the highest intellectual credentials."
MICHAEL RUSE, "DARWIN'S THEORY: AN EXERCISE IN SCIENCE," NEW SCIENTIST

"Adam was a mythical figure who never really lived."

Adam is a key figure in Scripture. He is described as the "first Adam," the one who brought sin into the world (1 Corinthians 15:22). He made it necessary for Jesus, the "last Adam" (1 Corinthians 15:45), to atone for all humans, and then rise from the grave with the promise of complete redemption for fallen man and fallen creation. If Adam were just a myth, we would not be able to fully understand the work of Jesus. If Adam and Eve were not real, then we ought to doubt whether their children were real too, and their children ... and then we ought to doubt the first eleven chapters of Genesis, and so on. All the genealogies accept Adam as being a literal person, so their children Cain and Abel (Genesis 4:9, 10; Luke 11:50, 51) must therefore be real too. The Bible tells us that Jesus was descended from Adam (Luke 3:38), and it is impossible to be descended from a myth.

Cameron, K., & Comfort, R. (2004). The school of biblical evangelism: 101 lessons: How to share your faith simply, effectively, biblically-the way Jesus did (433-434). Gainesville, FL: Bridge-Logos Publishers.
Day by Day by Grace
Growing in Knowing the Lord
Grow in the grace and knowledge of our Lord and Savior Jesus Christ. To Him be the glory both now and forever. (2 Peter 3:18)
The new covenant of grace (at its very core) is a covenant of relationship. God's grace enables us to grow in spiritual intimacy with our Lord. "Grow in the grace and knowledge of our Lord and Savior Jesus Christ." Here, grace is linked with growing and with knowing the Lord. As surely as grace was for spiritual birthing, grace is also for growing. The most strategic area of spiritual growth is progress in a deepening relationship with the Lord. Paul prayed in this manner for the saints: "that you may have a walk worthy of the Lord, fully pleasing Him...and increasing in the knowledge of God" (Colossians 1:10).
This process of growth necessitates consistent intake of the word of God. "As newborn babes, desire the pure milk of the word, that you may grow thereby" (1 Peter 2:2). It is through the Scriptures that we learn of the grace of God. The word of God is "the word of His grace" (Acts 20:32). Also, the word of God has the Lord Jesus Christ as the constant, primary subject. "And beginning at Moses and all the Prophets, He expounded to them in all the Scriptures the things concerning Himself" (Luke 24:27). The pervasive presence of Christ throughout the Scriptures is a vital truth for growing in grace, since grace is found in the Lord Jesus. "For you know the grace of our Lord Jesus Christ" (2 Corinthians 8:9).
God's will for our lives is that we might live in His word. This allows us to grow in His grace that we might know Him better. This truth is to delight our hearts and change our lives. "Thus says the LORD: 'Let not the wise man glory in his wisdom, let not the mighty man glory in his might, nor let the rich man glory in his riches; but let him who glories glory in this, that he understands and knows Me, that I am the LORD, exercising lovingkindness, judgment, and righteousness in the earth. For in these I delight,' says the LORD" (Jeremiah 9:23-24). So many people (sometimes, even the people of God) chase after human wisdom, earthly power, or material riches. God desires that He becomes the delight of our hearts and the goal of our life: "that he understands and knows Me." So, let us respond with joy to Hosea's call. "Let us know, let us pursue the knowledge of [the knowing of] the LORD" (Hosea 6:3).
Dear Lord God, I want to press on to know You. I do not want to pursue after human wisdom, earthly power, or material riches. Nothing compares to knowing You. By Your grace, through the light of Your word, let me grow in knowing You, Amen.
Here at Promise Land Bible Church
We don't change the message, the message changes us.


Here at Promise Land Bible Church, we are honored that you are visiting our web site at www.plbcmh.com
It is our hope at Promise Land Bible Church that you will be encouraged by the preaching and teaching of God's Word presented here. For it is our desire to teach the whole council of God, so that the body can be edified and above all that God may be glorified.
For it is our passion and desire to share the Gospel message with everyone who will hear, in obedience to God's word.
Welcome to our site here at www.plbcmh.com
The fellowship of believers who call Promise Land Bible Church home would like to welcome you to our website. We believe that salvation is by grace alone, thru faith alone, in Christ alone, and that the Holy Scripture is our sole source of authority for what we do and how we live, and that everything we do, should be done for the glory of God. This is commonly called the 5 Solas of the Reformed Faith.
So here is our invitation to you;
If you are looking for a church that affirms the sole authority of the Holy Scriptures for all of faith and practice, the pre-eminence of the preaching of the Word of God, the glorious truths of salvation called the Doctrines of Grace, the necessity and responsibility of evangelism and a serious approach to the joyful worship of God, then we warmly invite you to come and visit us.
Join us as we look to the truth of scripture and Worship the Lord.
At www.plbcmh.com we do our best to present the truth of the gospel.
Today's Grace Gem
We find that they are empty bubbles!

(J.C. Ryle)

"Do not love the world or anything in the world. If anyone loves the world, the love of the Father is not in him. For everything in the world--the cravings of sinful man, the lust of his eyes and the boasting of what he has and does--comes not from the Father but from the world!" 1 John 2:15-16

The possession of the whole world and all that it contains, will never make a person happy. Its pleasures are false and deceptive! Its riches, rank, and honors, have no power to satisfy the heart! So long as we have not got them--they glitter, sparkle, and seem desirable. The moment we have them--we find that they are empty bubbles, and cannot make us feel content!

And, worst of all, when we possess this world's good things to the utmost bound of our desire--we cannot keep them! Death comes in and separates us from all our property forever! Naked we came upon earth, and naked we go forth--and of all our possessions, we can carry nothing with us.

Such is the world, which occupies the whole attention of thousands!

Such is the world, for the sake of which millions are every year destroying their souls!

"This world is fading away, along with everything that people crave!" 1 John 2:17
Word of the Day
April 21
Workmanship
poiēma
Eph_2:10 again declares, "For we are his workmanship, created in Christ Jesus unto good works, which God hath before ordained that we should walk in them."
There's a beautiful Greek word behind workmanship, namely, poiēma (G4161), which refers to what is made or created. Another form of the word, poiētēs, refers to one who makes something or to a work of art. In ancient Greek this referred to an author or poet. In fact, our English word poem is derived from poiēma. So, we are God's workmanship, His "work of art," His "masterpiece," His "poem," if you will. While Milton's epic poems Paradise Lost and Paradise Regained are true masterpieces, they pale in comparison to the masterpiece of the true child of God.
Notice more specifically that we are His, that is, God's workmanship. There's an important contrast between the English and Greek texts. In the English, this statement begins with "we," but in the Greek it-in fact, the whole verse-begins with "Him." Literally the verse reads: "For of Him we are a product." The world says that each of us is a product of our environment or a product of our own experience. Even Christians have a tendency to think that way. But God's Word declares that the believer is actually "the product of God." Many preachers are even products of a particular Bible college or seminary (warts and all). But what we really are, are products of God.
Think of poiēma in the context of a potter. Does the pot say to the potter, "Well, you know that I had a little something to do with what I have become?" Of course not; the clay has nothing to do with the process. It's the potter who goes out and seeks the clay, brings it into his workshop, and molds it according to his own vision. Likewise, the "Divine Potter" molds us into vessels He can use. That's exactly what Paul illustrated to the Romans, in fact: "Nay but, O man, who art thou that repliest against God? Shall the thing formed say to him that formed it, Why hast thou made me thus? Hath not the potter power over the clay, of the same lump to make one vessel unto honour, and another unto dishonour?" (Rom_9:20-21).
What a challenging thought it is to know we are each God's work of art!
Scriptures for Study: What does Rom_1:20 declare about "God's work of art" ("made" is poiēma)? While today's word does not appear in Php_2:13, what does that verse declare concerning today's
Famous Last Words: Joseph Addison,
English writer, died June 17, 1719:
"See in what peace a Christian can die."

Thanks for visiting our site here at www.plbcmh.com