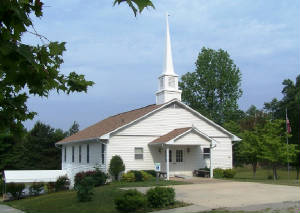 Come and Worship with us at
8256 Promise Land Road
Mountain Home, Arkansas 72653
Our Worship Schedule is
Sunday Bible Study - 9:45am
Sunday Worship - 11:00am
Wednesday Night Prayer Meeting - 6:00pm
Wednesday Night Bible Study - 7:00pm
Today's Memory Verse
"Every one that has forsaken houses, or brethren, or sisters, or father, or mother, or wife, or children, or lands, for my name's sake, shall receive an hundredfold, and shall inherit everlasting life."
MATTHEW 19:29

"Do all the good you can, by all the means you can, in all the places you can, at all the times you can, to all the people you can, as long as you ever can."
JOHN WESLEY

"What should I say to someone who has lost a loved one through cancer?"

Be very careful not to give the impression that God was punishing the person for his sins. Instead, speak about the fact that all around us we can see the evidence of a "fallen creation." Explain how in the beginning there was no disease, pain, suffering, or death. But when sin entered the world, it brought suffering with it. Then gently turn the conversation away from the person who died to the person who is still living. Ask if he has been thinking about God, and if he has kept the Ten Commandments. Then take the opportunity to go through the spiritual nature of God's Law. Someone who has lost a loved one often begins to ask soul-searching questions about God, death, and eternity. Many people are so hardhearted that it takes a tragedy to make them receptive to God.

Cameron, K., & Comfort, R. (2004). The school of biblical evangelism: 101 lessons: How to share your faith simply, effectively, biblically-the way Jesus did (215-216). Gainesville, FL: Bridge-Logos Publishers.
Point to Ponder
Khrushchev, the Soviet leader in the sixties, said, "The chief failure with communism is its inability to create a new man." He was right. Communism said, "A new coat for every man," while Jesus Christ says, "A new man in every coat."
If we didn't like the way pigs lived, we could take a pig and scrub it clean, put deodorant under its pig-pits, and place it in a clean, thickly carpeted room. In a few days, however, the place would become a pigsty. The only way to change a pig is to change its nature. The same applies to man. Politics cannot change the heart of man. History proves that. The only one who can change the human heart is Almighty God. When an item breaks down, take a look at the Instruction Book. The Bible says sin is the cause of all human suffering. Jesus Christ is the only cure.
Day by Day by Grace
The Resurrection Related to Justification and Sanctification
"I am the resurrection and the life. He who believes in Me, though he may die, he shall live. And whoever lives and believes in Me shall never die." (John 11:25-26)
It would be appropriate to again follow a pattern we have used previously, applying our present subject (the resurrection) both to our starting out with God (justification) and our going on with God (sanctification). The great value in doing such is to be repeatedly reminded that the grace of God that starts us out in this new life in Christ is the same grace that develops this life in Christ.
When Jesus proclaimed the words of our present verses, He was standing at the tomb of Lazarus. Martha, one of the sisters, was interacting with Him. She had hoped that Jesus would have arrived earlier, knowing He could have prevented this death. "Lord, if You had been here, my brother would not have died" (John 11:21). Even now, with her brother in the tomb, she realizes He could yet intervene. "But even now I know that whatever You ask of God, God will give You" (verse 22). Jesus comforts her by assuring that Lazarus will be resurrected. "Your brother will rise again" (verse 23). Martha assumes that Jesus is referring to the final resurrection of the saints. "I know that he will rise again in the resurrection at the last day" (verse 24).
At this point, Jesus offers one of those glorious "I am" revelations. "I am the resurrection and the life." Then, He added two wonderful applications. First, faith in Him can even bring the dead to life, like Lazarus. "He who believes in Me, though he may die, he shall live." Second, faith in Him can ensure eternal life to those who are yet alive. "And whoever lives and believes in Me shall never die."
Think again of the implications connected with Jesus' basic statement. "I am the resurrection and the life." Martha desired an immediate resurrection for her brother. She wanted him to live once again. Jesus revealed that He Himself was what Martha desired for her brother. He was "the resurrection and the life." Jesus provides resurrection and life, because in His very person He is resurrection life. He is the resurrection that we all need from our deadness, whether physical or spiritual. "I am the resurrection." He is the life that we need, if we are to live as God intended. "I am...the life." Knowing Christ by faith makes us partakers of what He Himself is: "the resurrection and the life." This is vital to see, because the Christian life is a resurrection life. Such a life can only be found in a resurrected Lord, and it can only be developed following a resurrected Lord.
Jesus, I bow down before You as my resurrected Lord. Apart from You, I would only know spiritual deadness as a fallen son of Adam. In You I have a spiritual resurrection to new life. Now I want to pursue You daily to see that new, resurrected life more fully developed in me. Lord Jesus, lead me, I pray, into more life, Amen.
Word of the Day
March 18
Good
agathos
The Greek agathos (G18), which occurs frequently in the NT (107 times), has a wide range of meanings, including: benevolent, profitable, useful, beneficial, excellent, virtuous, and suitable. As we'll see, every one of those meanings is appropriate to all we say and do.
The whole concept of good was very important to the Greek philosophers, Plato in particular. To him the idea of "the good" was the highest of all ideas because it "preserves and supports in contrast to evil which spoils and destroys." The universe to Plato was not mechanical at its foundation, that is, blind, impersonal, and morally indifferent, but rather it was moral, with "values and ideals [that] are supreme, and at the heart of which there is not only Reason and Purpose, but Goodness."
We point this out for good reason: If goodness could be so important to a pagan, humanistic philosopher, how much more important should it be to the Christian? In light of our mediation on March 16, one of the most important aspects of good is speech, that is, what we say and how we say it. But whether it's our words, deeds, actions, or attitudes, we should strive always for the good.
With that in mind, using the meaning of agathos as our guide, let us test ourselves daily by asking a series of questions:
1. Is what I am about to say or do benevolent? Is it kind, compassionate, and caring?
2. Is what I am about to say or do profitable, beneficial, and useful? Will it accomplish something? Is it constructive or destructive? Will it help or hinder? Is it positive or negative?
3. Is what I am about to say or do excellent? Is it just good or eminently good, the best thing to say or do?
4. Is what I am about to say or do virtuous? Is it righteous, honorable, and moral? Does it avoid suggestiveness, vulgarity, and crudeness?
5. Is what I am about to say or do suitable? Does it fit the moment? Is it proper? Is it appropriate?
Scriptures for Study: What is the great truth of Rom_8:28? What is the command of Rom_12:9? What will that, then, overcome (Rom_12:21)?
Famous Last Words: William of Normandy
(943 A.D.), in a farewell word, ordered that his body be placed in a stone coffin and not buried, but placed under the eaves outside the chapel for this reason:
"That the drippings of the rain from the roof may wash my bones as I lie, and cleanse them from the impurity contracted in my sinful and neglected life."

Here at Promise Land Bible Church
We don't change the message, the message changes us.


Here at Promise Land Bible Church, we are honored that you are visiting our web site at www.plbcmh.com
It is our hope at Promise Land Bible Church that you will be encouraged by the preaching and teaching of God's Word presented here. For it is our desire to teach the whole council of God, so that the body can be edified and above all that God may be glorified.
For it is our passion and desire to share the Gospel message with everyone who will hear, in obedience to God's word.
Welcome to our site here at www.plbcmh.com
The fellowship of believers who call Promise Land Bible Church home would like to welcome you to our website. We believe that salvation is by grace alone, thru faith alone, in Christ alone, and that the Holy Scripture is our sole source of authority for what we do and how we live, and that everything we do, should be done for the glory of God. This is commonly called the 5 Solas of the Reformed Faith.
So here is our invitation to you;
If you are looking for a church that affirms the sole authority of the Holy Scriptures for all of faith and practice, the pre-eminence of the preaching of the Word of God, the glorious truths of salvation called the Doctrines of Grace, the necessity and responsibility of evangelism and a serious approach to the joyful worship of God, then we warmly invite you to come and visit us.
Join us as we look to the truth of scripture and Worship the Lord.
At www.plbcmh.com we do our best to present the truth of the gospel.
American Minute with Bill Federer
"Remember Johnny Appleseed, All ye who love the apple, He served his kind by word and deed, In God's grand greenwood chapel."
70-years-old, he visited his friend William Worth one evening, ate some milk and bread, read out loud from the Bible, laid down on the floor to sleep and never woke up.

This was how John Chapman, better known as Johnny Appleseed, died on MARCH 18, 1845.

A monument in Dexter City, Ohio has inscribed:

"Without a hope of recompense,
Without a thought of pride,
John Chapman planted apple trees,
Preached and lived and died."

Johnny Appleseed's father, Nathaniel Chapman, was a Minuteman who fought the British at Concord in 1775, served under Israel Putman at the Battle of Bunker Hill, and was a soldier in the Continental Army under George Washington.

The apple originated in Central Asia and spread east to China, which is still the largest grower of apples in the world.

Alexander the Great saw apples in Central Asia.

He had some apples sent back to Macedonia in 328 BC, where they were cultivated and gradually spread across Europe.

In the 1600s, colonists brought apples to North America, with the first apple orchard being planted in 1625 by Rev. William Blaxton, who was the first colonist and first Christian to live in Boston.

Johnny Appleseed collected seeds from apple cider presses in western Pennsylvania.

Johnny Appleseed may have spent time on Grant's Hill in Pittsburgh, Pennsylvania in 1794 at the time of the Whiskey Rebellion.

He planted orchards and nurseries from the Alleghenies to central Ohio, West Virginia, Indiana, Illinois, giving thousands of seedlings to westward bound pioneers.

Johnny Appleseed lived nomadic life at harmony with Indians, bringing them medicinal plants.

Many native Americans, even hostile ones, considered him touched by the Great Spirit, and became converted. Every description of him notes that he always carried the Bible, which he knew cover to cover. One of his favorite verses was "Blessed are the pure of heart."

Johnny Appleseed stated: "I have traveled more than 4,000 miles about this country, and I have never met with one single insolent Native American."

During the War of 1812, Johnny Appleseed heard the British had incited an Indian attack, so he ran 30 miles from Mansfield to Mount Vernon, Ohio, to warn settlers.

Bare foot, wearing a mush pan over his eccentric long hair and an old coffee sack over his shoulders, Johnny Appleseed had an unconventional and unique devotion to nature and the Bible.

During the colonial era, colonies were founded by immigrants from different European countries who had different established Christian denominations.

The general idea was, if someone did not belong to the established denomination they were expected to leave.

Colonists united to fight Britain during the Revolution.

Afterwards, their attitude changed to disestablish state denominations and gradually tolerate each other.

This attitude contributed to the Second Great Awakening Revival, and also left room for new denominations to start, with some being unorthodox, and some verging on being cults.

America was unique in allowing individuals such unprecedented freedom of religion.

Harper's New Monthly Magazine, 1871, printed a story in of an itinerant missionary who exhorted in an open-air meeting in Mansfield, Ohio: "All should be living the simple life, getting solely what ye need from He who is your God ... Where now is there a man who, like the primitive Christians, is traveling to heaven barefooted and clad in coarse raiment?"

Johnny Appleseed walked up and put his bare foot on the stump the preacher had as a podium and said: "Here's your primitive Christian!"

Johnny Appleseed called an apple blossom a "living sermon from God" and often quoted the Sermon on the Mount.

Upon hearing news of his death, General Sam Houston, one of the first U.S. Senators from Texas, addressed Congress: "This old man was one of the most useful citizens of the world in his humble way. He has made a greater contribution to our civilization than we realize. He has left a place that never can be filled. Farewell, dear old eccentric heart, your labor has been a labor of love and generations, yet unborn, will rise up and call you blessed."

Poet William Henry Venable wrote:

"Remember Johnny Appleseed,
All ye who love the apple,
He served his kind by word and deed,
In God's grand greenwood chapel."
Today's Grace Gem
They are not innocent in God's sight, but are young vipers!

(Jonathan Edwards, "Thoughts on the Revival of Religion in New England" 1742)

"Like the rest, we were by nature objects of wrath." Ephesians 2:3

What has given offense to many and raised a loud cry against some preachers, as though their conduct was intolerable--is their frightening of poor, innocent children with talk of Hell-fire and eternal damnation.

But if those who complain so loudly of this, really believe that all are by nature the children of wrath and heirs of Hell--and that everyone who has not been born again, whether he is young or old--is exposed every moment to eternal destruction, and under the wrath of Almighty God--I say, if they really believe this, then such a complaint betrays a great deal of weakness and inconsideration.

As innocent as children seem to be to us, yet if they are out of Christ--then they are not innocent in God's sight, but are young vipers! They are infinitely more hateful than vipers--and are in a most miserable condition, as well as grown persons.

Why should we conceal the truth from them? Will those children who have been dealt tenderly with in this respect, and lived and died insensible of their misery until they come to feel it in Hell--ever thank parents and others for their tenderness in not letting them know what they were in danger of?

If parents' love toward their children was not blind--then it would affect them much more to see their children every day exposed to eternal burnings!

A child who has a dangerous wound may need the painful lance, as well as grown persons. That would be a foolish pity in such a case, which would hold back the lance--and throw away the child's life.

That little children have committed no positive acts of vice--is no argument that they have not a corrupt nature within them. A young viper has a malignant nature--though incapable of doing a malignant action, and at present appearing to be a harmless creature.

I have seen the happy effects of dealing plainly and thoroughly with children in the concerns of their souls, without sparing them at all; and never knew any ill consequence of it, in any one instance.
Thanks for visiting our site here at www.plbcmh.com