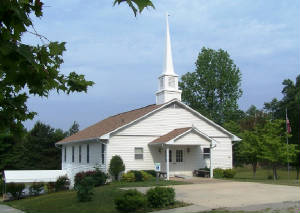 Come and Worship with us at
8256 Promise Land Road
Mountain Home, Arkansas 72653
Our Worship Schedule is
Sunday Bible Study - 9:45am
Sunday Worship - 11:00am
Wednesday Night Prayer Meeting - 6:00pm
Wednesday Night Bible Study - 7:00pm
Today's Memory Verse
"Therefore being justified by faith, we have peace with God through our Lord Jesus Christ: by whom also we have access by faith into this grace wherein we stand, and rejoice in hope of the glory of God."
ROMANS 5:1, 2

Quote of the Day
"If your sorrow is because of certain consequences which have come on your family because of your sin, this is remorse, not true repentance. If, on the other hand, you are grieved because you also sinned against God and His holy laws, then you are on the right road."
BILLY GRAHAM

"How should I witness to someone who belongs to a denomination, who I suspect isn't trusting the Savior?"

The most effective way to speak about the issues of eternity to a religious person is not to get sidetracked from the essentials of salvation. Upon hearing a person's background, we may feel an obligation to speak to issues such as infant baptism, transubstantiation, etc. However, it is wise rather to build on the points of agreement between the Bible and the person's denomination, such as the virgin birth, the cross, and so on.
One point of agreement will almost certainly be the Ten Commandments. They are the key to bringing any religious person to a saving knowledge of the gospel. After someone is converted to Jesus Christ, the Bible will come alive and he will be led into all truth by the indwelling Holy Spirit. God's Word will then give him light, and he will forsake religious tradition as he is led by God.
While there are strong biblical arguments that may convince unregenerate people that their church's traditions contradict Holy Scripture, there is a difficulty. Some religious people hold the teachings of their church to be on a par with, or of greater authority than, Holy Scripture. It is therefore often futile to try to convince them intellectually that their trust should be in the person of Jesus Christ, rather than in their own righteousness or in their church traditions. For this reason we should aim at the conscience, rather than the intellect. Take sinners through the Law of God (the Commandments) to show them that they are condemned despite their works, and strongly emphasize that we are saved by grace, and grace alone, rather than by trusting in our own righteousness or religious traditions.
If they are open to the gospel, and are interested in what God's Word says in reference to their church's teachings, they will listen to Scripture. For example, in Matthew 8:14 we see that Peter (whom the Roman Catholic church maintains was the first pope) was married, as were many of the other apostles (see 1 Corinthians 9:5).

Cameron, K., & Comfort, R. (2004). The school of biblical evangelism: 101 lessons: How to share your faith simply, effectively, biblically-the way Jesus did (602-603). Gainesville, FL: Bridge-Logos Publishers.
Day by Day by Grace
The Most Precious Promise of Shared Life
By which have been given to us exceedingly great and precious promises, that through these you may be partakers of the divine nature...Christ has redeemed us from the curse of the law...that we might receive the promise of the Spirit through faith. (2 Peter 1:4 and Galatians 3:13-14)
Here, we get at the heart of God's "exceedingly great and precious promises." By means of promise, the Lord has made it possible for us to share in His life: "that through these [God's promises] you may be partakers of the divine nature."
What a remarkable prospect this is-that man could participate in the divine nature. Yet, the promises of God make this available to man. Of course, this does not mean that man becomes divine (as many false religions and some aberrant theologies espouse). God alone is, and will ever be, divine. "I am God, and there is no other; I am God, and there is none like Me" (Isaiah 46:9). Nonetheless, man can share in the life of God, even though he will never become "a god" himself. This is accomplished by Jesus Christ coming to dwell within the lives of those who believe in Him. The Lord Jesus died for us that He might give life to us. "Most assuredly, I say to you, he who believes in Me has everlasting life" (John 6:47). This life that Jesus wants to share with us is His own life. "Jesus said to her, 'I am the resurrection and the life'...Jesus said to him, 'I am the way, the truth, and the life'" (John 11:25 and 14:6).
The Apostle Paul taught this great truth extensively. "Paul, an apostle of Jesus Christ by the will of God, according to the promise of life which is in Christ Jesus" (2 Timothy 1:1). He understood that his apostolic ministry was not only anchored in God's will, but it also depended upon the spiritual life that God promised. Thus, he confessed Christ as his very own life: "Christ who is our life" (Colossians 3:4). Paul was not the source of the daily Christian life that he lived. "It is no longer I who live, but Christ lives in me" (Galatians 2:20). The Lord Jesus was Paul's life source.
This is what the promise of the Spirit is about. "Christ has redeemed us from the curse of the law...that we might receive the promise of the Spirit through faith." At new birth, the Holy Spirit also comes to indwell those who believe. The Spirit reveals these truths to us through the word of God. Then the Spirit pours forth the life of Christ through every humble, dependent child of God. "It is the Spirit who gives life" (John 6:63).
Lord Jesus, thank You for making Your life available to me. What a precious promise that is! Teach me to walk according to Your Spirit, that Your life might be expressed through my life day by day, Amen.
Word of the Day
August 25
He Led Captivity Captive
ēchmalōteusen aichmalōsian
Many a Bible student has justifiably wondered what that odd phrase "he led captivity captive" (Eph_4:8) means. A common teaching views captivity as referring to OT saints who, though saved, were held in some sort of captivity. Supposedly, then, Jesus went into hades (hell), retrieved them from their captivity, and took them to heaven. Such a teaching, however, is actually rooted in Roman Catholic tradition, not Scripture, and doesn't even come close to the imagery of the phrase.
The Greek (ēchmalōteusen aichmalōsian) more literally says, "He led captive captivity." ēchmalōteusen is the aorist indicative active of aichmalōteuō (G162), "to capture," and aichmalōsian (G161), "the state of being captive," is a noun from aichmalōtos (G164), a captive. The picture is rooted in the public triumphs of conquerors, especially as celebrated by the Romans. The language clearly describes the conqueror who took captives, led them away in chains, and then made them part of his triumphal procession.
We find the same expression in the OT. In Jdg_5:12, Deborah praises the Lord for giving victory over Canaan: "Awake, awake, Deborah: awake, awake, utter a song: arise, Barak, and lead thy captivity captive." The idea is clear: You will now lead captive him who held you captive. Also, in Amo_1:3-6, God pronounces judgment on the nations around Israel because they had "carried away captive the whole captivity, to deliver them up to Edom," that is, the Philistines had handed over a large number of Israelites to the cruel Edomites.
So, what is Paul saying? As one expositor puts it, "It is a picture of the Lord Jesus Christ leading in His triumphal train the devil and hell and sin and death-the great enemies that were against man and which had held mankind in captivity for so long a time. The princes which had controlled that captivity are now being led captive themselves."
What a picture! Our Lord is, indeed, the Conqueror of conquerors, the King of kings, the Lord of lords. Those who once held us in bondage are now captives of the Great Conqueror and march in chains before Him. As if that were not enough, Paul goes on to say (as we'll see tomorrow) that Christ gave spiritual gifts (see February 15) to the believers who remain on earth.
Scriptures for Study: Eph_4:8 is actually a "semi-quotation" of Psa_68:18. The scene is a victory hymn celebrating God's conquest of the Jebusites and His ascent (represented by the Ark of the Covenant) up Mount Zion (2 Sam. 6-7; 1 Chron. 13). Soldiers captured by the enemy became "re-captured captives," and the spoils of war became the property of the conqueror to give as he wished.