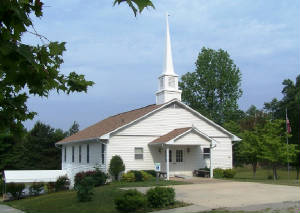 Come and Worship with us at
8256 Promise Land Road
Mountain Home, Arkansas 72653
Our Worship Schedule is
Sunday Bible Study - 9:45am
Sunday Worship - 11:00am
Wednesday Night Prayer Meeting - 6:00pm
Wednesday Night Bible Study - 7:00pm
Today's Memory Verse
"Whosoever therefore shall confess me before men, him will I confess also before my Father which is in heaven. But whosoever shall deny me before men, him will I also deny before my Father which is in heaven."
MATTHEW 10:32, 33

"That is the reason we have so many 'mushroom' converts, because their stony ground is not plowed up; they have not got a conviction of the Law; they are stony-ground hearers."
GEORGE WHITEFIELD

"I was once a born-again Christian. Now I believe it's all rubbish!"

When a person maintains that he was once a Christian, but came to his senses, he is saying that he once knew the Lord (see John 17:3). Ask him, "Did you know the Lord?" If he answers yes, gently say, "So you admit that He is real and that you are in rebellion to His will." If he says, "I thought I did!" this gives you license to gently say, "If you don't know so, then you probably didn't." If he didn't know the Lord, he was therefore never a Christian (1 John 5:11-13, 20). Explain to him that the Bible speaks of false conversion, in which a "stony ground" hearer receives the Word with joy and gladness. Then, in a time of tribulation, temptation, and persecution, falls away. If he is open to reason, take him through the Ten Commandments, into the message of the cross, and the necessity of repentance and faith in the Savior.

Cameron, K., & Comfort, R. (2004). The school of biblical evangelism: 101 lessons: How to share your faith simply, effectively, biblically-the way Jesus did (129-130). Gainesville, FL: Bridge-Logos Publishers.
Point to Ponder

The Bible tells us in Luke 22:47 that Judas led a "multitude" to Jesus. His motive, however, wasn't to bring them to the Savior for salvation. Modern evangelism is also bringing "multitudes" to Jesus. Their motive may be different from Judas's, but the end result is the same. Just as the multitudes that Judas directed to Christ fell back from the Son of God, statistics show that up to 90 percent of those coming to Christ under the methods of modern evangelism fall away from the faith. Their latter end becomes worse than the first. They openly crucify the Son of God afresh.
In their zeal without knowledge, those who prefer the ease of modern evangelism to biblical evangelism betray the cause of the gospel with a kiss. What may look like love for the sinner's welfare is in truth eternally detrimental to him.
Like Peter (Luke 22:51), our zeal without knowledge is actually cutting off the ears of sinners. Those we erroneously call "backsliders" won't listen to our reasonings. As far as they are concerned, they have tried it once, and it didn't work. What a victory for the prince of darkness, and what an unspeakable tragedy for the church!


Day by Day by Grace
The "Much More" Grace of God
For if by the one man's offense death reigned through the one, much more those who receive abundance of grace and of the gift of righteousness will reign in life through the One, Jesus Christ. (Romans 5:17)
The grace of God here is connected with the phrase "much more." What a grand description of His grace-the "much more" grace of God! God's grace is "much more" than forgiveness. It is "much more" than new birth. It is "much more" than we have yet understood. It is "much more" than we have ever yet experienced. Here, we see it is "much more" than sufficient to deal with the devastating effects of sin in the lives of the children of Adam.
Due to sin, humankind begins its existence separated from the Lord. We all began "dead in trespasses and sins" (Ephesians 2:1). Additionally, each person's individual experience can be decimated by the effects of sin. Selfishness, dishonesty, brutality, fear, disloyalty, deception, and the like, can leave individuals in miserable bondage and paralyzing defeat. These devastations come from being under the rule of death: "For if by the one man's offense death reigned through the one." When Adam fell into sin and rebellion, the enemy of men's souls gained authority over Adam and his seed. This cruel dictator rules over everyone who is related to Adam through natural birth (and not yet related to Jesus by new birth). Elsewhere, Jesus described the sole intention of our enemy's interest in us. "The thief does not come except to steal, and to kill, and to destroy" (John 10:10a).
God's remedy for escaping the reign of death is two-fold: "those who receive abundance of grace and of the gift of righteousness will reign in life through the One, Jesus Christ." First, the "gift of righteousness" provides an acceptable standing in heaven before a holy, righteous God. "But now the righteousness of God apart from the law is revealed...even the righteousness of God which is through faith in Jesus Christ to all and on all who believe" (Romans 3:21-22). Second, "abundance of grace" provides the continual spiritual resources that are necessary for the development of a godly, victorious walk for the glory of God in the midst of humanity here on earth. Both of these wondrous provisions ("abundance of grace and of the gift of righteousness") are ours because of the relationship we have by faith with Jesus Christ: "through the One, Jesus Christ."
Heavenly Father, I realize that Your grace is much more than I have yet understood or experienced. I also see that it is much more than sufficient to reverse the effects of sin that may have impacted my life. So, I humbly reach out to You to receive from Your abundance of grace, that I might walk more victoriously, through Christ, Amen.
Today's Grace Gem
Now I am accursed indeed!

(Thomas Doolittle, "Love to Christ Necessary to Escape the Curse at His Coming!" 1693)

"If any man does not love the Lord Jesus Christ--let him be Anathema! (or accursed)." 1 Corinthians 16:22

To be Anathema is to be cursed really--sentenced to real pains and real torments. These will be . . . so great, so grievous, so many, so extreme, so continual, and so universal--that they shall wring out a confession from you: "Now I am accursed indeed!"

To lie in these flames which cannot be quenched, to burn in this fire in which I cannot be consumed--is such a curse, and so intolerable, that will make you curse the day in which you were born, and curse the time you ever lived in this world--because not better improved, to escape that curse you lie under in Hell.

You shall cry out and roar, "Woe is me--a poor miserable wretch! I am tormented in this place, and cannot have one drop of water to refresh and cool my parched tongue! Woe is me--a poor cursed scoundrel! I am in pain--in extremity of pain--and have no ease! Alas! I toss and tumble in this bed of flames, and cannot rest! If I wander from one side of Hell unto another--I cannot find one corner where I might have a little rest! Oh! cursed creature, that I did not love Christ! If I had loved Christ as much above the world, as I loved the world above Christ--then I might have been among the blessed saints, and not in the midst of such a cursed crew! Had I loved Christ so much more than sin, as I loved sin more than Christ--then I might have been a blessed one. But because I did not love Christ--I am now this cursed wretch! I am as cursed as cursed can be! I was told that, for lack of love to Christ--this would be my accursed state. And now, for lack of love to Jesus--it is my accursed state forever! I was told that if I do not love Christ--I would be Anathema! I did not love Christ--and now I am Anathema!"
Word of the Day
November 19
Vine
ampelos
Looking again at John 15, as we did yesterday (see also June 3-4), in Joh_15:1-5 our Lord paints a graphic picture of our relationship with Him by referring to Himself as the Vine (ampelos, G288).
Viticulture is among the oldest, if not the oldest, of all agricultural forms. As far back as Noah we read, "Noah began to be an husbandman, and he planted a vineyard: And he drank of the wine, and was drunken; and he was uncovered within his tent" (Gen_9:20-21). It's significant that Noah illustrates both the positive and negative metaphors that the vine provides: fertility and growth on the one hand and debauchery through drunkenness on the other.
The vine was a very important image in the OT. In Isa_5:1-7, for example, where Israel is pictured as a vineyard, God is the Vinedresser, and the harvest consists of wild grapes that are not fit to use for anything and ultimately have to be laid waste.
The vine is, therefore, a pivotal image here in John 15. Most significantly, and in dramatic contrast to Israel, our Lord says of Himself, "I am the true vine" (Joh_15:1). As we noted on April 10, Jesus equated Himself with God using the words I Am and declares that He is self-existent and without beginning. This declaration is, in fact, the last of seven "I am" statements of Christ in John's gospel that declare His deity.
The vine, therefore, provides us with at least three practical pictures.
First, there is life in the vine. "Without me ye can do nothing," our Lord says (Joh_15:5). That is because He is life: "In him was life; and the life was the light of men" (Joh_1:4). And that, of course, is because He is the Creator, the Originator of Life (Joh_1:1-3).
Second, there is longevity in the vine. As we considered back on June 2-4, as the branches have continued life because they abide in the vine, so we have life because we abide in the true Vine.
Third, there is luscious fruit in the vine. This, too, we've examined before (fruit, see August 19-22), but it bears repeating. Every true believer either bears fruit, bears more fruit, or bears much fruit, and it is all because he or she abides in the true Vine.
Scriptures for Study: Read Joh_15:1-11 once again, and rejoice that you are part of the Vine.
Famous Last Words: William McKinley
(1843-1901), twenty-fifth President of the U.S., was assassinated six months after his inauguration. Shot by an anarchist at an Exposition in Buffalo, New York, he lingered for eight days. His farewell words were:
"Nearer, my God to Thee, nearer to Thee. It is the Lord's way. Good-bye all!"

Here at Promise Land Bible Church
We don't change the message, the message changes us.


Here at Promise Land Bible Church, we are honored that you are visiting our web site at www.plbcmh.com
It is our hope at Promise Land Bible Church that you will be encouraged by the preaching and teaching of God's Word presented here. For it is our desire to teach the whole council of God, so that the body can be edified and above all that God may be glorified.
For it is our passion and desire to share the Gospel message with everyone who will hear, in obedience to God's word.
Welcome to our site here at www.plbcmh.com
The fellowship of believers who call Promise Land Bible Church home would like to welcome you to our website. We believe that salvation is by grace alone, thru faith alone, in Christ alone, and that the Holy Scripture is our sole source of authority for what we do and how we live, and that everything we do, should be done for the glory of God. This is commonly called the 5 Solas of the Reformed Faith.
So here is our invitation to you;
If you are looking for a church that affirms the sole authority of the Holy Scriptures for all of faith and practice, the pre-eminence of the preaching of the Word of God, the glorious truths of salvation called the Doctrines of Grace, the necessity and responsibility of evangelism and a serious approach to the joyful worship of God, then we warmly invite you to come and visit us.
Join us as we look to the truth of scripture and Worship the Lord.
At www.plbcmh.com we do our best to present the truth of the gospel.
American Minute
"A person should get into the habit of reading his Bible"-Booker T. Washington
Booker T. Washington, the founder of Tuskegee Institute, delivered an address at Memorial Hall in Columbus, Ohio, May 24, 1900.

The description was recorded in The Booker T. Washington Papers, Vol. 5: 1899-1900, (University of Illinois Press, 1976, p. 543-544): " Dr. Washington walked on the stage at Memorial Hall with a firm, confident tread, as one sure of his ground. His shoulders are broad and six feet of stature gives strength and poise to command respect. His hair is close cut and gives him the aspect of a war dog with all its tenacious fighting spirit. The eyes, however, gleam with kindliness and they temper the appearance of the latent fighting forces ... His jaw has the firmness of one who has the courage to stand by his convictions ..."

The description of Booker T. Washington continued: "'It's easy to see how that man succeeds,' whispered a delegate to the Bible students' conference after looking at the speaker. John R. Mott, general secretary of the student movement of North America, presided at the afternoon meeting at Memorial Hall ... Mr. Mott announced Dr. Washington's subject as 'The Place of the Bible in the Uplifting of the Negro Race.'"

The description ended: "Dr. Washington began his address after a quartet sang. He spoke of the 91 Y.M.C.A. Organizations for colored youths; of the 5000 colored men studying the Bible, and of the 640 Bible students at Tuskegee, and pointed these as living examples of the progress of the Negro. He pleaded for two more secretaries to teach Bible in the South-land."

Booker T. Washington continued May 24, 1900: "The Negro who does the shooting is uneducated and without Christian training ... Of all the graduates from Tuskegee Institute only one had been since sentenced to the penitentiary ... So the work today is to make religion the vital part of the Negro's life. But this is a stupendous task, as there is a nation of Negros ..."

He added: "Just remember that the Negro came out of Africa a few centuries ago ... chains upon his ankles and wrists. He came out of that ... with a hammer and a saw in his hands and a Bible in his hands. No man can read the Bible and be lazy. Christianity increases a man's ... capacity for labor. The Negro doesn't run from the Bible, either."

Booker T. Washington stated: "If you want to lift yourself up, lift up someone else."

Booker T. Washington believed that to be great, one should read the Bible, ( The Booker T. Washington Papers, Vol. 3: 1889-95, ed., Louis R. Harlan, Univ. of Illinois Press, 1974, p. 93): "As a rule a person should get into the habit of reading his Bible. You never read in history of any great man whose influence has been lasting, who has not been a reader of the Bible. Take Abraham Lincoln and Gladstone. Their lives show that they have been readers of the Bible. If you wish to properly direct your mind and necessarily your lives, begin by reading the book of all books. Read your Bible every day, and you will find how healthily you will grow."

In his address at Memorial Hall in Columbus, Ohio, May 24, 1900, Booker T. Washington stated: "The men doing the vital things of life are those who read the Bible and are Christians and not ashamed to let the world know it."

Booker T. Washington stated: "Those who have accomplished the greatest results are those ... who never grow excited or lose self-control, but are always calm, self-possessed, patient and polite."

Booker T. Washington believed a religious life was key to freedom, usefulness and honor, as he wrote in Putting the Most into Life (NY: Thomas Y. Crowell & Co., 1906, ch. "Making Religion a Vital Part of Living," p. 23-25): "Educated men and women, especially those who are in college, very often get the idea that religion is fit only for the common people. No young man or woman can make a greater error than this ... My observation has taught me that the people who stand for the most in the educational and commercial world and in the uplifting of the people are in some real way connected with the religious life of the people among whom they reside. This being true we ought to make the most of our religious life ..."

Booker T. Washington continued: "First the habit of regular attendance at some religious service should be cultivated. This is one of the outward helps toward inward grace ... As you value your spiritual life, see to it that you do not lose the spirit of reverence for the Most High ... Do not mistake denominationalism for reverence and religion. Religion is life, denominationalism is an aid to life."

He added: "Systematic reading and prayerful study of the Bible is the second outward help which I would commend to those whom I wish to see make the most of their spiritual life. Many people regard the Bible as a wonderful piece of literature only ... Nowhere in all literature can be found a finer bit of oratory than St. Paul's defense before King Agrippa. But praiseworthy as this kind of study is, I do not believe it is sufficient. The Bible should be read as a daily guide to right living and as a daily incentive to positive Christian service ..."

Booker T. Washington went on: "To live the real religious life is in some measure to share the character of God. The word 'atonement,' which occurs in the Bible again and again, means literally at-one-ment. To be at one with God is to be like God. Our real religious striving, then, should be to become one with God, sharing with Him in our poor human way His qualities and attributes. To do this, we must get the inner life, the heart right, and we shall then become stronger where we have been weak, wise where we have been foolish ..."

Booker T. Washington concluded: "We must learn to incorporate God's laws into our thoughts and words and acts. Frequent reference is made in the Bible to the freedom that comes from being a Christian. A man is free just in proportion as he learns to live within God's laws ... As we learn God's laws and grow into His likeness we shall find our reward in this world in a life of usefulness and honor. To do this is to have found the kingdom of God, which is the kingdom of character and righteousness and peace."

By the time of Booker T. Washington's death, Tuskegee Institute had grown to 2,000 students and a faculty of 200 teaching 38 trades.

In 1905, visitors came to Tuskegee from 16 countries, including Africa, India, China, Japan, Poland and Russia.

Booker T. Washington sent Tuskegee graduates to Liberia, West Africa.

He even sent his personal envoy, Emmitt Scott, to discourage France from annexing Liberia, helping to preserve Liberia's independence.

Ten years before the U.S. Chamber of Commerce was formed, Booker T. Washington founded the National Negro Business League in 1900, growing it to 600 chapters.

Harvard President Charles W. Eliot spoke at Tuskegee's 25th anniversary in 1906, stating: "By 1905, Tuskegee produced more self-made millionaires than Harvard, Yale and Princeton combined."

Booker T. Washington was visited by Republican President William McKinley.

To the protests of Democrats, Booker T. Washington had dinner at the White House with Republican President Theodore Roosevelt on October 16, 1901.

The Southern Democrat newspaper The Memphis Scimitar printed: "The most damnable outrage which has ever been perpetrated by any citizen of the United States was committed yesterday by the President, when he invited a n----- to dine with him at the White House. It would not be worth more than a passing notice if Theodore Roosevelt had sat down to dinner in his own home with a Pullman car porter, but Roosevelt the individual and Roosevelt the President are not to be viewed in the same light."

Booker T. Washington met with Republican President William Howard Taft.

Booker T. Washington spoke from New Hampshire to California, Minnesota to Florida, and even Europe, where he was received by the Queen of England in Windsor Castle.

Booker T. Washington was the first African American to have his image on a U.S. postage stamp, 1940, a U.S. Coin, 1946, and was the first African American elected to the Hall of Fame, 1945.

Booker T. Washington was awarded an honorary doctorate from Dartmouth and an honorary Master's Degree from Harvard.

Booker T. Washington stated: "Anyone can seek a job, but it requires a person of rare ability to create a job ... What we should do in our schools is to turn out fewer job seekers and more job creators."

Widowed twice, his third wife outlived him.

He had one daughter, Portia, and two sons, Booker T. Washington Jr. and Ernest Davidson Washington.

When Booker T. Washington died on NOVEMBER 14, 1915, Andrew Carnegie stated: "I mourn with you today as one who shares your sorrow. America has lost one of her best and greatest citizens. History is to tell of two Washingtons. One the leader of his country and the other the leader of his race."

After Booker T. Washington's death, Republican Vice-President Calvin Coolidge traveled to Tuskegee in 1923 and met with Robert Russa Moton, the Principal of Tuskegee Institute.

In 1924, Calvin Coolidge, now the President, received Tuskegee Principle Robert Russa Moton at a meeting in the White House.

Secretary of the Navy John D. Long spoke in honor of Booker T. Washington at Tuskegee: "I cannot make a speech to-day. My heart is too full-full of hope, admiration, and pride for my countrymen of both sections and both colors. I am filled with gratitude and admiration for your work, and from this time forward I shall have absolute confidence in your progress and in the solution of the problem in which you are engaged. The problem, I say, has been solved ..."

Long continued: "A picture has been presented to-day which should be put upon canvas with the pictures of Washington and Lincoln, and transmitted to future time and generations

- a picture which the press of the country should spread broadcast over the land, a most dramatic picture, and that picture is this: 'The President of the United States (Theodore Roosevelt) standing on this platform; on one side the Governor of Alabama, on the other, completing the trinity, a representative of a race only a few years ago in bondage, the colored President of the Tuskegee Normal and Industrial Institute.' God bless the President under whose majesty such a scene as that is presented to the American people. God bless the State of Alabama, which is showing that it can deal with this problem for itself. God bless the orator, philanthropist, and disciple of the Great Master - who, if He were on earth, would be doing the same work - Booker T. Washington."
Thanks for visiting our site here at www.plbcmh.com