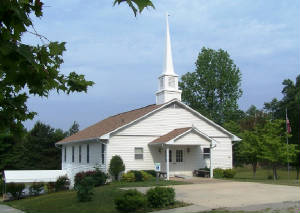 Come and Worship with us at
8256 Promise Land Road
Mountain Home, Arkansas 72653
Our Worship Schedule is
The Church is Open, worship with us inside or outside, message is transmitted on FM 95.1
Sunday Bible Study - 9:45am
Sunday Worship - 11:00am
Wednesday Night Prayer Meeting - 6:00pm
Wednesday Night Bible Study - 7:00pm
Today's Memory Verse
"He that believes on the Son of God has the witness in himself: he that believes not God has made him a liar; because he believes not the record that God gave of his Son. And this is the record, that God has given to us eternal life, and this life is in his Son. He that has the Son has life; and he that has not the Son of God has not life."
1 JOHN 5:10-12

"Nothing can damn a man but his own righteousness; nothing can save him but the righteousness of Christ."
CHARLES SPURGEON

"Why do I need a Savior?"

If you were to place a dried-out leaf in the presence of fire, you would see that the fire would not hesitate to consume the leaf in a matter of seconds. The fire must consume the leaf because of its very nature. Even if the fire didn't want to dispose of the leaf, it wouldn't matter; it still must consume it because their very natures are diametrically opposed.
Deuteronomy 4:24 and Hebrews 12:29 describe God as a consuming fire. By His very nature, God must consume anything and everything that opposes His nature. We must put on the Lord Jesus Christ, or we will be consumed by the ever-pure, burning holiness of the King of kings.

Cameron, K., & Comfort, R. (2004). The school of biblical evangelism: 101 lessons: how to share your faith simply, effectively, biblically-the way Jesus did (p. 540). Gainesville, FL: Bridge-Logos Publishers.
Day by Day by Grace
A Better Sacrifice under Grace
For such a High Priest was fitting for us...who does not need daily, as those high priests, to offer up sacrifices...for this He did once for all when He offered up Himself...Not with the blood of goats and calves, but with His own blood He entered the Most Holy Place once for all, having obtained eternal redemption. (Hebrews 7:26-27 and 9:12)
Another superior aspect of the new covenant of grace is the sacrifice we have in Jesus Christ, our great High Priest. The sacrifices under the old covenant were offered repeatedly, and they involved the blood of animals. In both respects the sacrifice of Jesus is far better.
The priests under the law presented their same sacrifices day after day. These sacrifices could not remove sin. "And every priest stands ministering daily and offering repeatedly the same sacrifices, which can never take away sins" (Hebrews 10:11). These sacrifices provided a temporary covering of sin, anticipating the permanent work of the Messiah to come. However, at the same time, in these sacrifices was a constant remembrance of sin and guilt. "In those sacrifices there is a reminder of sins every year" (Hebrews 10:3). As the blood was shed, the ultimate consequence of sin (death) was being played out before the people. "And according to the law almost all things are purged with blood, and without shedding of blood there is no remission" (Hebrews 9:22). Eventually, Jesus died as the perfect, "once-for-all" sacrifice. "For such a High Priest was fitting for us...who does not need daily, as those high priests, to offer up sacrifices...for this He did once for all when He offered up Himself." This was a sacrifice that could actually remove sin. "Once at the end of the ages, He has appeared to put away sin by the sacrifice of Himself...so Christ was offered once to bear the sins of many...But this Man, after He had offered one sacrifice for sins forever, sat down at the right hand of God" (Hebrews 9:26, 28 and 10:12).
The limitation of law sacrifices was that mere animal blood was being shed. "For it is not possible that the blood of bulls and goats could take away sins" (Hebrews 10:4). Thus, our High Priest under grace offered His own blood. "Not with the blood of goats and calves, but with His own blood He entered the Most Holy Place once for all, having obtained eternal redemption." The blood of Christ was uniquely effective. It was the "precious blood of Christ, as of a lamb without blemish and without spot...The Lamb of God who takes away the sin of the world!" (1 Peter 1:19 and John 1:29).
Dear Lamb of God, what a marvelous sacrifice You gave by grace! One death for all the sins of the world makes eternal redemption available to all who believe. I gratefully rejoice in this wondrous gift!
Famous Last Words: Jerome,
who was burned at the stake, said while the fire was being kindled:
"Bring hither the torch; bring thy torch before my face. Had I feared death, I might have avoided it."

Here at Promise Land Bible Church
We don't change the message, the message changes us.


Here at Promise Land Bible Church, we are honored that you are visiting our web site at www.plbcmh.com
It is our hope at Promise Land Bible Church that you will be encouraged by the preaching and teaching of God's Word presented here. For it is our desire to teach the whole council of God, so that the body can be edified and above all that God may be glorified.
For it is our passion and desire to share the Gospel message with everyone who will hear, in obedience to God's word.
Welcome to our site here at www.plbcmh.com
The fellowship of believers who call Promise Land Bible Church home would like to welcome you to our website. We believe that salvation is by grace alone, thru faith alone, in Christ alone, and that the Holy Scripture is our sole source of authority for what we do and how we live, and that everything we do, should be done for the glory of God. This is commonly called the 5 Solas of the Reformed Faith.
So here is our invitation to you;
If you are looking for a church that affirms the sole authority of the Holy Scriptures for all of faith and practice, the pre-eminence of the preaching of the Word of God, the glorious truths of salvation called the Doctrines of Grace, the necessity and responsibility of evangelism and a serious approach to the joyful worship of God, then we warmly invite you to come and visit us.
Join us as we look to the truth of scripture and Worship the Lord.
At www.plbcmh.com we do our best to present the truth of the gospel.
Today's Grace Gem
A poor shoemaker in his dreary little shop
(J.R. Miller, "The Wider Life" 1908)
"Therefore we do not lose heart. Though outwardly we are wasting away, yet inwardly we are being renewed day by day." 2 Corinthians 4:16

"For our perishable earthly bodies must be transformed into heavenly bodies that will never die!" 1 Corinthians 15:53

The lesson of the imperishable life, has a special application to those who suffer from sickness or from any bodily affliction. It will help us to endure physical sufferings quietly and unmurmuringly, if we will remember that it is only the outward man that can be touched and affected by these experiences, and that the inward man may not only be kept unharmed, but may be growing all the while in beauty and strength, being spiritually renewed through pain and suffering.

A poor shoemaker in his dreary little shop in a great city, one day noticed that there was one little place in his dark room, from which he could get a view of green fields, blue skies and faraway hills. He wisely set up his bench at that point, so that at any moment he could lift his eyes from his dull work--and have a glimpse of the great, beautiful world outside.

Just so, from the darkest sick-room, and from the midst of the keenest sufferings, there is always a point from which we can see the face of Christ and have a glimpse of the glory of Heaven. If only we will find this place and get this vision, it will make it easy to endure even the greatest suffering.

"For we know that when this earthly tent we live in is taken down--when we die and leave these bodies--we will have a home in heaven, an eternal body made for us by God Himself and not by human hands. We grow weary in our present bodies, and we long for the day when we will put on our heavenly bodies like new clothing." 2 Corinthians 5:1-2

Sickness is discouraging and is hard to bear. But we should remember that the doing of the will of God is always the noblest, holiest thing we can do any hour--however hard it may be for us. If we are called to suffer, let us suffer patiently and sweetly. Under all our sharp trials, let us keep the peace of God in our hearts. The outward man may indeed decay, but the inward man will be renewed day by day.
Word for the Day
June 15
Light (1)
phōs
In Classical Greek usage, the basic meaning of phōs (G5457; English phosphorus, etc.) is light and brightness and conveys the ideas of sunlight, daylight, torchlight, firelight, and so forth. In other words, it refers to light itself, not the source of light, such as the sun, a torch, fire, or a lamp. Even early in secular usage, it was also used figuratively "to mean the sphere of ethical good, whereas misdeeds are said to take place in darkness." All that was carried over into NT usage but intensified all the more by its identification with Christ.
The Christian, therefore, is to walk in light. Since we were once "darkness, but now are . . . light in the Lord," we are to "walk as children of light" (Eph_5:8). In other words, we conduct ourselves according to light, the light of Christ and His Word. As He is the Light (Joh_1:4; Joh_8:12) and is the Word who became flesh (Joh_1:14), then it is His Word in which we are to walk.
What seems obvious about darkness and light is that they cannot coexist. If you turn on a light in a dark room, darkness flees. But it's not as obvious in practical application. People talk much about "gray areas" of conduct, avoiding the terms right or wrong and truth or error. But the Scripture contains no such "gray areas." Conduct is either moral or immoral, good or bad, true or false.
What, then, are the "attributes" of light? Generally speaking, light pictures two basic thoughts.
First, in regard to the intellect, light pictures truth. So, to walk according to light means that we walk according to truth. No longer are we ignorant, for the truth of Jesus Christ is in us. Moreover, walking according to light means that we are growing in the knowledge of Christ day by day.
Second, in regard to morality, light pictures holiness. To walk according to light means that we live a pure, holy life; we walk as holy people. All that we say and do shines forth the light of Christ that is in us (cf. Eph_4:17-32).
Scriptures for Study: Read the following verses, noting other ways in which we are to walk in the Christian life: Rom_4:12; Rom_6:4; Gal_5:16, Gal_5:25; Eph_5:2; Col_4:5.
Thanks for visiting our site here at www.plbcmh.com