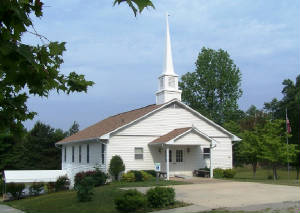 Come and Worship with us at
8256 Promise Land Road
Mountain Home, Arkansas 72653
Our Worship Schedule is
Sunday Bible Study - 9:45am
Sunday Worship - 11:00am
Wednesday Night Prayer Meeting - 6:00pm
Wednesday Night Bible Study - 7:00pm
"Each person we meet on a daily basis who does not know Christ is hell-bound. That may make some folks bristle-but it's a fact. When we refuse to warn people that their actions and lifestyles have eternal consequences, we're not doing them any favors. If everybody feels good about his or her sin, why would anyone repent?"
FRANKLIN GRAHAM

"I don't want to give up what I like doing."

If you become a Christian, are you saying that you must stop doing what you're doing now? That means you know it is wrong. Let me ask you something. If you were to become a Christian and God were to live in your heart and you looked back on your life now, would you say to yourself, "I did a lot of things I wish I hadn't done"? Probably so. The Bible speaks about just such a thing. Romans 6:21 says, "What fruit had you then in those things whereof you are now ashamed? For the end of those things is death." What you are saying is that God will require you to give up certain things that you like to do. Since God only wants what is good and right, and you don't want to give up what you are doing, then you want what is wrong.
Will you let your pleasures get in the way of salvation? Is your life of sin worth an eternity of pain? Jesus said, "For what shall it profit a man, if he shall gain the whole world, and lose his own soul?" (Mark 8:36).

Cameron, K., & Comfort, R. (2004). The school of biblical evangelism: 101 lessons: How to share your faith simply, effectively, biblically-the way Jesus did (699-700). Gainesville, FL: Bridge-Logos Publishers.
Point to Ponder

The story of the Titanic has incredibly close parallels to the biblical plan of salvation. Just as the great pleasure ship struck an iceberg and sank, this great world-with all its inhabitants-is slowly sinking into the cold grip of death. As with the Titanic, where only those passengers who believed that they were in impending danger looked to the lifeboats, so only those who believe that they are in mortal danger will look to the Lifeboat of the Savior, Jesus Christ. The great "iceberg" that will take the world to an icy grave is the Moral Law-the Ten Commandments.
Here is the evidence that we are sinking: Jesus said that if we look with lust, we commit adultery in our heart. No one who has had sex outside of marriage, or any liar, or any thief will enter heaven. The Bible says that if we hate someone, we are guilty of murder. We fail to put God first. We make a god in our image. We break all the Commandments. If we stay with the "ship," we will perish on the Day of Judgment, when all of our sins come out as evidence of our guilt. God, however, is rich in mercy and doesn't want anyone to go to hell. He made a way for us to be saved. Jesus Christ, the One whom the Bible calls the "Captain of our salvation," gave His life so that we could have a place in the lifeboat. He took our punishment upon Himself, suffering on the cross for us. We broke God's Law, but He paid our fine. Then He rose from the dead, defeating death. The moment we repent and trust in Him alone for our eternal salvation, God will forgive us and grant us the gift of eternal life.
Don't hesitate. You may wait until it's too late! It was reported that some of the lifeboats that left the Titanic early were only half full. Many more on board could have been saved, but they refused to believe that the great "unsinkable" ship was sinking. They perished because their faith was misguided. Don't be like them. Believe the gospel. Repent and trust Jesus Christ today ... and God will never let you down.


Day by Day by Grace
The Lord Promising to Return for Us
"Let not your heart be troubled; you believe in God, believe also in Me. In My Father's house are many mansions; if it were not so, I would have told you. I go to prepare a place for you. And if I go and prepare a place for you, I will come again and receive you to Myself; that where I am, there you may be also." (John 14:1-3)
Jesus' promise to return for His followers was given to bring them heavenly comfort. How comforting to us, in this troublesome world, to know that Jesus will be back for all of us who have followed Him here on earth.
When the Lord Jesus spoke these words, He would soon be leaving His disciples. He knew that the cross, the resurrection, and His ascension were close at hand. As He spoke of His departure, they were troubled. "Let not your heart be troubled; you believe in God, believe also in Me." One purpose in His leaving was to make ready a heavenly home for those who believed in Him. "I go to prepare a place for you." Then, the promise that followed brought Jesus' ultimate comfort. "I will come again and receive you to Myself; that where I am, there you may be also." Jesus would be returning to take His beloved followers to be with Him again.
After His atoning death and victorious resurrection, the Lord instructed the disciples for a brief season in the matters of His kingdom. Then, it was time to depart. "Now when He had spoken these things, while they watched, He was taken up, and a cloud received Him out of their sight" (Acts 1:9). Their gaze remained upon this one whom they had come to love. "They looked steadfastly toward heaven as He went up" (Acts 1:10). Then, angelic messengers repeated the promise of His return. "This same Jesus, who was taken up from you into heaven, will so come in like manner as you saw Him go into heaven" (Acts 1:11). What hope this must have stirred in their yearning hearts.
Throughout the history of the church, loving hearts have longed for the return of the Lord Jesus Christ. The apostles were inspired by the Spirit of God to bring us comforting promises of His return. "For the Lord Himself will descend from heaven with a shout, with the voice of an archangel, and with the trumpet of God. And the dead in Christ will rise first. Then we who are alive and remain shall be caught up together with them in the clouds to meet the Lord in the air. And thus we shall always be with the Lord" (1 Thessalonians 4:16-17). This is the promised hope we are to live in day by day: "looking for the blessed hope and glorious appearing of our great God and Savior Jesus Christ" (Titus 2:13).
Dear Lord Jesus, I find sweet comfort in Your promises to return for me. I long to see You face to face. It is inexpressible joy to anticipate being with You forever. Come quickly, Lord Jesus!
Famous Last Words: Elizabeth Barrett Browning,
poet, died June 28, 1861. Her last word was in reply to her husband who had asked how she felt:
"Beautiful."

Here at Promise Land Bible Church
We don't change the message, the message changes us.


Here at Promise Land Bible Church, we are honored that you are visiting our web site at www.plbcmh.com
It is our hope at Promise Land Bible Church that you will be encouraged by the preaching and teaching of God's Word presented here. For it is our desire to teach the whole council of God, so that the body can be edified and above all that God may be glorified.
For it is our passion and desire to share the Gospel message with everyone who will hear, in obedience to God's word.
Welcome to our site here at www.plbcmh.com
The fellowship of believers who call Promise Land Bible Church home would like to welcome you to our website. We believe that salvation is by grace alone, thru faith alone, in Christ alone, and that the Holy Scripture is our sole source of authority for what we do and how we live, and that everything we do, should be done for the glory of God. This is commonly called the 5 Solas of the Reformed Faith.
So here is our invitation to you;
If you are looking for a church that affirms the sole authority of the Holy Scriptures for all of faith and practice, the pre-eminence of the preaching of the Word of God, the glorious truths of salvation called the Doctrines of Grace, the necessity and responsibility of evangelism and a serious approach to the joyful worship of God, then we warmly invite you to come and visit us.
Join us as we look to the truth of scripture and Worship the Lord.
At www.plbcmh.com we do our best to present the truth of the gospel.
Today's Memory Verse
"I am the door: by me if any man enter in, he shall be saved, and shall go in and out, and find pasture. The thief comes not, but for to steal, and to kill, and to destroy: I am come that they might have life, and that they might have it more abundantly."
JOHN 10:9, 10

Today's Grace Gem
The sanctifying power of the cross!

(John L. Dagg, "Manual of Theology")
"May I never boast except in the cross of our Lord Jesus Christ, through which the world has been crucified to me, and I to the world!" Galatians 6:14
It may be profitable to yet linger a little while at the cross--that we may again survey its glory, and feel its soul-subduing power.

In the cross of Christ--all the divine perfections are gloriously and harmoniously displayed. Infinite love, inviolable truth, and inflexible justice are all seen, in their brightest and most beautifully mingled colors. The heavens declare the glory of God--but the glory of the cross outshines the wonders of the skies! God's moral perfections are here displayed, which are the highest glory of His character.

The cross of Christ is our only hope of everlasting life. On Him who hangs there, our iniquities were laid--and from His wounds, flows the blood that cleanses from all sin. Our faith views the bleeding victim, and securely relies on the great atoning sacrifice. It views mercy and grace streaming from the cross--and to the cross it comes to obtain every needed blessing.

In the cross, the believer finds the strongest motive to holiness. As we stand before it, and view the exhibition of the Savior's love--we resolve to live unto Him who died for us.

The world ceases to charm. We become crucified to the world--and the world crucified to us.

Sin appears infinitely hateful. We regard it as the accursed thing which caused the death of our beloved Lord--and we grow strong in the purpose to wage an exterminating war against it. By all the Savior's agonies, we vow to have no peace with sin for ever.

The cross is the place for penitential tears. We look on Him whom we have pierced, and mourn. Contemplating Jesus' sin-atoning sacrifice, is the highest motive to holiness. Our hearts bleed at the sight of the bleeding sufferer, murdered by our sins--and we resolve that the murderers shall die!

The cross is a holy place, where we learn . . .
to be like Christ,
to hate sin as He hated it, and
to delight in the law of God which was in His heart.

In the presence of the cross, we feel that omnipotent grace has taken hold of our heart--and we surrender to dying love.
The doctrine of the cross needs no other demonstration of its divine origin--than its power to sanctify the heart, and bring it into willing and joyful subjection to Christ.
Word of the Day
July 21
Prove
dokimazō
Paul uses one other word to underscore the importance of discernment. He wrote to the Thessalonians, "Prove all things; hold fast that which is good. Abstain from all appearance of evil" (1Th_5:21-22).
Prove is dokimazō (G1381), which means "test, pronounce good, establish by trial." A related word, dokimos (G1384), was originally used as a technical term for coins that were genuine. So, Paul is saying, "Examine everything, put everything to the test, verify each item to see if it's genuine or if it's a fake. If it's good, seize it and hold on to it. If not, however, withdraw from it."
As that great expositor John Gill wrote some 100 years before Spurgeon in London: "Abstain from all appearance of evil, of doctrinal evil. Not only open error and heresy are to be avoided, but what has any show of it, or looks like it, or carries in it a suspicion of it, or may be an occasion thereof, or lead unto it; wherefore all new words and phrases of this kind should be shunned, and the form of sound words held fast."
The apostle John echoes Paul's mandate to discernment by also using dokimazō in 1Jn_4:1, where it's translated "try": "Beloved, believe not every spirit, but try the spirits whether they are of God: because many false prophets are gone out into the world." How much clearer could Scripture be? Don't believe every spirit. There are several teachers today we could list who can say anything and people will believe it. They are, in fact, seldom, if ever, questioned. Likewise, there are countless claims to spiritual authority today, innumerable assertions that "this is what the Bible says," but every single one is to be examined, tested, and verified.
As I've shared many times with the sheep I shepherd that shepherds, too, must be tested and verified. This is why all pastors should stick with the Scripture alone, expositing only the Word of God. We should not seek for new and novel things, or search for new terms or new philosophies. If we stick with the Scripture alone, that leaves little room for error.
Scriptures for Study: Note the significance of the following occurrences of dokimazō: Rom_12:2; 1Co_3:13 ("try"); Gal_6:4; Php_1:10 ("approve"); 1Ti_3:10.
Thanks for visiting our site here at www.plbcmh.com