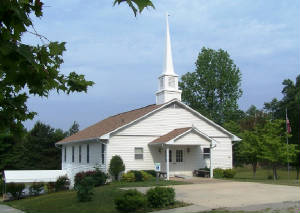 Come and Worship with us at
8256 Promise Land Road
Mountain Home, Arkansas 72653
Our Worship Schedule is
Sunday Bible Study - 9:45am
Sunday Worship - 11:00am
Wednesday Night Prayer Meeting - 6:00pm
Wednesday Night Bible Study - 7:00pm
Today's Memory Verse
"Go therefore, and teach all nations, baptizing them in the name of the Father, and of the Son, and of the Holy Spirit: teaching them to observe all things whatsoever I have commanded you: and, lo, I am with you always, even to the end of the world. Amen."
MATTHEW 28:19, 20

Quote of the Day
"Receive every inward and outward trouble, every disappointment, pain, uneasiness, temptation, darkness and desolation with both hands, as to a true opportunity and blessed occasion of dying to self and entering into a fuller fellowship with thy self-denying, suffering Savior."
JOHN WESLEY

"I need to get my life cleaned up first."

Those who think that they can clean up their lives don't see their true plight. They are standing guilty before a wrath-filled God. They have been condemned by His Law (John 3:18; Romans 3:19). If a man commits rape and murder and admits to the judge that he is guilty, will the judge let him go just because the man promises to clean up his life? He is in debt to the law and must be punished. We may be able to clean up our lives in the sight of man, but not in the sight of God. The only way we can be cleansed is to repent and trust in the Savior.

Cameron, K., & Comfort, R. (2004). The school of biblical evangelism: 101 lessons: How to share your faith simply, effectively, biblically-the way Jesus did (303-304). Gainesville, FL: Bridge-Logos Publishers.
Day by Day by Grace
More on Enoch's Pleasing Walk with God, by Faith
By faith Enoch was taken away so that he did not see death...for before he was taken he had this testimony, that he pleased God. But without faith it is impossible to please Him, for he who comes to God must believe that He is, and that He is a rewarder of those who diligently seek Him. (Hebrews 11:5-6)
Before Enoch was taken to heaven, he walked with God in a manner that pleased the Lord. Enoch's faith in God is what was pleasing unto Him. "Before he was taken he had this testimony, that he pleased God. But without faith it is impossible to please Him." Pleasing God, as Enoch did, should be our desire.
Many people waste their lives by aiming to please themselves. Their lives are choked with self-indulgence. "And the ones that fell among thorns are those who, when they have heard, go out and are choked with cares, riches, and pleasures of life, and bring no fruit to maturity" (Luke 8:14). They have ignored the fact that pleasing self cannot lead to spiritual growth and Christlikeness. "We then who are strong ought to bear with the scruples of the weak, and not to please ourselves... For even Christ did not please Himself" (Romans 15:1, 3). Others live in carnal bondage to human opinions. Their consistent priority is to please people. This was part of King Saul's downfall. "Then Saul said to Samuel, 'I have sinned, for I have transgressed the commandment of the LORD and your words, because I feared the people and obeyed their voice'" (1 Samuel 15:24). We cannot aim to please man and still serve God. "Do I seek to please men? For if I still pleased men, I would not be a servant of Christ" (Galatians 1:10).
Living to please God is what we were created for. This can never happen apart from faith. "Without faith it is impossible to please Him." Coming to the Lord in true biblical faith begins with a conviction that God exists. "For he who comes to God must believe that He is." Additionally, God-pleasing faith eagerly anticipates the Lord's gracious response to all who truly seek Him. "He is a rewarder of those who diligently seek Him." Although there are many blessings that result from pursuing the Lord, the ultimate reward is God Himself. God told this to Abraham. "After these things the word of the LORD came to Abram in a vision, saying, 'Do not be afraid, Abram. I am your shield, your exceedingly great reward'" (Genesis 15:1).
Lord God Almighty, too often I have aimed at pleasing myself. At other times, my goal was to please people. Thank You for Your patience and forgiveness. Now, my heart desires to please You in all things. By faith, I know that You exist. By faith, I seek You, anticipating the grand reward of knowing You better and better, in Jesus' name, Amen.
Today's Grace Gem
May our thoughts seldom wander from the Cross!

(Henry Law, "Psalms" 1878)

"My God, My God, why have You forsaken Me? Why are You so far from saving Me--so far from the words of My groaning?" Psalm 22:1

We take our stand at Calvary.

The Cross is erected.

Jesus, the God-man, our substitute, our Redeemer, hangs there.

We look, and we receive assurance that truly He is . . . bearing our curse, drinking to the dregs our cup of wrath, receiving into His inmost soul the sword of justice, and suffering the extremities of anguish as the penalty for our sins.

Oh! what a sight of wonder!

Views of redemption, lead to grateful love. It is far easier to count ocean's drops, than to portray . . . the Savior's love, His matchless worth, His righteousness, and the glories which He has purchased.

How precious is that expiating blood! Let us ponder its worth, and the marvels it has wrought--until our hearts become one blaze of love, and our lips one note of praise!

May our thoughts seldom wander from the Cross!
Word of the Day
October 24
Open Door
thuran aneōgmenēn
In His letter to the godly church at Philadelphia, our Lord makes a marvelous statement: "Behold, I have set before thee an open door, and no man can shut it" (Rev_3:8). Open is anoigō (G455), "to open," and is used most frequently with thura (G2374) in the NT to signify an open door.
Here is a beautiful reference to opportunities to witness and proclaim the Word of God. The door is, indeed, wide open! Paul spoke of this over and over again. When he and his colaborers returned to Antioch (his home church, which sent him out as a church planter), we're told that "when they were come, and had gathered the church together, they rehearsed all that God had done with them, and how he had opened the door of faith unto the Gentiles" (Act_14:27). He wrote to the Corinthian believers, "For a great door and effectual is opened unto me, and there are many adversaries" (1Co_16:9). He again wrote, "When I came to Troas to preach Christ's gospel, and a door was opened unto me of the Lord, I had no rest in my spirit . . . I went from thence into Macedonia" (2Co_2:12-13). He encouraged the believers at Colossae to pray "that God would open unto us a door of utterance, to speak the mystery of Christ" (Col_4:3). This challenges each of us to look for open doors for witness with our lips, and testimony with our life.
While there are other aspects of Christian service, the real heart of service is witnessing. Act_1:8 records the commission that has been given to every believer: "But ye shall receive power, [when] the Holy Ghost is come upon you: and ye shall be witnesses unto me both in Jerusalem, and in all Judaea, and in Samaria, and unto the uttermost part of the earth."
How tragic it is when we fail to see an open door of opportunity when God provides it. In his exposition of Rev_3:8, commentator Lehman Strauss observes that after World War II, Japan was a wide-open door to Christian work. General Douglas MacArthur, in fact, called upon Christians in America to send 5,000 missionaries through that open door. But we failed to answer that call.
Let us not fail in the opportunities God gives us.
Scriptures for Study: Read the following verses, noting again the commission that is given to every believer: Mat_24:14; Mat_28:19-20; Rom_10:14.
Here at Promise Land Bible Church
We don't change the message, the message changes us.


Here at Promise Land Bible Church, we are honored that you are visiting our web site at www.plbcmh.com
It is our hope at Promise Land Bible Church that you will be encouraged by the preaching and teaching of God's Word presented here. For it is our desire to teach the whole council of God, so that the body can be edified and above all that God may be glorified.
For it is our passion and desire to share the Gospel message with everyone who will hear, in obedience to God's word.
Welcome to our site here at www.plbcmh.com
The fellowship of believers who call Promise Land Bible Church home would like to welcome you to our website. We believe that salvation is by grace alone, thru faith alone, in Christ alone, and that the Holy Scripture is our sole source of authority for what we do and how we live, and that everything we do, should be done for the glory of God. This is commonly called the 5 Solas of the Reformed Faith.
So here is our invitation to you;
If you are looking for a church that affirms the sole authority of the Holy Scriptures for all of faith and practice, the pre-eminence of the preaching of the Word of God, the glorious truths of salvation called the Doctrines of Grace, the necessity and responsibility of evangelism and a serious approach to the joyful worship of God, then we warmly invite you to come and visit us.
Join us as we look to the truth of scripture and Worship the Lord.
At www.plbcmh.com we do our best to present the truth of the gospel.
American Minute
October 24th:
The United Nations officially began OCTOBER 24, 1945.

Its name coined by President Franklin Roosevelt.

The United Nations was created to prevent future wars.

Unfortunately, there have been nearly 150 wars with over 100 million casualties from the day the United Nations' charter was drafted in the Garden Room of San Francisco's Fairmont Hotel:

5 in Central Asia,
11 in South Asia,
20 in Southeast Asia,
13 in Eastern Europe,
23 in the Middle East,
25 in Latin & South America and
50 in Africa.

The Secretary-General at the United Nations Charter Conference in 1945 was Alger Hiss.

Alger Hiss was present at the Yalta Conference. February 4-11, 1945, where a large portion of Europe was put under the control of the Soviet Union.

Alger Hiss was later accused and convicted of being a Communist agent in publicized 1948 trial.

The person who accused Alger Hiss was a former Soviet spy Whittaker Chambers.

Soviet spy Whittaker Chambers had been senior editor of TIME Magazine before defecting to the United States.

After Whittaker Chambers died, President Ronald Reagan awarded him the Medal of Freedom, March 26, 1984, stating: "At a critical moment in our Nation's history, Whittaker Chambers stood alone against the brooding terrors of our age... He became the focus of a momentous controversy in American history that symbolized our century's epic struggle between freedom and totalitarianism, a controversy in which the solitary figure of Whittaker Chambers personified the mystery of human redemption in the face of evil and suffering."

The 185 member United Nations spends over $20 billion annually, with the largest amount being contributed by United States.

Though 50 States comprise the United States of America, they are allowed only one combined vote, equivalent to the tiniest of nations.

After accusations of a U.N. Oil for Food Scandal and a U.N. Sex Scandal, the U.N. was pressured to release its first audit in 2005.

The U.N. Universal Declaration of Human Rights, written with the help of Eleanor Roosevelt, was adopted by the U.N. General Assembly, December 8, 1948.

Without referencing the "Creator" as the source of rights like the U.S. Declaration of Independence, the U.N. Universal Declaration of Human Rights includes articles such as: "Article 18. Everyone has the right to freedom of thought, conscience and religion; this right includes freedom to change his religion or belief..."

This conflicted with Islamic Sharia law which imposes the death penalty for anyone leaving the Islamic religion.

Many articles in the U.N. Universal Declaration of Human Rights were rejected by the leaders of 57 Islamic countries, who formed their own group called the OIC - Organization of Islamic Cooperation.

In 1990, the OIC passed their 'Cairo Declaration on Human Rights in Islam' affirming Shariah law as supreme, with: the death penalty for those leaving Islam; punishing women who are victims of rape; allowing men to be polygamous; permitting wife beating; and censoring speech insulting Islam.

On December 12, 2011, Secretary of State Hillary Clinton began a 3 day closed door meeting with the OIC-Organization of Islamic Cooperation promising to support their Istanbul Process to universally "criminalize" speech insulting Islam, effectively enforcing "dhimmi" status on non-Muslims worldwide.

By definition, the Christian Gospel is insulting to Islam as it proclaims that Jesus Christ is not simply a prophet but the Son of God who died on the cross to pay for the sins of the world.

In fact, all speech contrary to Islam insults Islam.

At the end of the meeting, OIC Secretary General Ekmeleddin Ihsanoglu stated: "The Istanbul Process initiated with Secretary of State Hillary Clinton...must be carried forward." Clinton added: "We now need to move to implementation."

In the following months, Hillary Clinton's State Department ignored repeated requests for security by Ambassador Chris Stevens. He was killed with several others in the Benghazi attack on September 11, 2012.

The morning after the attack, Secretary Clinton's State Department blamed a video and sent memos to YouTube and Google recommending they censor speech insulting Islam, consistent with promises made at the OIC Istanbul Process meeting.

U.S. Ambassador to the United Nations Susan Rice added to this narrative, as did President Obama when he told the U.N. General Assembly, September 25, 2012: "The future must not belong to those who slander the prophet of Islam."

Requests made by Judicial Watch through the Freedom of Information Act revealed emails indicating that the U.S. weapons used to oust Libya's President Gaddafi were being moved from Benghazi in a "Fast and Furious" style program to arm Muslim fighters to oust Syria's President Assad, as part of a larger plan to establish an Islamic Caliphate.

When Russia came to Assad's defense, the Muslims armed and trained by the U.S. attacked into Syria and Iraq, calling themselves ISIS, and proceeded to torture, rape, behead and displace hundreds of thousands.

The United Nations has a mixed reputation, as attested to by President Dwight Eisenhower at the National Junior Chamber of Commerce, June 10, 1963: "The United Nations has seemed to be two distinct things to the two worlds divided by the iron curtain... To the free world it has seemed that it should be a constructive forum... To the Communist world it has been a convenient sounding board for their propaganda, a weapon to be exploited in spreading disunity and confusion."

Idealistically begun with high hopes, the United Nations General Assembly elected its fourth President in 1949, Philippine General Carlos Romulo.

General Carlos Romulo served with General Douglas MacArthur in the Pacific, and later became the first Asian to win a Pulitzer Prize.

General Carlos Romulo wrote: "Never forget Americans, that yours is a spiritual country. Yes, I know you're a practical people. Like others, I've marveled at your factories, your skyscrapers, and your arsenals. But underlying everything else is the fact that America began as a God-loving, God-fearing, God-worshiping people."
Famous Last Words: Vicomtesse D'Houdetot,
daughter-in-law of Rousseau's Madame D'Houdetot, left the sad lament:
"I regret my life."

Thanks for visiting our site here at www.plbcmh.com