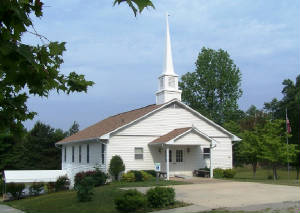 Come and Worship with us at
8256 Promise Land Road
Mountain Home, Arkansas 72653
Our Worship Schedule is
Sunday Bible Study - 9:45am
Sunday Worship - 11:00am
Wednesday Night Prayer Meeting - 6:00pm
Wednesday Night Bible Study - 7:00pm
Today's Memory Verse
"Marvel not at this: for the hour is coming, in the which all that are in the graves shall hear his voice, and shall come forth; they that have done good, to the resurrection of life; and they that have done evil, to the resurrection of damnation."
JOHN 5:28, 29

"Why does the Church stay indoors? They have a theology that has dwindled into a philosophy, in which there is no thrill of faith, no terror of doom, and no concern for souls. Unbelief has put out the fires of passion, and worldliness garlands the altar of sacrifice with the tawdry glitter of unreality."
SAMUEL CHADWICK

"The Bible was written so that it would only look like Jesus fulfilled prophecy."

This would mean that the New Testament writers lied about Jesus-He really didn't rise from the dead and all those miracles about Him are really false.
If that were the case, how would you account for the writers of the New Testament teaching about truth, love, honesty, giving, etc., all based on lies? Why would they suffer hardships like beatings, starvation, shipwreck, imprisonments, and finally execution for nothing but lies? This claim doesn't make any sense and raises more questions than it answers.
While many cult members (Muslims, Mormons, Jehovah's Witnesses) will die for their faith as well, they die for something they believe in, not that they have seen. But the New Testament believers died for what they saw and believed, not for what they believed only. That is a big difference. The NT writers died claiming that they had seen the risen Lord. The cult members die for what they believe, and we know that believing something doesn't make it true.
The only logical explanation is that the fulfilled prophecies really did happen. Jesus actually rose from the dead. He performed miracles and He forgave sins. He can still forgive sins now just as He did then. My sins are forgiven; are yours?

Cameron, K., & Comfort, R. (2004). The school of biblical evangelism: 101 lessons: how to share your faith simply, effectively, biblically-the way Jesus did (pp. 594-595). Gainesville, FL: Bridge-Logos Publishers.
Day by Day by Grace
Protection from the Devil through Faith
Be sober, be vigilant; because your adversary the devil walks about like a roaring lion, seeking whom he may devour. Resist him, steadfast in the faith. (1 Peter 5:8-9)
As we walk by faith, God's grace is imparted into our lives, bringing us many blessings in our Lord. We have seen that among these heavenly delights are assurance of salvation and security of salvation. "These things I have written to you who believe in the name of the Son of God, that you may know that you have eternal life...who are kept by the power of God through faith for salvation ready to be revealed in the last time" (1 John 5:13 and 1 Peter 1:5). Related to these delights is protection from the devil through faith.
Godly Christian living involves spiritual gravity and spiritual attentiveness. "Be sober, be vigilant." These necessary traits that the Lord wants to develop in us do not nullify the reality of joy and peace in the Lord. However, such earnestness is mandatory due to the enemy that we have. "Because your adversary the devil walks about." We do have a committed and intimidating spiritual opponent, and he has an organized army of fallen, rebellious, demonic cohorts. "For we do not wrestle against flesh and blood, but against principalities, against powers, against the rulers of the darkness of this age, against spiritual hosts of wickedness in the heavenly places" (Ephesians 6:12). The intention of our spiritual foe is deadly. He goes about "like a roaring lion, seeking whom he may devour." Our enemy does not merely desire to frustrate us or make us miserable. He wants to devour us, to devastate our lives. Jesus stated the matter this way: "The thief does not come except to steal, and to kill, and to destroy" (John 10:10).
Although our adversary is relentless and imposing, God's gracious remedy is simple and effective. "Resist him." We are to oppose him. We are to stand against him. How are we to accomplish this? Are we to pit our own strength against his? Never! We effectively stand against him by being "steadfast in the faith." We simply continue trusting in the great truths of God's word, which declare Christ as victor over our foe. "For this purpose the Son of God was manifested, that He might destroy the works of the devil...Having disarmed principalities and powers, He made a public spectacle of them, triumphing over them in it [the cross]" (1 John 3:8 and Colossians 2:15). By faith, we renounce the enemy and submit to our Lord. Thereby, God promises us that the enemy will flee. "Therefore submit to God. Resist the devil and he will flee from you" (James 4:7).
Dear Lord, mighty conqueror, what a joy it is to know that You have defeated the enemy and his demonic conspirators. What grace You offer in providing protection from the devil as I simply resist him by trusting in You. Praise Your victorious name!
Here at Promise Land Bible Church
We don't change the message, the message changes us.


Here at Promise Land Bible Church, we are honored that you are visiting our web site at www.plbcmh.com
It is our hope at Promise Land Bible Church that you will be encouraged by the preaching and teaching of God's Word presented here. For it is our desire to teach the whole council of God, so that the body can be edified and above all that God may be glorified.
For it is our passion and desire to share the Gospel message with everyone who will hear, in obedience to God's word.
Welcome to our site here at www.plbcmh.com
The fellowship of believers who call Promise Land Bible Church home would like to welcome you to our website. We believe that salvation is by grace alone, thru faith alone, in Christ alone, and that the Holy Scripture is our sole source of authority for what we do and how we live, and that everything we do, should be done for the glory of God. This is commonly called the 5 Solas of the Reformed Faith.
So here is our invitation to you;
If you are looking for a church that affirms the sole authority of the Holy Scriptures for all of faith and practice, the pre-eminence of the preaching of the Word of God, the glorious truths of salvation called the Doctrines of Grace, the necessity and responsibility of evangelism and a serious approach to the joyful worship of God, then we warmly invite you to come and visit us.
Join us as we look to the truth of scripture and Worship the Lord.
At www.plbcmh.com we do our best to present the truth of the gospel.
May we see our sins

(Henry Law, "Family Prayers")

O God the Holy Spirit, have mercy upon us miserable sinners. Move, we beseech You, in our disordered hearts. Remove the deformities of unruly desires and hateful lusts. Chase away the mists and darkness of unbelief. Brighten our inner man with the pure light of truth. Sow abundantly the seeds of righteousness. Make our souls fragrant as the garden of the Lord. Enrich them with every godly fruit. Beautify them with heavenly grace. Be our comforter, our guide, our light, our sanctification.

Especially take of the things of Christ, and show them with enlarged power to our longing souls. May we daily learn more of His love, His grace, His tender compassion, His faithfulness, and His beauty. May we delight ourselves in Him with increased delight. Lead us to the cross, and show us in His wounds--the hateful character of sin. May we see our sins, as . . . the nails which transfixed Him, the cords which bound Him, the sword which pierced Him, the thorns which tore Him, the taunts which stung Him.

Help us to read in His cruel death, the reality and immensity of His love.

Open to us the wondrous volumes of glorious truth in the cry, "It is finished!" Our atonement is forever achieved, our debt is fully paid, all our guilt is washed away, all our sins most righteously forgiven, our souls saved, Hell vanquished, the devil crushed, Heaven won, and eternity of glory our rightful home!

Holy Spirit, deepen in us these saving lessons. Write them with Your finger on the tablets of our hearts.

May our walk be . . . sin-loathing, sin-fleeing, Christ-loving, God-fearing!
Word of the Day
October 19
Tradition
paradosis
The word tradition is a touchy one. We all like certain traditions, whether they're ones that only our family observes or ones that are national holidays, and we all tend to get very defensive if someone attacks or criticizes one of our traditions.
That said, however, we must still submit to the truth that traditions must come under the same scrutiny and discernment (see July 15) that anything else must undergo. This is nowhere better illustrated than with the Pharisees, with whom our Lord battled on many occasions.
Mat_15:1-9, for example, is perhaps the most vivid example. The Pharisees came to Jesus and asked Him why the disciples did not wash their hands before they ate. Jesus' answer, however, makes it clear that this was simply one of their legalistic traditions that had nothing whatsoever to do with a commandment of God.
Throughout their history, especially during the Babylonian Exile and the Intertestamental Period, Jewish rabbis added thousands of man-made traditions to God's Law and made them equal to it. The value of the ceremonial rinsing in view here, for example, was held so high that one rabbi insisted that "whosoever has his abode in the land of Israel and eats his common food with rinsed hands may rest assured that he shall obtain eternal life." Another rabbi taught that it would be better to walk four miles out of the way to get water than to eat with unwashed hands. But the Law of Moses contained no commandment about washing one's hands before eating (except for priests who were required to wash before eating holy offerings; Lev_22:6-7).
The Greek paradosis (G3862) is derived from paradidōmi (G3860; see November 4), which in this sense means "to deliver in teaching." The idea then in paradosis is "a tradition, doctrine, or injunction delivered or communicated from one to another, whether divine or human." Oh, the danger of human tradition! We must take great care that we do not "transgress the commandment of God by [our] tradition" (Mat_15:3). Let us never violate God's Word by any tradition that we embrace. We must test them carefully.
In stark contrast are the traditions (doctrines) of God's truth. As we noted two days ago, 2Th_2:15 declares: "Therefore, brethren, stand fast, and hold the traditions which ye have been taught, whether by word, or our epistle."
Scriptures for Study: Read the following verses, noting either the positive or negative use of paradosis in each: Mat_15:1-9; 1Co_11:2 ("ordinances"); Gal_1:14; Col_2:8; 2Th_3:6.
Famous Last Words:
Sir Walter Raleigh,
at his execution:
"So the heart be right, it is no matter which way the head lieth."
Thanks for visiting our site here at www.plbcmh.com