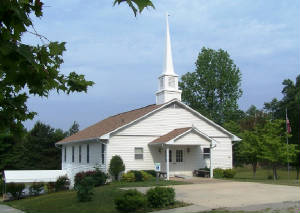 Come and Worship with us at
8256 Promise Land Road
Mountain Home, Arkansas 72653
Our Worship Schedule is
Sunday Bible Study - 9:45am
Sunday Worship - 11:00am
Wednesday Night Prayer Meeting - 6:00pm
Wednesday Night Bible Study - 7:00pm
Today's Memory Verse
"Have mercy upon me, O God, according to your lovingkindness: according unto the multitude of your tender mercies blot out my transgressions. Wash me thoroughly from my iniquity, and cleanse me from my sin."
PSALM 51:1, 2

"No man who preaches the gospel without zeal is sent from God to preach at all."
CHARLES SPURGEON

"How can I witness to family members?"

This advice may save you a great deal of grief. As a new Christian, I did almost irreparable damage by acting like a wild bull in a crystal showroom. I bullied my mom, my dad, and many of my friends into making a "decision for Christ." I was sincere, zealous, loving, kind, and stupid. I didn't understand that salvation doesn't come through making a "decision," but through repentance, and repentance is God-given (2 Timothy 2:25). The Bible teaches that no one can come to the Son unless the Father "draws" him (John 6:44). If you are able to get a "decision" but the person has no conviction of sin, you will almost certainly end up with a stillborn on your hands.
In my "zeal without knowledge" I actually inoculated the very ones I was so desperately trying to reach. There is nothing more important to you than the salvation of your loved ones, and you don't want to blow it. If you do, you may find that you don't have a second chance. Fervently pray for them, asking God for their salvation. Let them see your faith. Let them feel your kindness, your genuine love, and your gentleness. Buy gifts for no reason. Do chores when you are not asked to. Go the extra mile. Put yourself in their position. You know that you have found everlasting life-death has lost its sting! Your joy is unspeakable. But as far as they are concerned, you've been brainwashed and have become part of a weird sect. So your loving actions will speak more loudly than ten thousand eloquent sermons.
For this reason you should avoid verbal confrontation until you have knowledge that will guide your zeal. Pray for wisdom and sensitivity to God's timing. You may have only one shot, so make it count. Keep your cool. If you don't, you may end up with a lifetime of regret. Believe me. It is better to hear a loved one or a close friend say, "Tell me about your faith in Jesus Christ," rather than you saying, "Sit down. I want to talk to you." Continue to persevere in prayer for them, that God would open their eyes to the truth.

Cameron, K., & Comfort, R. (2004). The school of biblical evangelism: 101 lessons: how to share your faith simply, effectively, biblically-the way Jesus did (pp. 684-685). Gainesville, FL: Bridge-Logos Publishers.
Day by Day by Grace
The Lord Promising a New Heaven and New Earth
The Lord is not slack concerning His promise, as some count slackness, but is longsuffering toward us, not willing that any should perish but that all should come to repentance...Nevertheless we, according to His promise, look for new heavens and a new earth in which righteousness dwells. (2 Peter 3:9, 13)
In our previous meditation, we considered Jesus' promise to return for His people. "I will come again and receive you to Myself; that where I am, there you may be also" (John 14:3). Many centuries have come and gone with that promise remaining unfulfilled. Consequently, some are inclined to scoff at this promise. The Scriptures have prepared us for this by giving us another promise. "Knowing this first: that scoffers will come in the last days...saying, 'Where is the promise of His coming? For since the fathers fell asleep, all things continue as they were from the beginning of creation'" (2 Peter 3:3-4). Nevertheless, we who believe God's promises are convinced that He will keep His word and return for us. When He returns, He will fulfill another promise as well: the promise of a new heaven and new earth. "Nevertheless we, according to His promise, look for new heavens and a new earth in which righteousness dwells."
Two insights are offered here concerning the Lord's delay in His return. The first one pertains to God's compassion and patience in allowing more opportunity for people to repent and not perish. "The Lord is not slack concerning His promise...but is longsuffering toward us, not willing that any should perish but that all should come to repentance." The second insight pertains to God's perspective on time. For our eternal Lord, it is as though He made the promise of His return only a couple of days ago! "But, beloved, do not forget this one thing, that with the Lord one day is as a thousand years, and a thousand years as one day" (2 Peter 3:8).
Yet, some day the Lord will fulfill His promise to return for us. Then, the new, eternal reality will come. "Nevertheless we, according to His promise, look for new heavens and a new earth in which righteousness dwells." It is delightful to consider! "And I saw a new heaven and a new earth...And I heard a loud voice from heaven saying, 'Behold, the tabernacle of God is with men, and He will dwell with them, and they shall be His people, and God Himself will be with them and be their God. And God will wipe away every tear from their eyes; there shall be no more death, nor sorrow, nor crying; and there shall be no more pain, for the former things have passed away'" (Revelation 21:1-4).
Dear Lord, I eagerly await Your appearing. I rejoice at the place You have prepared for us-a place of righteousness, joy, and peace. Above all, I anticipate dwelling in Your visible presence forever and ever, Amen!
Famous Last Words: Louis XVII
(1795) left this last word:
"I have something to tell you."

Here at Promise Land Bible Church
We don't change the message, the message changes us.


Here at Promise Land Bible Church, we are honored that you are visiting our web site at www.plbcmh.com
It is our hope at Promise Land Bible Church that you will be encouraged by the preaching and teaching of God's Word presented here. For it is our desire to teach the whole council of God, so that the body can be edified and above all that God may be glorified.
For it is our passion and desire to share the Gospel message with everyone who will hear, in obedience to God's word.
Welcome to our site here at www.plbcmh.com
The fellowship of believers who call Promise Land Bible Church home would like to welcome you to our website. We believe that salvation is by grace alone, thru faith alone, in Christ alone, and that the Holy Scripture is our sole source of authority for what we do and how we live, and that everything we do, should be done for the glory of God. This is commonly called the 5 Solas of the Reformed Faith.
So here is our invitation to you;
If you are looking for a church that affirms the sole authority of the Holy Scriptures for all of faith and practice, the pre-eminence of the preaching of the Word of God, the glorious truths of salvation called the Doctrines of Grace, the necessity and responsibility of evangelism and a serious approach to the joyful worship of God, then we warmly invite you to come and visit us.
Join us as we look to the truth of scripture and Worship the Lord.
At www.plbcmh.com we do our best to present the truth of the gospel.
Today's Grace Gem
God saves sinners apart from the preaching of the gospel

(Don Fortner)

"Faith comes by hearing, and hearing by the Word of God." Romans 10:17

No one is saved apart from the hearing of the gospel.

Let no one deceive you in this matter. The issue is not whether or not God can save His people without the use of means. The issue is whether or not He will. We know that He will not, because He has revealed it plainly in His Word. "Faith comes by hearing, and hearing by the Word of God." It pleased God to save His elect by the foolishness of gospel preaching. All who are begotten of God, are begotten of Him by the gospel. All who are born again, are born again by the incorruptible seed of God's Word, which is preached to them in the gospel.

These things are so plainly revealed in holy Scripture that there is no excuse for error regarding them (1 Corinthians 1:21; James 1:18; 1 Peter 1:23-25). Those who teach that God saves sinners apart from the preaching of the gospel, fly in the face of holy Scripture. It is therefore no surprise to see them favor emotionalism, experiences, dreams, custom, and religious tradition above the Word of God.

The preaching of the gospel is God's chosen, ordained means of grace, by which He calls chosen, redeemed sinners to salvation in Christ by the irresistible power and grace of His Holy Spirit. The New Testament universally declares that the preaching of the gospel is vital to the salvation of God's elect.

Our message is always the same.
We do not have one message for children, and another for adults.
We do not have one message for one group, and another for another group.

The preaching of the gospel is a proclamation . . . of the unsearchable riches of Christ, of salvation by His grace, of peace with God, of pardon of sin, of righteousness, and life and salvation by Him.

The Scriptures plainly declare that no one will ever be saved who does not . . .
hear the gospel (Romans 10:17),
believe on the Lord Jesus Christ (Mark 16:15-16),
acknowledge and confess his sin (1 John 1:9),
repent of his sins (Luke 13:5), and
persevere in the faith (Matthew 10:22).
Word of the Day
July 22
Hymenaeus and Alexander
Humenaios kai Alexandros
Before leaving the crucial issue of discernment, we should also note carefully that Paul mentions two false teachers by name in 1Ti_1:8-20: Hymenaeus and Alexander (Humenaios [5211] kai Alexandros [223]). Hymenaeus had in some way shipwrecked his faith and later even denied the doctrine of future resurrection, as did another heretic, Philetus (2Ti_2:17). While the identity of Alexander is uncertain (cf. 2Ti_4:14), he fought Paul on doctrine, and Paul had no compunction whatsoever in naming him.
In today's tolerant, enlightened, and politically correct atmosphere, however, such an act is considered unloving and divisive, even if what is being taught is destroying biblical truth and hurting people spiritually. It's appalling how many Christians today would rather offend Christ instead of a false teacher. They are so afraid that an exposé might hurt some heretic's feelings that they will allow him (or her) to contradict or deny biblical truth.
Historically, heretics were routinely exposed for error. In the second century, for example, the first of the "great heretics" was the Gnostic teacher Marcion, who was exposed by men of the faith, Justin Martyr and Polycarp. In the fourth century, Arius was exposed for his apostasy that Jesus was not coequal with God and was, in fact, a created being. Augustine and others fought him passionately. (Arianism still lives today, the most recent form appearing in the popular novel The Da Vinci Code by Dan Brown.) And how can so-called evangelicals today ignore the Reformers who denounced every rite, ritual, and sacrilege of Roman Catholicism? Instead, many tolerate its hellish doctrines and even promote unity with that fallen system.
One of the most obvious examples in our day of blatant apostasy is the teaching of Robert Schuller, who says that "the core of sin is a lack of self-esteem" and that salvation "means to be lifted from sin (psychological self-abuse . . .) and shame to self-esteem." Similarly, teachers such as Joel Osteen and others categorically (and admittedly) refuse to preach on sin and define salvation in whatever nebulous terms that will not offend the "felt needs" of their listeners.
It has been well said, "A half truth presented as if it were a whole truth is an untruth." If we truly love Christ, we will fight untruth without apology. While we certainly will "[speak] the truth in love" (Eph_4:15, emphasis added; July 25), we will never shy away from speaking the truth, a principle we'll explore tomorrow.
Scriptures for Study: Read the following passages on discernment: Col_2:8; 2Pe_2:1-3.
Thanks for visiting our site here at www.plbcmh.com