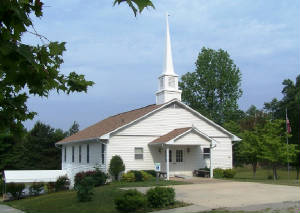 Come and Worship with us at
8256 Promise Land Road
Mountain Home, Arkansas 72653
Our Worship Schedule is
The Church is Open, worship with us inside or outside, message is transmitted on FM 95.1
Sunday Bible Study - 9:45am
Sunday Worship - 11:00am
Wednesday Night Prayer Meeting - 6:00pm
Wednesday Night Bible Study - 7:00pm
Today's Memory Verse
"A false witness shall not be unpunished, and he that speaks lies shall not escape."
PROVERBS 19:5

"I do not believe that any man can preach the gospel who does not preach the Law."
CHARLES SPURGEON

"What if someone says they've never lied, stolen, lusted, blasphemed-if they deny having any sin at all?"

Ask the person if he has kept the First of the Ten Commandments. Has he always loved God above all else-with all of his heart, soul, mind, and strength (Mark 12:30)? If he says that he has, gently say, "The Bible says that 'there is none that seeks after God' (Romans 3:11). Nobody (except Jesus Christ) has kept the First of the Ten Commandments. One of you is lying-either you or God-and the Bible says that it is impossible for God to lie" (Hebrews 6:18; Titus 1:2).

Cameron, K., & Comfort, R. (2004). The school of biblical evangelism: 101 lessons: how to share your faith simply, effectively, biblically-the way Jesus did (p. 90). Gainesville, FL: Bridge-Logos Publishers.
Point to Ponder

Two women from Southern California were about to cross the Mexican border to return to the U.S. when they saw what looked like a very small, sick animal in the ditch beside their car. As they examined it in the darkness of the night, they saw that it was a tiny Chihuahua. They decided to take it home with them and nurse it back to health. However, because they were afraid that they were breaking the law, they put it in the trunk of their car, and drove across the border. Once they were in the U.S., they retrieved the animal and nursed it until they arrived home.
One of the women was so concerned for the ailing dog that she actually took it to bed with her, and reached out several times during the night to touch the tiny animal and reassure it that she was still present.
The dog was so sick the next morning, she decided to take it to the veterinarian. That's when she found out that the animal wasn't a tiny, sick dog. It was a Mexican water rat, dying of rabies.
The world, in the blackness of its ignorance, thinks that sin is a puppy to be played with. It is the light of God's Law that enlightens the sinner to the fact that he is in bed with a deadly rat.
We were once "deceived, serving diverse lusts and pleasures," but now, if we are truly converted, our eyes have been opened. We see sin for the sugar-coated venom that it is.


Day by Day by Grace
Even More on God's Faithfulness and His Promises
The Lord is faithful, who will establish you and guard you from the evil one. (2 Thessalonians 3:3)
Perhaps, a word of reflection upon our context would be helpful. In our daily studies on growing in the grace of God, we have been looking at the promises of God. Living by God's promises is comparable to living by His grace. In both perspectives, the critical matter is having God at work in our lives, doing what He alone can do, doing what we could never deserve or never produce on our own. In considering God's promises, we have allowed the Lord to increase our confidence in His promises by focusing first on His ability, and now on His faithfulness. Our present verse proclaims God's faithfulness, while adding a two-fold promise concerning high priority issues of Christian living.
The faithfulness of God is one of the grand themes of Scripture. "The Lord is faithful." Our God is reliable, so we can rely upon Him and His abundant promises. "God is faithful, by whom you were called into the fellowship of His Son, Jesus Christ our Lord" (1 Corinthians 1:9). The true and eternal God, who has invited us into an intimate relationship with His Son, is trustworthy, so we can trust in Him and His bountiful promises.
For example, we can trust in His promise to bring spiritual stability to our lives. "The Lord is faithful, who will establish you." This is one of the major needs in people's lives. On our own, we can easily be unstable and inconsistent. The Lord wants to turn us into responsible and steadfast servants of God. He will be faithful to do this, if we humbly open our hearts to the work of His word and His Spirit.
Another example of how God wants to demonstrate His faithfulness is in protecting us from the evil one. "The Lord is faithful, who will...guard you from the evil one." We are God's sheep. "Know that the LORD, He is God...We are His people and the sheep of His pasture" (Psalm 100:3). Our enemy is like a lion, who wants to consume us. "Your adversary the devil walks about like a roaring lion, seeking whom he may devour" (1 Peter 5:8). Sheep do not do well against lions. However, we have a wonderful shepherd, who will not flee when the attack comes. "The hireling flees because he is a hireling and does not care about the sheep. I am the good shepherd; and I know My sheep, and am known by My own" (John 10:13-14).
Our Lord wants us to know that we can count on Him to be faithful to keep His promises to establish us and to guard us.
Dear Lord, my Good Shepherd, on my own I am as vulnerable as a sheep and as unsteady as water. In light of Your faithfulness, I rely upon Your promises to protect me from the enemy and to build into my life spiritual stability.
Here at Promise Land Bible Church
We don't change the message, the message changes us.


Here at Promise Land Bible Church, we are honored that you are visiting our web site at www.plbcmh.com
It is our hope at Promise Land Bible Church that you will be encouraged by the preaching and teaching of God's Word presented here. For it is our desire to teach the whole council of God, so that the body can be edified and above all that God may be glorified.
For it is our passion and desire to share the Gospel message with everyone who will hear, in obedience to God's word.
Welcome to our site here at www.plbcmh.com
The fellowship of believers who call Promise Land Bible Church home would like to welcome you to our website. We believe that salvation is by grace alone, thru faith alone, in Christ alone, and that the Holy Scripture is our sole source of authority for what we do and how we live, and that everything we do, should be done for the glory of God. This is commonly called the 5 Solas of the Reformed Faith.
So here is our invitation to you;
If you are looking for a church that affirms the sole authority of the Holy Scriptures for all of faith and practice, the pre-eminence of the preaching of the Word of God, the glorious truths of salvation called the Doctrines of Grace, the necessity and responsibility of evangelism and a serious approach to the joyful worship of God, then we warmly invite you to come and visit us.
Join us as we look to the truth of scripture and Worship the Lord.
At www.plbcmh.com we do our best to present the truth of the gospel.
Today's Grace Gem
It is radical, revolutionary, lasting!

(Arthur Pink, "The Sovereignty of God")
"If anyone is in Christ, he is a new creation; the old has gone, the new has come!" 2 Corinthians 5:17

In the new birth, God exerts a quickening influence or power upon His own elect. Regeneration is very, very much more than simply shedding a few tears because of some temporary remorse over sin. It is far more than changing our course of life, the leaving off of bad habits and the substituting of good ones. It is something different from the mere cherishing and practicing of noble ideals. It goes infinitely deeper than coming forward to take some popular evangelist by the hand, signing a pledge-card, or "joining the church." The new birth is no mere turning over a new leaf, but is the inception and reception of a new life! It is no mere reformation, but a radical transformation. In short, the new birth is a miracle, the result of the supernatural operation of God. It is radical, revolutionary, lasting!

In the new birth:

God lays hold of one who is spiritually dead, and quickens him into newness of life!

God takes up one who was shaped in iniquity and conceived in sin, and conforms him to the image of His Son!

God seizes a drudge of the Devil, and makes him a member of His holy family!

God picks up a destitute beggar, and makes him joint-heir with Christ!

God comes to one who is full of enmity against Him, and gives him a new heart that is full of love for Him!

God stoops to one who by nature is a rebel, and works in him both to will and to do of His good pleasure!

By His irresistible power, God transforms . . .
a sinner--into a saint;
an enemy--into His friend,
a drudge of the Devil--into His beloved child!
Word for the Day
July 25
[Speaking the Truth] in Love
en agapē
We never want to fail to mention the controlling agent in speaking the truth. Lest our speaking be harsh, mean-spirited, insensitive, or arrogant, Paul adds a principle in Eph_4:15 that must control our speaking-we are to speak the truth in love (see January 19-21).
While Paul wrote many strong, sometimes even scathing, rebukes to the believers in Corinth, for example, no one there could have accused him of being unkind or unloving. Likewise, this will keep us from speaking rudely, unkindly, arrogantly, or overbearingly. A pastor must never "browbeat" God's people; neither should any believer be arrogant, overbearing, or use "high-pressure techniques" in personal witnessing. Our goal is to humbly and lovingly point people to the Lord and His truth.
Further, love is the balancing agent of conviction and courage. When the child of God has convictions and courageously stands on them, he will be called " closed-minded," "intolerant," "hard-nosed," and many other things, but when love is the balancing agent, people will take notice.
One commentator ably demonstrates the comparison of love and truth by pointing out that speaking the truth without love makes us ungracious, while speaking only love with no truth makes us unfaithful. In other words, "raw truth" can alienate the people we are trying to reach, while "uncontrolled love" can suppress the very truth we need to share.
The famous early nineteenth-century missionary to China and Bible translator Robert Morrison (1782-1834) tells the story of when as a young student, perhaps about sixteen years of age, he once ate breakfast with Caesar Malan, a Swiss Reformed preacher in Geneva. Upon discovering that Morrison was a young student of divinity, Malan said, "Well, my young friend, see that you hold up the lamp of truth to let the people see. Hold it up, hold it up, and trim it well. But remember this: You must not dash the lamp in people's faces; that would not help them to see." Morrison adds that he remembered those words often throughout his life, and so should we.
Scriptures for Study: Read 1Co_3:1-2; 1Co_12:1; 1Co_14:20, 1Co_14:39, noting how Paul uses the term of endearment brethren as he delivered the truth to those carnal Christians.
Famous Last Words: Isaac Watts (hymn writer):


"It is a great mercy that I have no manner of fear or dread of death. I could, if God please, lay my head back and die without terror this afternoon."

Thanks for visiting our site here at www.plbcmh.com