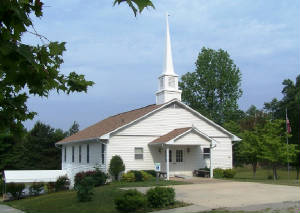 Come and Worship with us at
8256 Promise Land Road
Mountain Home, Arkansas 72653
Our Worship Schedule is
The Church is Open, worship with us inside or outside, message is transmitted on FM 95.1
Sunday Bible Study - 9:45am
Sunday Worship - 11:00am
Wednesday Night Prayer Meeting - 6:00pm
Wednesday Night Bible Study - 7:00pm
Today's Memory Verse
"The servant of the Lord must not strive; but be gentle to all men, able to teach, patient, in meekness instructing those that oppose themselves; if God peradventure will give them repentance to the acknowledging of the truth; and that they may recover themselves out of the snare of the devil, who are taken captive by him at his will."
2 TIMOTHY 2:24-26

"The great benefit of open-air preaching is that we get so many newcomers to hear the gospel who otherwise would never hear it."
CHARLES SPURGEON

"It's intolerant to say that Jesus is the only way to God!"

Jesus is the One who said that He is the only way to the Father. For Christians to say that there are other ways to find peace with God is to bear false testimony. In one sweeping statement, Jesus discards all other religions as a means of finding forgiveness of sins. In John 14:6 He says, "I am the way, the truth, and the life: no man comes to the Father, but by me." This agrees with other Scriptures: "Neither is there salvation in any other: for there is no other name under heaven given among men, whereby we must be saved" (Acts 4:12), and, "For there is one God, and one mediator between God and men, the man Christ Jesus" (1 Timothy 2:5).

Cameron, K., & Comfort, R. (2004). The school of biblical evangelism: 101 lessons: how to share your faith simply, effectively, biblically-the way Jesus did (pp. 235-236). Gainesville, FL: Bridge-Logos Publishers.
Point to Ponder

When Jesus went to the temple, He found it to be filled with those buying and selling merchandise. According to the Jewish historian Josephus, at each Passover, over 250,000 animals were sacrificed. The priests sold licenses to the dealers and therefore would have had a great source of income from the Passover. When the Bible called them "changers of money," it was an appropriate term.
There is, however, another theft going on in another temple. Mankind was made as a dwelling place for his Creator. God made man a little lower than the angels, crowned him with glory and honor, and set him over the works of His hands (Hebrews 2:7), yet sin has given the dwelling place to the devil. The thief, who came to steal, kill, and destroy, is making merchandise out of mankind. Instead of the heart of man being a temple of the living God (2 Corinthians 6:16)-a house of prayer-iniquity has made it a den of thieves.
When someone repents and calls upon the name of Jesus Christ, He turns the tables on the devil. The ten stinging cords of the Ten Commandments in the hand of the Savior cleanse the temple of sin. Charles Spurgeon had a resolute grasp of the Law. In preaching to sinners, he said, "I would that this whip would fall upon your backs, that you might be flogged out of your self-righteousness and made to fly to Jesus Christ and find shelter there."


Day by Day by Grace
More on the Promise of Freedom in Christ
"Therefore if the Son makes you free, you shall be free indeed...How shall we escape if we neglect so great a salvation. (John 8:36 and Hebrews 2:3)
By the promise of God, true spiritual liberation is available in Jesus Christ. "Therefore if the Son makes you free, you shall be free indeed." If this saving work of the Lord is neglected there is no rescue from the devastating consequences of sin and self. "How shall we escape if we neglect so great a salvation." As we previously noted, this delivering grace of God is so great that it not only provides a rescue "from," but it also supplies a rescue "unto."
This great salvation, which is experienced by coming to Jesus in humble faith, includes a setting free from innate sin unto imputed righteousness. "For He made Him who knew no sin to be sin for us, that we might become the righteousness of God in Him" (2 Corinthians 5:21). This great salvation in Christ includes deliverance from the kingdom of darkness unto the kingdom of light. "Giving thanks to the Father who has qualified us to be partakers of the inheritance of the saints in the light. He has delivered us from the power of darkness and translated us into the kingdom of the Son of His love" (Colossians 1:12-13). This great salvation also includes liberation from enmity toward God unto friendship with God: "For if when we were enemies we were reconciled to God [turned from enemies into friends] through the death of His Son" (Romans 5:10). This great salvation also includes deliverance from alienation regarding God unto union with Him. "And you, who once were alienated...have been united together in the likeness of His death.... [and] in the likeness of His resurrection" (Colossians 1:21 and Romans 6:5). This great salvation also includes liberation from our own weakness unto God's mighty power. "And He said to me, 'My grace is sufficient for you, for My strength is made perfect in weakness.' Therefore most gladly I will rather boast in my infirmities, that the power of Christ may rest upon me. Therefore I take pleasure in infirmities, in reproaches, in needs, in persecutions, in distresses, for Christ's sake. For when I am weak, then I am strong" (2 Corinthians 12:9-10). Lastly, this great salvation includes a rescuing from a self-produced life unto Christ living in us. "I have been crucified with Christ; it is no longer I who live, but Christ lives in me" (Galatians 2:20).
Lord God, I thank You for providing a rescue from sin, darkness, enmity, alienation, earthly weakness, and self. I praise You for providing a rescue unto righteousness, light, friendship, union, heavenly strength, and Christ! What a great salvation is found in Christ Jesus! I do not want to neglect it through doubt, distraction, disobedience-or anything else. Help me, Lord, to walk by faith, day by day, Amen.
Here at Promise Land Bible Church
We don't change the message, the message changes us.


Here at Promise Land Bible Church, we are honored that you are visiting our web site at www.plbcmh.com
It is our hope at Promise Land Bible Church that you will be encouraged by the preaching and teaching of God's Word presented here. For it is our desire to teach the whole council of God, so that the body can be edified and above all that God may be glorified.
For it is our passion and desire to share the Gospel message with everyone who will hear, in obedience to God's word.
Welcome to our site here at www.plbcmh.com
The fellowship of believers who call Promise Land Bible Church home would like to welcome you to our website. We believe that salvation is by grace alone, thru faith alone, in Christ alone, and that the Holy Scripture is our sole source of authority for what we do and how we live, and that everything we do, should be done for the glory of God. This is commonly called the 5 Solas of the Reformed Faith.
So here is our invitation to you;
If you are looking for a church that affirms the sole authority of the Holy Scriptures for all of faith and practice, the pre-eminence of the preaching of the Word of God, the glorious truths of salvation called the Doctrines of Grace, the necessity and responsibility of evangelism and a serious approach to the joyful worship of God, then we warmly invite you to come and visit us.
Join us as we look to the truth of scripture and Worship the Lord.
At www.plbcmh.com we do our best to present the truth of the gospel.
Today's Grace Gem
We do not have to be crucified on pieces of wood!
(J.R. Miller, "The Wider Life" 1908)
"I urge you, brothers, in view of God's mercy to offer your bodies as living sacrifices, holy and pleasing to God--this is your spiritual act of worship." Romans 12:1

The godly life is not one of ease, pleasure and self-indulgence.

We are taught to present our bodies, as a living sacrifice unto God. Ancient offerings were brought to the altar, and presented dead. But the Christian sacrifice, instead of being poured out in a bloody oblation, is to be a living sacrifice of service, of love, of devotion.

The great sacrifice of Christ is both the model for all Christian life, and also its inspiration. We look at His six hours on the cross--as if that were its only act and expression. But the cross was not endured by Christ merely during those six hours on Calvary; it was in all His life, in every day and hour of it. Everything He did was in love, and love is always a living sacrifice. He was always sacrificing Himself. On Calvary, He only wrote the word out in capital letters!

The cross stands not merely for the sufferings of Christ endured in redeeming sinners--but also for the law of love and of sacrifice in every department of Christian living. It is not enough to have the cross on our churches, as a symbol of redemption; or to wear it as an ornament around our neck; the cross must be in the heart--and manifested in the life!

We talk a great deal about the love of Christ; but we must strive to illustrate it and reproduce in our own lives, in our own measure--the sweetness, the charity, the kindness and the helpfulness of Jesus Christ. The cross is everywhere. The more of the 'sacrificial' quality we get into our life, the diviner and the lovelier our life will be.

We do not have to be crucified on pieces of wood--to bear a cross, and make a living sacrifice. The cross must be in the lives of those who follow Christ; not branded on their bodies--but wrought into their character, their disposition, their conduct, their spirit! We cannot live a Christian life for a day, without coming to points of sacrifice.

The cross of Christ does not take our own cross from us--Christ does not bear our cross for us. His cross becomes the law of our life, and makes it all sacrificial. Every sacrificial thing we do, reveals the cross. The Beatitudes are all sacrificial. No one can live the thirteenth chapter of First Corinthians, and not crucify self continually.

All sacrifice at length, blossoms into Christlike beauty, sweetness and joy.

"Take me, Lord, and use me today--as You will. I lay all my plans at Your feet. Whatever work You have for me to do, give it into my hands. If there are those You would have me help in any way--send them to me, or send me to them. Take my time, and use it just as You will."
Word for the Day
August 16
Ignorance
agnoia
After writing of the vanity of man's thinking (Eph_4:17), Paul goes on to write of man's ignorance (Eph_4:18). In light of man's many accomplishments and obvious intelligence, such a statement seems odd at the very least. But Paul knew what he was talking about.
Ignorance is agnoia (G52; English, agnostic). As one Greek authority tells us, this ignorance is not caused by something external, but by man himself. Another points out that in ancient use, it could refer to a man who lives without knowledge either because he hasn't heard the truth or because he has refused the truth, and that if he "had received it, it would have freed him from his ignorance of his origin." In other words, he just closed his eyes to the truth; he refused to believe what was right in front of him.
That certainly exposes the so-called agnostic. He says that he doesn't believe we can know if there is a God, but he says this only because he does not want to know. He is "willingly ignorant" (2Pe_3:5), or as I heard one preacher say, "stupid on purpose." If he would just believe, he would be freed from the prison of his own ignorance.
That is exactly the point of Rom_1:18: "For the wrath of God is revealed from heaven against all ungodliness and unrighteousness of men, who hold the truth in unrighteousness." "Hold" is katechō (G2722), which is comprised of the root echō (G2192), "to have or hold," and the prefix kata (G2596), "down." The idea, then, is to "hold down, quash, suppress." William Tyndale's 1534 translation and the Geneva Bible both render it "withhold" and Young's Literal Translation has "holding down."
Man will do anything he can to suppress, hold down, and withhold God's truth. He tries to do so through evolution, philosophy, and even religion. Paul goes on to write in Rom_1:28, "They did not like to retain God in their knowledge." "Retain" is again echō, "to have or hold." No longer did man want to have any knowledge of God, and he still has no such desire. He simply will not have it!
What a blessed comfort it is for the Christian to know that he or she no longer need be ignorant.
Scriptures for Study: What does Act_17:30 declare concerning man's ignorance? What does 1Pe_1:14 demand of the believer?
Famous Last Words: Blaise Pascal
(1623-1662), French mathematician and philosopher:
"My God, forsake me not."

Thanks for visiting our site here at www.plbcmh.com